Elric Langton explores provider of test and measurement solutions for the telecommunications sector Calnex, a company he has had his eye on since their IPO in 2020 and who released a positive trading update last week.
I have had my eye on this next gem for some time, in fact, I was growing concerned I had taken my eye off the ball and allowed it to pass me, the sort of mistake us Manchester United fans have become accustomed to. However, unlike my club, Calnex Solutions PLC (CLX) it still looking a good bet from here.
Navigating the markets during these troublesome times is exceptionally tricky because even fundamentally solid companies with little to no history of disappointment are being sold down through fear. One of the bright sectors is telecoms, and semiconductors – they have bucked the trend until Russian invaded the Ukraine.

Today's featured company services telecommunications networks, which the UK Government views as "vital component of the country's Critical National Infrastructure, the ways in which resilience in both networks and services is achieved and the roles of government and other agencies in the maintenance of this capability." In my view Calnex is ideally placed to weather the geopolitical landscape.
In a trading update for the year ending 31 March 2022, last week, Calnex reported strong levels of trading in the first six months of FY22 have continued and it anticipates that, subject to the fulfilment of scheduled orders in March, the Group's performance in FY22 will be in line with market expectations. Furthermore, the Company will begin FY23 with a record order book across all product lines and it is anticipated that revenue and operating profit for FY23 will be materially ahead of market expectations.
Calnex continues to make good progress on delivering its strategy in FY22.  The Company has experienced high demand for its range of test and measurement solutions, and the introduction of new regulation and standards for the telecoms industry continues to drive demand for Calnex's products.  The Company has successfully managed the challenges of ongoing global semiconductor shortages during the year to minimise the impact on Calnex's ability to manufacture and ship product; however, the Company has experienced reduced availability of certain components in the final quarter of FY22, partly because of the level of orders Calnex is being asked to fulfil.  Subject to the fulfilment of certain orders currently scheduled to be shipped in March, the Board expects that the Group's FY22 financial performance will be in line with market expectations.
Tommy Cook, Founder and CEO of Calnex, said:
"We are highly encouraged by the record level of orders we have received across our customer base, demonstrating the quality of our solutions and their applicability. We anticipate next year will see revenue and profits considerably ahead of initial forecasts, with the potential for further growth should the supply chain issues ease, and we are able to capitalise on the significant opportunities within our markets. We remain highly profitable and cash generative and will continue to invest in our offering and people to ensure we are well positioned to continue to capitalise on the growth in the telecoms and cloud computing markets."
Calnex is a telecom's technology company providing test and measurement solutions as well as designs, produces, and markets its test instrumentation and solutions for a $1.5 billion network synchronization and network emulation market. This includes providing equipment to network operators, network providers, systems suppliers, laboratories, and network infrastructures. Essentially, the company maintains, test telecoms base-stations, including the roadside and local towers we now see popping up on carparks and rooftops. It is a little like mission-creep, the sort of thing we have grown accustomed to with CCTV on every street corner, we are growing accustomed to seeing telecoms equipment at the end of our street. Our main concern is can we browse the web faster, stream movies in 4D or play our streamed music in HiFi quality.
The company IPOed on AIM in October 2020 at 48p after placing £22.5 million of shares, plus £16.5 million through the sale of existing shareholder equity. The fact Calnex shares have appreciated from its IPO is a good sign because so many recent IPO's have bombed. There are many reasons for this, but the main one as far as Calnex is concerned is it was not overpriced at the IPO and has a clear growth strategy in a strategically important sector. As you can see from the chart, the shares have put on a few giga-bites. However, this is not something to be too concerned with because the company is well run, has plenty of cash to put to good use for its growth strategy. The shares are now trading at 130.50p valuing the company at £114.2 million with an enterprise value of £102.1 million.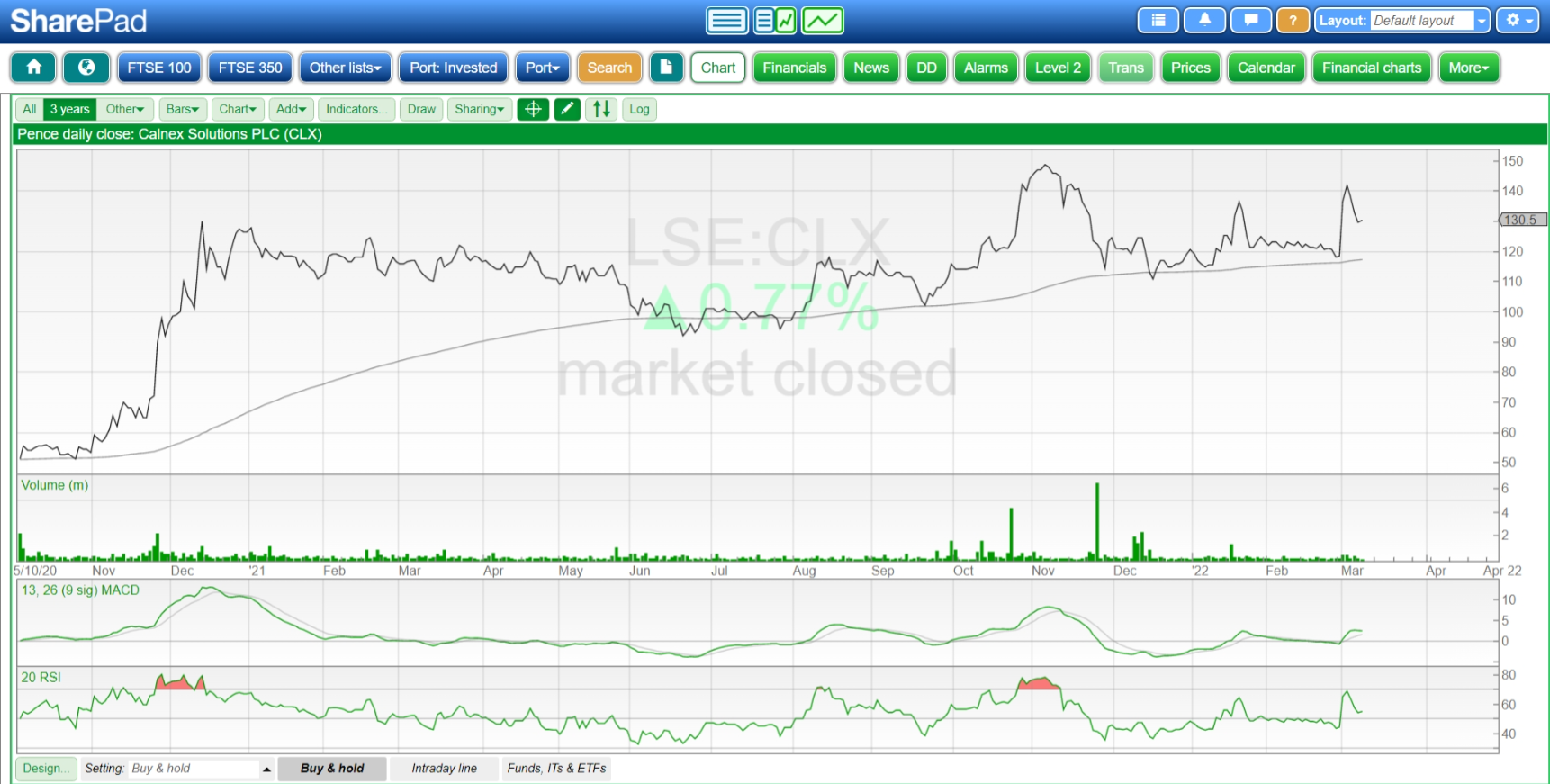 It does not seem too long ago 4G was the Internet of Things (IoT), now it is 5G revolution, with faster broadband, be it upload or download speeds, and better-quality sound and pictures. Revolutionary 5G technology is expected to transform the way we go about our daily lives. Integral technologies, such as Smartphones, IoT, cloud storage, app-based platforms, and the digital economy have only been around for the last decade or so.
I am on the road quite a lot, and therefore notice regular blackspot in the 4G network coverage, this despite most networks claiming 97% of UK coverage. This must absolute tosh if my experience is anything to go by. You can add the bandwidth capacity issues in areas where there is reasonable coverage. Just a year ago I had to go outside to make a call on the Vodafone network, I still do if I want to use WhatsApp unless I use Wi-Fi call!
However, I have since changed my network, for a 5G SIM I have noticed a significant difference in upload and download speeds. I can even use my SIM for tethering my laptop, which beats my Sky BB which is supposed to be up to 75GB. Yeah, right!
Calnex is in a very healthy position. The company will provide guidance on FY23 with the release of its Final Results in May 2022. Its last unaudited interim report in November boasted a 20% increase in revenues at £9.3 million (H1 FY2021: £7.7 million), primarily due to strong demand for telecom's testing. This was ahead of the company's expectations. This is usually a nice surprise. With c80% of its revenues derived from repeat customers, this offers a reasonable level of visibility. Something to be thankful for in uncertain times.
The company boasts a cash balance of £13.6 million, up from H1 FY 2021: £4.5 million. A maiden interim 28p dividend was paid.
Forecast pretax profit £5.6 million for FY 2022
The company headcount has increased from 19 employees (now 113), including salesmen in the US and India.
Geographical sales: The US remains the largest market with 35% of sales and RoW 41%. However, China makes up for 24% but remains impacted due to ongoing geopolitical tensions with the US, primarily due to Huawei 5G security concerns, which prompted the UK government to cancel its rollout of Huawei 5G network.
Calnex says it has seen a return to pre-COVID customer spending patterns in all regions, China where demand has been in line with the previous year. China is a natural caveat when considering Calnex.
Sales are made up of 63% for equipment providers (Cisco, Nokia), 15% of sales are to network operators and fast growth has also come from clients such as BT, China Mobile, Google, NTT, Ericsson, Nokia, Intel, Qualcomm, IBM and Facebook, which includes the testing clients hyperscale data centres.
Calnex is seeing strong demand for both 4G & 5G, as telecoms transition from 4G to 5G, and in the interim, the company is seeing strong demand for testing of equipment where there is a mix and match of infrastructures to ensure equipment from different companies work effectively in an ever-growing demanding market from telecoms and data centres. This is where the company's new offering comes into its own.
Paragon-neo
Avoiding the technical jargon, which I hate, Paragon-neo assists in 5G, the levels of synchronization accuracy and speed of data transfer required which are increasing exponentially requiring the next-generation accuracy requirements to ensure that ethernet systems are robust against varying transmission delays significantly disrupt the precise transfer of timing. The Paragon-neo providing PTP and SyncE testing of speeds up to 100GbE. It's designed to meet the stringent test and for those designing and deploying 5G networks and systems.
Sector Comparison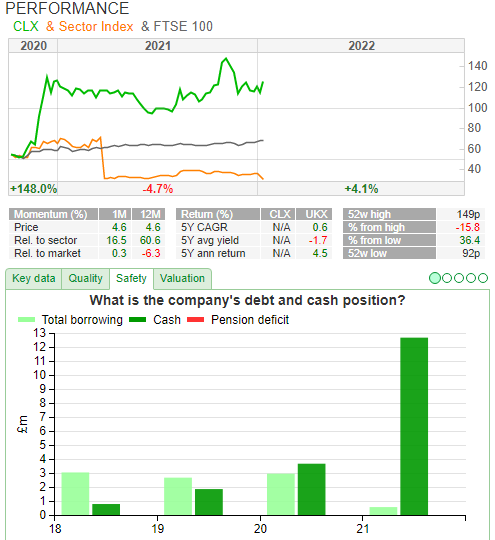 Forecast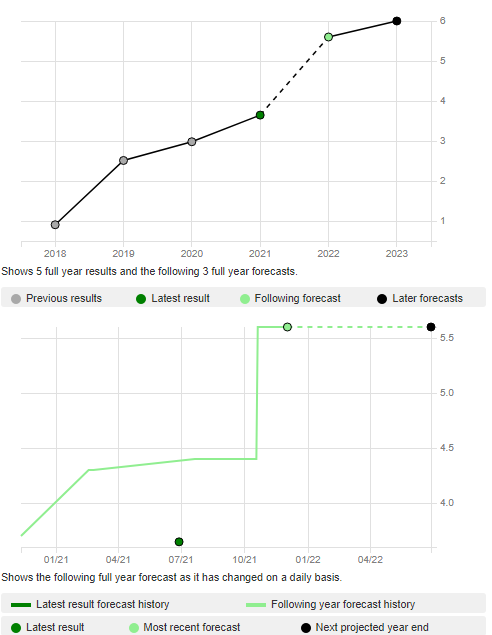 Elric Langton
Note: Calnex also caught the eye of Bruce Packard in his commentary this week and Maynard Paton last year.
Do you think Calnex is still looking a good bet? We'd love to hear from you in the comments section below
This article is for educational purposes only. It is not a recommendation to buy or sell shares or other investments. Do your own research before buying or selling any investment or seek professional financial advice.