Richard slims down his flabby SharePad setup to start the year with a lean, clean investing machine. He sets out his goals for 2022 and says thank you to Phil Oakley, who hung up his boots in December.
It is that time of year when many of us eat and drink too much and then vow to join a gym, take up jogging or just stop eating three mince pies a day, and get fit again.
A lean, clean, investing machine
In investing terms, I also invoke a keep fit routine. Unlike many traders, mine does not involve an annual performance review, because performance over a single year is not significant in the career of a long-term investor. I do review the prospects of every single share I own once a year, but that happens when each company publishes its annual report.
My annual keep fit routine relates to my investing process, rather than the outcomes. Over the course of the year I make many innovations, new filters, new settings, new layouts. Some of them are useful and stick, but my SharePad interface is also cluttered by experiments that seemed like a good idea and have not stood the test of time.
I delete the failed filters and seldom used settings so I can start the New Year with a lean, clean, investing machine and, having buffed it up, I can share it with you.
Putting the long-term back into SharePad
Having switched from a five window layout back to a default two window layout two years ago I have flipped again and am now using a three window layout. The innovation has stuck because I was missing the long-term view.
Typically, I use SharePad two ways. I spacebar my way through lists of shares (usually my portfolios and watchlists) reading the news in the right hand pane, or I spacebar my way through the whole market sorted by the date each company last published its annual report and read the single page summary in the right hand pane. The former is my principal way of keeping tabs on companies I own. The latter is my principal way of discovering new shares.
While the single page summary contains four years of data, I am always hankering for more. I want to see how a company has performed in the past: to understand whether it is cyclical (profits vary strongly with economic fluctuations) or whether it has suffered self-inflicted injuries before.
Either way, the starting point is to find out when it performed poorly. Then we can read the results and stockmarket announcements from that time and get a feel for what happened. The final stage, of course, is to figure out how likely it is to happen again.
My solution is a third window that snakes along the bottom of the screen containing custom tables of data (this YouTube video explains how to make custom tables):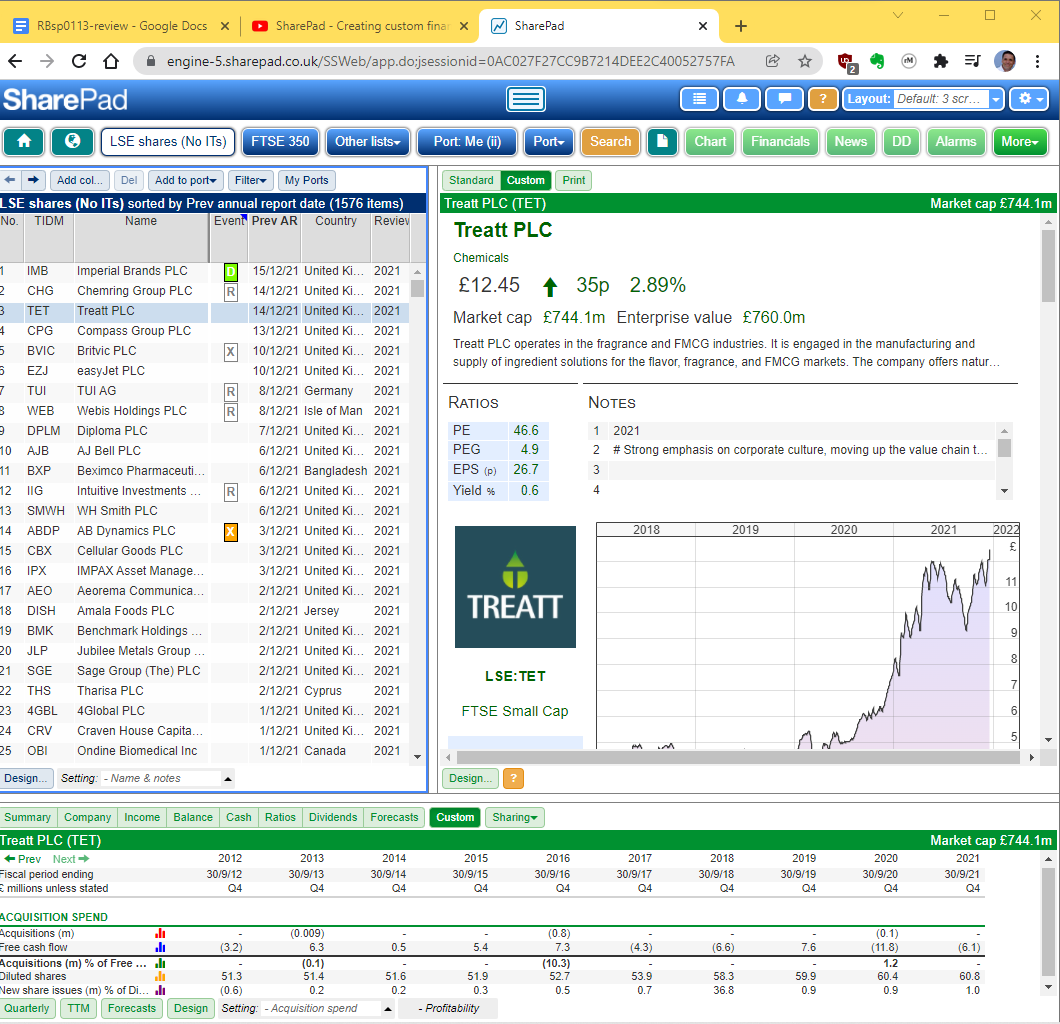 SharePad three window layout showing a list of shares (lhs), the single page summary (rhs) and profitability ratios going back many years (bottom). Click on the image for a larger version.
Custom tables can be toggled in the settings box beneath them. Each one only has a few rows so the bottom window only takes up a small amount of the screen when my browser window is maximised. Here are two I use heavily (i.e. all the time):
Acquisition spend: Shows acquisitions (m) and Free cash flow. I like businesses that spend less on acquisitions each year than they earn in free cash flow. This is a sign a business is self-sustaining and does not need to raise money from shareholders or borrow to grow. A third row calculates acquisitions (m) as a percentage of Free cash flow.
Profitability: This table shows EBIT margin and Capital turnover, which are the components of Return on Capital Employed as explained in this article on DuPont analysis. I look for businesses that earn a ROCE of more than 10% in most years. Occasionally they can dip under this value, but I must understand why, and be confident it will not happen often in future.
I also use tables examining Cash Return on Capital Invested (CROCI), Net obligations (cash, borrowing and the pension deficit) and percentage growth in revenue, profit and cashflow.
I think this innovation is a keeper. Maybe it will last as long as one of my oldest: The Irrelevant news filter, which screens out all routine news announcements I do not read.
Putting my money where my mouth is
I investigated and wrote up many businesses in 2022 (you can browse the back catalogue here), but only invested in one, the giant everything store that is Bunzl, a distributor of consumables like packaging and toilet paper, used by businesses and other large organisations. Size can sometimes breed complexity, which is anathema to me, but Bunzl shows that big businesses can be suitable for simple minded investors!
I admired Bunzl's straightforward acquire, improve, repeat roll-up strategy, and felt it could continue growing by funding the acquisition of smaller distributors from its own profits for at least another ten years. The bigger it gets, the more buying power it has, and the more efficiently it can supply customers around the globe. Because the products it sells are simple commodities, the company does not have to become more complex as it grows. It is instead, doing more of the same thing.
New Year challenge
A reader, Chris, has set me a challenge for the New Year: to write a "detailed article on filtering".
Chris writes:
"The extent of the financial and technical filters that you can build into Sharepad is mind-boggling. I find if I design a filter including a number of metrics such as PEG, ROCE, free cash flow, gearing, earnings yield et cetera you can easily get 10 or 12 criteria which when applied lead to a nil selection!
I would be very interested to hear your thoughts on the hierarchy and importance of some of these criteria so that one ends up with a meaningful selection of shares to research."
I too have experienced the disappointment of elaborate filters returning no results. A simple list of all the filter criteria available in SharePad would fill an article by itself though, and since I only use a very small subset a detailed article is beyond me (given enough time and research it might be a book!)
SharePad has a number of tutorials on filtering on this page, though, and I should have something to say about the second part of Chris' request: thoughts on the hierarchy and importance of criteria, at least from my long-term perspective.
Your correspondence has, as always, inspired and amused me. One of my favourites this year came not by email but as a comment on an article. Rusty was not at all interested in DFS, the sofa maker and retailer I had written about, he asked who made the boots I was wearing in the photo I had used to illustrate it. Much as I like the sofa, the boots are my pride and joy.
Beyond writing some common sense guidance on filtering, my goals for the new year are straightforward. I hope to get to know more companies, and tell you about how they make money, how they plan to make more, and what could stop them.
A leaving speech for Phil
Phil Oakley, formerly of this parish, retired from investment writing in December. Phil is a friend of mine, and in what can sometimes be a lonely job, he has been a colleague too. He recommended me to Ionic when it recruited me as a writer, and I think there is nobody better at rendering financial analysis intelligible to investors. He has also been prolific. Thankfully, he wrote the book on picking quality shares and a ton of material for SharePad users, so we can still turn to him when we need to.
Judging by his newsletters John Hughman, Phil's partner in the investment site Invest-ability, is great company but there is only one of him so I guess Phil did not get much of a leaving do. To mark this moment, then, I thought I would contribute this little speech at the end of my article to thank Phil for educating me and wish him all the best.
We are planning to meet up for a coffee in January, and if like me, you appreciated his work and would like me to pass on a message, my email address, as always is at the bottom of my article.
Happy New Year!
Richard Beddard
~
Contact Richard Beddard by email: richard@beddard.net or on Twitter: @RichardBeddard
This article is for educational purposes only. It is not a recommendation to buy or sell shares or other investments. Do your own research before buying or selling any investment or seek professional financial advice.