My last article detailed my new filter. If you missed it then you can read about it here.
As discussed, this filter looks for stocks that are uptrending and are off their recent highs.
It provides trading ideas that we can then dig further into.
Here are some recent results.
Calnex Solutions (CLX)
Calnex is a recent IPO which has come storming out of the blocks since it listed in early October last year.
It was also tipped by subscription service Small Cap Share Watch which no doubt helped generate some interest.
It's worth noting that volume is elevated on up days, whereas the volume is relatively subdued on down days. This is accumulation in the stock.
It's also interesting to see that the volume has been declining in 2021. The price has come off a little but is still well above its IPO listing price of 50p.
If you don't know what Calnex Solutions does, then click the new single page summary button or even easier hit Enter. This will bring the single page summary up (and hit enter again to go back to where you were).
Here is the summary page for Calnex Solutions.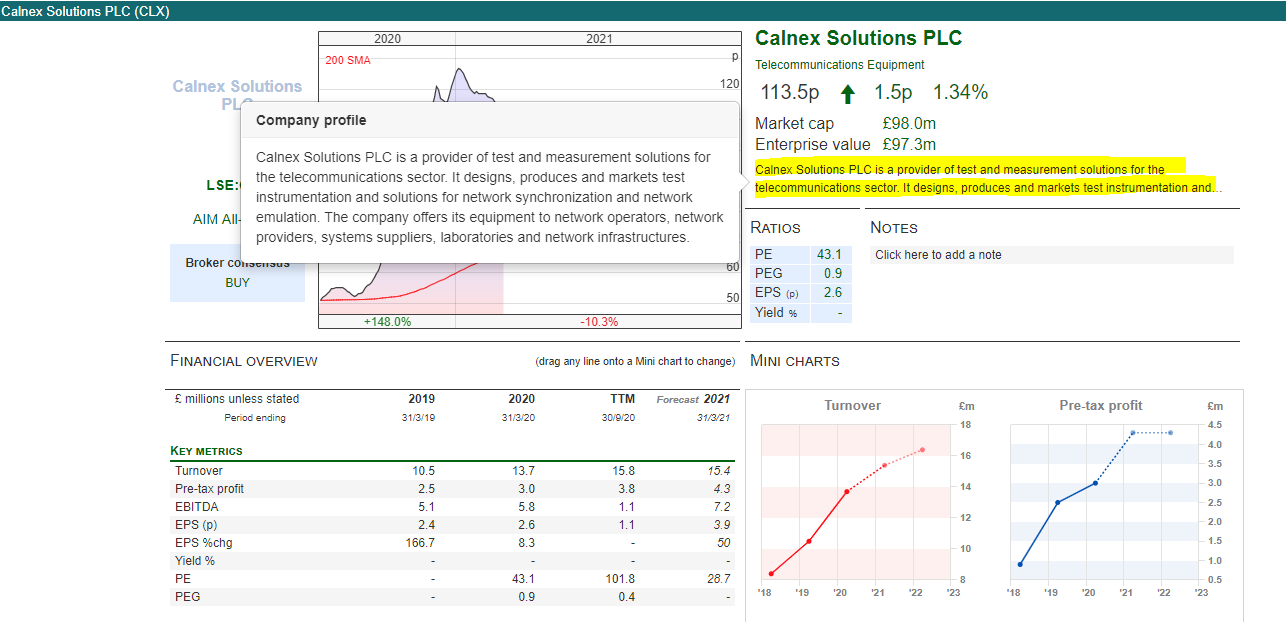 By clicking the description of the stock (highlighted in yellow) this brings up the full description.
The chart already tells me Calnex could be a potential stage 2 stock.
I want to see if it's growing and how the cash situation is. To do this, we can check the recent RNS announcements by clicking news.
I've loaded up the company's last results. We can see the first page of these below.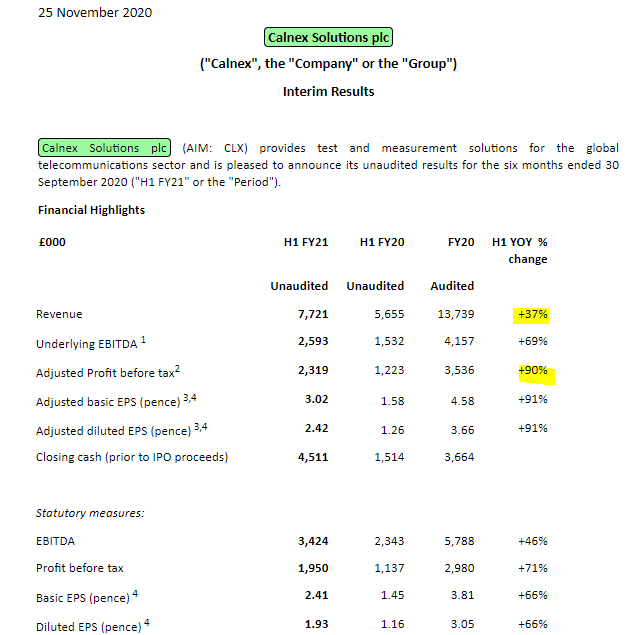 Revenue and adjusted profit before tax numbers look impressive. However, adjusted means "window-dressed". Sometimes these adjustments are fair and sometimes the adjustments are just management covering up.
Here are the adjustments:

Discontinued operations seem reasonable as they won't be a factor going forward. IPO costs I'd also agree on. It's a one-off cost. However, share based payments could be one for the investors to look out for. As a trader I mostly only care if a stock is going up or down – but if you were buying the shares for the business and not the chart it's worth checking this out.
Management will always tell you to ignore share based payments. But what if management continuously award themselves lucrative options packages and shares year after year? That's no good!
The company also notes closing cash for the period (although this is prior to IPO proceeds). But if the company needed to raise so soon then one assumes it would've done so at the IPO.
In any case, I've set a line alarm on Calnex Solutions at around 125p on my ShareScope. This will then alert me once the stock hits that level, letting me know that the stock is close to breaking out.
Equals Group
(I hold a long position in this stock)
Equals Group is a stock which I think has a lot of potential. It's the old FairFX. It took a bath in the summer of 2019 and only now looks like recovering.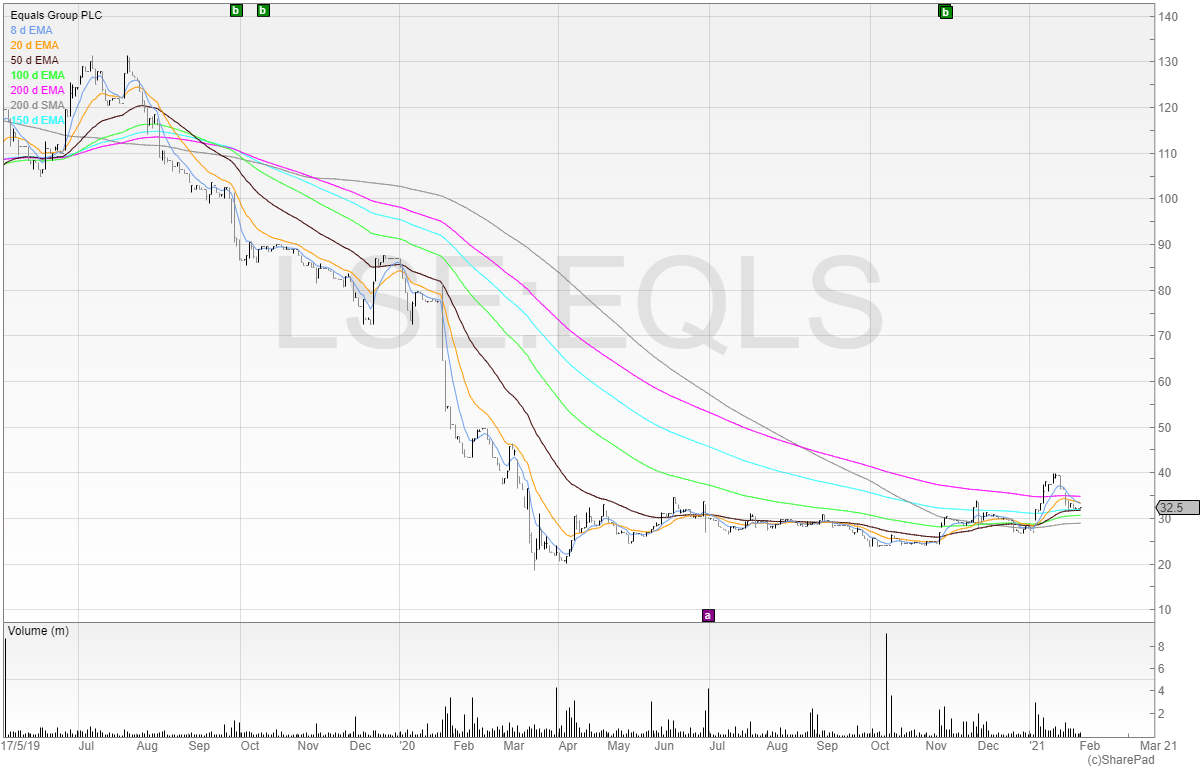 Here is the chart for the stock. To me it looks like an extended stage 1 base. Ever since Coronavirus hit the stock has struggled to gain momentum – but it has also held up well too.
The stock broke out of the base but still has yet to make a 52 week high. It has retraced and perhaps may be getting ready for make a further move north.
Is the move backed by anything?
The recent RNS suggests this is possible.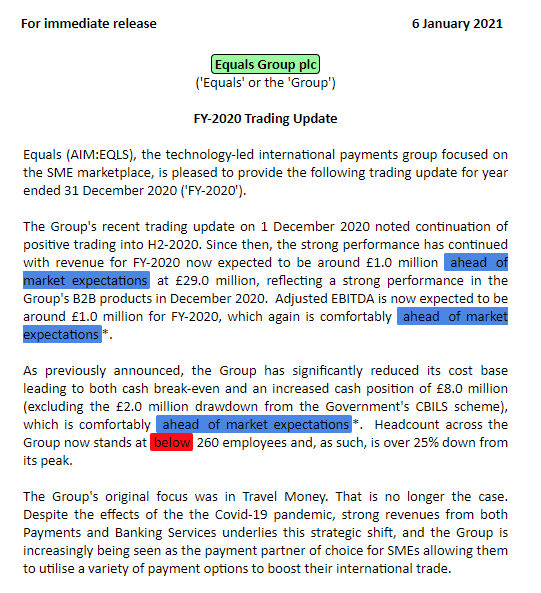 We can see that the business's trading conditions have improved ahead of forecasts and the business has now also achieved a cash break-even position.
The business has also changed focus from Travel Money, which I believe is a sensible decision given the Covid-19 restrictions on travel both for business and pleasure.
I would like to add to my position if the stock can break out of the 39.5p recent high.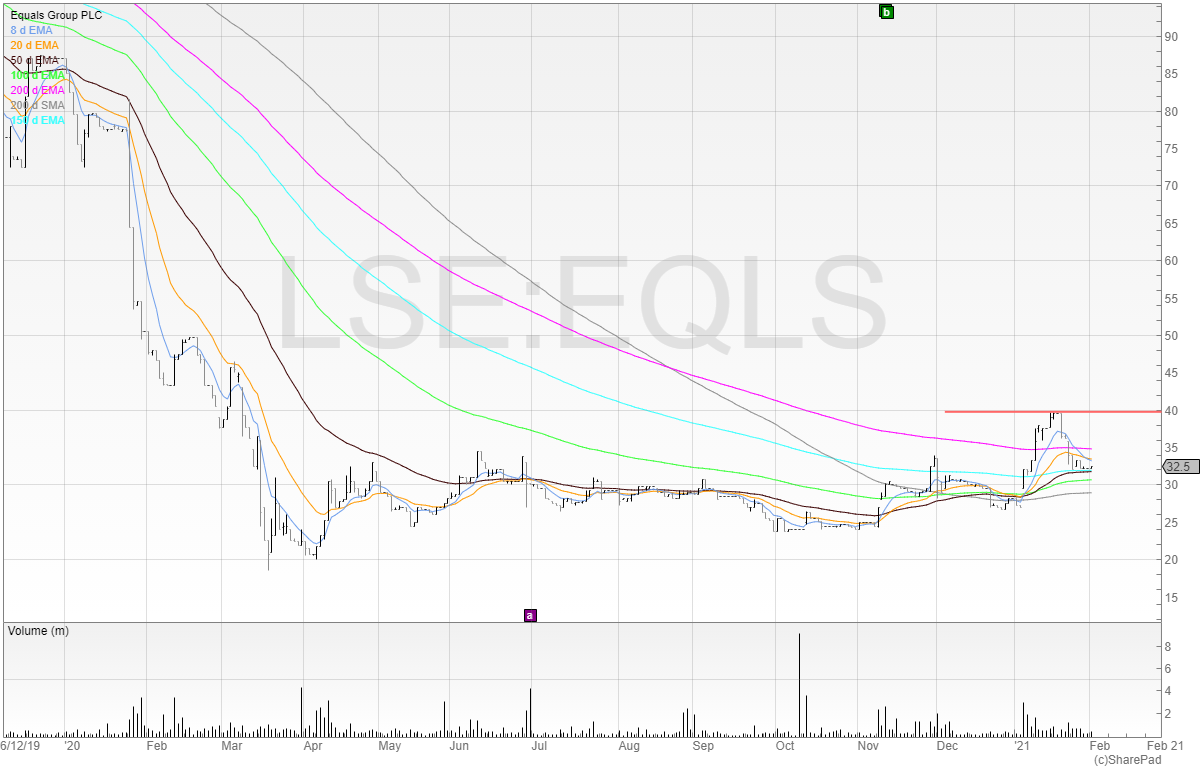 This would be bullish as it would be above all of the moving averages, including the 200 moving averages.
There are many stocks that have been beaten down and washed out as a result of heavy selling and capitulation.
I believe we are seeing the beginnings of a potential bull run in London-listed small caps.
As I tweeted recently, a few weeks ago nearly 25% of the entire exchange was below a £30 million market capitalisation.
There's a lot of potential to make money in stocks that are trending upwards and that are backed by strengthening fundamentals.
These are the best trades and I hope to be able to drill down on plenty of these with my filter.
If you found this article useful – you might find my subscription newsletter (free) of interest. In it, I'll be talking about trading ideas and things I've learned in that month. You can sign up at my website below.
Michael Taylor
Buy the Breakout trading newsletter available at: www.shiftingshares.com
Twitter: @shiftingshares
This article is for educational purposes only. It is not a recommendation to buy or sell shares or other investments. Do your own research before buying or selling any investment or seek professional financial advice.