Warren Buffett is famous to have said "If a capitalist had been present at Kitty Hawk back in the early 1900s, he should have shot Orville Wright".
This is because the airline industry is deemed to have sucked huge amounts of money and destroyed shareholder value more than any other sector. But is that fair? The vast majority of companies fail, and most indexes are heavily skewed towards a small amount of companies who have been doing the long hard slog of value building.
Despite Mr Buffett's comment, there have been some very successful airlines listed on the London Stock Exchange. It's also had its fair share of garbage, such as Fastjet (LSE: FJET), which really does need a bullet (or perhaps the people that fund it do), but companies such as Dart Group, easyJet, and Ryanair have all enjoyed stock market success.
Here is the chart of Fastjet, which listed in 2006 at 110p, and is currently 0.225p. In fairness, it appears to have been a different company previously, with fastjet.com first making an appearance in December 2011. Aside from the one-day spike as the RNS mentioned easyJet – it's been a one-way journey. There are way more shares in issue now, and millions of pounds have been sunk in and burned.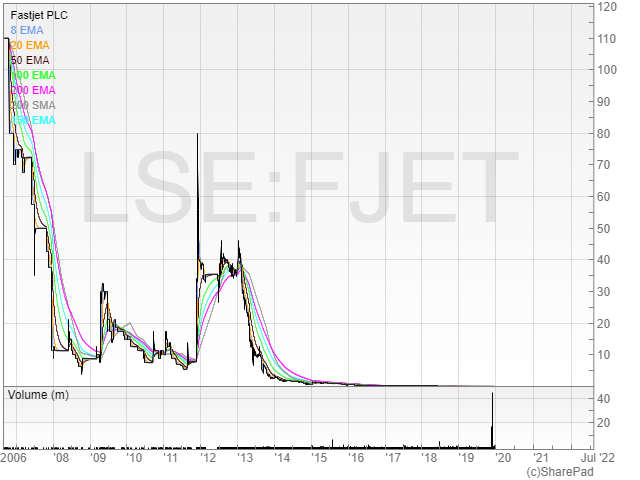 Here is the chart of Dart Group – which came to the stock market in 1991. It has made shareholders fortunes through its ownership and operation of the Jet2 and Fowler Welch brands.
People could be forgiven they had missed the boat here, but the stock has gone up 50% in just a few months.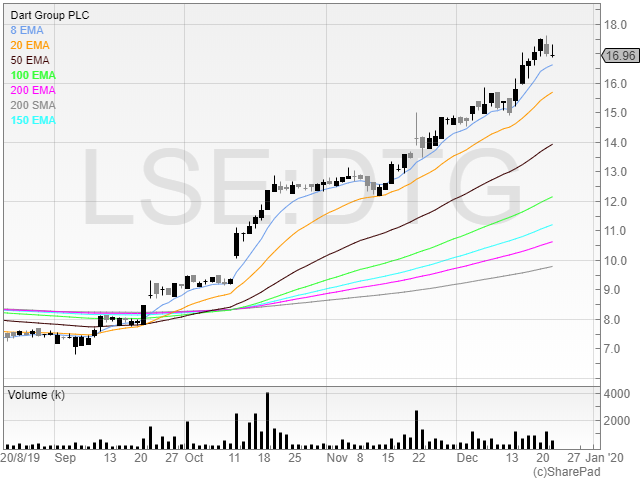 This was due to a Trading Update which contained the following phrase:
"Given the strengthening booking trend, the Board now believes that current market expectations for Group profit before foreign exchange revaluations and taxation for the year ending 31 March 2020 will be exceeded."
Whenever those magical words are uttered (and it's worth following my friend Reb as she helpfully points them out in the morning) a stock usually responds in earnest. Of course, if the market was efficient, then all of the discounted cash flows and future NPVs of projects would have been computed into the price and then there wouldn't be so much volatility after the auction. And yet the price action added a cool ~£600-700 million to the market cap in just over eight weeks.
Dart Group is named after the Rolls-Royce Dart engines that have powered the company's aviation adventures. It's not relevant in any way, but I've wondered where the name came from before. If you have – now you know!
Easyjet PLC has also been a big deliverer of shareholder value since it listed in late 2000.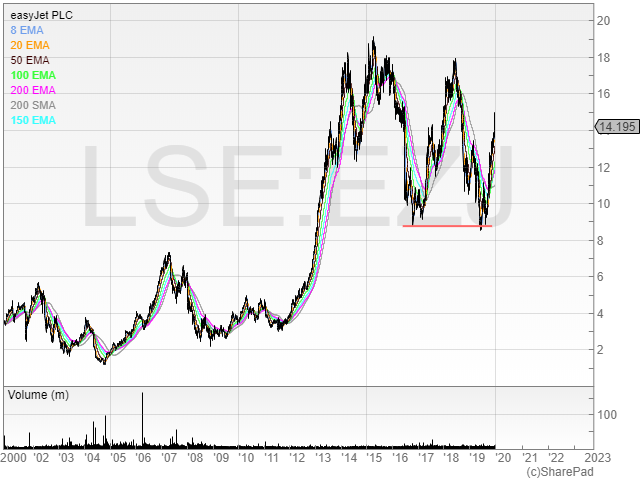 That that, of course, depends on where you bought it. One wouldn't be so pleased if they bought at 1900p in 2014 only to sell for less than 1000p in 2016, or bought at 1700p in 2018 only to sell below 900p in 2019. It clearly matters when one buys.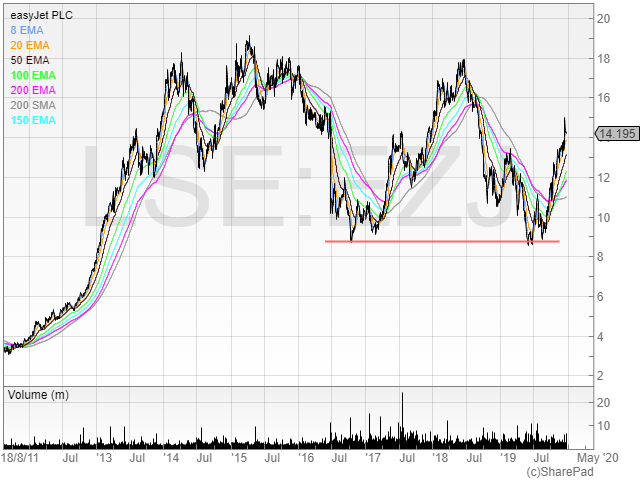 In 2017, the 200 moving averages began to trend upwards. That was the signal for a rally in the price, and it's a signal that is in the process of re-occurring now. However, that doesn't mean we should pile in and buy.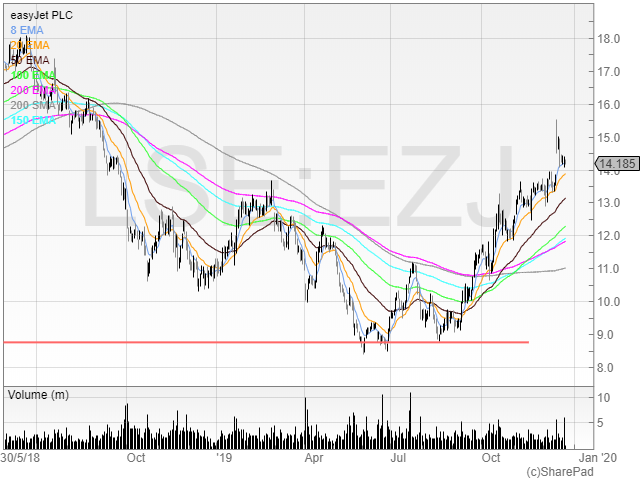 If we think about the stock in terms of risk/reward, the best opportunity was in the stop loss liquidity underneath the red line. Placing our buy orders just below support gives us a better entry as the closest we can be to the danger zone the better.
Right now, we're in the middle of a range between support and resistance. Unless the trade is a scalp – I don't see the point in buying here. Yes, the stock might trade up to the all time high – but what if it doesn't? It's not an optimal buy point (unless your edge is specifically buying the middle of ranges).
Rather, I'd like to see the stock continue to bowl up to the high, and form a cup and handle pattern.
Velocity Composites
This stock is not in the airline industry, but it is in the airline service industry. The company is a manufacturer of carbon fibre kits for use in the production of aircraft. It also provides engineers kits that reduce waste from the composites supply chain.
The stock listed in 2017, and has had a torrid time on the exchange, and I assume many of the company's shareholder register are nursing hefty losses.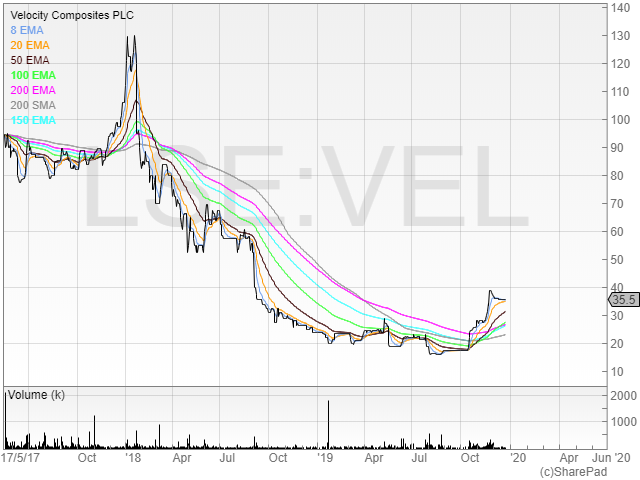 Those who read my last article on cups and bowls will recognise this as a bowl pattern. Let's take a closer look.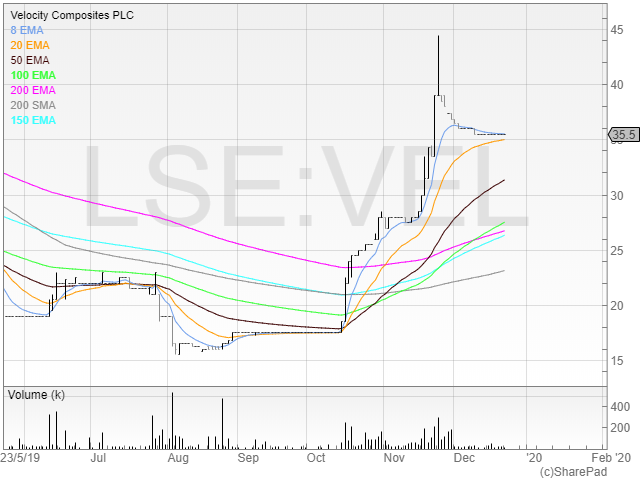 The trend appears to have been started with an RNS announcing a 50,000 share buy at 18.49p on the 15th of October from non-executive Chair Andy Beaden. This was followed by more buys over the following few days. The Trading Update that followed showed revenue slightly down but gross margin improving.
It's possible that this could be the beginning of a turnaround in fundamentals for the stock, but that is not what I am interested in. Fundamentals are nice, but price action matters to me the most.
The update came out on the 13th of November when the price was 28p – it then spiked to 44.5p and looks to be consolidating now around 35p. Normally, news is sold into – hence 'buy the rumour, sell the news' – but here the news appears to have been bought.
The stock is illiquid, but it's trading at a market cap of £12.8 million at a share price of 35.5p. If it breaks out of the recent high at 44.5p then I would want to be long to try to take advantage of the trend that appears to be forming.
Wizz Air
Not to be confused with Icelandic ultra-low cost airline WOW Air which also had purple planes (and was so cheap it didn't make any money and went bust) – Wizz Air has enjoyed happier fortunes.
It's also trending right up there at an all-time high, which is very bullish.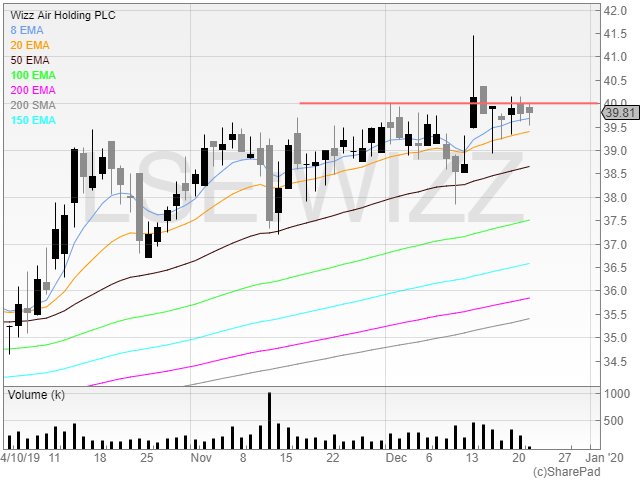 4000p appears to be resistance. It's funny how round numbers often seen to be support or resistance, whereas if the market was efficient then they'd likely be random. Understanding this can give you an edge in trading, as humans are flawed.
Wizz Air at a market cap of £4 billion isn't going to make anyone rich – but it's gently trending upwards. It's one I've traded plenty in the past and may trade again if it breaches 4000p.
International Consolidated Airlines
This is the chart of IAG – owner of British Airways, Iberia, Air Lingus, Vueling, and others. It too appears to have changed trend, with all of the moving averages pointing upwards.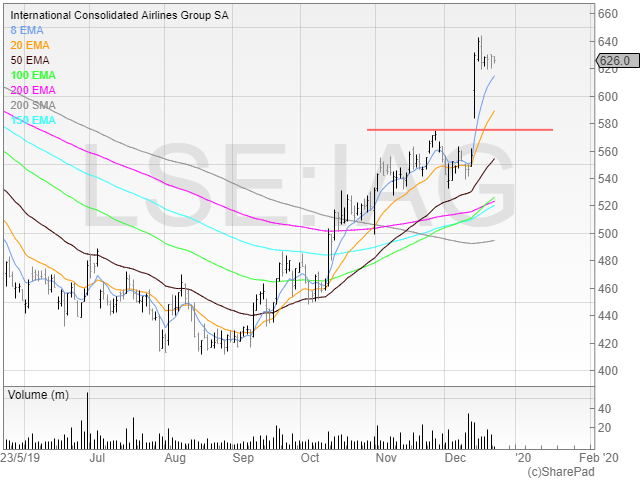 The resistance appears to be at 575p, and it would've been an opportunity to get on board the trend had the stock not gapped up through for the 'Boris Bounce'. However, it's in the middle of a range again. Clearly, the best opportunity was as the stock broke decisively through the 50 EMA – which had been resistance three times prior. We had a backtest and then the stock carried on. Another opportunity will be at the all-time high at 727p.
Warren Buffett may be right about airlines – but that doesn't mean we can't make a bit of cash on them in the short term.
You can read Michael's free collection of books available from his website at www.shiftingshares.com
Michael does not have any positions in the stocks mentioned. None of the information in this article is a recommendation to buy or sell or is intended as investment research – it is the opinion of the author only. Please do your own research before trading or investing or seek professional financial advice.
This article is for educational purposes only. It is not a recommendation to buy or sell shares or other investments. Do your own research before buying or selling any investment or seek professional financial advice.