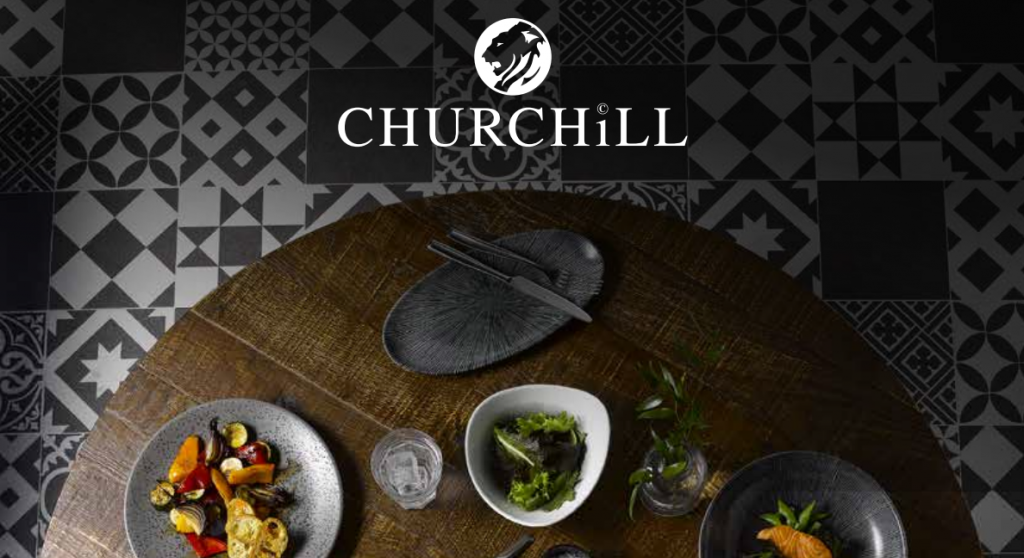 One thing we should always check is that a company's long-term performance matches the story it tells us. Churchill China says it is "adding value" to tableware, a horrible bit of jargon that is easily corroborated in SharePad.
I received a nasty shock last time I reviewed one of my long-standing investments. Familiarity, I said, can breed complacency, before discovering I had perhaps been complacent about Portmeirion.
The second old favourite to come under scrutiny in SharePad is often associated with Portmeirion although the two companies are quite different. Churchill China makes tableware in Stoke-on-Trent too, but you are unlikely to have a Churchill China plate displayed on your dresser unless it is an old one. Over 90% of revenue comes from the hospitality industry: pubs, restaurants, hotels, cafes, and caterers.
Investigating Churchill China impartially is a challenge as I have owned shares in the company for a decade. I have probably read all ten annual reports it has published since I bought the shares as well as some of the ones it published before. I have voted at the AGM, met the directors, and toured the factory. I drank out of a Churchill China cup this morning, an AGM gift. When my daughter went to University I gave her my other Churchill China cup.
Obviously, I know stuff about Churchill China I could not know just from looking at the financials. It really is strong, for example, an important consideration in commercial kitchens. I learned this first hand when I dropped my cup onto a hard surface and it bounced unharmed.
Getting the story straight
If I were new to the company, I would be pretty impressed by the chairman's statement in the annual report. Although it performed well in 2018, revenue increased 7% and operating profit increased 24%, the Chairman's spiel draws our attention away from these facts, saying: "Focusing on a single year's performance does not fully reflect the strength of our business."
He continues: "Our business has developed substantially over the last five years from 2013 in line with our business strategy. Sales to Hospitality customers have increased from £32.7m to £52.4m at a compound annual rate of almost 10%, with Group exports rising from 39% to 60% of our business. The proportion of Hospitality revenue represented by added value products with higher margins has risen from 10% to 44%, with a consequent increase in operating margin from 8% to over 16%."
That is a lot of numbers and jargon, but decoded it pretty much explains why Churchill China is more profitable than it used to be. It has made hospitality as opposed to retail customers like you and me its priority. Restaurants have different requirements to us. Posh crockery like Portmeirion's spends most of its time on display, and we only put food on it when royalty or perhaps the in-laws visit. Churchill China is used a number of times each day and spends much of the rest of the time in dishwashers.
Portmeirion pottery is there to look good. Churchill China's is there to make the food look good (for a gazillion examples check out Churchill's Instagram), and survive a battering in the kitchen. Spot the difference:
The grey patterned plate is Churchill China, but coloured, patterned and textured plates are a relatively new development.
The company showcases a plate on the front cover of its annual report and if you could lay all the reports out as I can, you would notice something interesting. Until 2010 the featured tableware is almost always smooth and white. Then, in 2013, a texture crept in, and 2014's annual report featured a coloured and patterned bowl. Since then the front covers have been kaleidoscopic.
The "added value" is the colour and texture, and in financial terms, it is visible in a higher profit margin – the difference between revenue and cost. The more Churchill can charge for a plate and the less it costs to make it, the more value it has created. The ultimate beneficiaries of value creation are of course customers who get great plates, shareholders who own part of a growing business, and employees who work for an innovative striving company.
We should not underestimate the cost side of this equation. When I visited Churchill China's automated factory I learned it had developed methods of applying a glaze and texture in one process, saving time and energy. According to the company, patterned British tableware tends to be harder wearing because of the special qualities of British clays and the unique production processes developed over the centuries, which result in stronger pottery with the pattern applied under the glaze instead of on or in it.
Commercial buyers are price conscious, and Churchill China has probably had a very successful decade because it learned to produce hardy but snazzy plates cheaply. Already the market leader in Britain, it has taken the fight to Europe, and as the chairman says, it is winning there too.
So far, though, this is just words and pictures and a few, perhaps cherry-picked numbers. If they are true, we should be able to see it in SharePad, in the form of steadily growing revenue, profit and return on capital, which we can do using the easily overlooked SharePad "carousel", a flip board of ready-made financial charts on the summary page of the financials tab.
Getting better at making money
As you can see the trend in revenue and profit coincides with the appearance of snazzy plates on the front cover of Churchill China's annual reports. The early years of this trend, 2013, represent a tipping point where growth in "added value" plates and exports began to outweigh contraction in UK retail sales.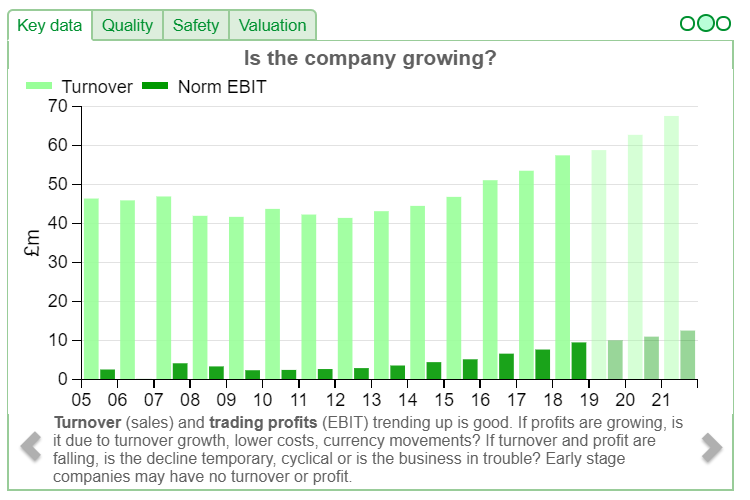 The next chart is beautiful. It shows that Churchill China is not just making more money, it is getting better at making money (which is why profit has grown faster than revenue, a fact that may not be apparent in the chart above because the two are drawn on the same scale):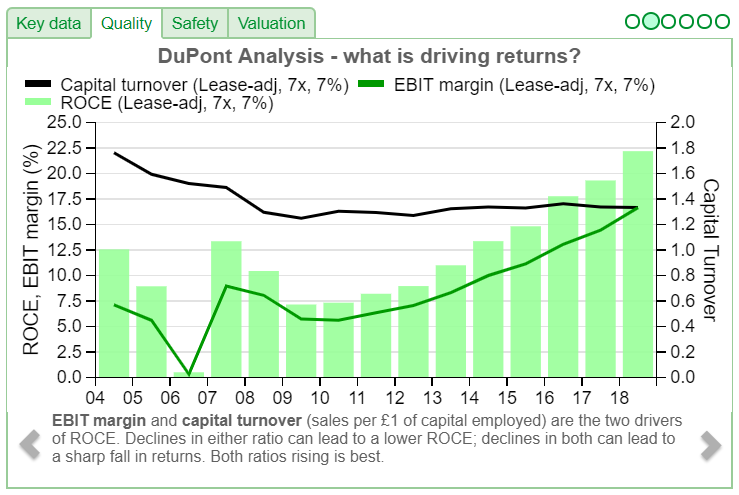 As the chairman said, profit margins (the green EBIT margin line in the chart) have expanded because Churchill China is adding more value. The company has gone from single-digit returns on capital to a highly profitable business earning more than 20% return on capital.
We can also see that competitors willing to emulate Churchill China may not only have to work out how to produce hardy, coloured, textured and patterned plates cheaply, they may also have to spend a lot of money tooling up. The cost of new equipment probably explains why Churchill China's capital expenditure was so high between 2008 and 2010: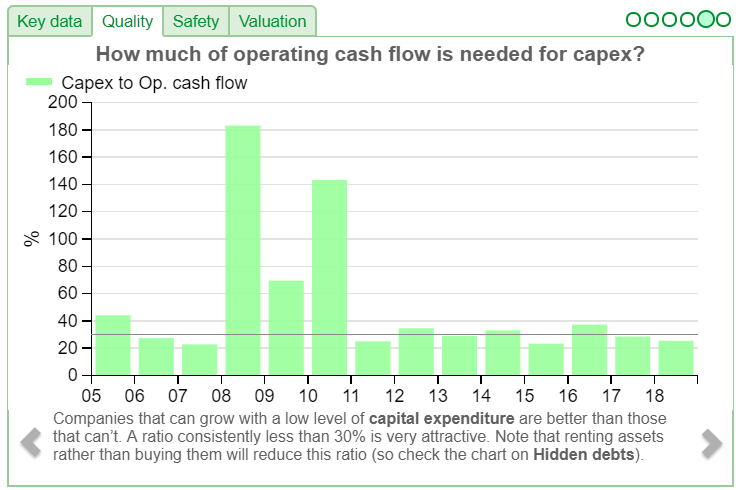 And we can see that Churchill China made this transition by investing its own resources. The company eschews borrowing, and although its pension fund is underfunded, it could extinguish the deficit and still have a large cash balance:
The improvement in Churchill China may not only be about the product. Customers regularly buy more commercial tableware as they open new restaurants and replace breakages, so a reliable supply is important.
Churchill China appears to be on a roll, but it may find it harder to grow in future, particularly if the UK leaves the European Customs Union as the company is already the market leader in the UK and Europe is where the growth opportunity lies. Europe (excluding the UK) is threatening to become the company's biggest market: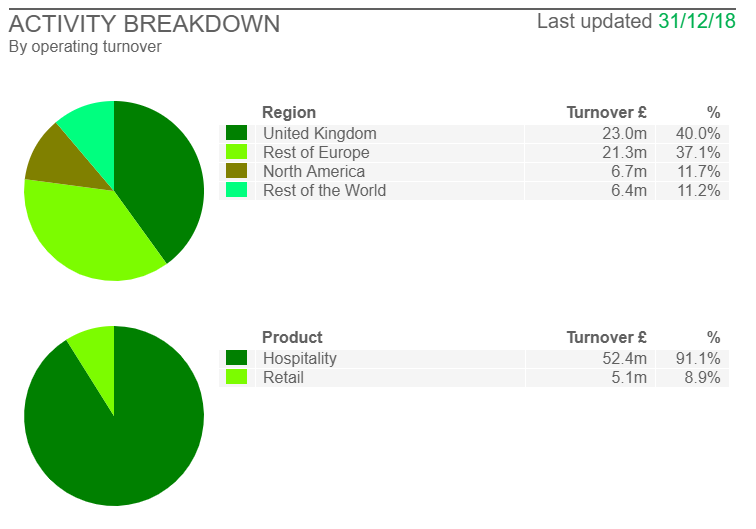 If tariffs are introduced on UK exports to the EU, it would reduce Churchill's advantage over EU competitors but I am much more confident that Churchill has a winning product than I am in the likelihood of a worsening of the terms of trade with the EU. In the worst case, the popularity of the product may well trump tariff costs.
If that sounds complacent, it may be but the numbers back the story and that is good enough for me. Traders have a lot of confidence in Churchill China, so the shares are not obviously cheap. SharePad tells us the shares trade on a debt-adjusted price earnings ratio of nearly 20.
Richard Beddard
Contact Richard Beddard by email: richard@beddard.net or on Twitter: @RichardBeddard.
This article is for educational purposes only. It is not a recommendation to buy or sell shares or other investments. Do your own research before buying or selling any investment or seek professional financial advice.