Richard finds 11 franchisors listed in London and pits them against each other in a championship to find the best one. In round one, a wildcard goes out to the number two seed.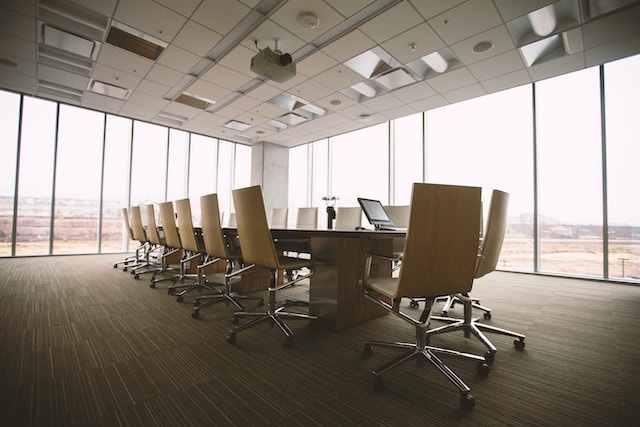 One of the first things I noticed when I started scoring companies in SharePad this spring was that franchises were scoring well.
A franchise is a business that charges other businesses, franchisees, to use its name and expertise in exchange for a fee (or fees). This means franchisors can grow more quickly and with less risk than if they were to fund their own growth because the franchisee shares the costs.
More than the sum of their parts
It is important though, that this is not a one-sided relationship, otherwise franchisees will become disenchanted and look for other business opportunities and new franchisees will be put off.
Franchisors often describe franchising as a win-win business model. As business owners themselves, the franchisees should be entrepreneurial and know their local markets, while the franchisor can bring the benefits of a national or international brand both in name recognition and by supplying legal and regulatory know-how, and marketing support, for example.
These activities can be daunting for small businesses to handle on their own.
The idea is that franchisee and franchisor do what they are best at, they are more than the sum of their parts.
That is what I will be looking for, when examining some of the names in the table below:
Name
Score
CROCI (10y ave)
Annual report date
Strikes
M Winkworth
0
27.40%
28/04/2023
Belvoir
1
13.60%
04/04/2023
– Shares
Cake Box Holdings
1
22.20%
18/08/2022
– IPO
Domino's Pizza
1
19.80%
31/03/2023
– Debt
The Property Franchise Group
1
18%
28/04/2023
– Shares
InterContinental Hotels
2
18.30%
06/03/2023
– Holdings – Debt
Franchise Brands
3
6.10%
20/03/2023
– Acquisitions – ROCE – Shares
Water Intelligence
3
5.68%
17/06/2022
– Acquisitions – CROCI – Shares
Superdry
4
2.51%
19/10/2022
– CROCI – Growth – Debt – ROCE
Mothercare
X
-7.52%
16/09/2022
– Holdings – CROCI – Growth – Debt – ROCE – Shares
Marston's
X
1.06%
21/12/2022
– Holdings – CROCI – Growth – Debt – ROCE
Methodology: Strikes are allocated using the author's judgement when the company publishes its annual report. Each strike is something to worry about and adds one point to a company's score. Shares that score between zero and two strikes are worthy of further analysis. Shares that score three or four strikes go on a slush pile, and shares that score five strikes or more are of no further interest until I score them again next year. See Five Strikes and You're Out.

– Shares: The company has issued lots of new shares over the years

– IPO: The company floated in recent years
– Debt: The company's debt-to-capital ratio is high

– ROCE and CROCI: Profitability is highly variable, weak, or both

– Holdings: The directors do not have significant shareholdings

– Acquisitions: Company has spent more than it has earned in free cash flow
Top seed, Winkworth is an estate agency franchise.
Joint second seeds Belvoir and The Property Franchise Group also run franchises that let and sell property. They are joined by takeaway pizza chain Domino's Pizza and egg free Cake shop franchise Cake Box.
Also in the frame for investment is sixth seed InterContinental Hotels, franchisor of the InterContinental and Holiday Inn brands among many others.
Franchise Brands is unusual for this group, as it franchises an eclectic agglomeration of brands rather than focusing on a specific industry. Its franchisees can improve the bodywork of your car, arrange for your dog to be cared for while you are away, or sort out your businesses' plumbing. That is only three of its six franchises!
Superdry is a troubled fashion retailer, the majority of its stores are franchised. Mothercare is the former mother and baby retailer. Marston's is a pub chain.
These companies are unseeded because when I scored them, I found too much to worry about…
Finding franchises
To find these franchises I booted up SharePad, but it turned out to be more difficult than anticipated.
The problem is the word franchise, which I used as a keyword to comb through SharePad's news feed, has many meanings. The word means freedom or privilege, which is why democracies have enfranchised populations and a franchisee has the privilege to operate a franchise.
But the word is also used by businesses to describe product families based on a common technology or intellectual property, hence video games companies have games franchises, big pharma has drug franchises, and my search brought back lots of false positives.
Retailers and restaurant chains are keen franchisors because they have formats that are readily rolled-out, but often this is only a side hustle for them. Food and clothing retailer M&S, and one-time newsagent WHSmith franchise overseas. Greggs, the pie chain, franchises in locations it cannot open stores itself.
A search for "franchise" also brings up franchisees, like motor dealerships. More false positives.
My list of 11 companies are predominantly franchisors. To give you a better flavour of the kind of businesses we are comparing let us pair up one of the seeds against one of the wildcards.
Belvoir
Belvoir's single strike is a 55% increase in share count over the last decade, which is a 4.5% annual growth rate. Since this dilutes our claim on the company's profit, the company needs to grow profit by comfortably more to compensate us. Thankfully it has, largely by acquisition.
There are two aspects to Belvoir's business model, a network of property franchises, which let and sell property, and also provide customers, in the form of homebuyers and landlords, for its growing stable of mortgage advisory businesses.
The company charges franchisees a fee based on their revenue from lettings and sales, and earns a commission on sales of products and services, which it shares with franchisees. In return, Franchisees get a wide range of support services you can read about on the company's website.
Most (56% in 2022) of gross profit comes via fees paid by its franchisees ultimately earned from lettings, which Belvoir describes as recurring revenue.
Since financial services and sales are more recent diversifications than the original letting business founded in 1995, they have grown in importance over the last five or six years.
If that continues to be the case Belvoir's profitability may become more dependent on the state of the housing market, and consequently more volatile, as the proportion of non-recurring revenue increases.
That said, Belvoir passes my cursory inspection. It is a good benchmark to measure the other franchises against. Maynard came to the same conclusion recently, when he took an in-depth look at Belvoir's finances.
First, though I want to knock out one of the low-scoring shares from the list.
Mothercare
Mothercare fails five of my scoring factors. The fact that the directors do not own substantial amounts of shares is not a knock-out blow itself but the financials: Return on Capital Employed (ROCE), Cash Return on Capital invested (CROCI), net financial obligations to capital (Debt) and Growth (percentage growth in turnover) are all worrying when looked at over many years: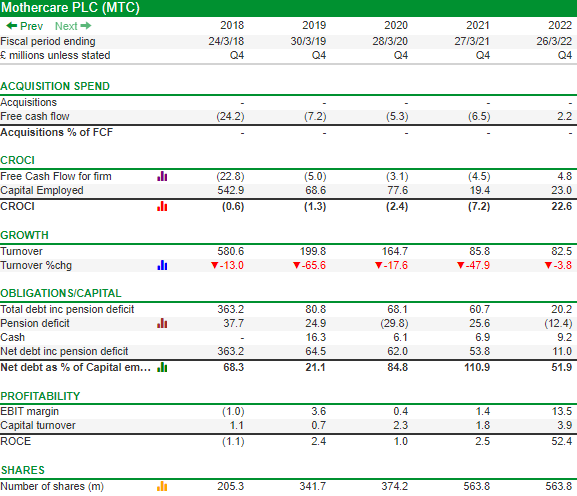 Source: SharePad custom table: One custom table to rule them all. To fit the page we have shown only five years of data, but this tale of woe goes back much further.
In cash terms, the company has lost money in four out of the last five years. Turnover has shrunk in every one of them. As is fairly typical of retailers because of their high lease obligations, Mothercare's net financial obligations are significant too. Profitability has been derisory in every year but the most recent one.
But we need to be careful assessing these figures. The rot at Mothercare set in a long time ago and it would be remarkable if people were not trying to do something about it. The results for the last full year to March 2022, stand in contrast to the previous years. It earned much more profit and cash in relation to a reduced capital base.
Mothercare is employing less capital because it put its UK operations into administration in November 2019, and it has been reborn as a global franchisor (Boots, the chemist chain, has the UK franchise).
Mothercare still designs and sources products, but typically these are shipped directly from the manufacturers to franchisees.
To another kind of investor, one who likes speculations, Mothercare might be interesting, but to me it is terrifying. The brand failed in its home market, and next year's forecasts are not comforting.
Turnover will fall again in 2023 because Mothercare has lost a big chunk of business from Russia. Meanwhile, it is refinancing borrowings, its pension obligations remain problematic, and chief executive Daniel Le Vesconte stepped down in June. He was appointed in January!
Half-year results for the six-months to March 2025 should be published soon, and they may not make comfortable reading for shareholders.
Predictably perhaps, Mothercare goes out of the Franchise Championships in the first round. I hope though, it survives, and it has time to demonstrate that franchising can be a profitable route to recovery.
~
Contact Richard Beddard by email: richard@beddard.net or on Twitter: @RichardBeddard
Got some thoughts on this week's article from Richard? Share these in the SharePad chat. Login to SharePad – click on the chat icon in the top right – select or search for a specific share.
This article is for educational purposes only. It is not a recommendation to buy or sell shares or other investments. Do your own research before buying or selling any investment or seek professional financial advice.