In this article Michael Taylor looks at stocks that are trading near their lows and that could potentially fall further. He also uses the SharePad filter library to look for those that might break out including Wood Group plc, Softcat plc, Safestyle uk and Restaurant Group.
The market today is different to the market of last year.
Meme stocks, diamond hands, and "to the moon" were all common phrases.
You don't see them now.
Fiona and Freddy Furlough who entered the market in March 2020 and enjoyed a huge rally have either lost it all or are now grimly holding on to losing positions.
Here are a few sobering charts.
EasyJet – now through the Covid lows.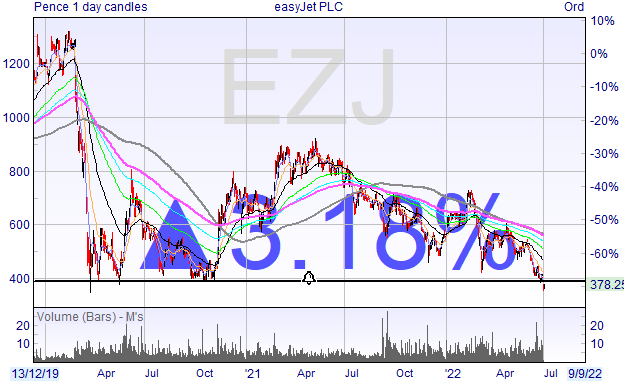 Boohoo now prints at 55p from around a 430p high.
You often see many seasoned investors warning new entrants to the stock market about 'story stocks'.
They're not wrong to do so – many AIM stocks are trash. It's a market full of lifestyle companies that achieve little, staffed by people who are in the right place at the right time.
But it's not just story stocks you need to be wary of.
Boohoo is down -82% from its high.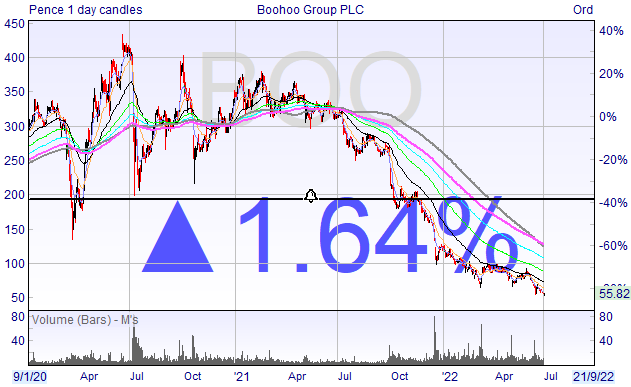 Ocado is another.
It's down -71%.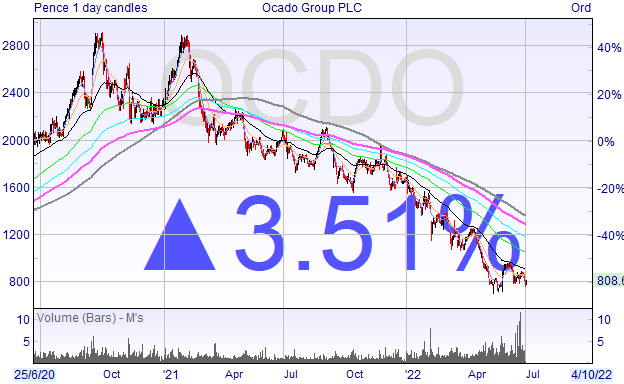 Two of these three are established businesses. But the market doesn't discriminate. We're in a market driven by fear now – and the signs have been coming for a long time.
Here's something I posted on Twitter in December 2021.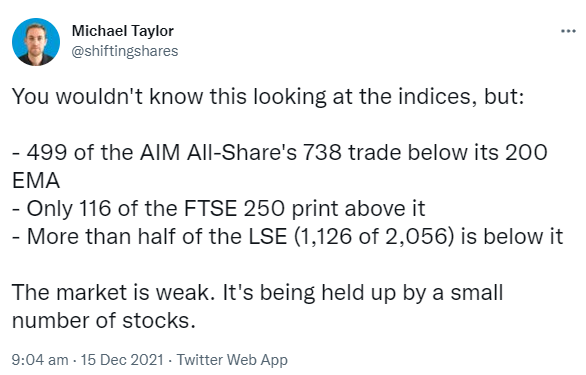 It was a clear sign of weakness. Six months on, the indices have now taken a hammering.
Most people want to be long. It's human nature.
We are optimists as a species. And it pays to be an optimist overall. Being a long-term bear isn't good for anyone's wealth – just look at how the indices have created value over time.
Naturally, many of those stocks underperform the market and the index tends to be help up by a small few wealth builders. But in a bull market almost everything goes up, and everyone loves it.
As a good friend of mine said: "Everything's funny when you're making money".
It's not so funny when everything is now going down.
The power of the breakdown
This is where breakdowns truly come into play.
Instead of looking for stocks to break out – I like to focus on stocks that are weak and coming close to support.
You can do this with my 10% off 52w high filter that is listed on the library.
Head to the filter library and search "Michael".

All of my filters are available here.
When you run it, you'll get a list like this: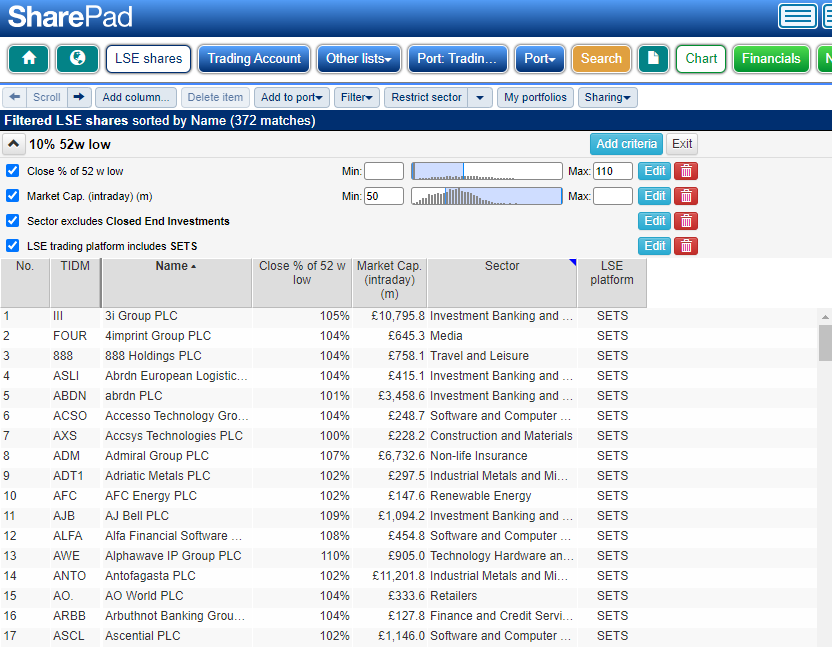 Wood Group (WG.)
Here's one of the stocks from the list: Wood Group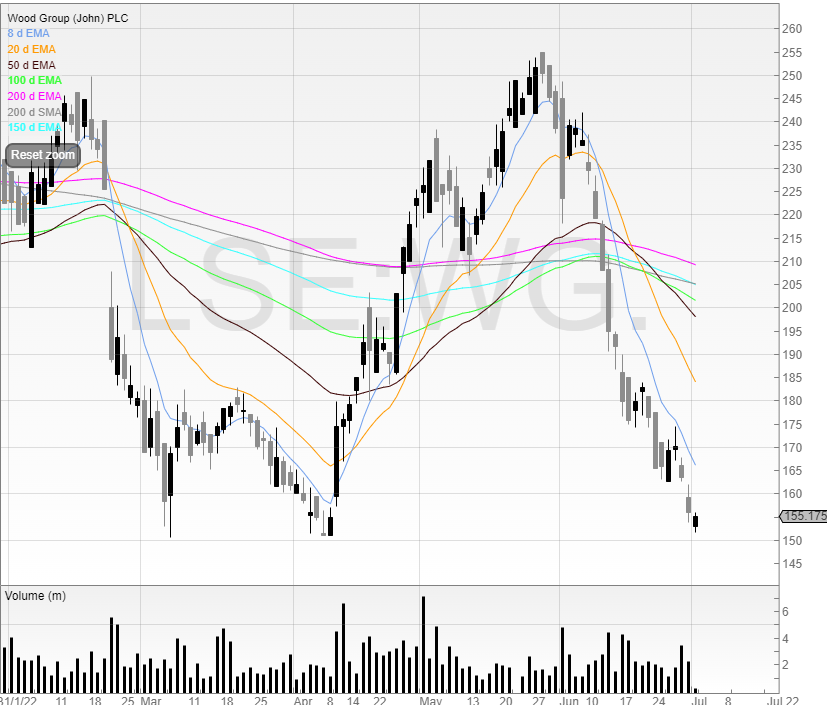 Notice how the stock has bounced off the 150p area twice?
I can set a line alarm here so I'll be notified when the price gets to that point.
Click the bell icon at the top and you'll then be able to draw a line with an alarm.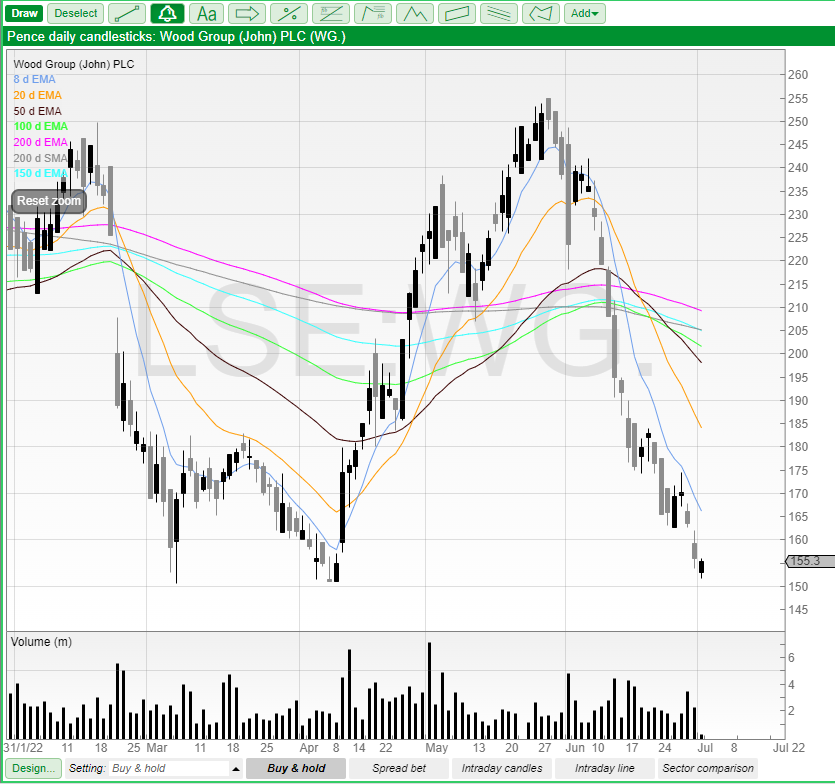 You can either draw the line on or hold Shift and click – this sets the alarm into eternity unless you delete it.
That means that you don't need to worry about time running out.
I once drew a line alarm for nine months. Then one day I saw the stock had broken down and I hadn't got the alarm, because it had been expired for three months!
Once you've got a line alarm your chart will look like this.
Here are some other stocks I've found.
Softcat (SCT)
Softcat PLC is a UK-based information technology infrastructure and service provider.
It's currently on a forecast PE of 26 – so it's not cheap.
I'd need to do more work on this stock as I like to be selective on breakdowns but the chart provides a nice starting point.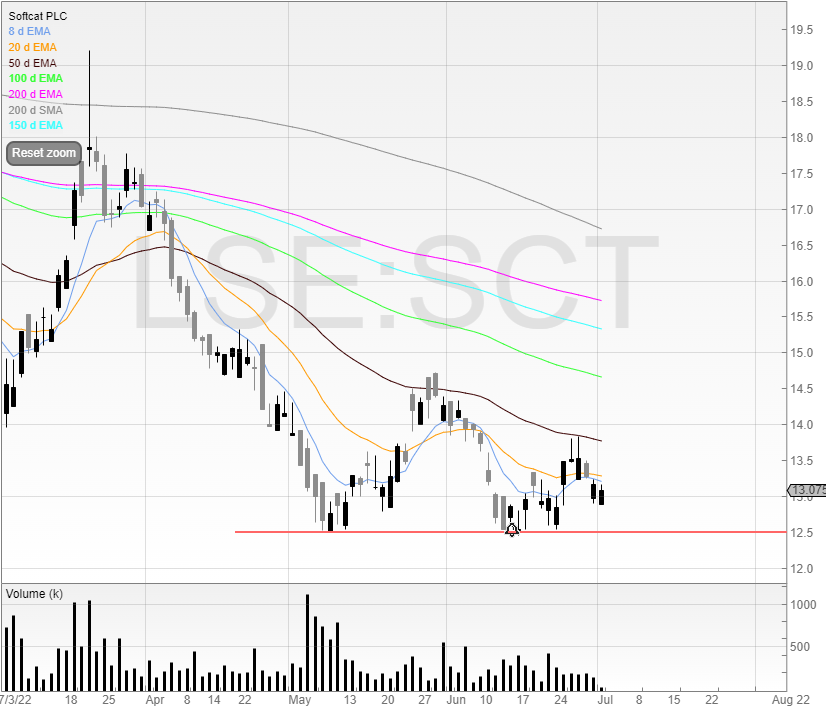 Safestyle (SFE)
Here's another one: Safestyle.
Notice how the stock bounced off 38p several times and this marks the low.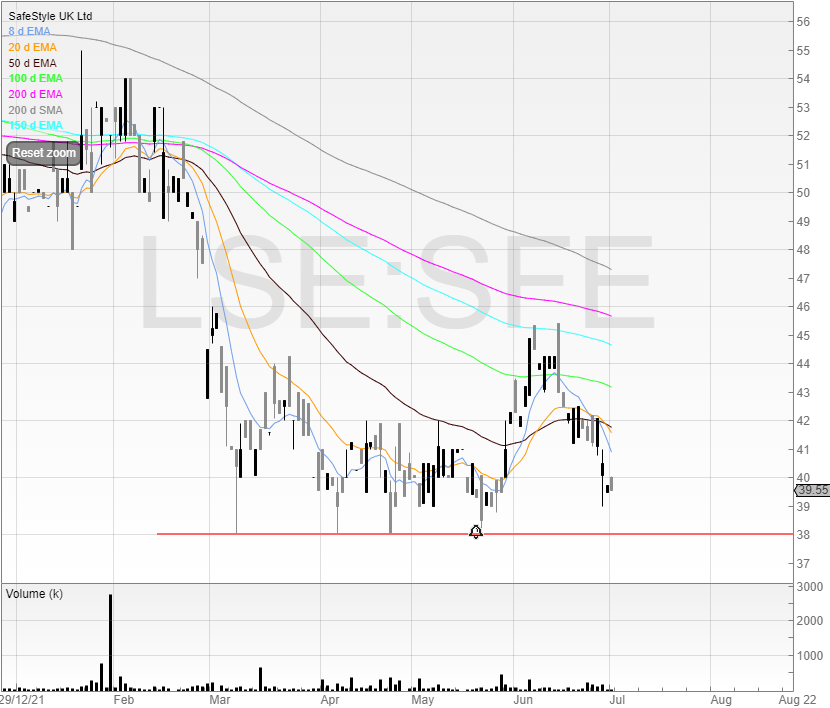 Safestyle manufactures and installs windows and doors. It's right in the firing line of the slump in consumer discretionary spending.
Here's what the company had to say in its interim results.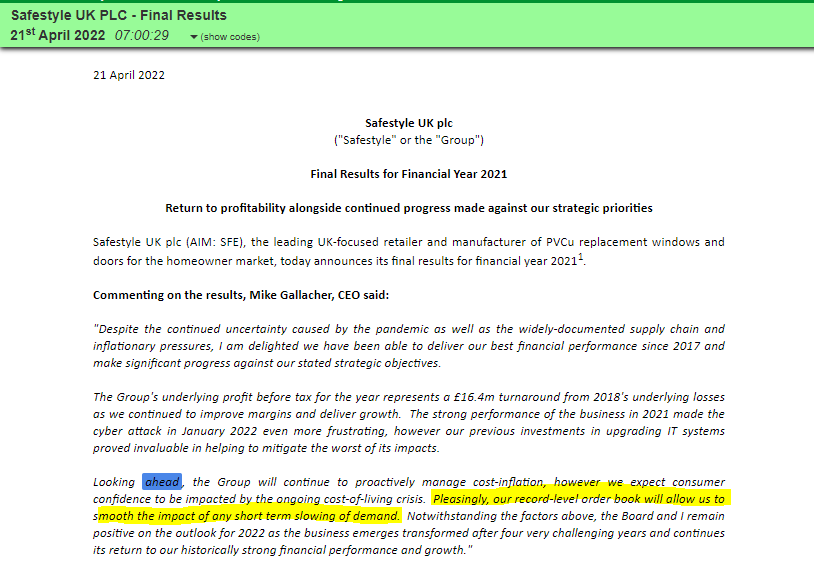 But are people going to be splashing out on even more expensive windows and doors (Safestyle say it has passed the price of raw materials onto the customer) when the cost of living crisis starts to bite?
My belief is probably not. Therefore, it's a great candidate for a short.
Restaurant Group (RTN)
My hatred of Frankie & Benny's isn't a secret. I'm no food connoisseur myself but it should be a crime to serve food this bad.
Here's the stock approaching a 2-year low at 40p.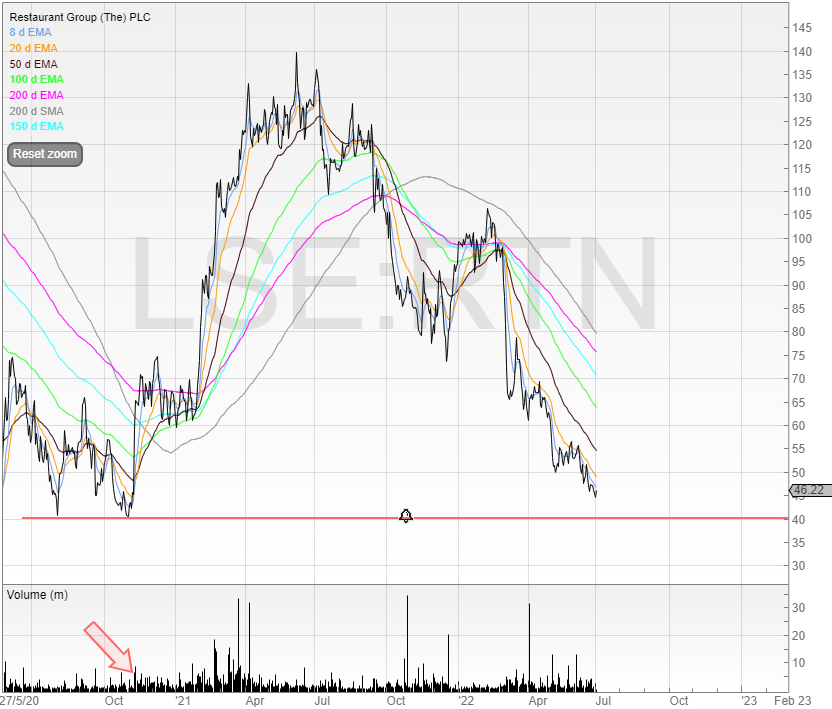 We've already seen the signs of people cutting back on eating out and leisure activities.
And it's true that Restaurant Group has a shareholder base to withstand going bust (and maybe even take advantage of others going under) – but it's not going to be immune to the storm that's coming.
At the moment, nobody is thinking of heating bills because it's the summer and the heating is off.
But they go up again in October.
I think this is an attractive short candidate.
Michael Taylor
Buy the Breakout trading newsletter available at: www.shiftingshares.com/newsletter
Follow my trading posts on LinkedIn: https://www.linkedin.com/in/michael-taylor-27bb295b/
Got some thoughts on this latest article from Michael? Share these in the SharePad "Traders' chat". Login to SharePad – click on the chat icon in the top right – select or search for "Traders' chat" chat.
This article is for educational purposes only. It is not a recommendation to buy or sell shares or other investments. Do your own research before buying or selling any investment or seek professional financial advice.