Michael demonstrates how straightforward the new chat is and how SharePad chat has been designed to allow users to connect and share information with each other. 
The Chat feature has been significantly improved in recent weeks.
SharePad has many successful and intelligent users (such as yourself), and this feature has been designed in order to help users connect with each other and share information.
Some of my best trades have come from the ideas of others, and so I'll be around in Traders' Chat to talk about the markets.
Using chat
Using Chat is relatively straightforward. Click the speech bubble button in the top right of your screen.

This will open the chat bubble on the left side of your screen.
If you want the chat to appear on the right, or even pop out as a floating window, you can do this by clicking the arrow next to Chat once opened, and selecting design.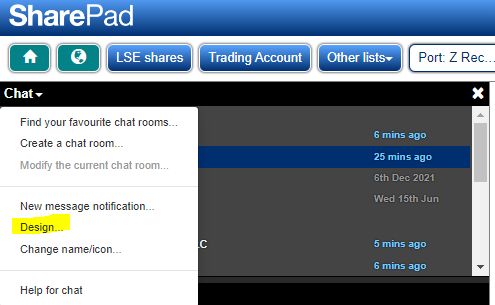 This then opens up this window: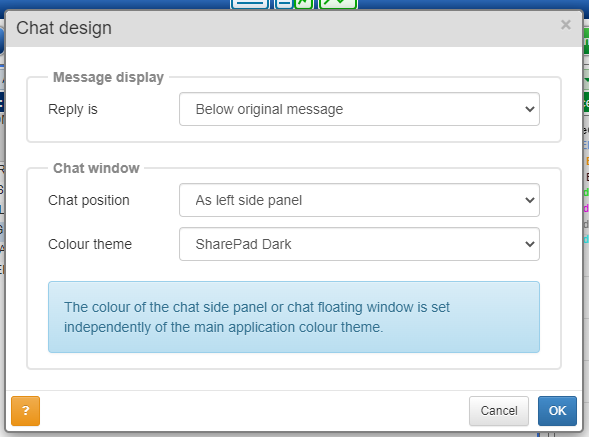 You can change the position of chat by clicking "Chat position".
Clicking "Change name/icon…" is self-explanatory. Anyone who doesn't change their picture will get the default initials for their account.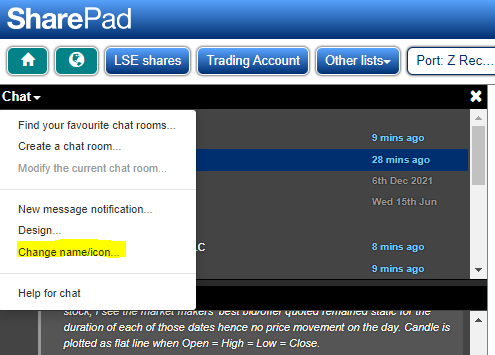 Chat Favourites and Current share
You'll also get default favourites. You can remove these by clicking the star icon next to the chat, and clicking it to add to your favourites.
For example, I've got little interest in Aviva PLC so I can get rid of it by clicking the star.

One useful feature is the "Current share" section.
Whenever you're on the blue screen the selected share will appear in current share.
For example, here's my Recruiter basket of shares.

Whenever I click on a different stock, the Current share will update and I can instantly see the last post.
This is useful because other users may have added their opinions or shared research. If you've got something to say about a stock – say it!
Replying to and receiving notifications
An improved feature is the ability to respond to messages and also get a notification when someone responds to you.
For example, everyone will get a notification about Domino's Pizza now I've added a comment about it coming in towards support.
But by clicking on John Kingham's message, his message now turns blue, which means I'm replying to him directly.
John will get a notification that I've responded to him once I click Reply.
This way, you can have direct conversations with people and not have to check every message.
This is what it looks like in chat.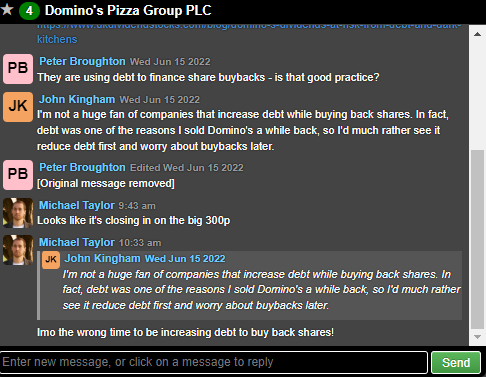 John's message is quoted with my response underneath.
Using Chat on lists
You can also use Chat on a list of stocks.
For example, let's say you've got your portfolio or watchlist in SharePad and want to see if there are any new comments on any the stocks you own or are watching.
You can make sure this feature is turned on by clicking the downward arrow next to Chat again and going to "Chat new message notification".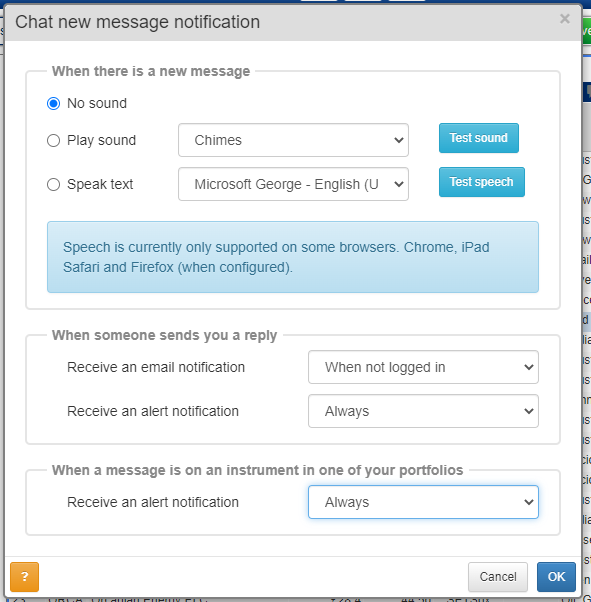 You can see that you can get sounds and also speech for alerts.
You can get alerted when not logged in via email, and you can get a notification when there is a new chat message on any of your portfolios.
Alerts on the list view
You can get alerts on the list view.
Look to the right on a list and then you'll see a speech bubble.

When the speech bubble is grey (as above) then this means there are no new chat messages for the list.
But when it turns blue – that means there are new messages.

Finding and creating new chatrooms
You can find and create new chatrooms on Chat, as well as having your own password if you wish!
The Share Chat and Support chats are currently the most active, but that could easily change.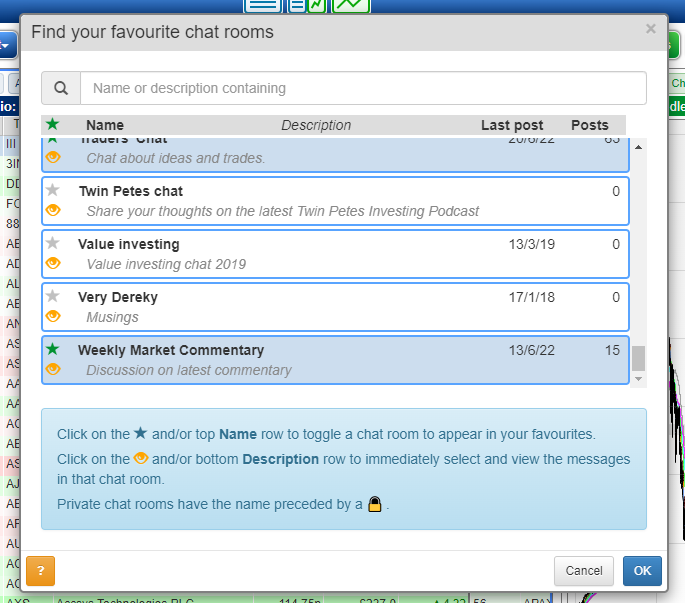 Getting started on Chat
If you've never used Chat before then it's easy to get started.
Log into SharePad, click the chat button, and upload a profile picture.
Then, join the Share Chat and introduce yourself!
Michael Taylor
Buy the Breakout trading newsletter available at: www.shiftingshares.com/newsletter
LinkedIn: https://www.linkedin.com/in/michael-taylor-27bb295b/
This article is for educational purposes only. It is not a recommendation to buy or sell shares or other investments. Do your own research before buying or selling any investment or seek professional financial advice.