Michael Taylor looks at three potential breakout plays in stocks that are holding up despite the adverse conditions.
The market has been rotating heavily in last few weeks. Commodity prices have surged with spikes in gas, crude, and nickel.
Nickel rose 100% in a single day due to a short seller getting squeezed. However, the London Metal Exchange is owned by Hong Kong Exchanges and Clearing, who decided to let the Chinese short seller off the hook by cancelling trades.
This is a dangerous path to go down. If you can't trade with the confidence that your trades will be honoured – especially in times of turbulence and volatility – then how can you have confidence in the system? The truth is – you can't.
We also saw trades cancelled in Polymetal. This is problematic if you shorted the stock at 1400p then covered in the next auction at 400p. If your trade was cancelled, then you were long at 400p. The issue is the price in the market was 200p. You'd then have been 50% down! These trades are rare, as most people aren't stupid enough to leave huge market orders in the auction, but it still sends the message that if you mess up big style, it's possible you can get your trades cancelled.
However, so long as you manage your risk and don't give blank cheque orders (I only give these to trusted brokers) then you should be fine.
In a weak market, the stocks that are breaking out are likely to be strong stocks. When everything is falling, I make a mental note of sectors that held up or even rallied. This tells me what to look out for on bounce periods.
I've got three stocks that I'm watching for a breakout and may trade if these levels get taken out.
Calnex Solutions (CLX)
Calnex is a stock that I've traded twice unsuccessfully so far.
Once when the stock announced better than expected results with the first arrow, and on the breakout of the base from the second arrow. The stock pulled right back from its breakout and stopped me out.
I don't need to trade this stock for revenge. I don't care that so far it has only ever taken from me, rather than produce any gains. But being stopped out twice with the stock holding up tells me that there is still a high chance of it breaking out and trending.
If I was going to trade Calnex a third time, I'd buy the breakout of the most recent high at 154p.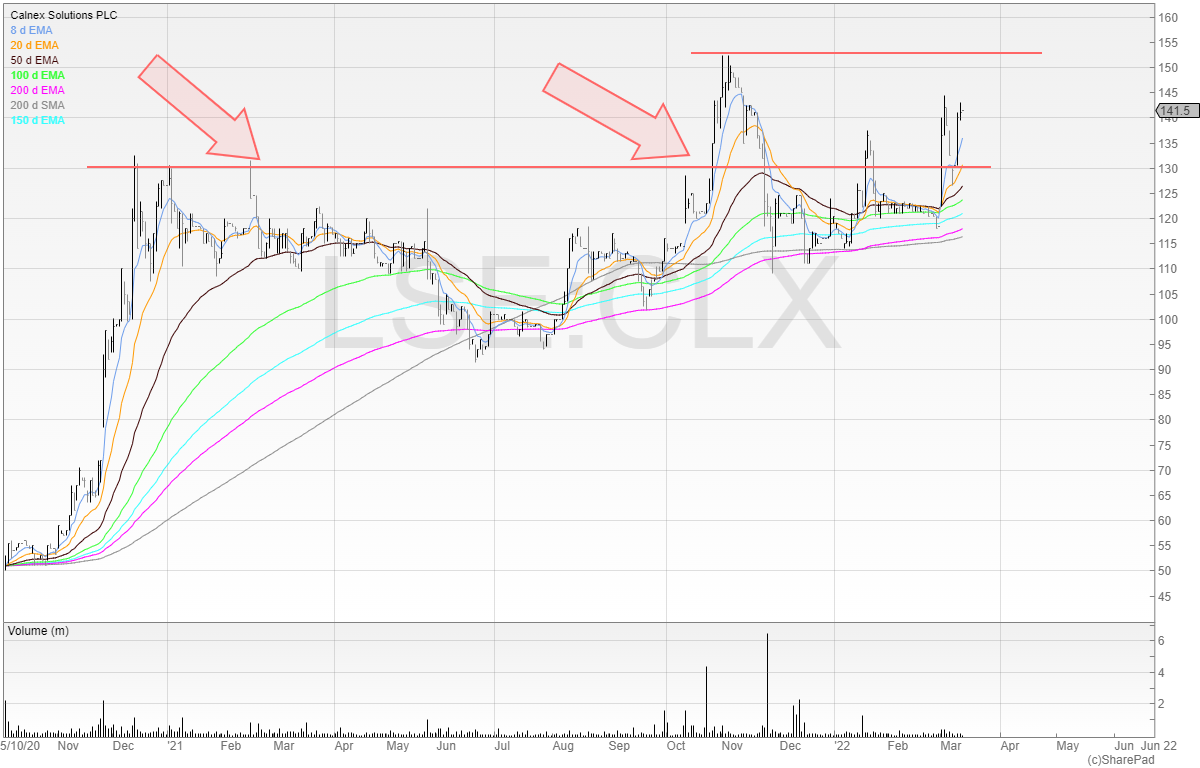 The stock reported on 1 March 2022 that the revenue and operating profit (notice the company doesn't say profit after tax) will be "materially ahead of expectations".
However, I also recall from the broker note (which I am not allowed to republish) that FY23 expectations were lower than the expectations for FY22 and clearly going to be beaten. Therefore, whilst this news is good, it may not actually be as good as the company would want it to seem.
In any case, this is still a growth company, and if the stock gently trends upwards to resistance and offers a breakout entry, I make take it.
Fonix Mobile (FNX)
Fonix mobile is another growth company. The stock listed in October 2020 and doubled quickly, before trending sideways since April 2021.
Here's the chart.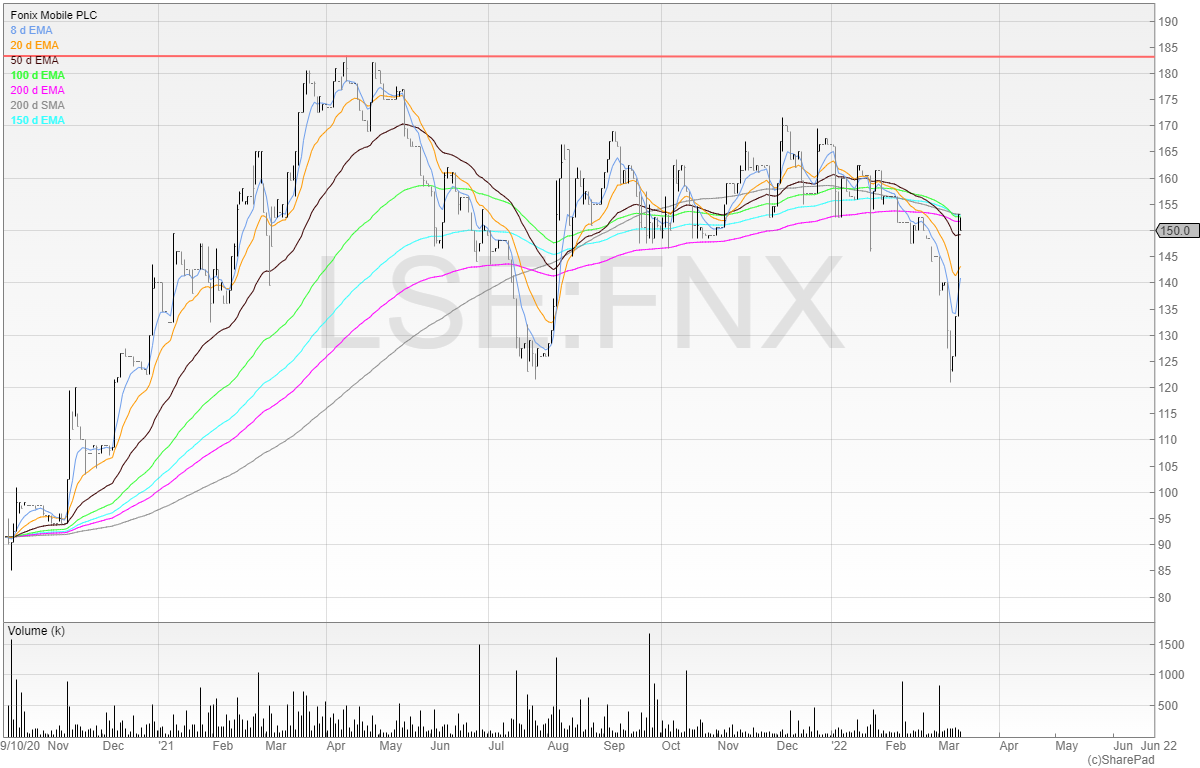 I'm looking at the 185p level as a breakout trade to get long. I believe we're entering a market downturn and if Fonix is going to show strength then I will consider going long.
Again, notice how the focus is on gross profit and adjusted EBITDA. Not net profit. Often, it's what management doesn't say that is what you want to focus on.
In my opinion: if net profit was going to be ahead of management expectations… they'd tell us so. Why would they not?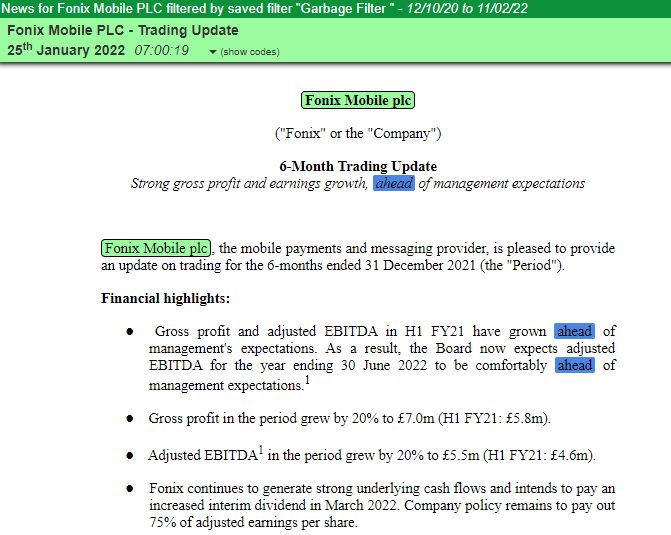 Northbridge Industrial Services (NBI)
Northbridge Industrial Services is about to change its name to Crestchic plc, with the TIDM "LOAD".
Peter Lynch says that companies only ever change their names when they want to scrub their past away and warns people to be careful.
That may be true, but it could also be new management drawing a line under the past, or a company marking a new strategic direction with a new name.
The latter appears to be the case here.
The Tasman division has now been sold and the company has a new focus.
I've yet to dig into this company much and see that the company has a presentation on its website, but the chart looks strong.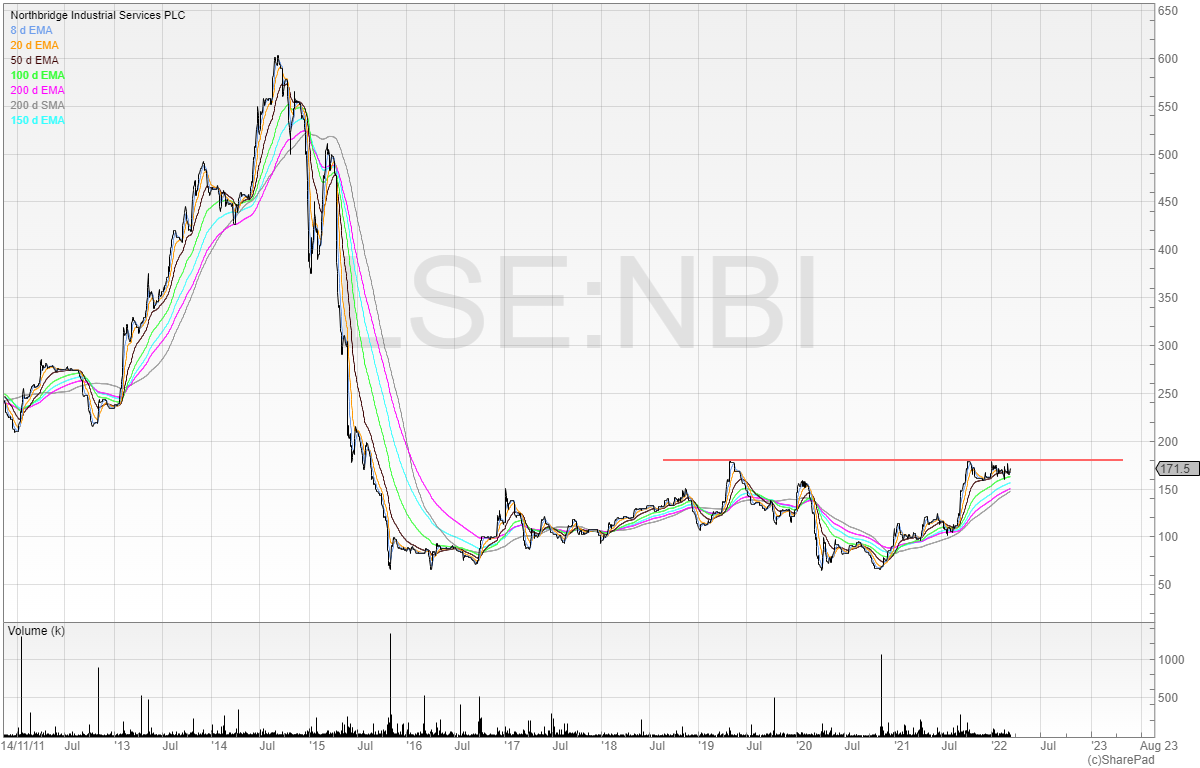 A breakout from these levels would push the stock into highs not since 2014!
Let's look closer.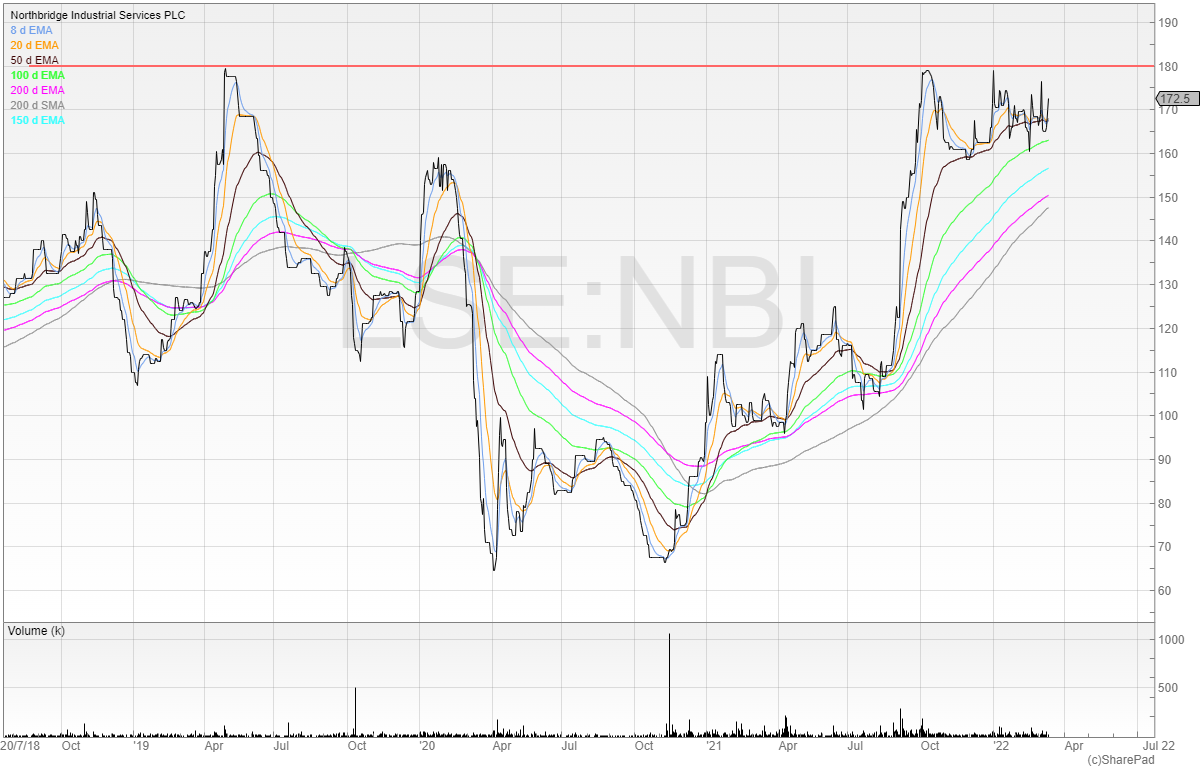 180p is the breakout area, and we can see that the price is trading below this resistance level with all of the moving averages pointing upwards.
Finding strong stocks in a weak market can be a good strategy and I feel these three trades could have potential. At the moment, I don't have any position in any of the companies mentioned.
Michael Taylor
Buy the Breakout trading newsletter available at: www.shiftingshares.com/newsletter
Twitter: @shiftingshares
This article is for educational purposes only. It is not a recommendation to buy or sell shares or other investments. Do your own research before buying or selling any investment or seek professional financial advice.