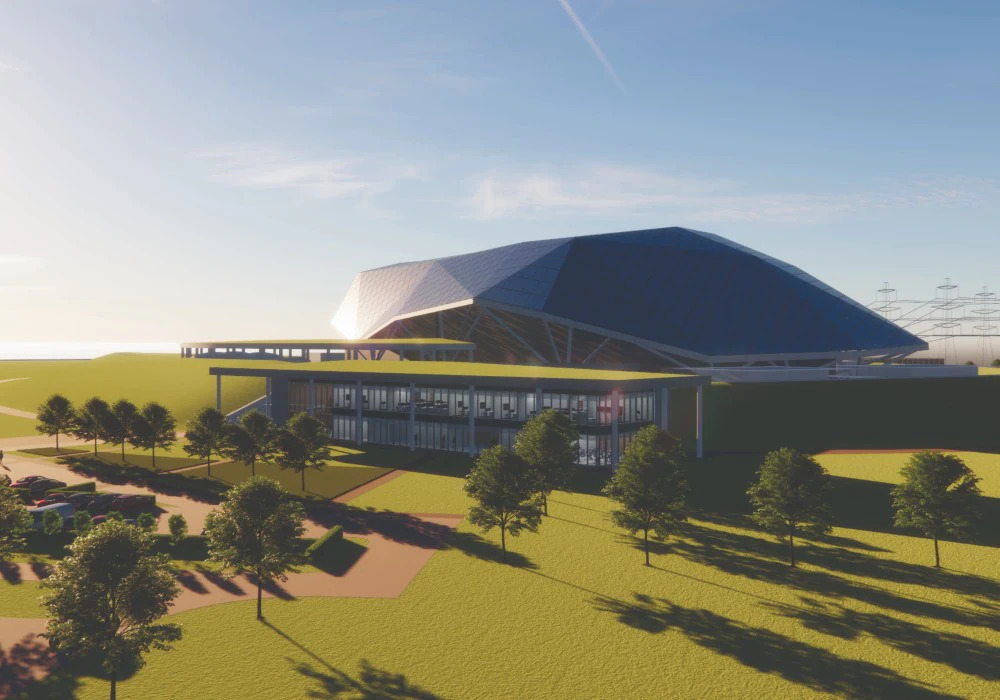 As investors, we need to be nimble and embrace market developments wherever they may take us. Climate change, the topic of the moment, has sparked a cavalcade of "green" businesses that have caught my eye. My previous greener features include Insig AI (INSG), Kinovo (KINO), and *Powerhouse Energy (PHE) *before the valuation got silly.
Rolls-Royce PLC (RR.) is a well-rounded proposition, a global brand known worldwide for its illustrious cars, now owned by BMW. It is also known for its engineering and the reliability of its aircraft engines, which power more than 35 commercial aircraft types. It boasts over 13,000 engines in service worldwide. However, just as airline stocks share prices have hit turbulence due to COVID-19 restrictions, so has Rolls-Royce, losing revenues from its servicing and sales. But, as the world returns to some normality, airline stocks will recover as air travel returns to normal. I expect Rolls-Royce shares to fly a little higher.
As we can see from the two-year chart, Rolls-Royce has, like a great many companies, recovered from the initial panic sell-off in March 2020. Of course, there is still some way to go, but the future is green, sorry, brighter and everyone seems to be embracing this, including me.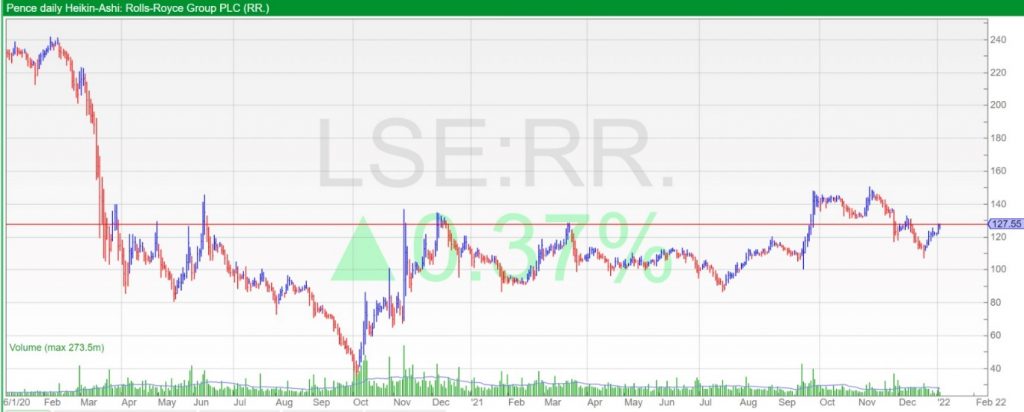 Rolls-Royce PLC is not just about aircraft engines; it has a broad portfolio of engines capable of servicing many forms of travel. Besides, it has developed something I believe will be a big part of the future of our energy consumption, making us less reliant on fossil fuels and their volatile prices.
I speak of the Small Modular Reactor (SMR) a proven nuclear technology, coupled with a plan for unique factory-made module manufacturing and on-site assembly system. A suitable site manufacturing site has yet to be established. Generic Design Assessment (GDA) process is tasked with identifying sites for the factory(s) that will manufacture the modules that enable on-site assembly of the power plants.
Investment in a greener future
The company has been going through a transition by selling assets, which appear to be restructuring, if you will. For example, the sale of Nordic maritime engine-maker, Bergen Engines, will raise €91m (£76m), of which it will retain €16m of cash. The money will be used to pay down debt. Rolls-Royce's target is to make at least £2 billion from asset sales as it looks to rebuild the group's balance sheet.
As part of the greener strategy, the company announced it had reached a milestone. It has started building the world's largest aeroengine, the UltraFan, which it claims will help redefine sustainable air travel. The new UltraFan delivers a 25% fuel efficiency improvement compared with the first generation of Trent engines and is suitable for a wide range of aircraft.
December 2021, Rolls-Royce announced it is investing in methanol technology for climate-friendly shipping. Power Systems is currently working on MTU engines for use with methanol. The new high-speed four-stroke engines are based on proven MTU technologies.
Rolls-Royce's two MTU 16V 4000 M55RN gas engines were chosen for the world's first liquified natural gas (LNG)-hybrid-powered tugboat. The LNG-hybrid propulsion system will provide flexibility to cater to various operational modes and can switch between LNG engines and zero-emission battery power. The company announced that it had won a contract to supply eight MTU engines to Brazilian shipyard Rio Maguari last month.
Rolls-Royce plc goes nuclear
Rolls-Royce also announced in December it has reached an agreement with Qatar Investment Authority (QIA), the sovereign wealth fund of the State of Qatar. They will invest £85 million in Rolls-Royce SMR Limited, which will build a new technology solution to deliver affordable, low carbon, nuclear power. A single power station will occupy around one-tenth of the size of a conventional nuclear generation site and power approximately one million homes.
The creation of the Rolls-Royce Small Modular Reactor (SMR) business was announced following a £195m cash injection from private firms and a £210m grant from the UK government. It is uncertain how much each SMR will cost. It is estimated at around £2 billion once the consortium has reached scalability. This is a significant benefit from the ludicrous costs of a nuclear reactor which seem to increase in price every few months, offering no certainty over the final cost, and a significant burden on the taxpayers.
Rolls-Royce won the backing of a consortium of private investors and the UK government to develop small nuclear reactors to generate cleaner energy; this is thought to reduce the reliance on European energy markets, making the UK more self-sufficient.
Hundreds of SMRs are likely to be needed in the UK if we switch from fossil to electricity. Each can produce 440 megawatts of electricity – roughly enough to power Sheffield. Moreover, it can support both on-grid electricity and a range of off-grid clean energy solutions, enabling the decarbonisation of industrial processes and the production of clean fuels, such as sustainable aviation fuels (SAF) and green hydrogen to support the energy transition on the broader heat and transportation sectors.
The business, which will continue to seek further investment, will proceed rapidly with a range of parallel delivery activities, including entry to the UK. Discussions will also continue with the UK Government on identifying the delivery models that will enable long-term investment in this vital, net-zero enabling technology. In addition, it is clear there is a significant opportunity for Rolls-Royce to export SMR across many countries that need this technology to meet their net-zero commitments. China, the world's biggest polluter would be an ideal and significant market for the SMR.
The UK government says new nuclear is essential if the UK is to meet its target of reaching net-zero emissions by 2050. Six of the UK's seven nuclear reactor sites are scheduled to go offline by 2030. This leaves Sizewell B, also scheduled to be decommissioned in 2035, leaving a 20% void in the UK energy capacity. It's logical to assume Rolls-Royce SMR could scale up production to fill this void, and indeed, increase our energy capacity. Instead of building hugely expensive nuclear reactors, which nobody wants to live close to, a series of hundreds of SMR's could be made and shipped by road to the site for assembly; a quick alternative fix.
Nine-tenths of an individual Rolls-Royce SMR power plant will be built or assembled in factory conditions. Around 80% could be delivered by a UK supply chain – a unique offering in energy infrastructure in the UK. Much of the venture's investment is expected to be focused in the North of the UK, where there is significant existing nuclear expertise.
Business and Energy Secretary Kwasi Kwarteng said: "This is a once in a lifetime opportunity for the UK to deploy more low carbon energy than ever before and ensure greater energy independence. Small Modular Reactors offer exciting opportunities to cut costs and build more quickly, ensuring we can bring clean electricity to people's homes and cut our already-dwindling use of volatile fossil fuels even further.
In working with Rolls-Royce, we are proud to back the largest engineering collaboration the UK has ever seen – uniting some of the most respected and innovating organisations on the planet. Not only can we maximise British content, create new intellectual property and reinvigorate supply chains, but also position our country as a global leader in innovative nuclear technologies we can potentially export elsewhere. By harnessing British engineering and ingenuity, we can double down on our plan to deploy more home-grown, affordable clean energy in this country."
Obviously, I am looking to the future, rather than now. No investment advice offered, but, if you are inclined, Rolls-Royce seems to me to be primed for an exciting green future, as well as likely to play a major role in this county's energy independence, and possibly a huge export market.
Elric Langton
This article is for educational purposes only. It is not a recommendation to buy or sell shares or other investments. Do your own research before buying or selling any investment or seek professional financial advice.