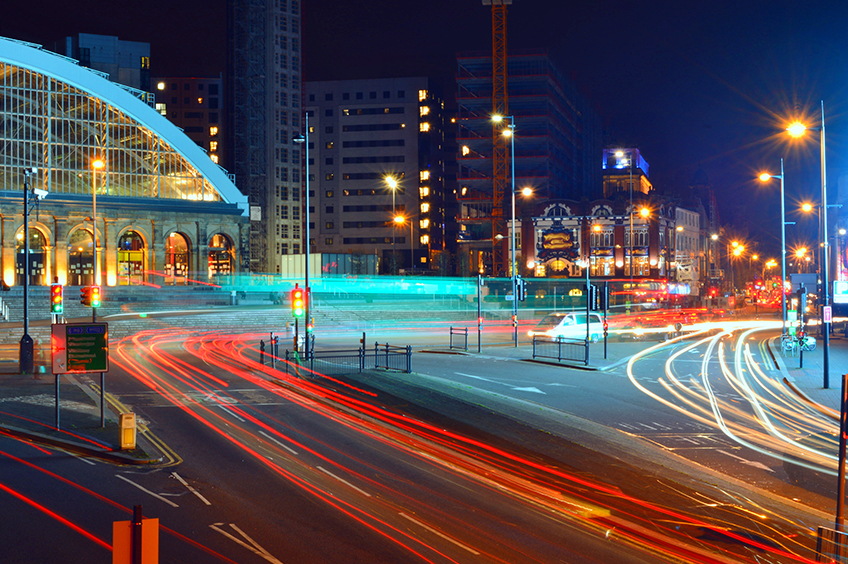 Journeo PLC (JNEO) is a tiddler I have had on my watchlist for a year or more. At today's share price of 122p, the market cap is just £10.7 million, so very much at the lower end of valuations of the companies I have covered. Many investors would view this as a concern, a risk too uncomfortable. That way of thinking would restrict oneself from opportunities of genuine growth company. Yes, I understand some investors prefer dividend plays as a means of reducing risks, while others will not be investing in a company outside the FTSE 100; Horses for course!
Journeo's valuation implies risk, but in truth, relatively speaking it is as safe as any company can be trading in the environment that is the stock market. The most obvious, and more immediate risk is the fact the shares have rallied quite well recently, therefore there is a risk of a pullback if momentum changes. If we compare the company with its peers and the FTSE, it has outperformed the latter. Caveat that with the FTSE being cheap when compared to other indexes. The growth trajectory is looking impressive, which could attract the momentum traders if it breaks out above 129p.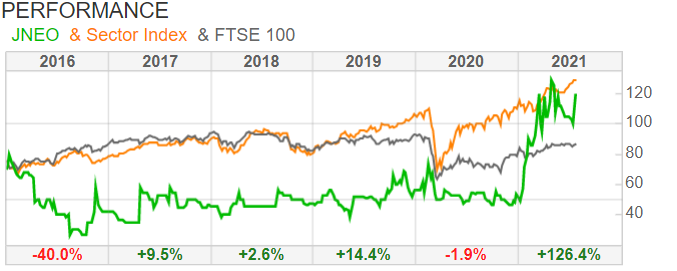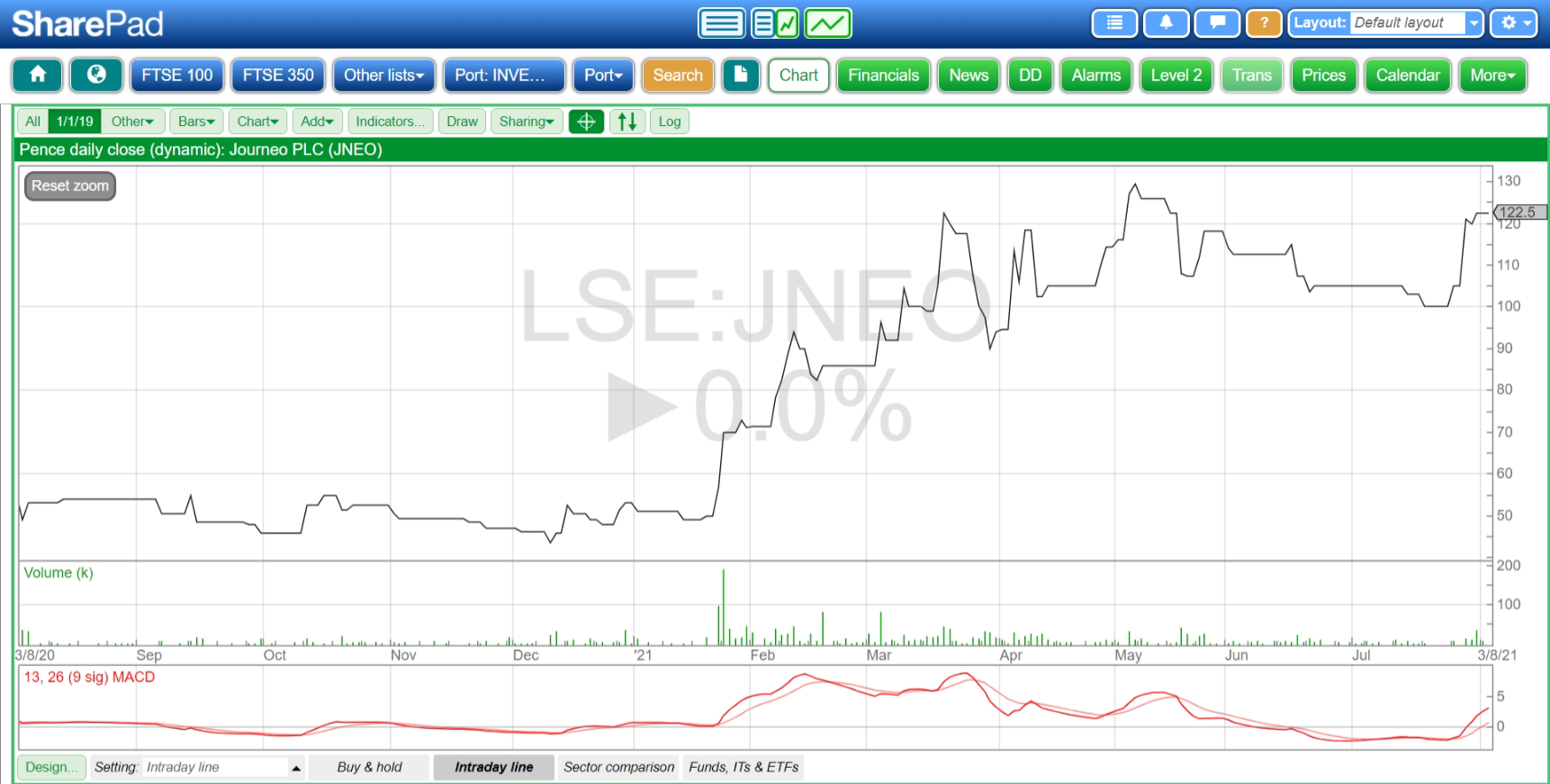 About Journeo PLC
Journeo is a specialist UK provider of both on and off-vehicle tailored solutions to the transport sector. It services Passenger Systems for local authorities and Passenger Transport Executives (PTEs), managing transport networks and Fleet Systems for bus, coach, rail and specialist commercial fleet operators. Both segments have growth opportunities with a focus on increasing the number and quality of journeys, particularly in and around cities, in response to the need to reduce congestion and deliver the carbon-neutral, low-emissions agenda. In this politically relevant area companies are climbing over themselves to incorporate ESG credentials. As you might expect, this strategy plays into the government's hands, which aligns with government action, for example in England significant funding is starting to flow from the £2.4bn Transforming Cities Fund and the regulatory landscape changes of the Bus Services Act 2017 are generating new opportunities; this plays into Journeo's business model quite nicely.
Strategic Investment
The company says it has made investments in recent years in its technology to deliver a cloud-based modular hardware agnostic SaaS platform; this has positioned it well to take advantage of the opportunities now being presented. In addition, the UK market position has enabled exclusive relationships to be struck with specialist equipment manufacturers which have the potential to significantly increase revenue.
If you are like me, and wondered what "agnostic Saas" is, and then conjured up the image of SaaS being confused about its role as a software as a service is a software distribution model in which a cloud provider hosts a service – agnostic neither believes nor disbelieves in software or service of it and could not care less if it was to host or just stick it in a cloud. Put simply, agnostic SaaS is a cloud-agnostic platform environment that is capable of operating with any public cloud provider with minimal disruptions to a business. Businesses that employ a cloud-agnostic strategy can efficiently scale their use of cloud services and take advantage of different features and price structures.
According to a recent McKinsey & Company report, technology industry analysts predict further growth in the software as a service market and expect to see the market for SaaS products near $200 billion by 2024.
Business Model
Journeo provides technology solutions, working with global-scale product companies and local specialists to deliver highly reliable and cost-effective solutions for the transport community over the lifecycle of the systems. The service offering includes design, tailoring, installation, on-site support and back-office systems. The company claims it is in a niche market with high barrier to entry costs due to a combination of technical complexity, unique solutions and the management of long lifecycle assets across a large geographic area.
Its customers base is primarily in the transport sector include fleet operators, vehicle manufacturers, local authorities and PTEs.
Recent News
On 14 July 2021, the company announced it had been appointed preferred supplier for new vehicle CCTV systems, and to upgrade CCTV equipment and services for existing vehicles with London bus operator Metroline. Journeo supplied Metroline's first digital wing-mirror safety systems back in 2019. In 2020, Journeo reached an agreement with Falcon Engineering, Metroline's in-house support business, for the supply of replacement components and spares.
Metroline, part of Comfort Delgro Corporation, operate 1,674 buses, including over 700 hybrid buses boasting impressive environmental credentials, 100 all-electric buses, and 151 new Routemaster buses operating in London.
Russ Singleton, Chief Executive of Journeo plc, commented: "We are delighted to extend our relationship with Metroline through the award of preferred supplier for CCTV and associated IT sub-systems. Metroline was shortlisted for two awards at the London Transport awards in March 2020 under the Bus Operator of the Year, and Excellence in Technology in Electric Bus Operation categories. We look forward to working with them and applying our IoT and cloud-based systems and services to improve sustainability in public transport as they upgrade their fleets"
According to the most recent trading update, sales were up 7% in the first half to £7.2m and net cash ended the period at £1.3m. The company also announced news of another contract award, this one for real-time passenger information systems and services for the Aberdeenshire County Council worth £800,000.
House broker, WH Ireland has a 150p "fair value" estimate out for the group's shares, representing a 30p premium if you trust broker PR. Analysts, John Cummins and Matthew Davis, are estimating £800,000 of pre-tax profits for the year to end-December, worth 8.7p in earnings per share.
For next year, £1.3m profits and 14.5p in earnings per share is what they predict.
Elric Langton
Do you prefer investing in small, medium or large caps? We'd love to hear from you in the comments section below
This article is for educational purposes only. It is not a recommendation to buy or sell shares or other investments. Do your own research before buying or selling any investment or seek professional financial advice.