We looked at two potential stage 2 stocks a few weeks ago here. The issue with some AIM stocks is that they don't offer the liquidity that some traders prefer.
In this article, we'll look at some FTSE miners that trade on both the FTSE 100 and FTSE 250 indices.

These stocks are traded in plenty of volume with narrow spreads.

Narrow spreads mean that we can get in and out of easily. They're also dealt in size which means little issue getting in and out of these stocks (and if you have liquidity issues with Royal Dutch Shell, then your account is certainly doing better than mine).

The stocks we'll look at today are:
Centamin (CEY)
Fresnillo (FRES)
Ferrexpo (FXPO)
Petropavlovsk (POG)
Centamin (CEY)
Centamin is a mining company with its primary asset being the Sukari gold mine in Egypt.
We can see in the chart below that the stock has spent most of the past few years rangebound aside from a brief tussle with 230p in the summer of 2020, but has since trended downwards back towards 100p.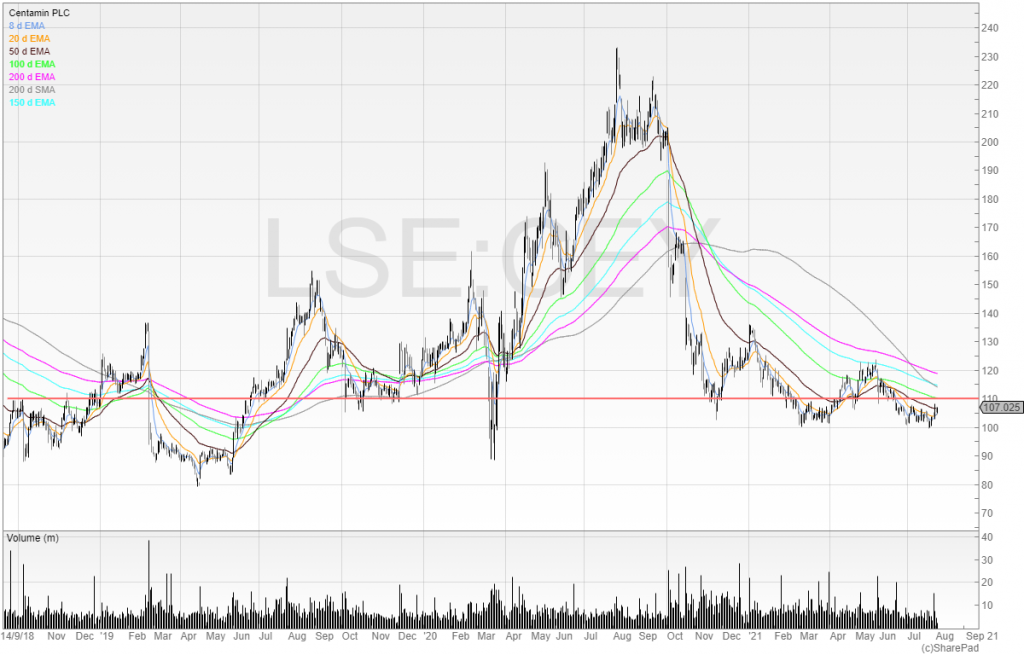 I've marked a line at 110p because this seems to be a key price action area. We can see the stock hit it as resistance and bounce from it as support several times.
We can also see that in 2021 100p has been support twice.
For the bottom feeders, taking a trade just below this level (in the stop loss liquidity) may provide a good risk/reward trade.
However, I don't see any way I'd like to trade this stop unless it was to break out of the 230p resistance area.
Fresnillo (FRES)
Fresnillo is one of the largest silver mining companies on the planet.
The chart looks similar to Centamin – a sharp move upwards followed by a gradual decline.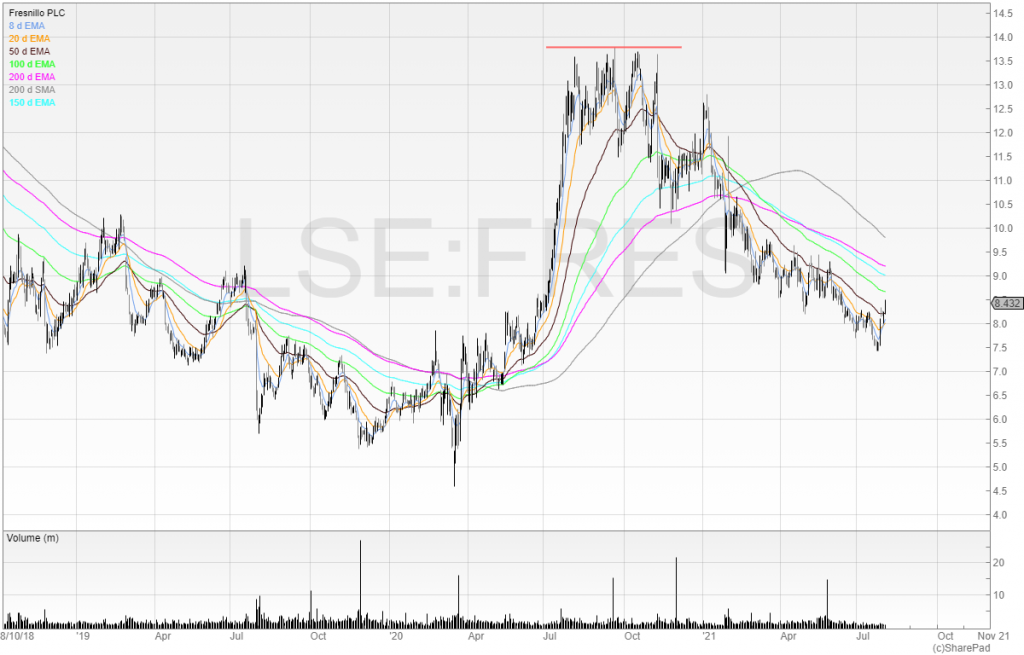 I've marked a resistance line where we can see the stock tried and failed to break out before beginning its decline south.
However, the company's recent results could provide a catalyst for a trend reversal.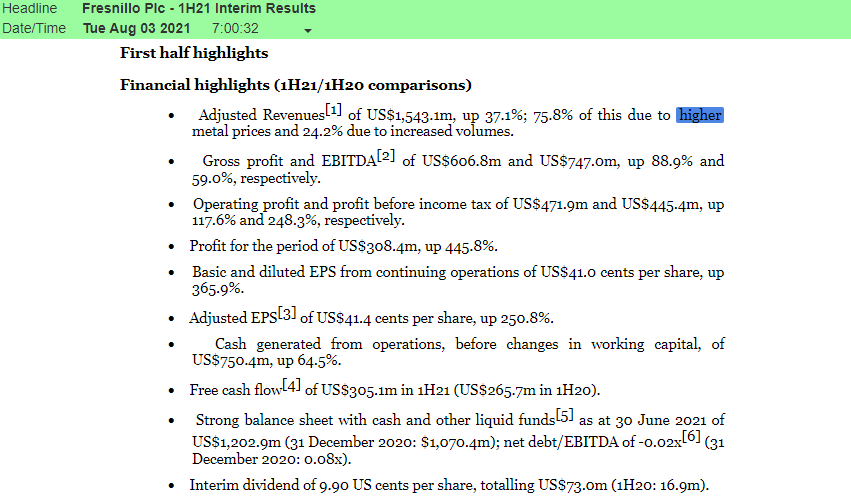 We can see that revenue was up by 37.1% but just over three-quarters (75.8%) of this was due to higher metals prices.
Revenues were second-half weighted in 2020 so if the trend continues the company could beat its forecasts.

However, I don't know this company well fundamentally, and can only draw from what I see in the RNS.

The company is clearly geared to the silver price, so if you are bullish on silver then Fresnillo may be a way to play that through a London-listed equity.
Let's look closer at the chart.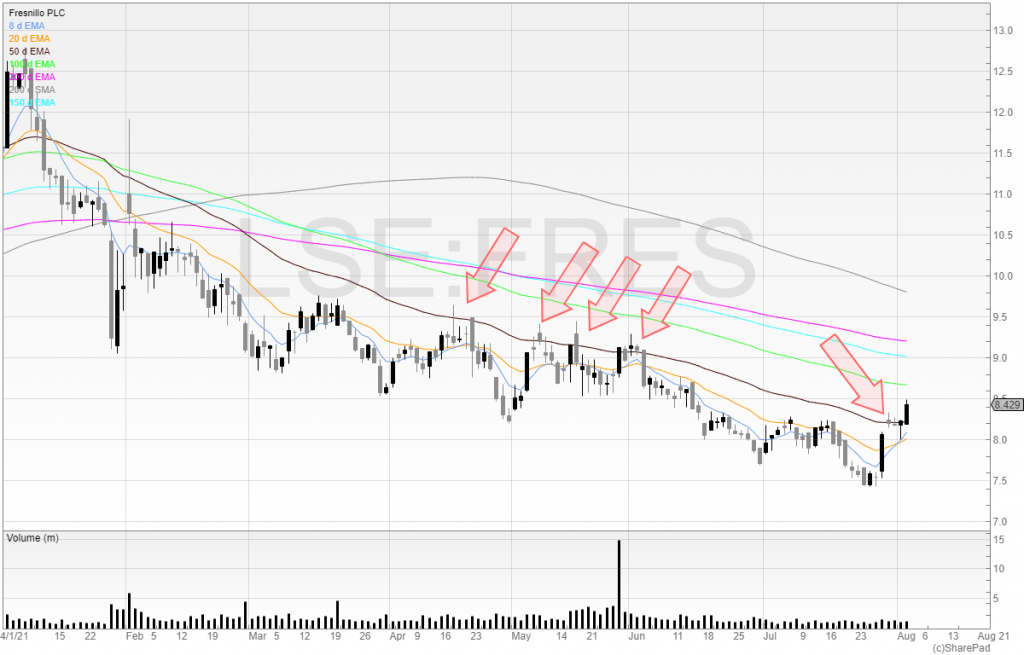 The stock has potentially cleared the 50-exponential moving average at the sixth time of asking. It could be a major trendline breakout.
There was an Opening Drive trade on offer at the open too.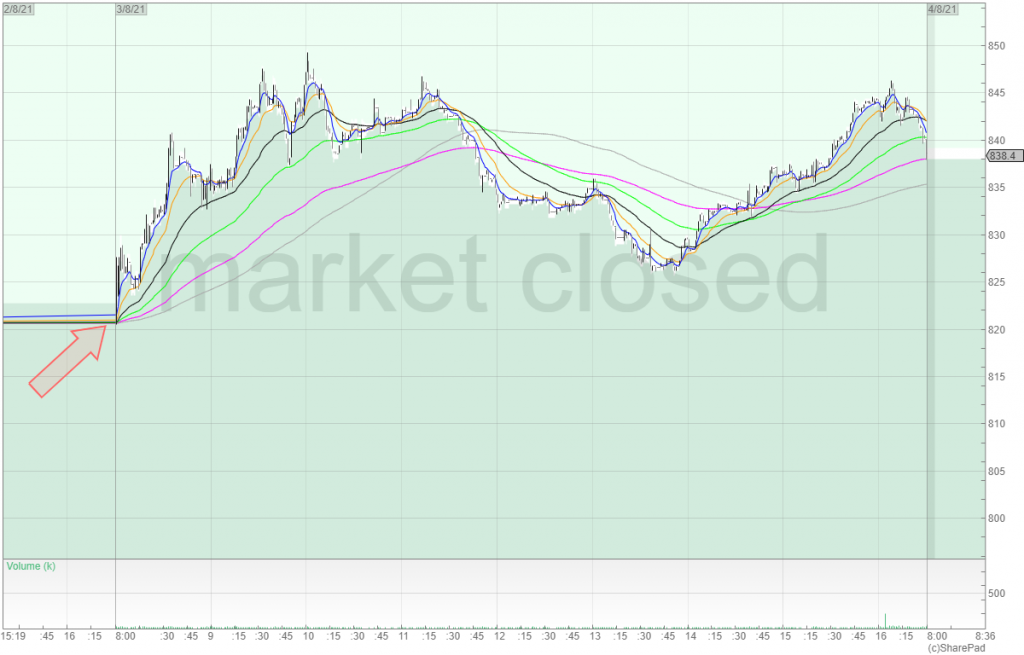 I went long in the auction and scalped the stock into the rip around 08:30. The stock was gapping up showing me that there was a good chance of the stock going higher.
Keeping an eye on results and gaps in the opening auction can be good signals for scalp trades.
Ferrexpo (FXPO)
Ferrexpo mines, processes, and sells iron ore pellets globally.
We can see from the chart that the stock was struggling to break through a resistance level whilst putting in higher lows.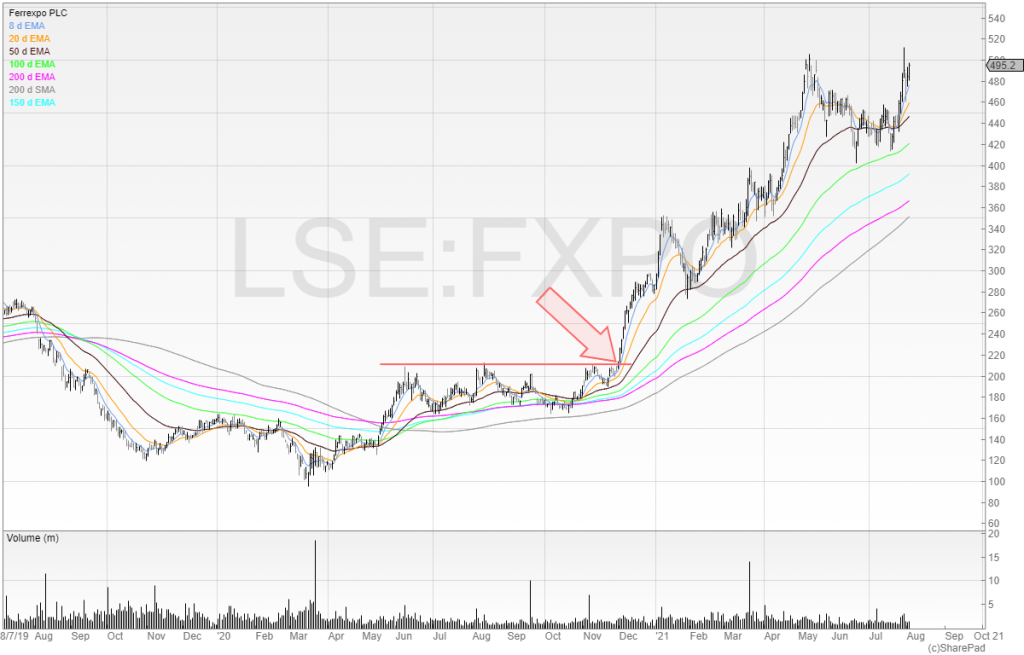 I highlighted the opportunity in Investors' Chronicle here, and the stock screamed away going up 50% before pausing for breath.
That trend has continued, and the stock looks poised to break into a new all-time high.
For now, the trend is ongoing and a buy of the breakout into the all-time high may not be such a bad idea.
Petropavlovsk (POG)
Petropavlovsk is a gold mining company.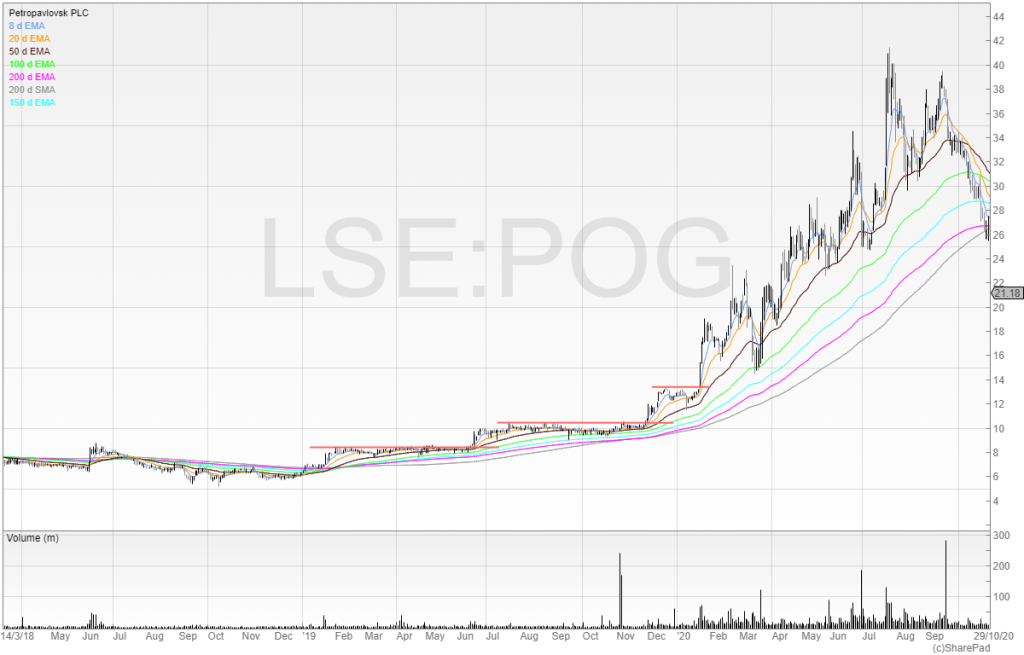 It has been on a huge run from early 2019, going from single digits to as high as 40p in what was a big re-rating. Catching one trade like this can make a lifetime hobby of stock market dealing worthwhile – provided you don't fritter it away on sub-optimal and poor trades.
However, times have changed.
We can see the stock is trending downwards. We also saw the stock gap up but sell off with a big red candle this week.
I can't see any reason to touch this stock now. If anything, I'd want to trade it short based on the price action and that candle. But being long is much easier and shorting is something I only like to do for short periods of time.
If you're long here – I wish you the best of luck. You're going against the trend.
Bonus stock: Sylvania Platinum (SLP)
Sylvania Platinum isn't listed in the FTSE 350, but it is a stock that is well-owned by private investors.

Well done if you're a long-term holder here. It's been a great trend.

However, all trends end. Could that be happening to Sylvania Platinum?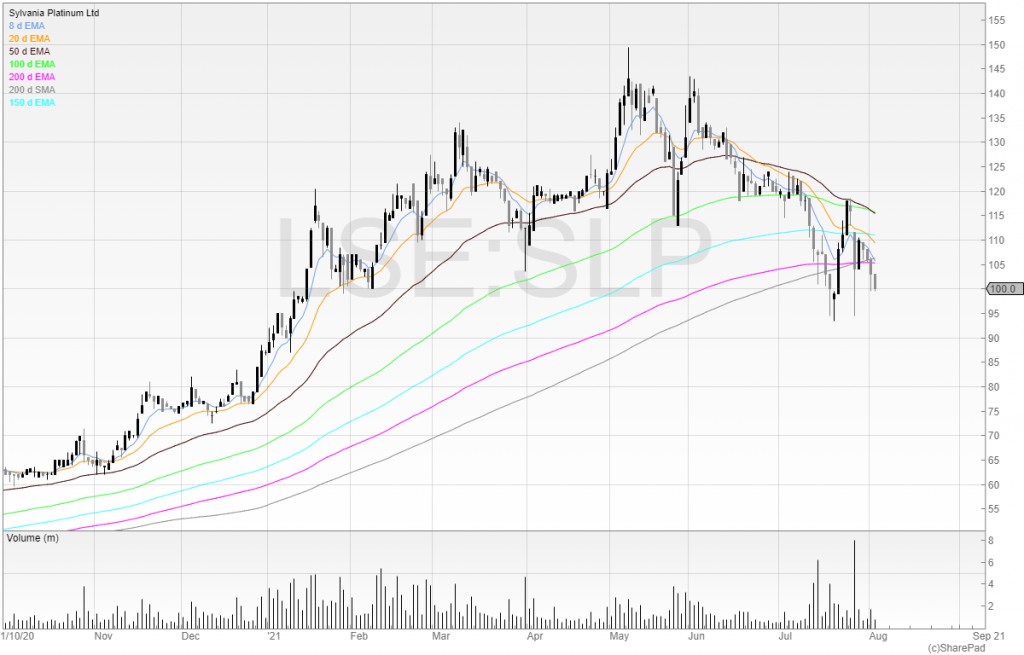 The stock is a third off its highs, and there have been several high volume down days. These are warning indicators.
I would not be getting involved long here. It has been a fantastic trend so far but profit is not profit until its banked.
I hold no positions in any of the stocks mentioned.
Michael Taylor
Buy the Breakout trading newsletter available at: www.shiftingshares.com/newsletter
Twitter: @shiftingshares
This article is for educational purposes only. It is not a recommendation to buy or sell shares or other investments. Do your own research before buying or selling any investment or seek professional financial advice.