I run my filter every week, usually on a Saturday morning.
By running the filter every week, it allows five trading sessions to pass and therefore potentially offer up new stocks.
Time is a trader's greatest asset, and it makes no sense to run the filter every day when almost all of the stocks will be the same.
Now I'm thinking about it – perhaps a filter could be built that doesn't include the results from the filter ran the previous day? This would then only show new stocks every day.
Such an endeavour is far above my technological reach, which is tested beyond website browsing and sending emails, but I will ask support if they can produce something like this.
If they can, I'll share the result in a new article.
For now – let's take a look at some of the results.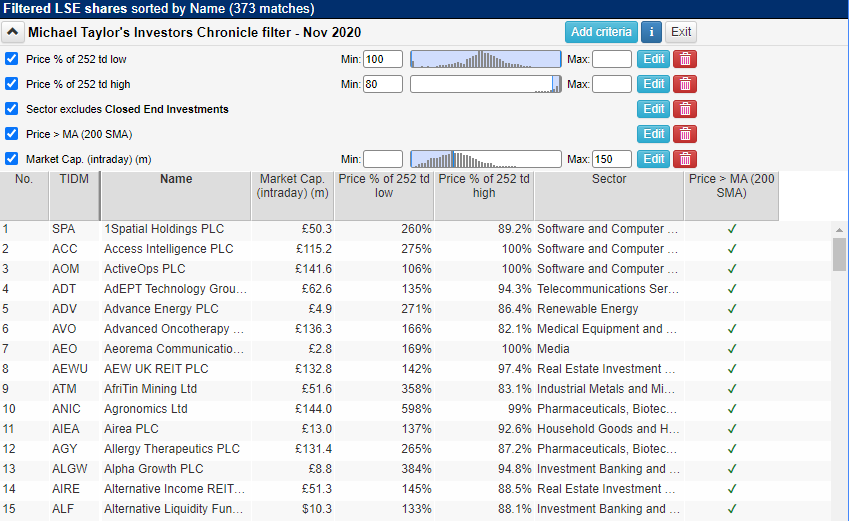 Altitude Group
Altitude is a company that has had its ups and downs (more recently downs, but potentially now ups).
Here is the chart.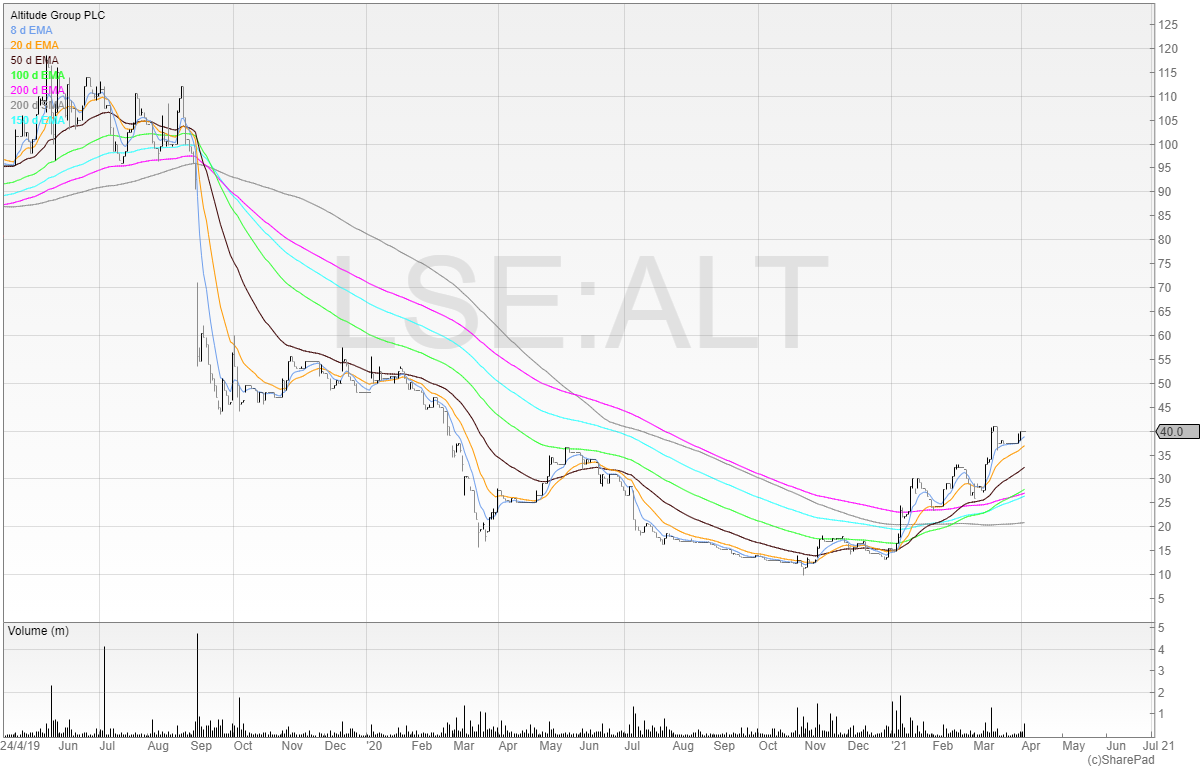 The stock collapsed in the summer of 2019 only and took a further hit in the Coronavirus crash.
The company operates a membership marketplace where it matches those who want personalised promotional goods and those who create the products.
Its platform allows buyers and sellers to interact and trade, and the majority of the company's revenue is in North America.
Understandably, the business took a hit when the events industry dried up, but it has emerged (so far) in a solid position.
The company had a presentation recently on Investor Meet Company and were emphatic in that this period is the company's low point in the cash flow cycle. Therefore, management said, cash in the business is likely increase.
The management would look relatively silly now if they were to announce a discounted placing and this would destroy any credibility with shareholders. Are they aware of that? You'd hope so!
Looking closer at the chart, the stock is now looking like a potential stage 2 candidate.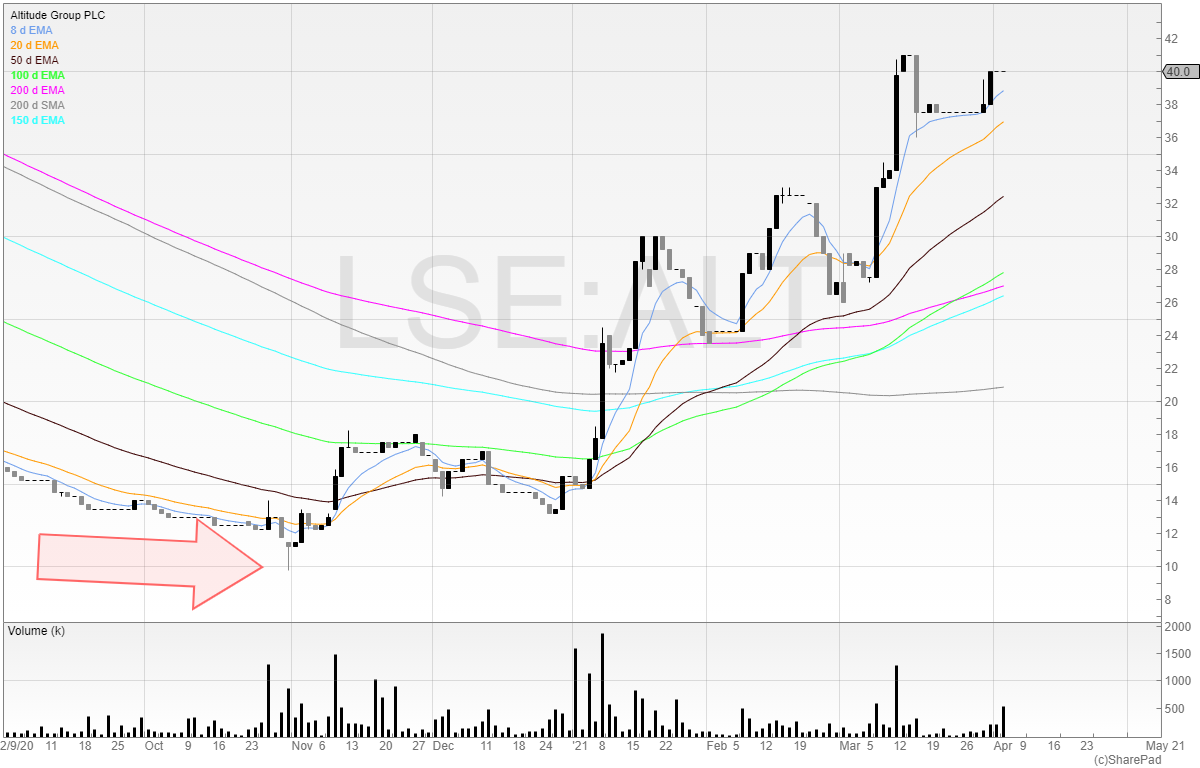 The tell-tale signs are there:
An increase in average volume
Higher highs and higher lows
Volume up positive days showing accumulation
Moving averages now all pointing upwards
Altitude is thinly traded and so buying and selling in size is impossible. I hold a small position now, which may grow bigger on continued execution/price rises.
Bonhill Group
Bonhill Group is a tiny micro-cap company. It's the old Vitesse Media (VIS), which struggled to achieve anything of any importance.
The company is now an events and information business, which builds events and brands around them. The company made the switch to virtual events almost seamlessly and has navigated the lockdowns in good shape.
There was a case for questioning the cash position until the RNS recently that the company had received "loans totalling $1.3 million under the US Small Business Administration's second Paycheck Protection Program ('PPP2')".
The company believes that a significant proportion of this loan will be eligible for forgiveness. The company had £1.6 million in cash as of 28 February and this loan adds to that liquidity.
Here is the chart.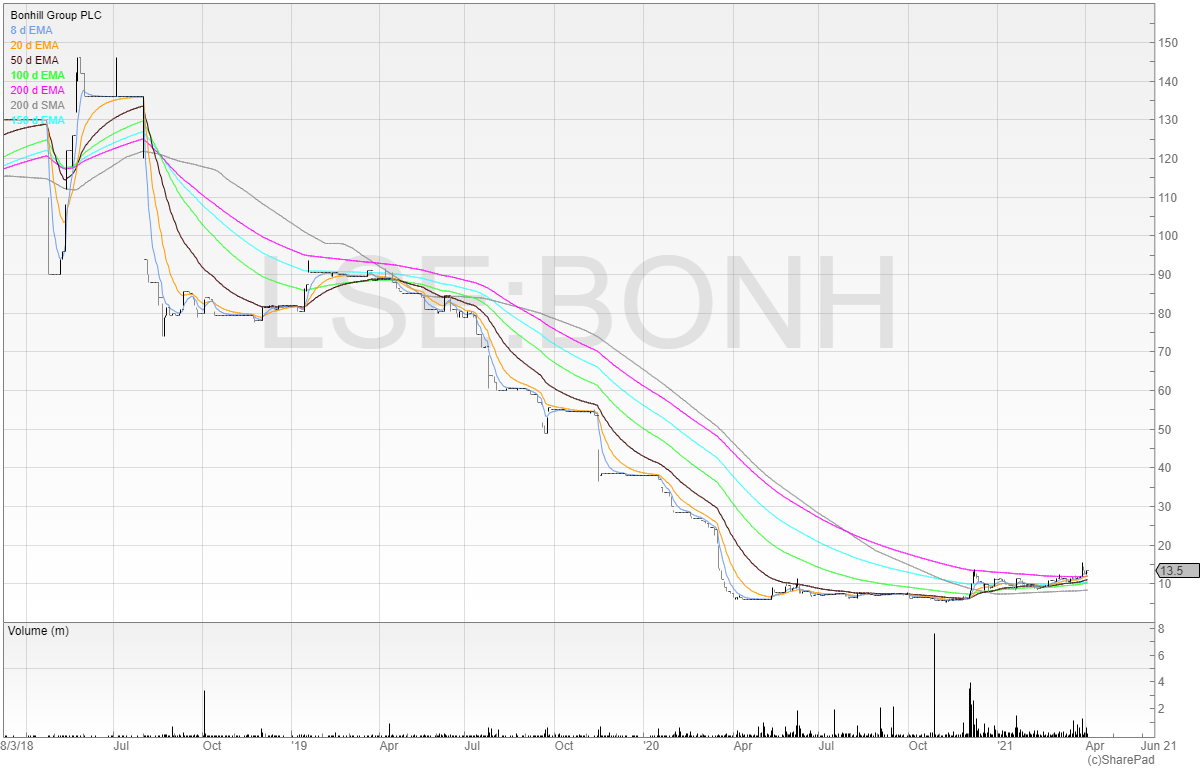 The stock has fallen so far that we need to look closer to make any sense of it.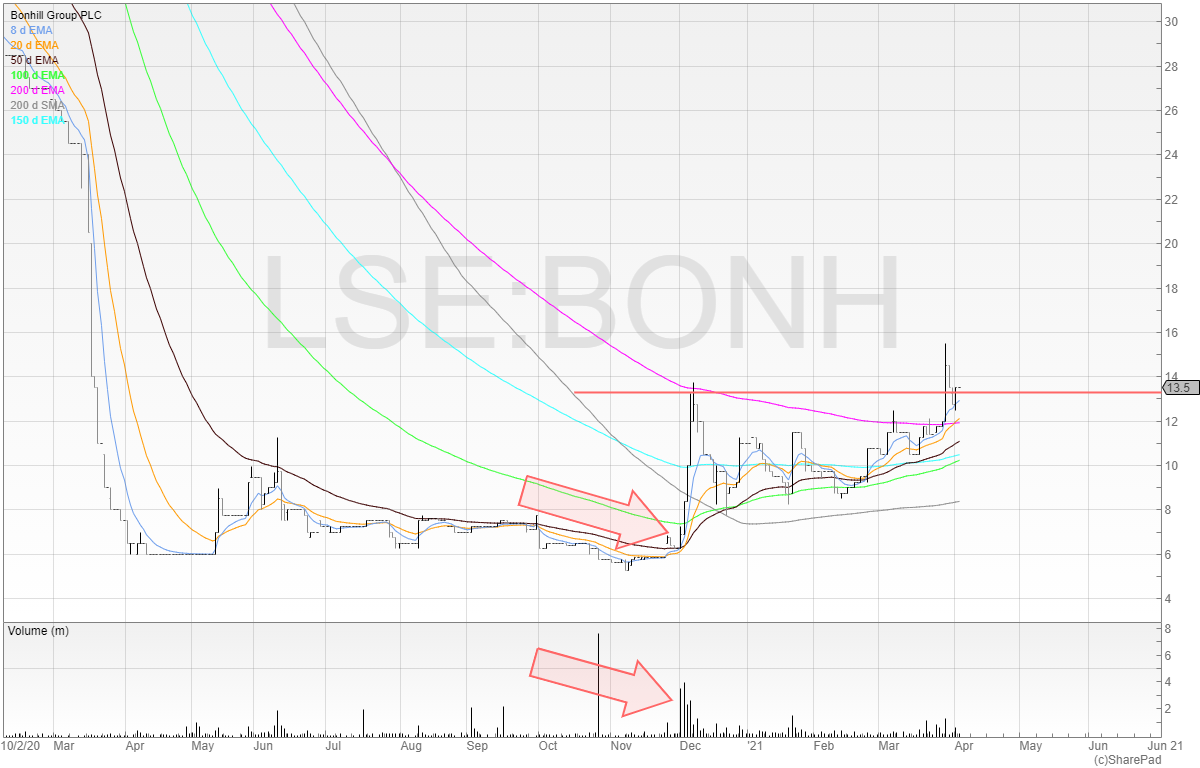 Ever since the volume spike (arrows) cleared an overhang, volumes have consistently been higher. The stock has also broken out of the previous closing high.
I am long here and think there is potential to increase my position into a rising trend.
However, the stock is illiquid and not for anyone looking to make a quick profit.
Digitalbox
Digitalbox is a mobile-first digital media business. It owns websites such as Entertainment Daily, the satire site The Daily Mash, and student online newspaper The Tab.
The company's goal is to monetise traffic through ads in a similar manner to Reach (RCH) although this business is focused solely on mobile viewing.
This gives the company an advantage, although the share price performance leaves a lot to be desired.
In the two years since the company listed through a reverse takeover the company has achieved nothing of value.
I'm sure management would tell me otherwise, but the price doesn't lie. If the market valued their efforts – the price would be higher.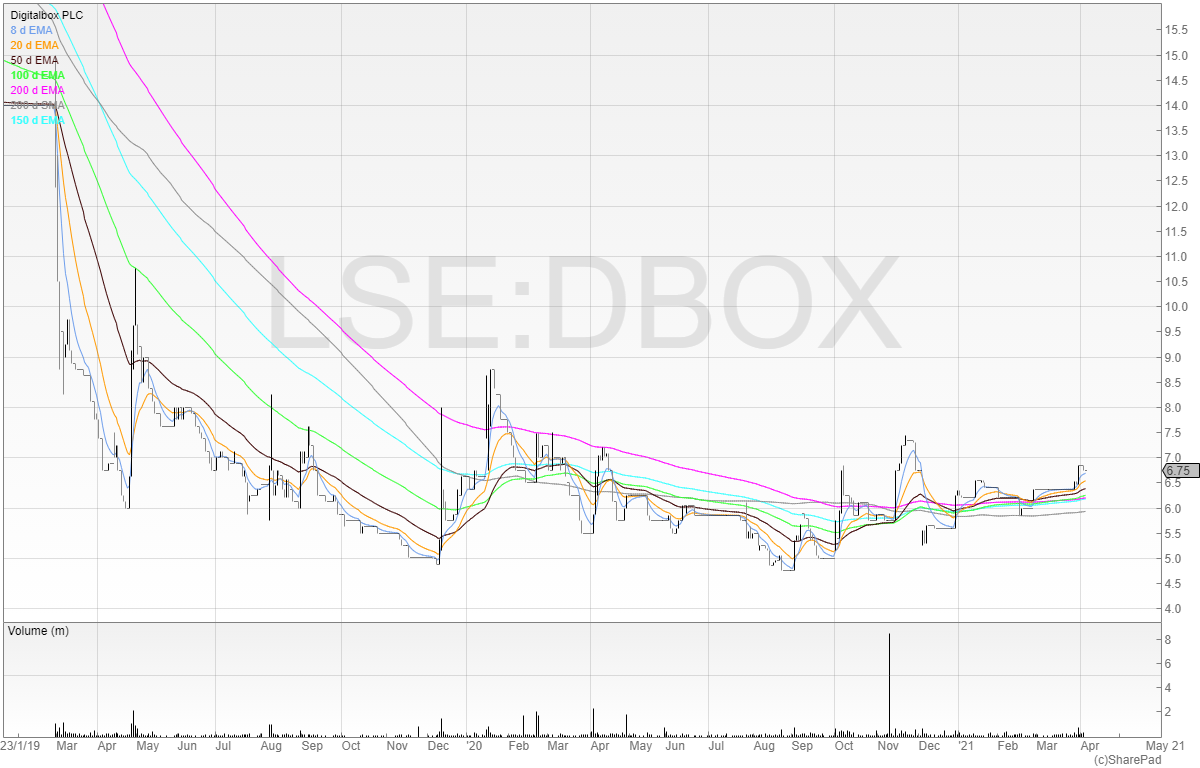 In fairness, 2020 was a freak year. Ad revenue plummeted and so perhaps I shouldn't be so harsh.
The company has a platform called Graphene which it believes it can buy struggling online media businesses where Digitalbox can improve the quality and quantity of content, and monetise more effectively. The recent acquisition of The Tab shows that it can achieve this.
Looking closer, I'll get interested if the stock shows any sign of an uptrend.
I've marked an arrow on the recent high, and there is another one at the start of 2020 at 8.5p.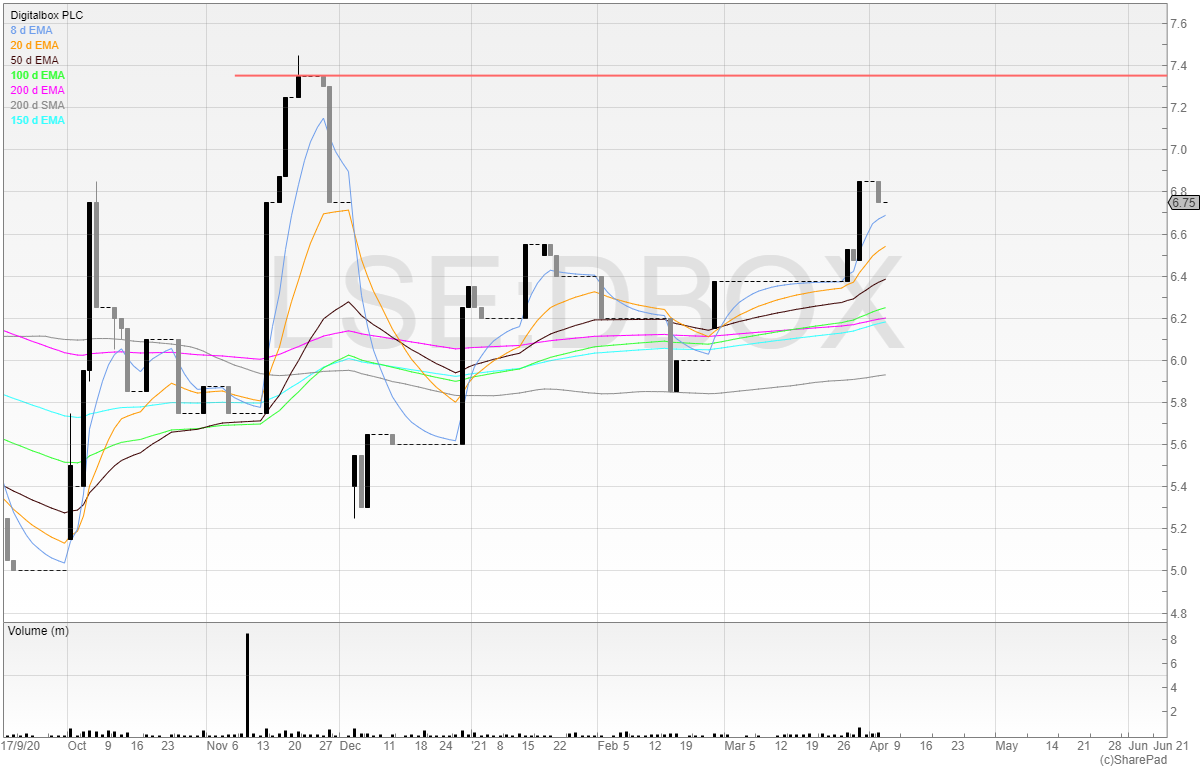 Buying now could mean I'm waiting around a while and there is no guarantee of an uptrend. I'd rather pay higher comfortable in the knowledge that I am trading the trend upwards.
I don't hold, but it's one I intend to watch.
If you found this article useful – my monthly newsletter covers more trading ideas and market knowledge.
You can sign up at my website below.
I hold long positions in Altitude and Bonhill.
Michael Taylor
Buy the Breakout trading newsletter available at: www.shiftingshares.com/newsletter
Twitter: @shiftingshares
This article is for educational purposes only. It is not a recommendation to buy or sell shares or other investments. Do your own research before buying or selling any investment or seek professional financial advice.