Barr makes Irn Bru, which I drank once, getting on for forty years ago in Scotland. Irn Bru is to Barr what Coke is to Coca-Cola and Vimto is to Nichols, the drink upon which the business was built.
Being a southern softy I may not have been a regular drinker of Irn Bru, but I consumed the TV advertising. Memorably it ended with the slogan "Irn Bru. Made from girders" (it only works if repeated in the original strong Scottish accent).
A page on the company's website tells the story.
THE PHENOMENAL A.G.BARR STORY
Launched as Iron Brew in 1901, it has a secret recipe known only by three people in the world, two descendents of the company's founder and one other shadowy figure. The recipe is stored "somewhere in Scotland", it includes iron, but it is not brewed.
Barr acquired Tizer in 1973, which members of my generation will remember fondly as "The Surpriser!" and moved into squash with the acquisition of St Clements in 1988. The pace of acquisitions sped up in the 2000s when Barr bought spring water brand Strathmore in 2006, vitamin drink company Vitsmart in 2007, Taut, a sports drink brand, in 2008 and Rubicon, a distributor of exotic juice drinks. In 2015 Barr acquired Funkin, a manufacturer of cocktail mixers and syrups.
Under licensees or franchises, the company has manufactured and distributed Orangina, Lipton's Ice Tea, Rockstar and Snapple.
It has also relaunched its drinks in tastier, healthier and nostalgic guises, and in what it describes as its biggest ever product development it started selling ice cream under the Rubicon brand in 2012.
The page listing Barr's brands confirms Irn Bru is the big brand, but does not mention Vitsmart, Taut or any of the licensed brands bar Snapple, which makes me wonder what has happened to them.
The less phenomenal SharePad story
Listed on a timeline, it looks as though Barr's journey is a story of continuous progress.
Displayed in SharePad, the company's financial performance is good, but not phenomenal.
Let us start with the chart and go from left to right along the green menu accessing all the details.
The chart shows that we could buy the shares for the same price today as they cost eight years ago, in January 2013, and that investors had generally been content until July 2019, when the share price fell dramatically: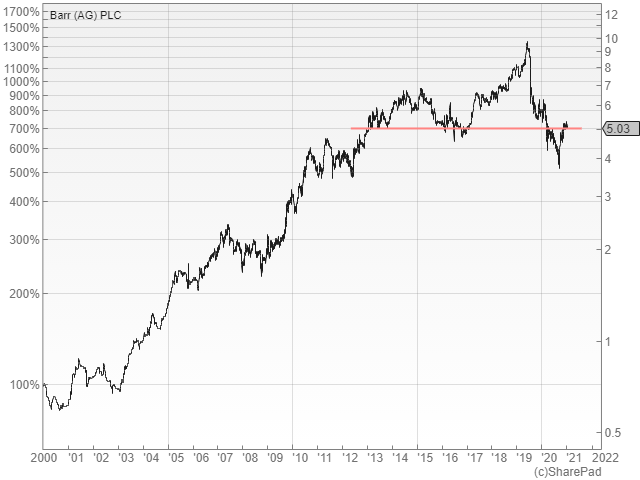 The plunge in the share price coincides with a trading update forecasting a decline in profit for the year to January 2020 of 20% (you can see this update in the News tab).
Barr had raised prices but customers baulked and the company sold fewer drinks. It reported the Rockstar and Rubicon brands were "challenged". New products, it anticipated, might come to the rescue.
Moving to the financials, we can see in the carousel of charts in SharePad's summary page that profit did fall in 2020, and Barr's erstwhile steady Return on Capital also fell to a still credible 15%: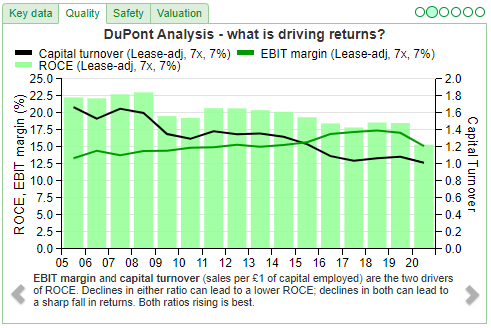 Source: SharePad
We are approaching another year-end and profit will fall again, according to SharePad's forecasts (see the row in red in the table below):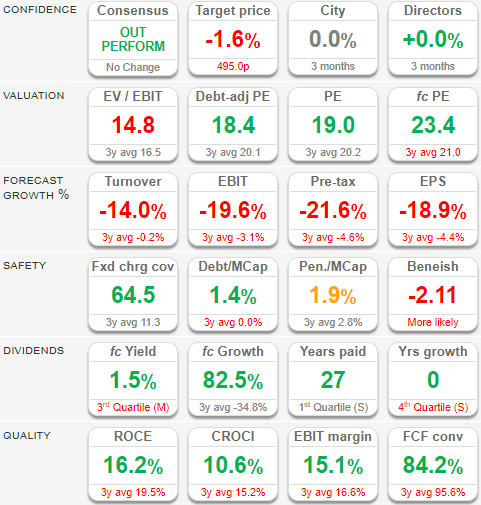 Source: SharePad
The forecasts mirror the company's own expectation of a 12%-15% decline in revenue and a modestly bigger decline in profit for the year about to conclude on 25 January 2021, confirmed in September's half-year results.
While revenue from Irn Bru increased 1% in the first half of Barr's financial year, new products have not yet come to the rescue of Rubicon, although the company is committed to turning the brand around.
Strathmore and Funkin are dependent on sales from the hospitality industry, which is still operating in a stop-go fashion due to the pandemic. They made the biggest contribution to the fall in revenue and at Strathmore the company has reduced the workforce and written off equipment, believing a recovery to pre-Covid level of sales will not happen in the foreseeable future.
The half-year results also contain news of one of the brands missing from Barr's website. Due to the acquisition of Rockstar by Pepsi, Barr has lost its licence to manufacture the brand, which was responsible for about 8% of revenue in 2020. Since November it has been manufacturing Rockstar under contract, an agreement that is due to end this month. Barr is also relinquishing its Snapple franchise. Snapple only contributed 1% of revenue in 2020.
News of troubled brands and lost franchises will not have been welcomed by shareholders who banked on the success of these brands, but Barr has accepted they are not all as profitable as it would like and a programme to simplify the business and invest in the remaining bits is well underway.
As far as I can tell, once Snapple is dropped from the list, Barr will only be manufacturing its own brands.
This may be good news for shareholders. Despite the loss of revenue from Rockstar and Snapple in the year to January 2022, analysts expect modest growth in revenue and double digit profit growth according to SharePad's forecasts.
The curse of the soft drinks company
Barr looks light it might recover, but long-term investors do not really want trade in and out of stocks. If we are to buy this one, it will be with the intention of holding it for ten years or more, which makes things difficult because it is not obvious where growth is going to come from.
The door seems to be closing on manufacturing and distributing other companies' brands.
Barr owns valuable brands, especially Irn Bru, but are we really going to be drinking much more of it in ten years time? I say we, because the vast majority of Barr's sales are in the UK: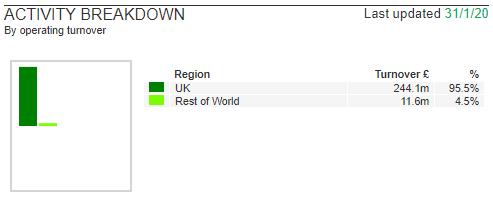 Source: SharePad
Thinking about my research on Nichols last month, which was immediately preceded by background research on the soft drinks sector, I wonder if there is a curse on soft drinks companies.
The brands that made them, Coca-Cola, Pepsi, Vimto, and Irn Bru, for example, are popular and slough off cash so soft drinks companies look to diversify. Coca-Cola owns coffee chains and yoghurt brands, while our much smaller national champions have stuck to soft drinks in the main.
They buy brands in the hope of making them bigger, or get into distribution to piggy-back on the success of other brands. In the naughties, Barr was following a policy of brand diversification.
Now its policy is the opposite, simplification, it is apparent that some of the original diversification may have been diworseification.
This curse is not unique to soft drinks companies. The same might be said of Portmeirion, which designed a uniquely popular brand of crockery in Portmeirion Botanic Garden.
Ever since then it has been launching, and acquiring, new ranges of pottery in the hope that one of them might be as successful. None have approached Botanic Garden in terms of sales, though some have been successful in their own right. Now it is trying scented candles and soaps.
Calling diversification a curse makes it sound like these companies cannot be good long term investments, but actually they may well be. Despite brand failures, most of this century Barr has grown profitability.
The churning of brands and strategies seems inefficient, it means periods when businesses stand still or contract while they decide which of their diversifications are worth keeping.
Periods when the business is being more discriminating and traders' expectations are low, may be the best time to invest.
I get ahead of myself. I have not read the annual report yet.
Twenty twenty's is a bit long in the tooth but worth reading because the company had already started rationalising. Twenty twenty-one's should be with us in a couple of months: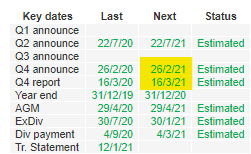 Source: SharePad
Richard Beddard
Contact Richard Beddard by email: richard@beddard.net or on Twitter: @RichardBeddard
This article is for educational purposes only. It is not a recommendation to buy or sell shares or other investments. Do your own research before buying or selling any investment or seek professional financial advice.