When I told my wife I was researching Hotel Chocolat and my first action would be to buy some chocolate, she reminded me that the most important thing about research is to include lots of participants.
Scuttlebutting chocolate
70% dark chocolate promised to be our optimal pleasure point, and so it was. When I brought the chocolate home it was appreciated by more participants than I truly cared to share it with.
The experience of buying the chocolate, masked up and socially distanced though it was, was also enjoyable. I received a polished introduction to Hotel Chocolat's "Wall of Chocolate", the products displayed on shelves on the wall.
The chocolate was by no means cheap, but buying it and eating it were special.
Less so the cocoa bar cafe. Visiting during a pandemic is unlikely to give me the best impression and my wife would be the first to remind me a sample size of one is not research, but Hotel Chocolat stores are closed again so it will have to do.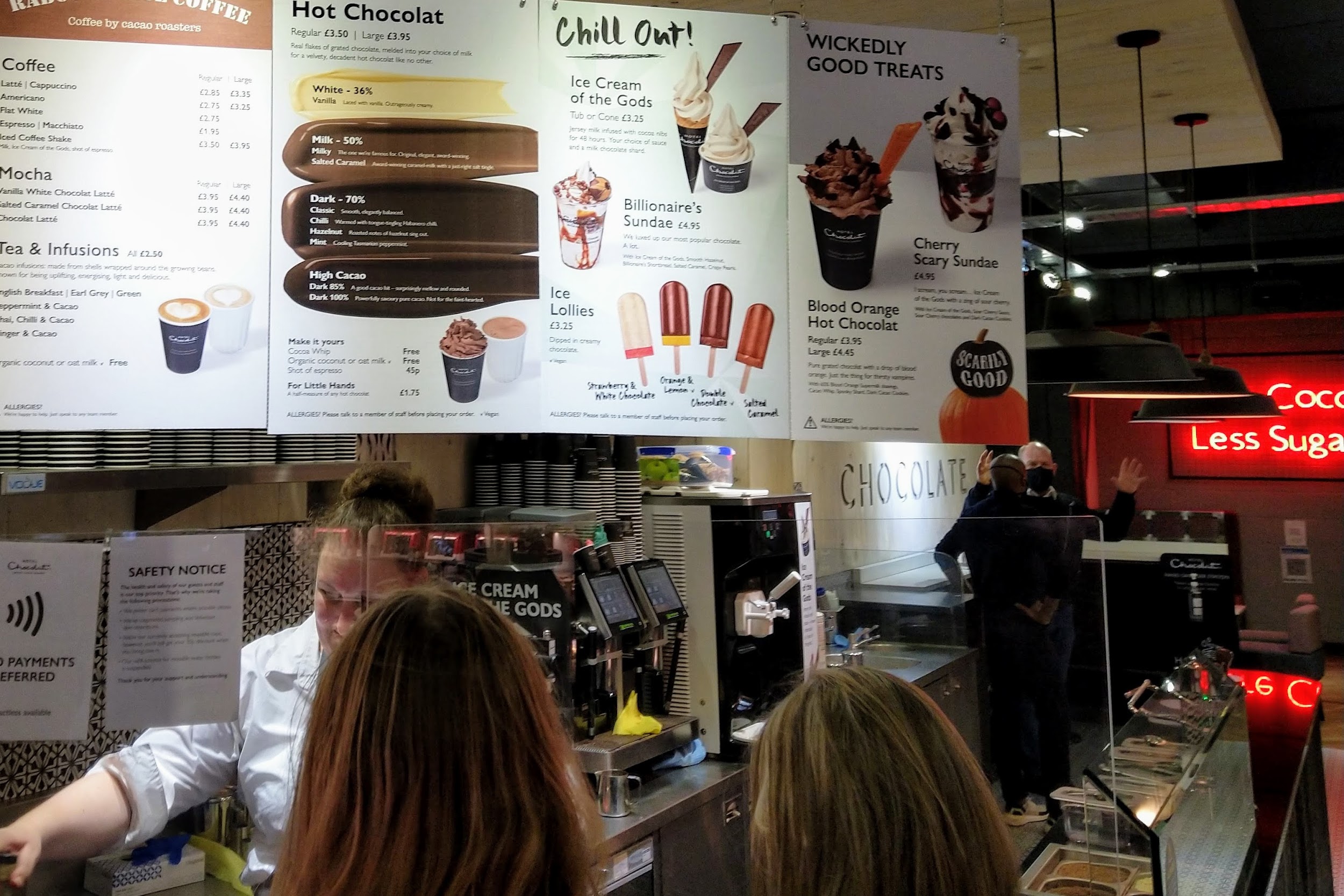 A store of two halves. The chocolate shop felt special, the cafe less so. Source: Richard Beddard.
I thought the decor was aggressive, the tables chipped and stained and the gaffer-taped crosses on the seats to stop people sitting too close to each other looked like botched vinyl repairs. The staff were perfectly pleasant and so was the hot chocolate but we have to wait at the counter for it like Starbucks.
Premium product
My home town Cambridge is a stone's throw North of Hotel Chocolat's headquarters in Royston, and a javelin's throw East of its factory in Huntingdon. The fact that it is a local business is one of the reasons I am interested in it.
Another is that Hotel Chocolat is still run by its co-founder, Angus Thirlwell. The other co-founder, Peter Harris, is also a co-director. Founders and their descendants often run businesses with a peculiar passion that can permeate the ranks and result in unique products and service.
Research on Burberry, the trench coat brand that is trying to move ever more upmarket, indicated that profits in fashion are increasingly accrued by firms at the bargain and luxury ends of the market.
Fellow SharePad writer Bruce Packard thought the same of chocolate over five years ago when he blogged about the demise of Thorntons a chocolatier that now only has a few stores and a website.
He thought Thorntons should have been selling less chocolate at a higher price, like Hotel Chocolat. Instead, Thorntons Easter bunnies were being sold in Tesco, at a discount.
Financials
Coronavirus has interrupted Hotel Chocolat's relatively smooth financial progress since it floated on the stockmarket in 2016. The company's financial year ended in June 2020, and its shops and cafes were shut for the last three months of the financial year.
The good news is that revenue increased regardless, by a modest 3%.
The bad news is profit plummeted, due to a big decline in sales in the last three months of the year and increased costs. These included re-packaging shop stock and sending it back to Hotel Chocolat's Distribution Centre in Cambridge so it could be sold online, making shops, factories and warehouses safe, and clearance reductions.
Hotel Chocolat's accounts since it floated in 2016 have been blessedly free of adjustments but this year they contain an impairment charge of £10m relating primarily to the value of short-term leases on 30 stores, from which it is earning less money, and the company's cacao estate and 'spiritual home' in St Lucia, where it grows its own cacao (the rest, about 90%, comes from Ghana).
Treating this adjustment as exceptional, allowed the company to report a profit, albeit much lower than in previous years:

For the first time since it floated Hotel Chocolat reported a big discrepancy between adjusted and reported profit. Source: Custom table in SharePad
The other big change in the company's financials in 2020 was an increase in cash courtesy of a fundraising and a cancelled dividend, which allowed Hotel Chocolat to continue investing for growth.
In June, Hotel Chocolat began work on extending its distribution centre in Cambridge. It is also preparing to install a fourth production line at the factory in Huntingdon, which should be operational by 2022.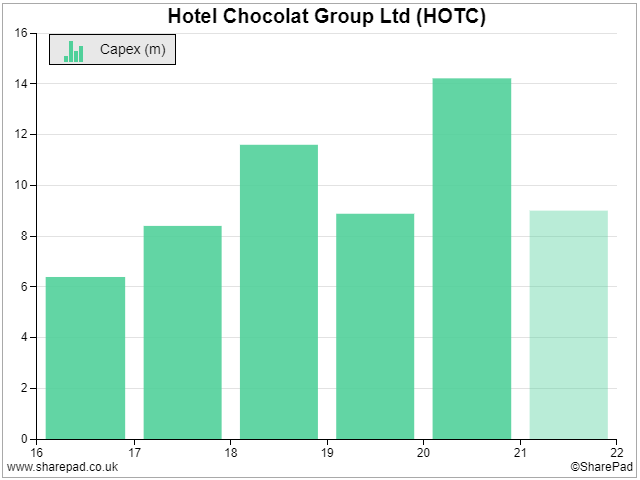 Hotel Chocolat spent a record amount on property, plant and equipment in 2020. Source: SharePad, Financial charts
A business as vigorous as Hotel Chocolat will probably bounce back strongly, helped by its decision to plough on with investment, but maybe not immediately. We are now in the peak pre-Christmas trading season and Hotel Chocolat's retail outlets are shut.
In the event of a second lockdown and assuming half of sales transfer online as they did during the first lockdown, the company's modelling in the annual report predicted an 18% decline in revenue in the first half-year of 2021 (July to December 2020, compared to the same period a year earlier). That's worse than the 14% decline in the second half of 2020 (January to June 2020).
For a company that was originally established online in the 1990's, well before its first shop in 2004, Hotel Chocolat is surprisingly dependent on physical sales (somewhat reassuringly from shops rented on short-term leases):

Source: SharePad Activity Breakdown
Valuing Hotel Chocolat
Comparing the share price to profit for 2020 is not much use to us because Hotel Chocolat's revenue and profit in 2020 is probably an aberration.
Instead, we can estimate how much the company might have earned had 2020 been a typical year, and then value it on that basis.
The table below shows most of the calculation:

Source: Custom table in SharePad. The bottom row is 100 times the EBIT (profit) the company would have earned in the year had it been a typical year i.e. had the company earned its average Return on Capital Employed (ROCE). To get the actual EBIT we need to divide by 100.
In 2020, Hotel Chocolat only earned a ROCE of 2.5%. To get a more typical value we can use the average ROCE of all its years as a listed company, the last five years, which is 12.6% (including this rather poor year).
Since the return part of ROCE is EBIT, we can use the capital employed in 2020 (£115.3m) to calculate how much EBIT the company would have earned if ROCE was 12.6%. The answer is 12.6% of the capital employed in 2020, which is calculated in the bottom row of the table.
Hotel Chocolat would have earned 12.6% of £115.3m capital employed, which is £14.557m (let's call it £14.6m)
You might have noticed that the calculation in the table is out by a factor of 100. That is because I used SharePad's combine items capability to do the calculation and it treats percentages as numbers when they are multiplied.
We can divide Hotel Chocolat's Enterprise Value (the value of its equity and debt) of £439.9m (let's call it £440m) by this EBIT number, £14.6m, to see what multiple of profit the business is valued at.
The answer is 30 times EBIT, had Hotel Chocolat experienced a typical year. If profit stayed at this level, we would get 3.3% (1/30) of our investment back each year.
Investors must be confident Hotel Chocolat is not only going to survive, it is going to grow.
The future…

A customer comment reprinted on page 1 of the annual report sums up one of the things that makes Hotel Chocolate different: more cacao, less sugar.
The company's strategy starts with the product, which has more cacao and less sugar than supermarket and corner shop chocolate. Cacao is about five times as expensive as sugar but all Hotel Chocolat chocolate, even milk and white chocolate, is predominantly cacao.
Since cacao is by far the most important ingredient, Hotel Chocolat pays farmers in Ghana a premium for cocoa that has been grown according to the company's sustainability charter and combines it with other ingredients at its factory in Huntingdon. The result is a superior taste, at least to chocolate aficionados, and a gift likely to impress if it is for someone else as 50% of sales are according to a company estimate.
Customers are served through proliferating channels, retail, after-hours tasting events, online, a mobile app, and four subscription services that keep their 'Velvetiser' hot chocolate machines and chocolate boxes and cupboards stocked.
Subscriptions generate repeat purchases. The oldest of them, The Chocolate Tasting Club, has been going since 1998.
Vertical integration, the company's direct involvement in every aspect of the supply chain, is a characteristic shared by other luxury goods manufacturers because that way they can ensure authenticity: that the product is truly made to high quality and ethical standards and wrapped up in a great customer experience.
This was the company's strategy until 2020, intended to make it the leading UK brand of premium chocolate. Now it is "slingshotting" onto a new trajectory that starts with Japan and the USA and ends with Hotel Chocolat becoming the world's leading direct to consumer premium chocolate brand.
It is probably a distant goal since at the outset, revenues almost entirely come from the UK.

Source: SharePad, Activity Breakdown
Building a vertically integrated company is expensive, so too is building a global brand from that vertically integrated company, but if Hotel Chocolat succeeds it would be a vastly bigger business than it is today.
Perhaps I need to get to know it better, particularly as getting this far has been so much fun.
A trip to the factory shop in December may be on the cards, and my colleague Maynard Paton has set me some homework: To watch Hotel Chocolat Unwrapped and Chocolate Dreams – Inside Hotel Chocolat on Channel 5.
Richard Beddard
Contact Richard Beddard by email: richard@beddard.net or on Twitter: @RichardBeddard
This article is for educational purposes only. It is not a recommendation to buy or sell shares or other investments. Do your own research before buying or selling any investment or seek professional financial advice.