Fallout from the demise of Thomas Cook reminds Richard of the virtues of vertical integration.
In the month since the demise of Thomas Cook, the company that invented package tours, there has been much talk of rivals who will benefit from the fact that perhaps 2.5m Thomas Cook customers will be looking elsewhere for their holidays. Much of the focus has been on UK market leader Tui. Its chief executive, quoted in The Times, is expecting more business:
"Everybody is racing to replace part of the capacity. Not all, as there was too much, but a good part of the capacity will be restored and part of it will be us."
Online aggregators, principally Expedia, a US firm, and UK listed On The Beach, should also benefit. Thomas Cook's failure to adapt to their challenge is often put forward as the principal reason for its demise. This millennium, Thomas Cook's share of the market has declined 15% and Expedia and on the Beach have gone from zero to a combined market share of 14%, so holders of this opinion may may have a point.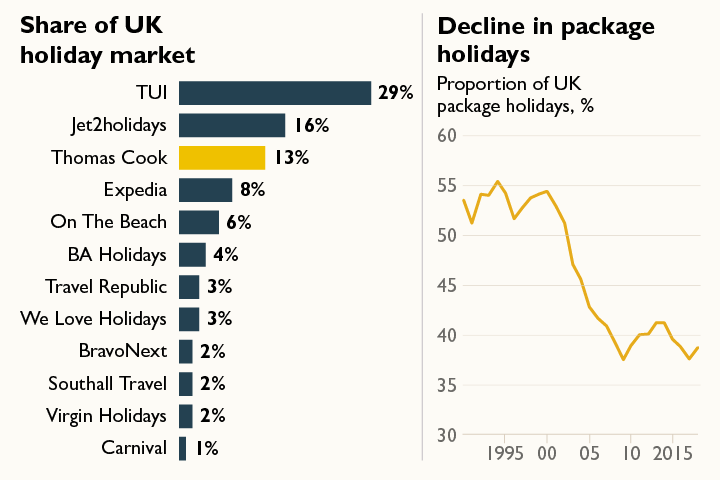 Source: The Times
Surprisingly, the articles I have read have largely ignored another source of new competition, Leeds-based Jet2holidays. It was only founded in 2006, ten years after Expedia and two years after On The Beach, but its UK market share, the second bar in the chart above, is greater than the two combined at 16%. Jet2holidays is the anti-aggregator. So much so, it has trademarked the phrase "Real Package Holidays" to differentiate its holidays from those cobbled together at the time a customer makes her choices on a website, from scheduled flights and bed wholesalers. This process is less disparagingly known as "dynamic packaging".
I could write a whole article about Dart, Jet2holidays' UK listed parent company, but I have already written about it in passing, and today I want to focus on an aspect of Dart that makes it special, with a view, perhaps, to finding other companies in different industries with the same quality.
In the short-term, the collapse of Thomas Cook is also painful for Tui and On The Beach, because they used Thomas Cook to fly passengers on holidays they had packaged. Both companies have incurred costs cancelling bookings and arranging alternative flights for customers on holiday. Not so Jet2holidays. While On The Beach flies none of its customers, and Tui flies some of its customers, Jet2holidays flies all its passengers on sister airline, Jet2. This puts Jet2holidays in control of arguably the most stressful part of a holiday, getting there and back. The flight and transfers are a major determinant of whether a holiday is enjoyable or not, and, therefore, a tour operator's reputation. Jet2 optimises its routes, schedules and policies to suit families, the customers it flies. In this sense it is highly specialised, but it also requires a broad range of capabilities to provide this service.
Vertical integration: The forgotten competitive advantage
When a company controls more than one activity in the chain of activities providing a product of a service, we call it vertical integration. Jet2 not only owns the planes and packages the holidays, it sells the vast majority of its inventory directly, online or by 'phone. The one major tour operating activity it does not do itself is operate resorts. Intriguingly Tui is becoming more vertically integrated by operating more resorts. Aggregators, on the other hand, match holiday makers to flights and hotels. They rely entirely on third parties for the product.
Vertical integration gives companies more control, but at a cost. Planes and hotels are expensive, and by avoiding these capital costs, aggregators are making impressive returns on capital. SharePad reports On The Beach's return on capital employed is 24% compared to Dart's 14%, although profitability at Dart is depressed because Jet2 has just splurged on a dramatic expansion of its fleet. The two companies' three year averages are much closer, (around 20%).
While On the Beach takes a hit every time a supplier lets it down, Jet2 takes a hit every winter, and in recessions when its planes carry fewer passengers but it still has to maintain them and pay flight crews and ground staff.
The strategic choices companies make, what activities they do, and what they leave to other companies who can do it better, or more cheaply, determines their success, which is why investors need to watch carefully when companies integrate, or disintegrate.
A recent transaction between Churchill China and Portmeirion shows the directions these two companies are travelling in. They both make tableware in Stoke-on-Trent, but that's pretty much where the similarity ends. Portmeirion's tableware is highly decorative and sold mainly to individuals like you and me. Churchill China's tableware is very robust (it is attractive too) and sold mainly to restaurants and pubs. The two companies co-owned Furlong Mills, which supplied them with clay until Portmeirion disintegrated somewhat by selling Churchill China its stake and control of its clay supply (having negotiated a long-term supply agreement).
Hearteningly for Churchill China shareholders, it is securing the supply of a material that, combined with the unique production processes it uses to turn this clay into pottery, is the source of the strength of its plates. Vertical integration, the company says, will allow it to build on this advantage:
"We expect that full ownership of Furlong Mills, with its substantial intellectual property, will facilitate further material, process and product innovation in the medium and long term."
Portmeirion is probably less fussed about durability. Its plates spend a lot of time sitting pretty on display on our sideboards and dressers. They are not bashed about in commercial kitchens. Portmeirion is diversifying, and thinks it can put the money raised by selling its stake to better use. Selling the stake may make sense, but it is harder to tell, as we do not know what Portmeirion is going to spend the money on.
Vertical integration is a bit of an old fashioned concept. As the world has globalised, companies have focused on what they can do most profitably, outsourcing the rest to low-cost economies or specialists who can do the job more efficiently. While that makes sense generally, in particular niches the benefits from integrating two activities, the production of a clay and the processes that turn it into a plate, or a holiday and the flight that gets you there, can outweigh the cost.
The integration of these activities makes a company more unique, competitive, and in control of its own destiny – as long as it is not too expensive. It is difficult to imagine a personal computer manufacturer vertically integrating, for example (though in the heydays of IBM, Hewlett Packard, Sinclair and Acorn, they were highly integrated). Developing new components when there is a huge industry supplying displays, keyboards, microprocessors, and so on would be prohibitively expensive and pointless since bought in components conform to standards that make them easy to integrate. Likewise users have settled on two or three operating systems that come with huge software bases. Getting another off the ground, when software companies and end-users are so wedded to the ones they already use, would be a very risky project.
But provided we can determine when vertical integration adds value, vertical integration is a winning strategy, not least because we are so used to disintegrated companies the virtues of vertical integration are often underappreciated by investors. So how can we find these companies?
Filtering for integrators
…With a text filter of course! Hopefully if vertical integration is an important element of a company's strategy, the company will be talking about it…
Because I am still trying to keep things simple, I have applied a vertical integration text filter on top of the Keep it Simple filter* I designed recently, which I augmented to exclude big spenders. Before we apply the text filter, it is worth noting the KISS Filter brings back only 185 companies out of the more than 2,000 companies listed or quoted in London.
The text filter shows all company announcements from these 185 companies that include the words "vertical integration" or "vertically integrated" in the green panel on the right hand side. These are the companies talking about vertical integration in 2019, although it would be perfectly valid to go page back further in the results and find companies that had talked about vertical integration in 2018, or 2017: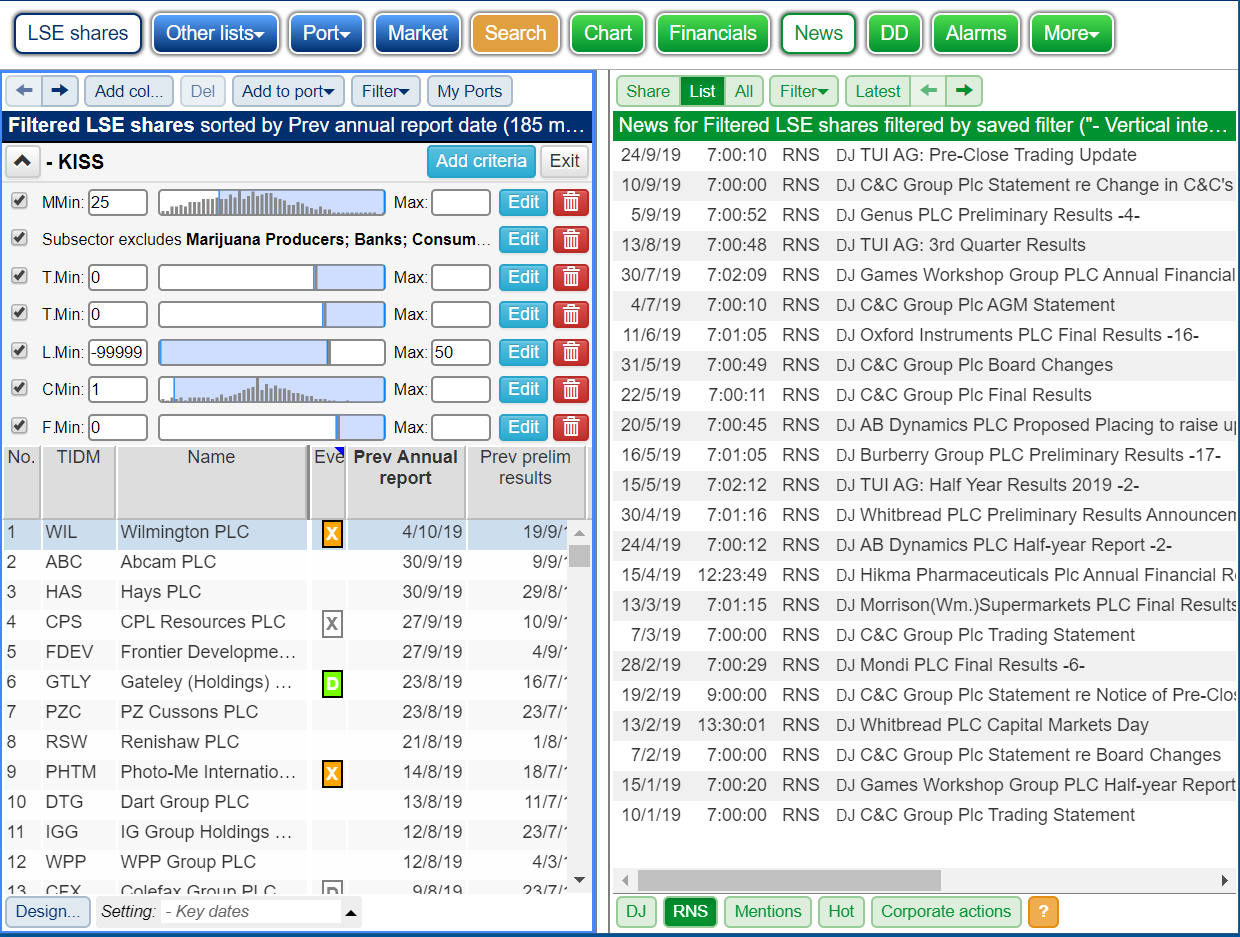 The list includes Games Workshop, possibly the most vertically integrated company I know. Games Workshop is the company behind Warhammer, which makes fantasy model soldiers. It manufactures, and sells the models in its own shops (as well as independent hobby stores) and on its own website. It markets them through games, books, publications and it is even getting into TV production. It is a unique business, and unless you have been sitting under a rock for the last three years, you'll know it has been a terrific investment (just boot up SharePad and look at the step-change in profitability, or if you are really lazy the share price chart).
Not all of these companies are vertically integrated, some of them are talking about the challenges they face from vertically integrating customers or competitors, so we need to read about them to find out more.
I will be writing about a different company from this filter next time as I have written about Games Workshop many times over the years and Maynard wrote about it earlier this year. But I will leave you with one thought. Games Workshop is peerless, an industry in itself. Why wouldn't it want to keep all the value in that industry for its shareholders?
*NB. Very sharp-eyed readers may have noticed I have changed the lower limit of the KISS filter's fourth criterion (lease-adjusted net borrowing as a % of capital employed) to -99999. It was previously set to 0, which ruled out companies that had negative borrowing (i.e. positive cash balances). The filter was inadvertently excluding cash-rich companies. Sorry.
(The 'Richard Beddard: 18/09/19: KISS+' filter in the SharePad library has been updated accordingly)
Richard Beddard.
Contact Richard Beddard by email: richard@beddard.net or on Twitter: @RichardBeddard.
This article is for educational purposes only. It is not a recommendation to buy or sell shares or other investments. Do your own research before buying or selling any investment or seek professional financial advice.