Richard returns from his holiday and wonders whether he can put the experience to use by investing in holiday companies. First step: Create a portfolio of holiday companies.
It is early September, so I am going to take a wild guess and assume you have been on holiday. Hopefully it was a good one. Mine was terrific. That is until EasyJet cancelled our flight home from Nantes at midnight, drove us to a hotel in the back of beyond and left us to find our own way home across the Channel.
True, the cancellation extended our holiday by two days, allowed me to take my first trip across France on a TGV, and introduced my children to the Eiffel Tower and the Sacre Coeur. But I could have done without the argy-bargy at the airport, the sleepless night, the cost, and the hassle of trying to claim it back now!
The experience will not deter us from going away again though, a holiday is one of the highlights of the year. Since most of us go on holiday, we should have an intrinsic understanding of the holiday market, and that may be a good basis upon which to learn about holiday companies and perhaps invest in them.
The present of package holidays
My starting point for this adventure is a company that has never taken me on holiday. It is Dart. The only holiday company in my portfolio. Dart is the parent company of Jet2, Jet2Holidays, and Fowler-Welch, which transports fruit and veg around the UK for supermarkets and food producers. The kids yawn every time we overtake a Fowler-Welch lorry on the motorway, because they know what's coming. We have shares in that company, I have reminded them ever since they were small.
Fowler Welch is a distraction though. The Activity Breakdown on the Company tab in Dart's Financials in SharePad shows that Dart earns 94% of its revenue from "Leisure Travel". A quick look at the notes in Dart's annual report breaks that down further:

Dart earns 67% of revenue from package holidays. The other 27% of revenue earned from Leisure Travel is flights to the same holiday destinations, and in-flight food and drink, extra baggage and so on. Jet2holidays is probably Britain's second biggest package tour operator after Tui, which is quite remarkable because as recently as Summer 2007 it took its first customers on holiday. If you are a Southerner, you may not even have heard of Jet2, as it has been gradually expanding outwards from its northern base at Leeds Bradford airport, blitzing the local media with adverts as it expands. Last year it started flying from London Stansted.
Surprise package
I wish I could say I had foreseen Jet2holiday's emergence as a major package tour operator when I bought the shares in 2009, but Jet2holidays was just a startup incubating in Jet2, the airline, which was itself only seven years old. Dart was profitable, entrepreneurial (it maximised the use of its aging aircraft by carrying mail at night), and the shares were dirt cheap. That's why I bought 'em.
In the decade since, the shares have gone up more than ten times. Dart was special even though many of us did not realise it at the time.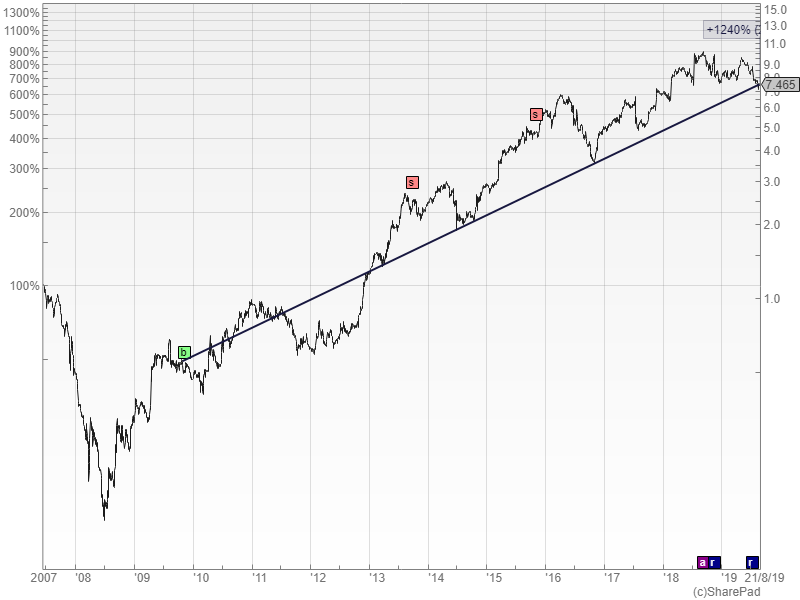 My theory is Jet2 started with a blank sheet of paper. Unlike sprawling Tui, Thomas Cook, and First Choice (now part of Tui), it could piggy back on two innovations, the low-cost operating model that EasyJet and Ryanair had copied from Southwest in the USA, and the Internet, which made direct selling, part of the model, even easier. It tailored these innovations to serve a particular niche: family friendly holidays, initially flying from regional airports in locations underserved by the big package tour operators. Now it has a superior business model, the advantage is Jet2's to lose.
Holiday sectors
But other businesses are innovating too, because the holiday industry is much more competitive than it used to be. The rise of low-cost airlines, internet aggregators – effectively price comparison sites for flights and hotel rooms, and Online Travel Agents (OTA's) – companies that marry scheduled flights and hotel rooms in "dynamic packages", have seen to that.
Although it primarily sells package holidays, Dart is classified as an Airline in SharePad, and my first conundrum is whether to add other airlines to the Future of Holidays portfolio. Some airlines, like EasyJet and British Airways sell holidays, EasyJet in particular has ambitions to grow this side of the business, but it will always primarily be an airline. Ryanair sells rooms, but not ATOL protected packages with transfers and so on.
[You can find out which sector a company is in the Summary tab of the Financials page in SharePad, and you can sort or filter a list by Supersector, Sector or Subsector. To add these companies to a portfolio, follow these instructions.]
While it is probably worth keeping an eye on what the airlines are doing, I do not want airlines to be its focus as they are fairly undifferentiated businesses serving a wide spectrum of customers and destinations, not just holidaymakers.
The other major UK package tour operators, Tui and Thomas Cook, are listed in the Travel & Tourism subsector in SharePad: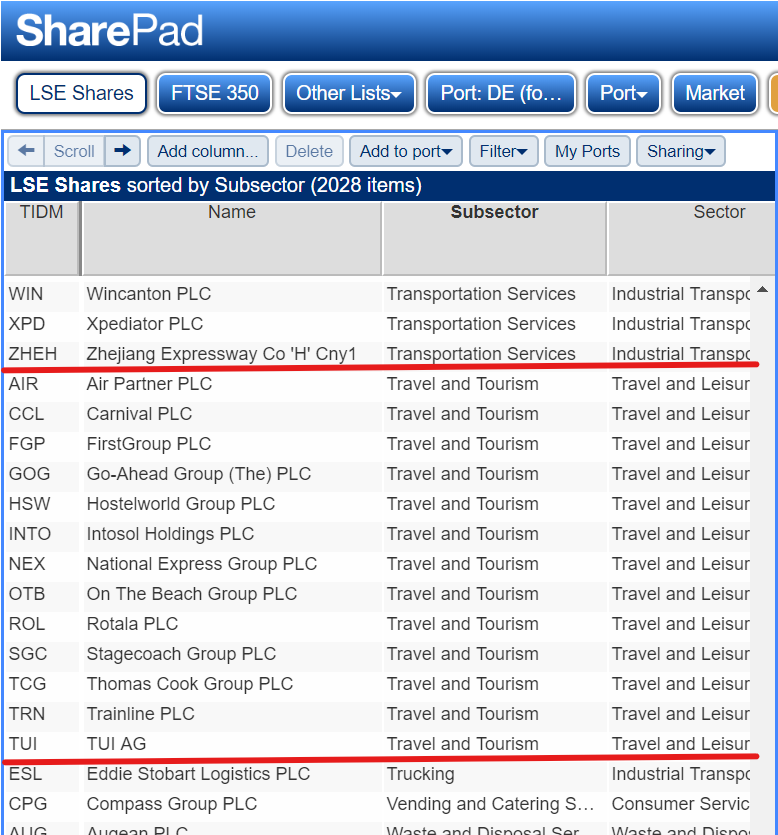 Let us see what we have caught in the net.
Bona-fide holiday companies…
Carnival
Carnival is the world's biggest cruise liner. It is the epitome of a holiday company, albeit a very specialised one.
Hostelworld
Headquartered in Ireland, twenty year-old Hostelworld is an online accommodation booking site for budget conscious travellers.
On The Beach
I am already keeping an eye on On The Beach, an online travel agent. It is highly profitable and claims a 20% share of online short-haul beach holiday sales in the UK. Due to rapid growth in recent years, it has attracted a high valuation, but the share price took a knock in August when On The Beach warned it would make less money than expected. The weak pound has increased the cost of beds priced in euros, making the company's dynamic pricing less competitive than traditional tour operators who buy beds in advance and insure themselves against currency movements with hedges.
Thomas Cook and Tui
Thomas Cook is perhaps the most famous name in package holidays, and Tui is Britain's biggest tour operator. Both companies are wrestling with change but Tui is making a better fist of it. Thomas Cook is being rescued from probable insolvency by Fosun International, a Chinese Conglomerate, and its lenders. A debt for equity swap will probably all but wipe out shareholders, which explains why the share price has declined 95% since May 2018.
More travel than tourism…
Air Partner
Air Partner is only tangentially in the holiday business. It is a broker connecting the super-rich, governments and businesses (including tour operators) to charter plane operators. It is diversifying into air services, checking planes are airworthy, for example.
FirstGroup, Go-Ahead, National Express, Stagecoach, Trainline
The first four of these companies are bus and train operators, and Trainline sells bus and coach tickets online. Rather like airlines, the focus of their business is getting us from A to B, not holidays.
Intosol
By rights Intosol should be in the portfolio. It is a bespoke luxury travel company that owns its own properties and calls its agents "travel designers". But it is too small and speculative. Since it was founded in 2003, but the stockmarket only values its equity at £5m, it has much to prove if it is to be a holiday company of the future.
Disappointing haul
Here is the list: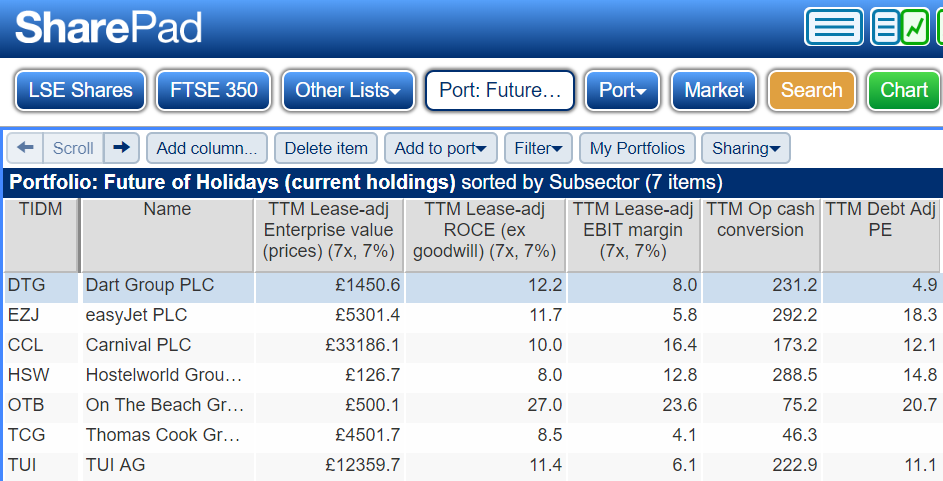 I am not going to lie, it is a disappointing haul. Beyond Dart and On The Beach, which I already follow, Carnival, Thomas Cook and Tui evoke the past, rather than the future. Hostelworld might be worth a look but it has not grown in recent years and it is not that profitable. We may have to extend the search into Hotels, a sector with a somewhat staid reputation, or abroad.
The likes of Expedia and Booking Holdings, parent of Booking.com are listed in the USA. As a DIY holiday "designer", I use sites like them all the time and if you look them up on SharePad you'll see that their financials are quite attractive…
Richard Beddard.
Contact Richard Beddard by email: richard@beddard.net or on Twitter: @RichardBeddard.
This article is for educational purposes only. It is not a recommendation to buy or sell shares or other investments. Do your own research before buying or selling any investment or seek professional financial advice.