If you watch Design Group's annual results presentation, you may detect a bashful smile on chief executive Paul Fineman's face.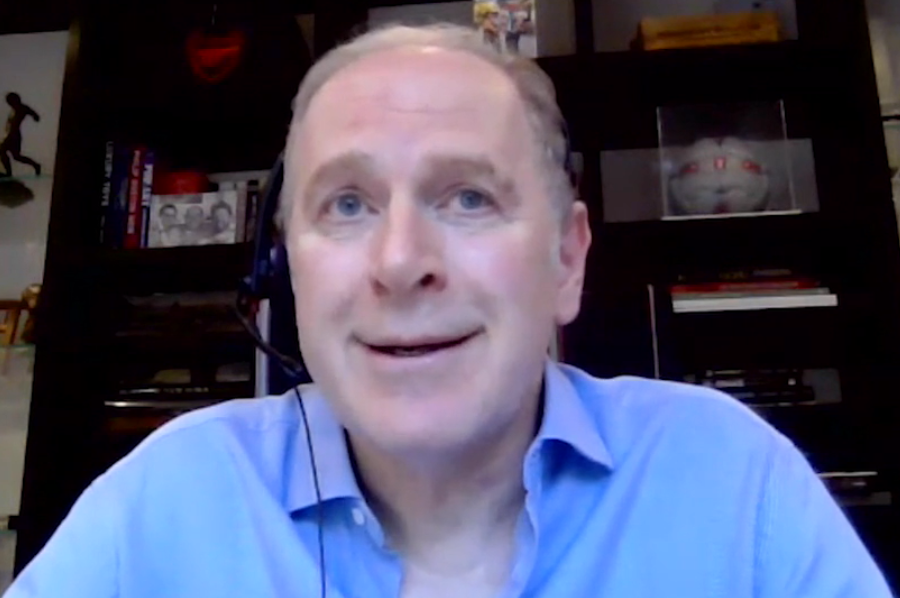 Paul Fineman, chief executive of Design Group. Source: Design Group Full Year Results 2020 (video).
Despite unexpected tariffs on products imported into the USA from China and the onset of the pandemic, Design Group was lucky in some respects in the year to March 2020.
Though it might not seem so, the timing of a big acquisition in early March, was fortuitous.
The acquisition of CSS Industries was funded by investors in a placing, which means it didn't stretch Design Group's finances, and the company raised more than it needed to finance further acquisitions. At the end of March therefore, it was flush with cash and it had also agreed a larger bank facility.
Weeks after the acquisition completed, and in support of beleaguered companies, the US Government relaxed the limits on historic losses that can be deducted from tax. As a result, CSS expects to receive a hefty tax refund in the second half of this financial year, further bolstering Design Group's finances and providing an immediate return from the acquisition.
Another boost came from CSS's product portfolio, much of which is craft products. These were in high demand during lockdown.
Design Group estimates that for the year ending March 2020 it lost £3.8m of profit to Covid-19 either because supply was locked down or because customers were. It was sufficient to turn modest growth into a modest contraction.
Most of the lockdown occurred in the first quarter of 2021, though, and the company is anticipating a decline in revenue in like-for-like terms (i.e. excluding the contribution of CSS).
Due to the fixed costs of operating factories, warehouses and offices, it anticipates a larger decline in profit, which could be aggravated by a second wave of coronavirus.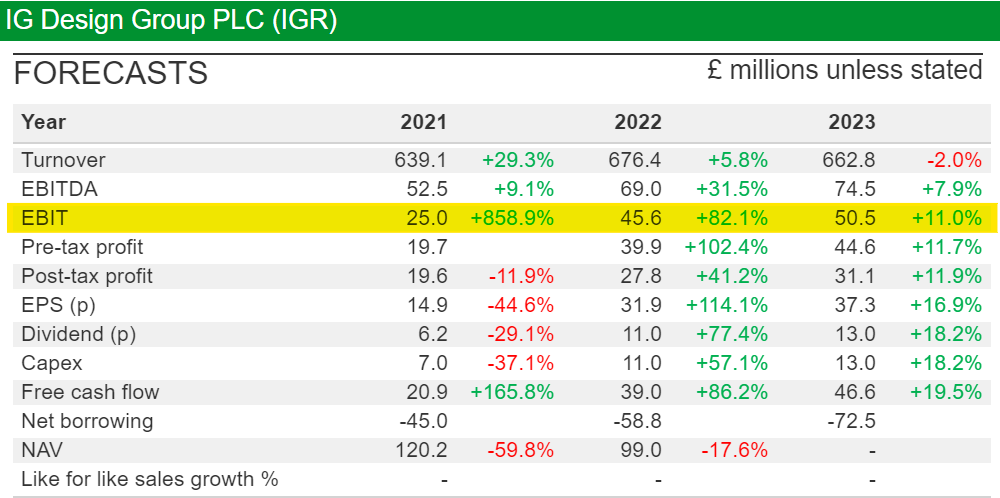 Analysts forecast £25m of EBIT in 2021, compared to £33.4m in company adjusted EBIT in 2020, a decrease of about 25%. The table shows an increase of 858.9% because it compares the forecast to reported EBIT in 2020, which was very low due to factors the company deemed to be exceptional (see below). Source: SharePad (Financials > Forecasts).
I am unsure how much additional profit from CSS Industries is included in the predictions because it has not been a very profitable business and much depends on whether the company flourishes as part of Design Group.
CSS lost money in the year to March 2019, its last full-year as an independent company, and had it been part of Design Group for the whole of 2020 instead of just one month, pro-forma calculations show it would not have contributed anything to pre-tax profit.
The cancellation of CSS' stockmarket listing and redundancies will reduce costs though, and should enable the acquisition to make a contribution.
Transformation continued…
I last examined Design Group in the summer of 2018, when I characterised it as a bad company that had become good. A manufacturer and distributor of gift wrap, greetings cards, and gifts, with sidelines in stationery and retailer-branded reusable paper bags, the company had celebrated two booms punctuated by a bust.
Today, the shares are about 30% below their peak at the beginning of the year, but Shareholders have not lost faith like they did in 2008: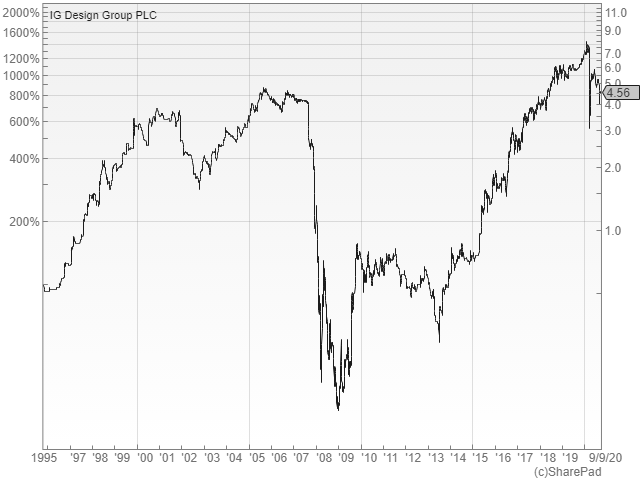 Then Design Group was called International Greetings, and its decline was partly self-inflicted. Mired in debt it had racked up acquiring companies, it was struggling to get those companies to work together.
In March 2020, Design Group had a record level of cash and no borrowings. Its main financial obligations were leases which net of cash amounted to about 10% of lease-adjusted capital employed. Not only had Design Group the wisdom not to use debt to finance its acquisitions, it had been reducing its dependence on outside finance for years: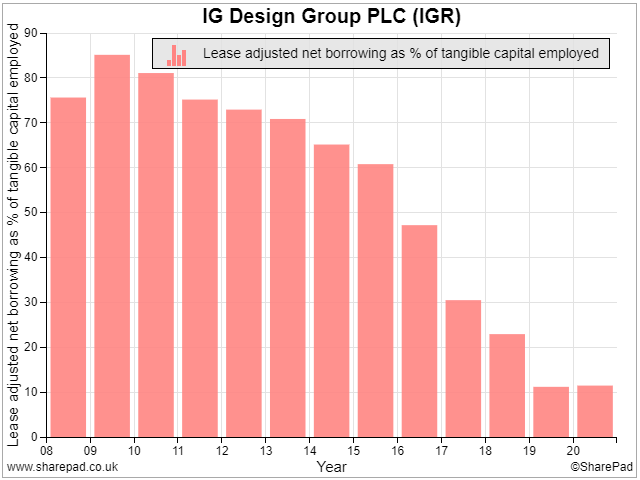 This chart shows a strict measure of debt comparing lease-adjusted net borrowings with tangible capital employed (i.e. excluding goodwill and intangible assets but including the value of leases). It can be recreated in SharePad by designing your own chart in the Financial charts tab and combining the two statistics. You can find a guide to Financial charts here.
The company has also grown and changed shape. The acquisition of Impact Investments in 2018 doubled Design Group's size in the USA, made it the biggest supplier of gift wrap in the world, and strengthened its relationships with big customers, particularly WalMart.
The acquisition of CSS Industries doubled its size in the USA again, and brought it new products and customers for crafts like sewing, as well as creative play, and fashion stationery.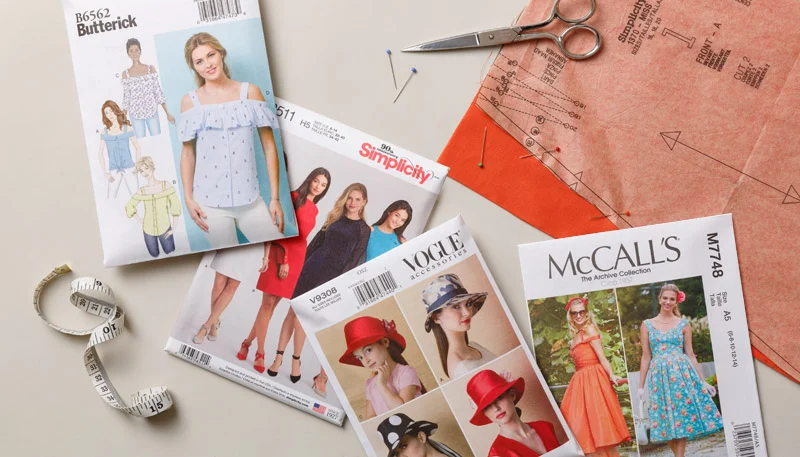 41% of CSS Industries' revenue comes from craft products, creating a new category for Design Group. Source: cssindustries.com
By March 2021 the company expects to be earning close to 70% of revenue from the USA.
Scale (again)
Design Group's dependence on sales of gift wrap, greetings cards, crackers and decorations, in the run up to Christmas will also reduce from 56% in 2020 to something approaching 40%, the company says, in two years' time.
High levels of seasonal demand put considerable strain on a business. The debt levels we see at the year-end are low compared to what Design Group must borrow to buy raw materials and stock and finance receivables in preparation for the Christmas rush.
But the diversification into "everyday" craft products should spread revenue more evenly and reduce the squeeze on Design Group's finances, especially as these products earn relatively high profit margins.
Like Bunzl, which I examined in my last article, Design Group is trying to drive down costs and consequently drive up profits through scale. Acquisitions give it more products to sell and more customers to sell them to, and by folding them into its business it expects to reduce costs by consolidating manufacturing and distribution.
It needs scale to satisfy its biggest customers who have a thirst for a wide range of products, but find it more efficient to restrict the number of suppliers they use.
It is too soon to tell whether the acquisition of CSS has made Design Group a better business, and although Impact has been part of Design Group for longer, it is difficult to see through the impact of tariffs and coronavirus to judge whether it is having a positive effect.
I am guided by the returns a company makes. Having made two big acquisitions in as many years, Return on Total Invested Capital, a measure that includes the value of acquisitions at cost, is, by my calculation, a humdrum 11%, and it will probably be lower next year.
If CSS truly does make Design Group better, though, returns should improve.
Chief executive Paul Fineman is impressed with CSS: "You only get to know a business once you own it," he said in the full-year results presentation, "We have looked deep under the bonnet and there are no nasty surprises".
Design Group, warts 'n all
I have looked quite deeply under Design Group's bonnet, and there are a couple of nasty surprises. To back the investment we need to be comfortable with the accounting and the fact that we will not be investing alongside Paul Fineman, in many ways the hero of this tale.
Firstly, exceptional items. Judgements about the one-off cost of integrating acquired businesses and provisions against stock that the company does not expect to sell and customer payments it does not expect to collect due to Covid 19, are subjective. If the company has overstated them, adjusted profit will be higher than perhaps it deserves to be.
The conundrum in 2020 is the extent of the adjustments, which magnifies the risk of overstatement. Design Group reported operating profit of £4.6m, and adjusted profit of £33.4m.
Secondly, Paul Fineman sold all his shares last month, a 2.5% stake in the business worth over £11m. He is the man who took over as Managing Director in 2008, became chief executive in 2009, turned International Greetings around, and grew it while reducing its reliance on external finance.
I wonder about his commitment to the firm now.
The biggest shareholder is the Hedlund family, which is represented on the board in the person of non-executive deputy chairman Anders Hedlund, the company's founder.
As joint chief executive until December 2007, he presided over the company's first boom and co-created the conditions of its subsequent bust.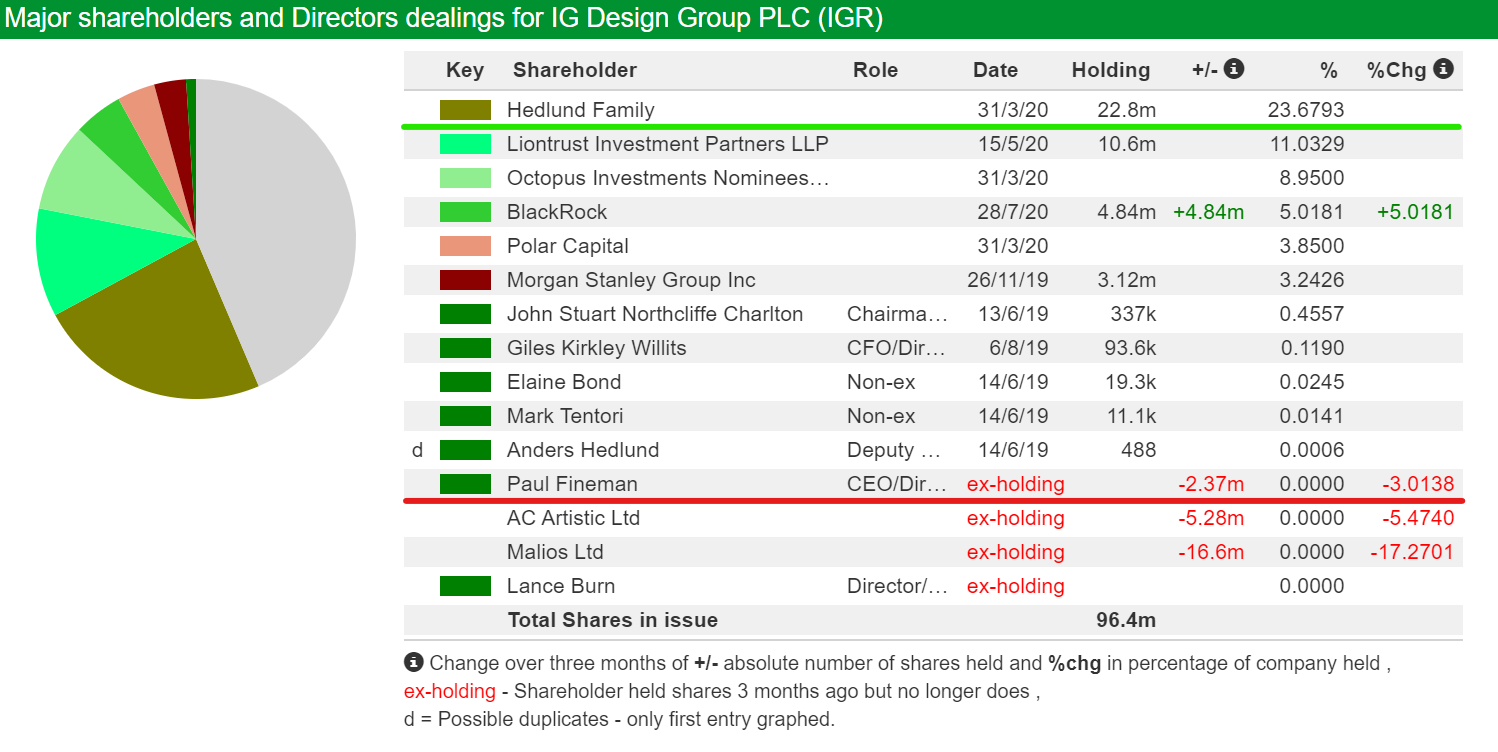 The Hedlund family own nearly 24% of Design Group (👍). Paul Fineman owns 0% (👎). Source: SharePad (DD > Current share)
Richard Beddard
Contact Richard Beddard by email: richard@beddard.net or on Twitter: @RichardBeddard
This article is for educational purposes only. It is not a recommendation to buy or sell shares or other investments. Do your own research before buying or selling any investment or seek professional financial advice.