Taste the Feeling is a Coca-Cola slogan from 2016.
I think it's a very good, because Coca-Cola isn't just a product. It's a religion. The fervour seen during the launch of New Coke, launched in 1985, as a response to Pepsi's taste tests showing consumers preferred a sweeter alternative, showed that it wasn't about the taste. It was about having Coca-Cola original.
Or was it about loss aversion? People don't like losing things they already have – which is why many subscription recurring revenue models like to offer us three free months, in order to allow us to create the habit, then threaten to take it away from us unless we pay.
Either way – Coke is dogma. Those who have read my trading handbook will know the story of the tour guide, who believed that Asa Candler giving away the bottling rights was a stroke of genius. It wasn't – that swift signature has cost (and continues to cost) The Coca-Cola Company billions of dollars, as the company never fully regained control of bottling.
Taste the feeling is also what I think about Fevertree (FEVR), who announced a profit warning this week. I was sure a profit warning was coming here as detailed, as expectations for the stock just seemed wildly unrealistic.
Has Fevertree lost its fizz?

The company announced a trading update on Monday 20 January, with the United Kingdom revenue going ex-growth, due to "weak consumer confidence". I don't think that's all it was, as Fevertree has had the benefit of picking low-hanging fruit.
It caught the market stalwarts napping, and like a hot knife through butter the premium brand carved up the market for itself. That's changing now, with Schweppes launching their own premium tonic, and Coca-Cola hot on the heels too.
Does the business have a moat? I think it did, to an extent. Could people really tell the difference? I'm not sure I could, but I certainly felt better buying Fevertree tonic than buying Sainsbury's own brand. After all – if ¾ of your drink is mixer, then why not mix it with the best? Fevertree is a feeling, but that moat is not so well guarded now.
The revenue KPIs here that the USA is growing nicely, at 33%, with revenue up to £47.6m. I would be interested to see the total market penetration possible here, because the United States of America is a colossal market compared to the United Kingdom. There's no reason why the company couldn't do over £1bn in sales there, if they can crack it.
However, this is the difference. Whilst Fevertree took advantage of a gap in the market in the UK and pressed their advantage, going to the US of A is The Coca-Cola Company's home turf. Are they really going to let Fevertree in so easily? My view is that the company won't have it so easy this time around.
With Europe and the Rest of the World relatively insignificant, it's clear that the UK and USA are the two main factors driving the price at the moment.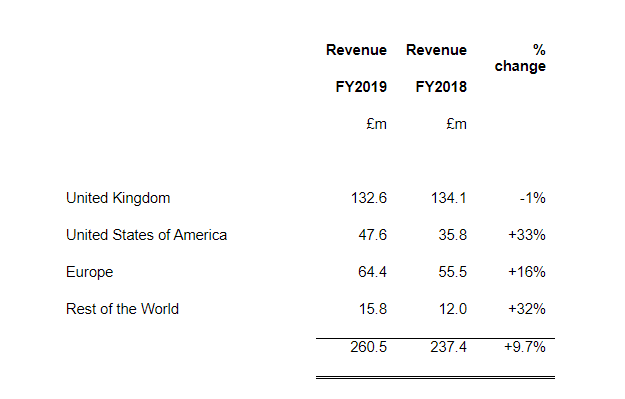 Directors cashed out
Directors sold £103.5m worth of stock in August 2018. Good timing! Academic literature says we shouldn't follow director sells too closely, as there is always many reasons for a sale (and no one is ever forced to buy), but given that these sells were frequent one might think that the directors were cashing out whilst the going was still good.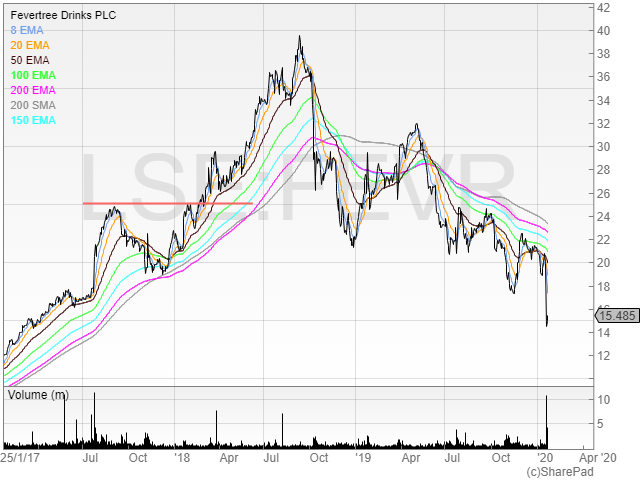 Even now, SharePad has the stock trading at 28x earnings. It's a lot lower than what it has been, but do we really want to pay 28x earnings for a stock that has announced two profit warnings?
The other issue now is that the stock has plenty of trapped buyers and stale bulls, who will want to sell into the rallies.
The argument that Fevertree is now a takeover target will start to become stronger (and has already done the rounds in the papers) but to me this seems like a gamble. As a trend trader, the only way I want to be trading this is by shorting the stock.
Distil

At the other send of the sector, we have lowly microcap Distil. This stock has seen better days, as it rose from sub 1p to heights of 4p, and back down again!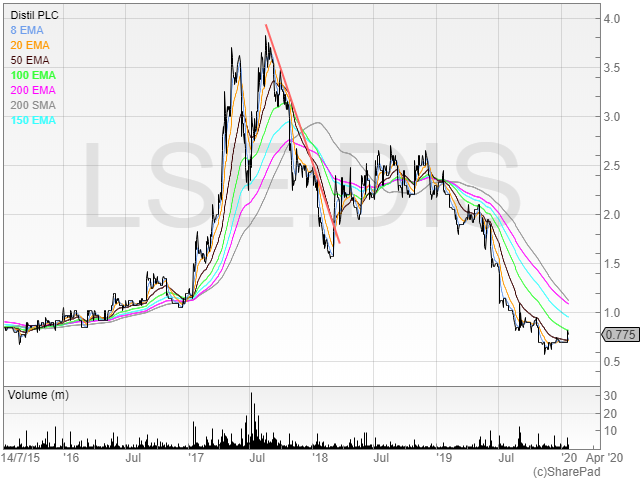 The company issued a recent trading update, and whilst the price gapped up, it shows the power of consumer spending.
"As anticipated in our Interim Statement, year to date sales for the nine-month period April to December decreased 13% in revenue and volume, with marketing investment rates maintained. "
The company was spending the same money on marketing, and yet sales decreased. That's not good! There is an explanation given, as there was "reduced volume in gin caused by changes in retailer listings".
In my view, this is now a high-risk stock. Whereas before sales were growing at a clip, the company is now struggling and under intense competition before it has managed to scale up. The product is sold in all major supermarkets and increasing its footprint but will it be enough?
Industry leader
Looking at Diageo, the chart here seems to be in a gentle uptrend. It also trades at 25x earnings.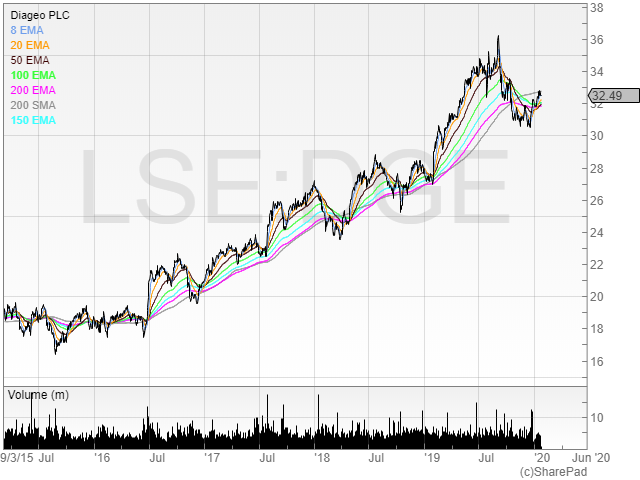 With such a high market cap, I can't see any quick profits here. It's an industry stalwart, with strong and predictable cash flows, that buys up-and-coming brands and then plugs them into its vast distribution network.
That was one of the pitches for Distil from Executive Chairman Don Goulding – an ex-Diageo man – but unless Red Leg can continue to grow it looks unlikely.
Remember, Fevertree has been touted as a takeover target for years, but no takeover bid ever came.
For the beverages sector, I think the low hanging fruit has been picked and there are better risk/reward trades elsewhere.
That said, I would like to short Fevertree again if it takes out the recent low (with as much guaranteed stop as possible of course to protect against any gap up).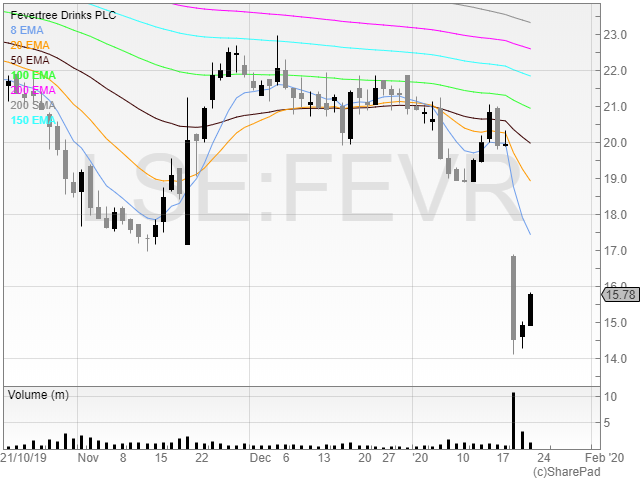 Fevertree was a classic stage 2 stock, but it appears the trend now is firmly in stage 4. You can read about the four stages of a stock in my previous article for SharePad here.
Michael Taylor
Michael is also campaigning alongside Investors Chronicle to reduce trading hours, remove two SETSqx auctions, and the SETS intraday auction it in its current form.
The proposals will see liquidity focused into a narrower timeframe and increase the chances of uncrossing trades in the remaining auctions.
You can view the proposals in full and sign the petition here: www.change.org/ICresponse
Closing date for responses is 31 January 2020
This article is for educational purposes only. It is not a recommendation to buy or sell shares or other investments. Do your own research before buying or selling any investment or seek professional financial advice.