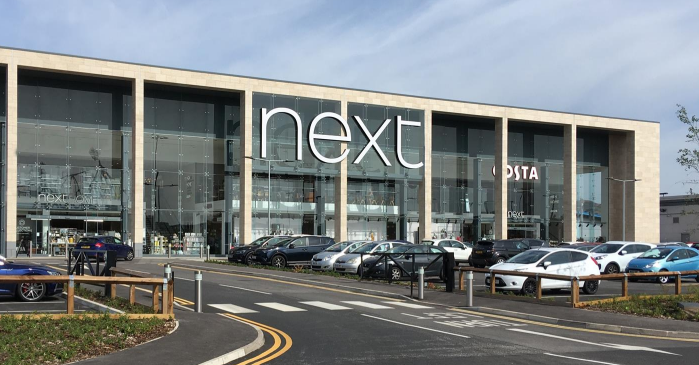 Rule number one in investing is to buy what you know, but how does that work when what you know is changing day by day? Richard grapples with clothing and fashion retailers, who are themselves grappling with the emergence of the Internet.
Just about every type of retailing is going through profound change thanks to the emergence of the Internet. It is somewhat daunting for employees, landlords, suppliers and shareholders let alone the retailers themselves. Rule number one in investing is to buy what you know, but when what you know is changing all the time – by definition you are already bobbing on an ocean of uncertainty.
By rights investors looking for reliable investments should read the headlines about store closures and insolvencies, take the hint and avoid retailers, but there are equally good reasons to investigate them. We are retailers' customers, so if we open our eyes we can gain insights that are very difficult to achieve in other industries. Retailers want us to visit their stores and websites.
Retailing is also a relatively straightforward business. We all have a rudimentary idea of how it works. Retailers source products from manufacturers, distributors and brands and sell them, hopefully for more than they cost to buy, and the cost of overheads like rent, rates, staff and IT.
In the past, retailers with the best products in the best shops in the best locations won. Today, the retailers that list the most products on their websites and deliver them to customers most efficiently win. Retailers need to become marketplaces, more like Amazon, where brands choose to sell their goods. At least, that is what Next appears to be thinking.
From retailer to marketplace
For a couple of decades Next has been a retailing bellwether, a seller of clothing and homewares present in almost every High Street and shopping centre. Having transplanted its massive catalogue business, formerly Next Directory, to the Internet, the Web is now gobbling up store sales, where it currently earns a slim majority of revenue and a greater proportion of profit.
To understand what Next is doing, and whether it will enable the company to prosper in the future, we need to understand what other companies like it are doing. The purpose of this article is to make a list in SharePad of companies like Next, which we can compare and monitor. Because Next is changing, this is not as straightforward as you might think.
Next's chief executive, Lord Wolfson, says he has no idea what the High Street of the future will be like but he is pretty confident in the direction of travel, more Internet sales and fewer sales from physical stores. But Next is not abandoning stores. Most of them are still very profitable and the ever-changing economics of the High Street means rent is falling dramatically, rates should follow (because they are based on rent), and so stores are becoming cheaper to operate.
The stores are paying for themselves in other ways too, for example, Next says 50% of customers collect online purchases from Next and 80% return products to Next, because it is free and often convenient compared to waiting at home for a courier to arrive. If Next could only get returns back to its warehouses and in stock in a couple of days, and Next is working on the interoperability of its stores and warehouses, letting people try things at home need not be much more expensive than trying them in the changing rooms. It is potentially a competitive advantage over online only rivals for whom returns are a huge cost. In another sign it is embracing competition instead of hiding from it, Next already allows Amazon customers to collect from its stores.
Next's scenario planning, based on an annual decline in retail like-for like sales of 10%, posits the company will operate 270 stores, just over half the number of UK stores it currently has, in fifteen years time. But instead of being a source of profit as they currently are, the store network would have become a modest net-cost, part of a distributed network of warehouses and collection and return points that also operate as retail outlets.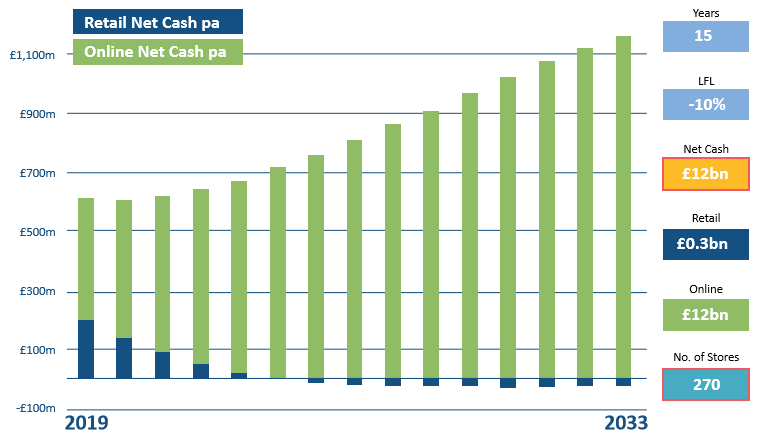 Source: Next Annual Report 2019
To get maximum use out of the distribution system, its 4m customers in the UK, and its highly profitable finance arm, it needs to sell more products which is why it has opened its website to direct competitors.
The point at which a retailer stops being a retailer and starts being a marketplace is probably when it lets suppliers decide what they list on its website. Next seems to be taking steps in that direction, resulting in changes to every aspect of the business. In Next's new lexicon, competitors it sells are "partners" and its webstore is a "platform". As well as stocking competitor products, it is:
Making stock available in supplier's warehouses available on its websites so it can, conceivably, list their whole ranges.
Redirecting investment in stores to investment in warehouses, logistics and IT so it controls the customer's experience of delivery and returns.
Redirecting in-store marketing to online marketing, to the benefit of all partners, and raising overall marketing spend.
Reorienting the business from profit maximisation to maximising savings to partners (once it has taken its 16% profit margin).
The Future of Retail portfolio
One way to monitor and compare a list of companies with something in common in SharePad is to collect them in a portfolio to make a watchlist. The obvious starting point is to add all of the shares in the same sector or subsector as the share that sparked our curiosity.
[NB: You can find out which sector a company is in the Summary tab of the Financials page in SharePad, and you can sort or filter a list by Sector or Subsector to find all the other companies and add them to a new portfolio by following these instructions.]
Next is in the General Retailers sector, but SharePad contains 65 General Retailers including motor vehicle dealerships and funeral directors. While we might learn something from these companies, we have to draw the line somewhere to produce a manageable list. The subsector, Apparel Retailers, with fifteen shares is a better starting point, however, Ted Baker and Superdry, both famous listed high street fashion brands (stocked, incidentally, by Next online), are listed in another subsector, Clothing & Accessories, so we need to add them to the portfolio too.
I have also added Clipper Logistics to the group, which is in the vague catchall Business Support Services subsector. The company is not a retailer. It enables retailers who outsource stock control and delivery to it. Clipper operates warehouses, robots, and vehicles. One of its specialities is fashion. Customers include ASOS, H&M and Superdry and the "About" page of its website is even more breathless than this article. Headlined "Now is History", it says: "Logistics is not a piece of the jigsaw; it is the jigsaw."
Next appears to agree that logistics "is the jigsaw", but it too wants to be a provider – at least in respect of its own marketplace. It is seeking to become its partners' most profitable route to market.
In the preliminary version of my Future of Retail portfolio watchlist I have chosen to show profit margins and turnover (sales) growth. Next was peerless in achieving rock solid profit margins (EBIT margin in the portfolio below) while growing turnover, but while profit margins are still industry-leading turnover has flatlined, online growth roughly compensating for the contraction in physical store sales. If Next is the future of retail, turnover will pick up again as retail becomes a smaller and smaller part of the business. If it is not, it is probably a good idea that we are watching ASOS and Boohoo, the less profitable but fast growing Internet retailers.
Here are the top twelve in the first cut of the Future of Retail portfolio ordered by size (Enterprise Value), which also includes Ocado because, well, it would be churlish not to wouldn't it? The companies omitted are small floundering retailers of the past like French Connection and small exotic startups like Koovs, an Indian online fashion retailer.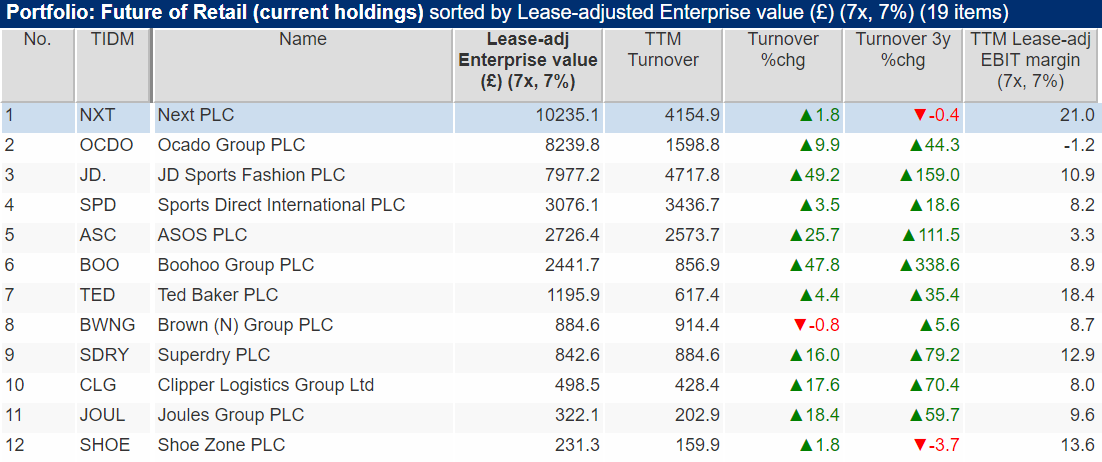 Expect me to add companies from other retail subsectors, remove companies unlikely to be part of the future of retail, and to write about some of these shares as I learn more (you may have already read this article about Clipper).
Maynard picked off JD Sports last week.
Richard Beddard.
Contact Richard Beddard by email: richard@beddard.net or on Twitter: @RichardBeddard.
This article is for educational purposes only. It is not a recommendation to buy or sell shares or other investments. Do your own research before buying or selling any investment or seek professional financial advice.