From touring with Led Zeppelin to a £193 million shareholding: Phil Dudderidge has enjoyed enormous success leading music-equipment specialist Focusrite. Maynard Paton recaps the investment story.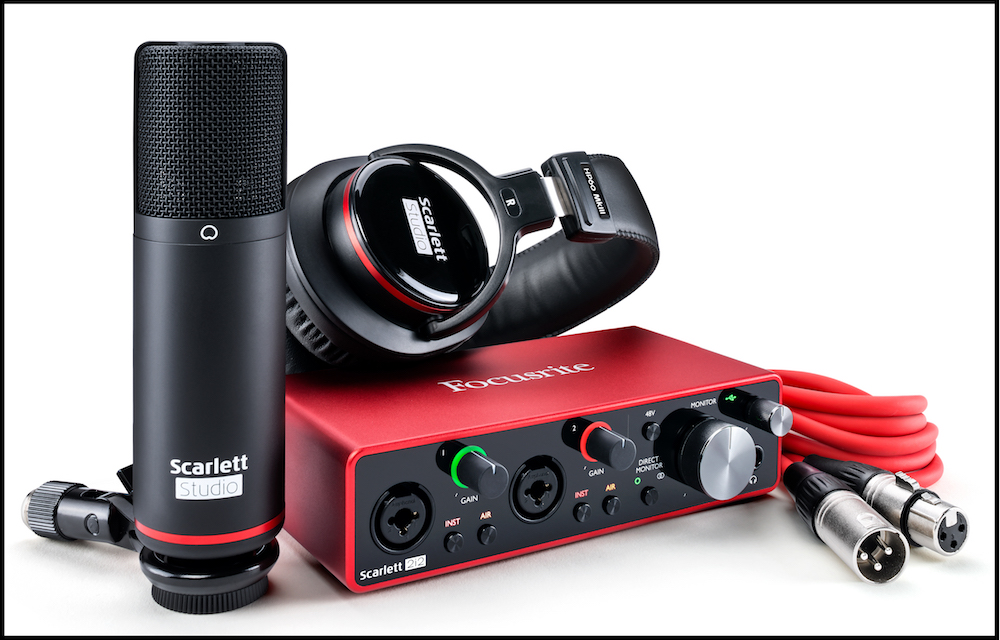 The market continues to wobble and I have therefore kept with my 'back to basics' filtering.
Applied the other week to identify James Halstead, this screen short-lists companies that have strong balance sheets, robust margins and dividends that have defied the pandemic.
This time SharePad returned 22 matches and I sorted the results on year-to-date share-price performance:
(You can run this screen for yourself by selecting the "Maynard Paton 23/02/22: James Halstead" filter within SharePad's jam-packed Filter Library. My instructions show you how.)
I selected Focusrite because it was among the year's worst performers, had not already been subject to my SharePad microscope and its operations were not obviously linked to stock-market volatility.
Let's take a closer look.
The history of Focusrite
"I started, aged 18, as a roadie driving bands. One day I had the opportunity to go for a job doing front-of-house, which I'd never done in my life, with Led Zeppelin. I was 21, and when you're 21, you can do anything! So I said, 'Yeah, I can do that.'"
So recounted Phil Dudderidge during this interview on how he became part of Led Zeppelin's sound crew for the band's 1970 tour of Europe and the United States.
Mr Dudderidge quickly discovered touring was not for him:
"It was really hard work. The band was great, both as musicians and also as guys. But within the management there was a complete lack of any consideration for the crew."
But Mr Dudderidge also discovered the sound equipment was very hit and miss:
"The state of the live sound industry, at that time, was in a place where everything was still there to be invented. They were repurposing speaker systems designed for movie theatres, rather than systems that had been designed for concert tours."
That sparked a couple of years developing sound systems and then 15 more years at his own company working on mixing consoles.
No sooner had Mr Dudderidge sold that business, he acquired Focusrite after it had fallen into financial trouble.

A few lean years during the early 1990s prompted Focusrite to move from studio consoles to 'outboard audio interfaces' — devices that connect to microphones and instruments to enhance the sound for playing and recording.
Then followed a shift to digital and Focusrite becoming a prominent developer of audio interfaces designed for recording music on computers.
The purchase of Novation and its popular Launchpad — a device that was "the birth of the grid system that fuelled an evolution in electronic music" — broadened the product range from 2004.
The group's equipment is today aimed mainly at enthusiasts and up-and-coming-musicians, and this 3m58s Youtube video provides a brilliant demonstration of the Focusrite and Novation kit in action: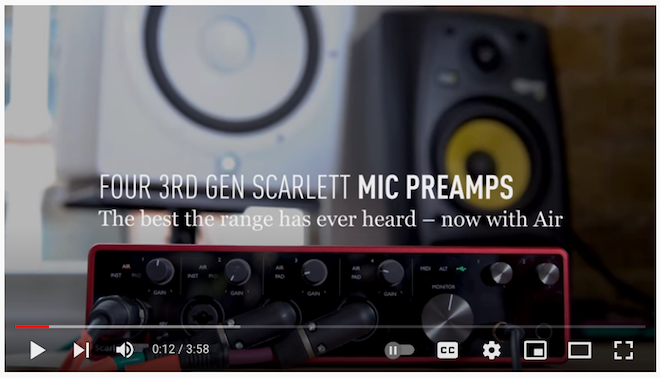 Customers are attracted to the group's product quality and ongoing innovation, with sales earned throughout the world. North America became Focusrite's largest market during 2015 and currently represents 43% of revenue.
Companies House shows sales of £7 million and profit of £1 million following the Novation purchase, while SharePad shows revenue and profit having since surged to £174 million and £36 million respectively: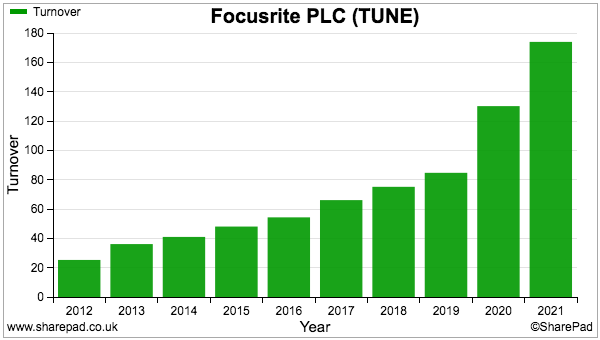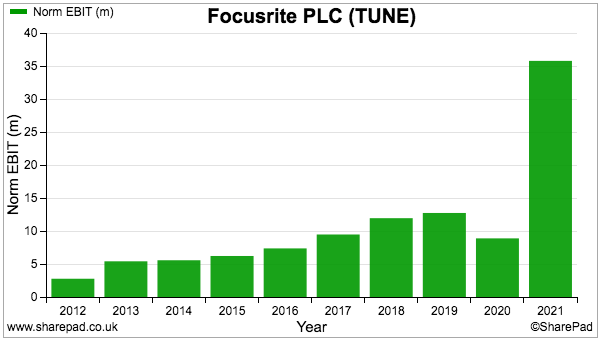 Three acquisitions have assisted the recent performance:
ADAM Audio, a developer of studio monitors, for £16 million during 2019;
Martin Audio, a manufacturer of concert loudspeakers, for £39 million during 2019, and;
Sequential, a synthesiser specialist, for £18 million during 2021.
The purchase of Linea, an amplifier designer, for £13 million earlier this month will assist the 2022 figures.
Note that Focusrite's 2020 profit declined due to a pandemic-related £10 million write-off following the Martin Audio purchase.
The pandemic was nonetheless positive for Focusrite as lockdowns sparked greater demand for recording equipment for online content. The dividend was in fact lifted 10% during 2020 and then 24% during 2021: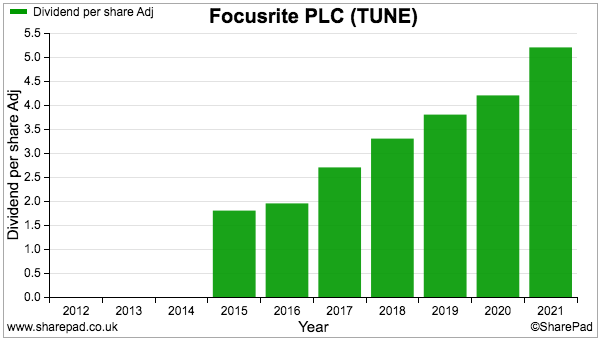 The shares joined AIM during December 2014 at 126p and last year touched £18 before the decline to £10: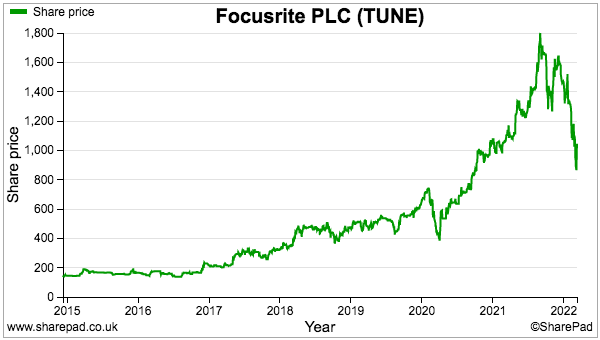 Acquisitions
Focusrite's acquisition activity has been significant: the aggregate £73 million paid for ADAM Audio, Martin Audio and Sequential is twice the company's reported operating profit for 2021.
The star buy appears to be ADAM Audio, with revenue at this German operation approximately doubling since its purchase during 2019. Annual sales through Martin Audio have in contrast declined by £4 million:

Sales at US-based Sequential have meanwhile been running at £18 million – up a terrific 90% on 2020. Note that Sequential's £4.8 million profit represents a healthy 26% of the division's sales:

My spreadsheet charts below demonstrate how the purchases have influenced total revenue and gross profit: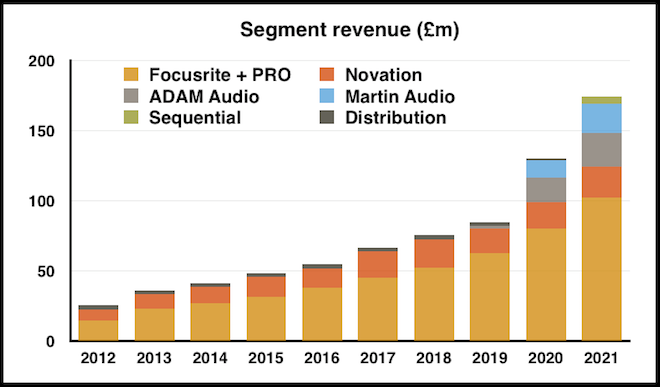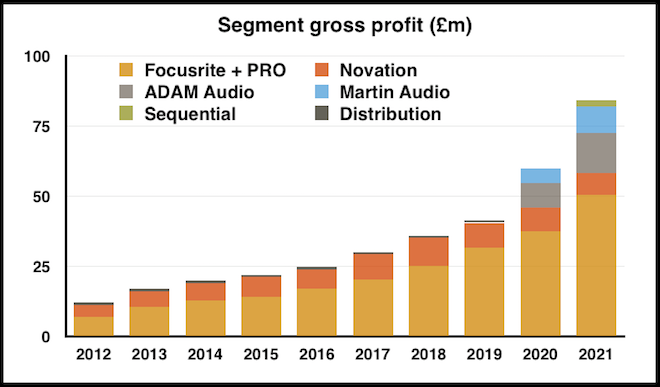 The acquisitions may have been prompted by slower growth elsewhere in the group. The long-standing Novation subsidiary (red bars above) in particular has not traded that well of late.
Gross profit for Novation in fact peaked at £10 million during 2018 and last year stood at £8 million. Gross profit at the original Focusrite division has in the meantime more than doubled to £44 million.
The Focusrite segment includes the PRO range of equipment that is sold to professional musicians. Revenue and gross profit for PRO have kept steady at £5 million and almost £3 million respectively since the figures were first disclosed during 2018.
As well as lower gross profit, Novation claims the lowest divisional gross margin at 36%: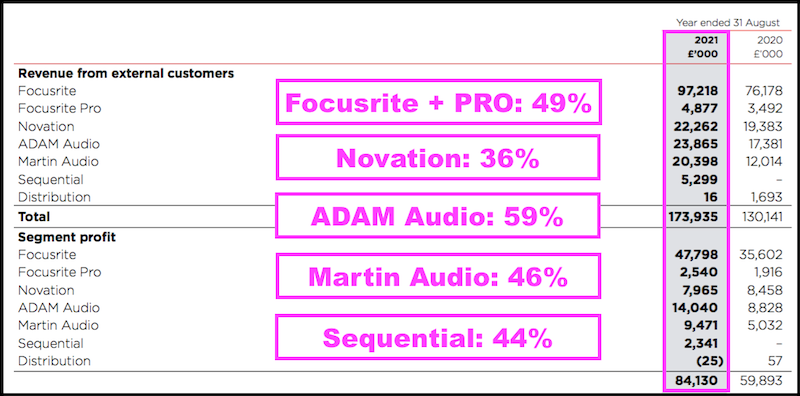 Maybe Novation's Launchpad device is no longer the electronic-music force it used to be. Alongside surging sales, ADAM Audio boasts the group's highest gross margin at 59%.
Intangibles and goodwill
Intangibles created following the three acquisitions — notably covering developed products and products under development — have 'useful lives' of ten years or more:

A decade is a long time, and feels a very long time for technically innovative equipment to stay relevant. Focusrite claims certain products have "extended" lifespans, but does anybody today really buy, say, a 2012-spec synthesiser?
The useful life applied to Focusrite and Novation divisional products in contrast is just three years: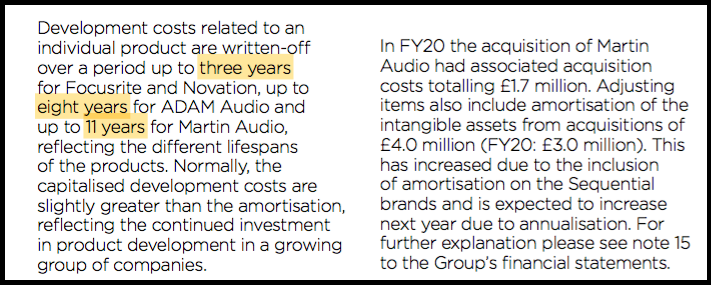 Still, the R&D costs Focusrite has diverted onto the balance sheet — rather than charge immediately against earnings – has not been overly significant.
The net book value of capitalised development costs advanced by £5 million to £9 million between 2017 and 2021, and that £5 million would have reduced aggregate operating profit by approximately 5% during those five years had the expenditure been expensed entirely.
Though a goodwill footnote, Focusrite commendably reveals its cash flow growth assumptions for each of its subsidiaries:

A 9% compound annual growth rate, which reduces to 6%, is assumed for the Focusrite and Novation divisions, while 11% is assumed for ADAM Audio, 13% assumed for Martin Audio and 6% assumed for Sequential.
Operating margin and cash conversion
Focusrite's operating margin improved dramatically last year: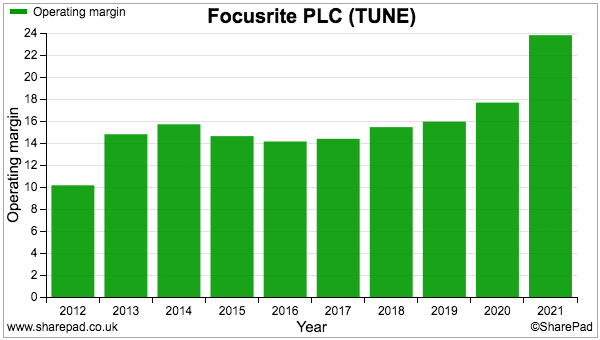 Explaining the greater profitability, Focusrite cited more products being sold direct to dealers and customers, rather than through distributors, alongside restrained development spend and the impact of the higher-margin ADAM Audio subsidiary.
Return on equity has meanwhile consistently topped a wonderful 25%, with the trend rising of late due to bumper pandemic profits and the acquisitions: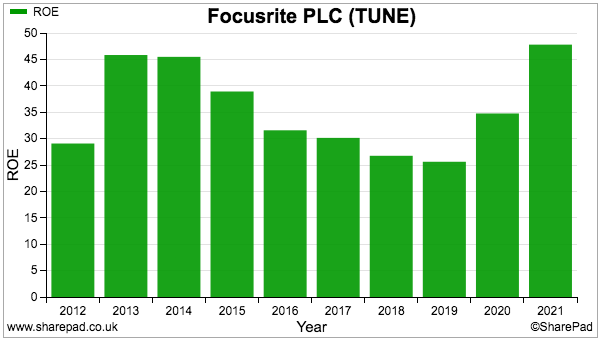 Focusrite retains a net cash position despite the acquisition expenditure: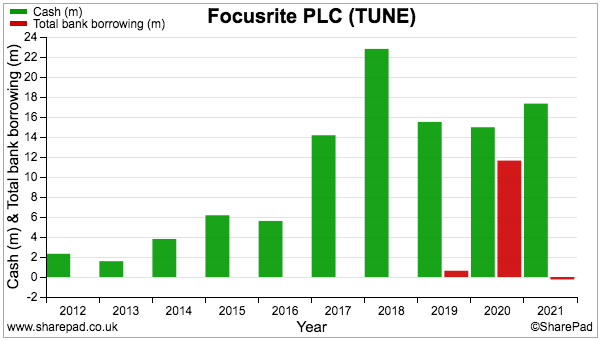 Debt taken on to fund the Martin Audio deal was impressively cleared one year later. Also impressive are reported earnings on average converting at a superb 100% into free cash during the last five years (black line, right axis):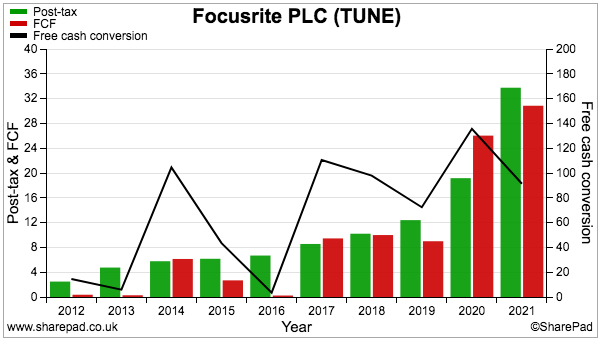 The poor conversion during 2013 and 2016 was due to sizeable working-capital investments (red bars below)…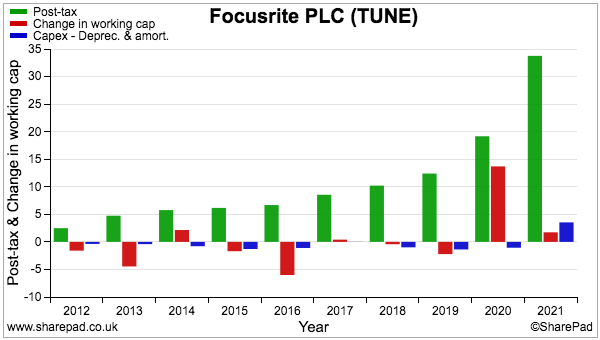 ….and 2022 will witness another sizeable working-capital investment. Focusrite admitted 2021 encountered "supply constraints" that led to lower levels of stock, and that the "intended rebuilding" of stock will lead to a "marked [cash] outflow".
The footnote below on stock is interesting:

The stock provision cited within the note was only £650k for 2019, but jumped to £3.3 million following the Martin Audio purchase.
This higher provision signals a greater risk of product obsolescence with Martin Audio's products, which in turn may question the aforementioned decade-long useful life applied to certain Martin Audio development expenditure!
Employees and management
Other snippets from the annual report do not present anything too alarming.
I would highlight only small 'adjusting items' starting to appear in relation to the acquisitions, and a material 31% of 2021 revenue being generated through a single (albeit long-standing) distributor.
Possibly the most impressive SharePad chart for Focusrite is revenue per employee: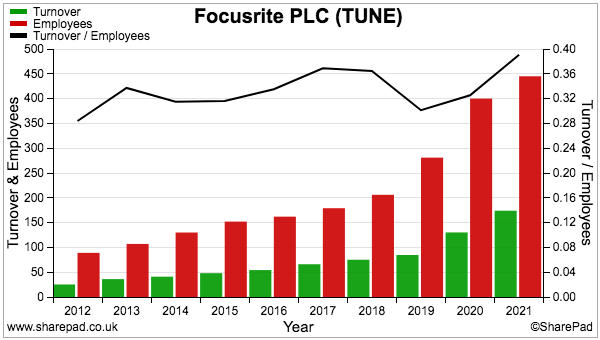 Revenue per employee regularly topping £300k and heading towards £400k is impressive. Such levels are much higher than seen at the typical quoted company, and imply Focusrite's staff do indeed develop innovative equipment that customers are prepared to pay good prices for.
The group's employee 'productivity' may even improve through further niche/high-value acquisitions. Sequential for example was acquired with 18 full-time workers, and its aforementioned revenue running at £18 million gives sales per head at a super £1 million.
One advantage Focusrite enjoys versus most other quoted companies is its employees actually use the group's equipment outside of work:
"Our employees are a highly passionate group of individuals, many of whom are also accomplished musicians, DJs, audio engineers, live sound specialists and podcasters in their own right. We are so fortunate to have so many people who leave work and actually use our solutions in real world environments; bringing their experiences and feedback back into work to continually improve our offerings."
Employing a "highly passionate group of individuals" may reflect the long tenure of the aforementioned Phil Dudderidge.
Mr Dudderidge remains in charge of Focusrite as executive chairman and appears to be the long-term entrepreneurial leader that so often typifies successful companies.
He retains a 33%/£193 million shareholding, receives modest pay rises, does not collect an annual bonus and has no options:

Mr Dudderidge is assisted by chief executive Tim Carroll, who is another grass-roots industry executive.
The annual report reveals Mr Carroll to be a "professional musician by background, having recorded and toured for nearly 20 years as a keyboard player". Prior to Focusrite, Mr Carroll spearheaded "category-defining" products for Avid Technologies.
I must say, a board led by two hands-on industry veterans makes a refreshing change from the accountants that so often take charge of public companies.
Valuation and summary
The share-price decline to £10 reflects a moderating of growth following the pandemic sales boost.
A statement the other week confirmed the upcoming first-half results may not match up to those of last year:
"Revenue, profits, and cash for the Group are in line with Board expectations for the first half of the year. The Group is pleased that overall demand for the Group's products has remained strong, with revenues for H1 2022 expected to be not less than £91 million. As previously reported, revenue during the comparative period in H1 2021 (£95.3 million) was exceptionally high."
SharePad shows the following forecasts: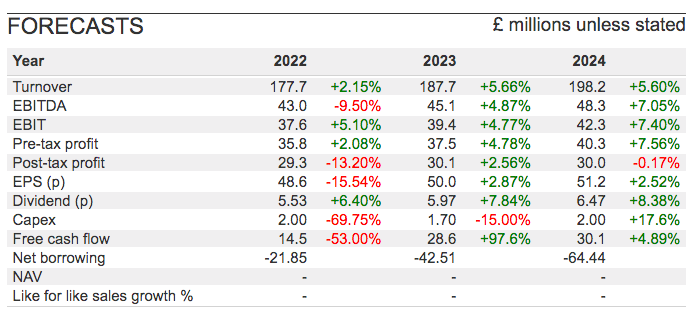 The £198 million revenue projection for 2024 looks very attainable. A repeat of the 2021 performance plus a full-year contribution from Sequential plus the recent Linea purchase would take annual revenue to £192 million.
Adjusted earnings of 51p per share for 2024 compares with 57p per share for 2021, and the decrease appears due to lower margins. According to the forecasts, that near-24% margin of 2021 looks set to be trimmed to 21% for the next few years.
The single-digit dividend improvements seem the best indicator of an underlying growth rate, and the predicted payouts remain very highly covered by earnings at approximately eight times.
A consequence of the high dividend cover is Focusrite expecting to retain greater cash. The projections show net cash advancing by 2024 to £64 million — a not insignificant amount when the recent market cap was £613 million.
Some of that projected £64 million could be spent on more acquisitions. Sequential for example was bought at what now appears to be five times pre-tax profit, so further deals along those lines would be very welcome.
The £10 share price represents approximately 20 times near-term earnings and is the lowest rating since the March 2020 market crash and Focusrite's early years as a quoted company: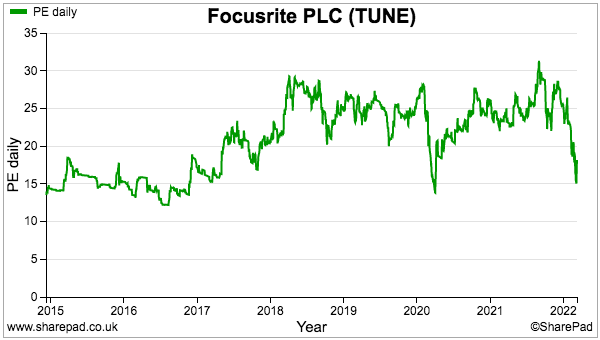 Although the current rating is not 'bargain basement', the multiple is very understandable given Focusrite's appealing progress and Mr Dudderidge's industry dedication.
And bear in mind this business has been around for decades, and could well be around for decades more. This terrific 38m55s Youtube video recaps how early Focusrite equipment was used by certain music superstars of the past…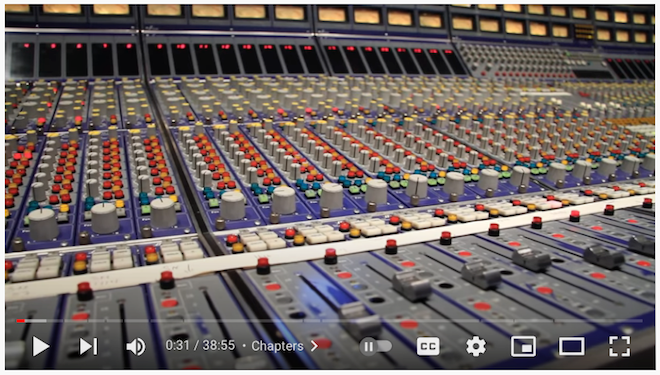 …and perhaps the music superstars of the 2030s and 2040s will one day reminisce about their Focusrite equipment of the 2020s.
Until next time, I wish you safe and healthy investing with SharePad.
Maynard Paton
Maynard writes about his portfolio at maynardpaton.com and hosts an investment discussion forum at quidisq.com. He does not own shares in Focusrite.
This article is for educational purposes only. It is not a recommendation to buy or sell shares or other investments. Do your own research before buying or selling any investment or seek professional financial advice.