Future PLC is one of the outstanding growth stories of the last five years, but it is also one that eluded Richard. He fesses up to the biases that blinded him to the opportunity, and discusses whether it is still one today…
Today's company, Future, is one I should have taken a look at a long time ago. For nearly six years now, the publisher's share price has been delighting or dumbfounding investors depending on whether or not they saw the potential in the business.
In 2016, it was a loss-making publisher of hobbyist tech, gaming, photography and music magazines. Some of these would have been titles I read voraciously a decade or more earlier, when I was hungry for information about my new digital hobbies.
But, by 2016 I had moved on. My expertise had grown, if I needed more knowledge it was readily available on YouTube or in online communities, and I wondered about the future of technology-oriented magazines. They seemed like anachronisms.
The performance of the business corroborated this view and traders agreed, judging by the performance of Future's share price up until 2016: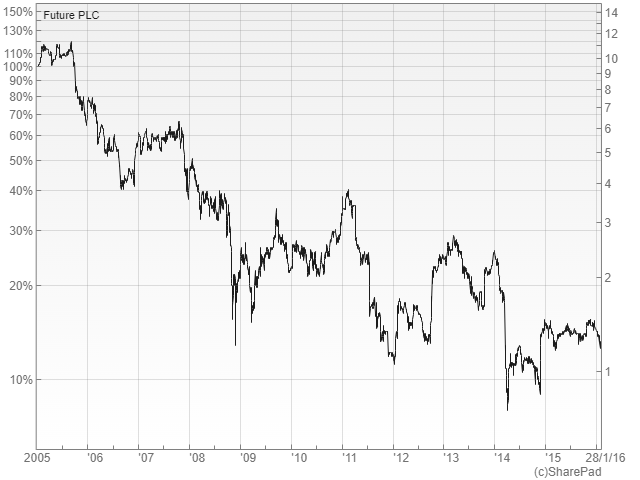 To my shame, as Future turned itself around and then grew rapidly I let my natural scepticism of rapidly growing businesses, particularly when the growth is fuelled by acquisitions, get the better of me.
Future's growth probably would not last, I told myself, without actually checking the story. The debt will rack up, the company will become more complex and inefficient, growth will run out of steam and ultimately it might get into serious trouble.
Over the last six years, the share price has grown about 2,500%: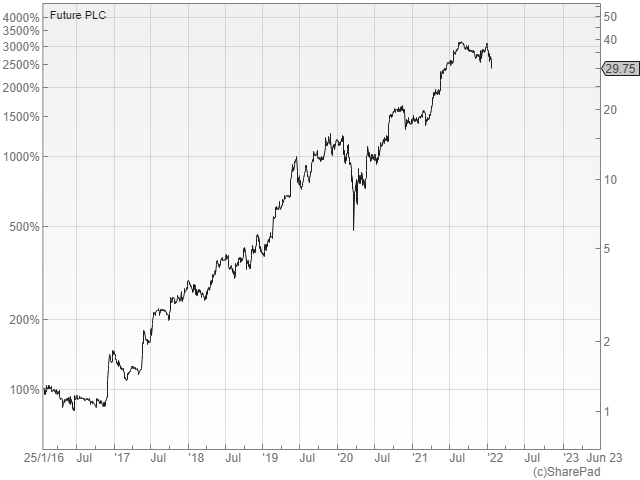 It would be tempting now to assume Future is widely feted that I have missed the boat, which implies we have already reached the destination or that it is not far away. But deciding that without checking the story again, would be to commit the same mistake I made five or six years ago.
As usual there are two aspects to the story, the words and the numbers. My principal concern as always is to establish the company has a coherent strategy and that it is growing profitably.
Future strategy
Future makes it easy to gain an impression of its strategy. Its investor relations page starts with two documents, an investor fact sheet and an introduction to Future. They say much the same thing, in not too many more words than this:
Future is a global platform for specialist media. The platform is built from proprietary software. And the company has a number of ways of making money from it.
Let us unpack that a bit.
There are a number of trigger words in this description, which ought to interest investors. Specialisation is a double edged sword. It restricts the size of a market but that also reduces competition. If a business can serve a lot of specialist niches efficiently then it can be big and also highly profitable.
Efficiency is where the words platform and proprietary technology come in. The company has created and acquired a collection of software services allowing it to create content once, publish it many times, analyse the data generated, and earn money from it through advertising, subscriptions and commissions on products sold through the platform.
This is not only a coherent strategy, but also one that is proven in diverse industries. Take one of my favourite shares, Judges Scientific. In some ways the company could not be more different. It manufactures and sells scientific instruments.
Judges Scientific owns dozens of small manufacturers, like Future owns hundreds of publications. Each of Judges Scientific's businesses makes specialist equipment, but serves a different market, like each of Future's titles makes specialist content for people interested in a particular hobby. Both companies have systems to keep tabs on their individual businesses or titles performance and invest in them where they can improve them.
But companies like Judges Scientific and Future are harvesting capital from their businesses, so they can acquire subsidiaries and slot them into their systems.
I think the system component at Future is greater because the platform facilitates the day operations of its subsidiaries.
As the company adds more titles the cost is spread more thinly. Consequently Future should not only be growing, it should be growing more profitable.
Do the numbers match the story?
The two documents contain lots of interesting numbers.
Future has spent £1.4 billion on acquisitions, which is incredible when you think of how small it was not so long ago. It claims half of internet users in the UK visited one of its sites in 2021 and a third of internet users in the US. Over the last two years it has grown online users at a compound annual growth rate of 20% (excluding from acquisitions).
The company also boasts of incredible growth rates.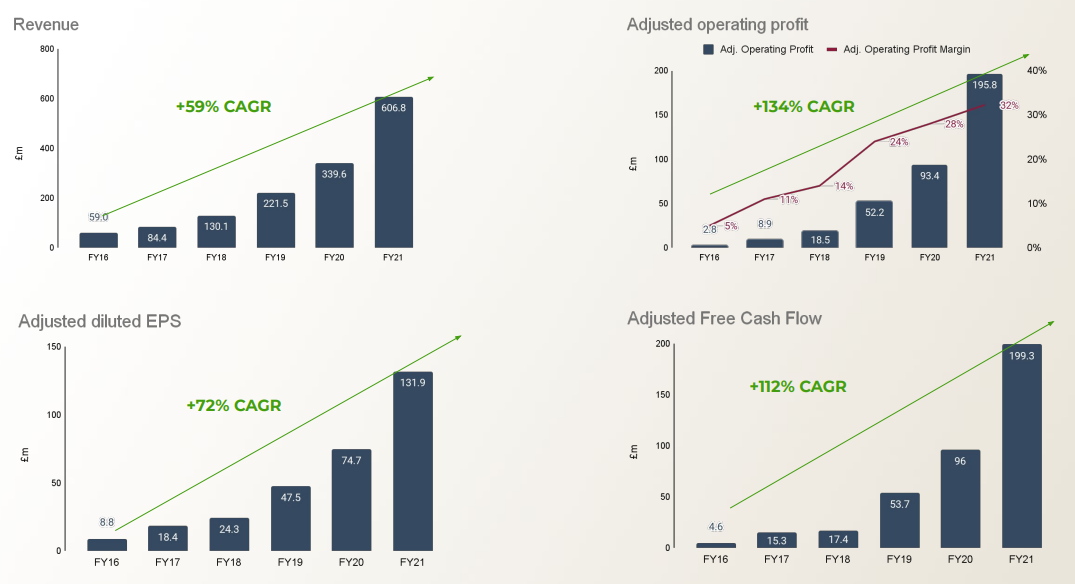 Source: https://www.futureplc.com/investor-relations/
Incredible growth has driven incredible share price gains, but has it come at an incredible cost? To sanity check these figures, I think we need to consider two more numbers that I obsess about:
Return on Operating Capital, to check whether Future has grown in efficiency as it has added titles to its systems
Return on Total Invested Capital, to check whether Future is getting a good return on its investment in acquisitions
Return is another word for profit, and the particular version of profit I use in my calculations is earnings before interest, tax and the amortisation of acquired intangible assets. I add back the amortisation of acquired intangible assets because they are historical costs the company in its current form will not incur in future, although it may if it makes more acquisitions.
The definition of capital depends on the context. In judging the efficiency of operations (Return on Operating Capital) we should deduct goodwill and acquired intangible assets from operating capital.
In judging whether the company is a good acquirer we should include goodwill and acquired intangible assets at cost (i.e. before any amortisation) in total invested capital.
I appreciate the last three paragraphs are 90% accounting jargon. The distinction between ROOC and ROTIC is a conceptually tricky aspect of financial analysis, which I have explained in more detail here.
Interpreting the result of those calculations though is relatively straightforward. Because the ROOC calculation ignores acquired intangible assets, which comprise the bulk of Future's assets, the denominator is very small so we want ROOC to be fancifully high.
Because ROTIC includes all acquired intangible assets at cost it just needs to be sufficiently high to reassure us that the company is not destroying value by paying too much for acquisitions, say more than 10%.
Future's ROOC and ROTIC show that it is highly profitable, and is growing more so, perhaps confirming that as it gets bigger it is getting more efficient:
| Future | 2016 | 2017 | 2018 | 2019 | 2020 | 2021 |
| --- | --- | --- | --- | --- | --- | --- |
| ROOC | -193% | 79% | 143% | 271% | 394% | 309% |
| ROTIC | -6% | 2% | 3% | 5% | 10% | 12% |
Future's future
The question facing investors now, of course, is what is Future's future?
It is very early days for the company's latest and largest acquisitions and shuffling price comparison site GoCompare, acquired a year ago, into its platform is probably a more daunting prospect than magazine titles and websites, which are Future's meat and drink.
To fund the acquisition of GoCompare and a slew of titles from Dennis last October, Future has used a substantial amount of debt so, as always, there are things to worry about.
Provided there are no missteps though, the company could use its prodigious cash flow to repay the debt in a few years.
At the time of the preliminary results, it was very happy with the integration of GoCompare, and by the time you read this, it will have updated shareholders again in a webinar (broadcast on Tuesday and available on video thereafter).
Richard Beddard
Contact Richard Beddard by email: richard@beddard.net or on Twitter: @RichardBeddard
This article is for educational purposes only. It is not a recommendation to buy or sell shares or other investments. Do your own research before buying or selling any investment or seek professional financial advice.