Richard goes hunting in his own portfolio for companies incubating better businesses. They may be undervalued as a result.
As promised, this week I am following up my last article on past pivots that worked with an article about live pivots that look like they are working.
I used the word pivot to describe a decent but humdrum business that is incubating another better business.
Pivots are attractive because the new business has not yet reached its potential and the company's performance reflects the business doing the incubating so the shares may be undervalued.
If something truly special is incubating, we may profit from our investment for decades.
Finding pivots is not easy though. Because the performance of the new business is hidden, filtering using the usual quality metrics like return on capital is unlikely to dig them up.
We are more likely to come across pivots by chance, as we research interesting businesses, read about new developments in industries, or, as I do, take a quick (sometimes very quick) look at every UK listed company in SharePad once a year (when it publishes its annual report).
My kind of pivot
From a small sample of successful pivots I identified three common characteristics that may make success more likely:
The incubating business is not a basket case. The existing managers have been successful, and seen an opportunity to become more so.
The new business is being developed within the old one, building on its strengths and mitigating some of its weaknesses.
There is an element of vertical integration, which is to say the company performs many of the activities required to supply the product or service.
There is a logic to these characteristics beyond the fact that my sample shared them.
We are looking for businesses that are creating something special, so we need to be confident management knows what it is doing, that the new business has not just been bought "off the shelf", and that the company is creating new capabilities that will be distinctive and highly profitable in the marketplace.
Using these characteristics as a guideline, I have omitted two companies suggested by investors who read my previous article from this list of live pivots. They may well be good investments, but they are not my kind of pivot.
The first is Volex, the manufacturer of power cord and cables that has, largely through acquisition, become a contract manufacturer of electronics. I explained why it does not fit my template in the comments section.
The second is Naked Wines, which was Majestic Wine, an operator of out of town wine superstores and is now an online subscription business. Majestic Wine did not incubate Naked wines, it acquired it. The Naked Wine chief executive became chief executive of the whole group and then sold off the retail stores.
Now, onto the pivots I may have found. For the most part, they are pivoting without too much drama, and share the characteristics I defined.
Next
I have written about how fashion retailer Next pivoted into homewares, then mail order, then online retail, then facilitating other online fashion stores, and finally (for now) owning stakes in other retailers.
I think investors can be lured by the mainstream products Next sells into believing the business is unexceptional. I think the product is pretty good, and business is exceptional.
Goodwin
Goodwin is a multifaceted group of engineering and materials businesses. Historically the biggest and most profitable were Goodwin Steel Castings and Goodwin International, which until the oil price crash in 2016 made big profits casting and machining check valves for oil and gas pipelines.
As Goodwin has pivoted these businesses, the group as a whole has remained profitable due to its other activities involved in the production of minerals used in jewellery manufacturing and insulation.
By investing in its foundry, Goodwin has increased the size of the castings it can make, enabling it to pivot into the nuclear and defence industries, a process that also required it to win the accreditation of demanding new customers.
Few other companies, and probably none in the UK, can manufacture at such size, and work has already begun on substantial long-term contracts, for example to supply containers for nuclear waste and parts for submarines.
While Goodwin's new contracts are only just ramping up, the company says it is earning higher margins than from the declining oil industry. Hopefully these will feed into higher returns on capital in coming years.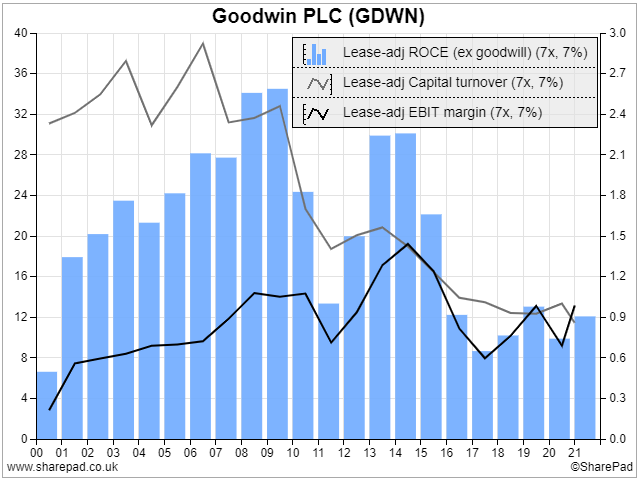 Remarkably another pivot may be already coming into sight. Goodwin is gearing up to manufacture a high temperature polyimide polymer (plastic) used, for example, in jet engines, a type of material it has never manufactured before.
Bloomsbury Publishing
Bloomsbury is acquisitive, but I do not think that disqualifies it from inclusion in this list. The company found fame as the UK publisher of the Harry Potter novels and books for the general public, but for decades it has been acquiring academic and professional titles. It is not the acquisition of these titles that is the pivot, although it enabled it in 2016.
That was when Bloomsbury started digitising in earnest, although it took me until 2019 to stumble upon the pivot. It has built a library of over twenty digital collections which it primarily sells to university libraries.
Helped by the pandemic and the shift to online learning, Bloomsbury Digital Resources (BDR) earned 7% of Bloomsbury's turnover but 18% of its profit in the year to February 2021.
These high profit margins may enable Bloomsbury's academic and professional division to rival its more celebrated children's book division in time.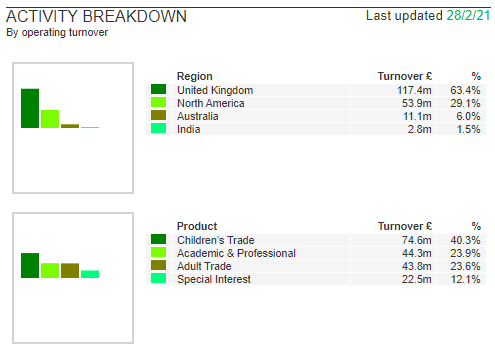 Source: SharePad
Victrex
Unlike the other companies in this list, Victrex fails to meet one of my three characteristics. Its long-standing chief executive retired in 2017 and its finance director left in 2018. Both were replaced by external appointments.
While management has changed, the strategy has not.
Victrex is the inventor and the world's only specialist manufacturer of PEEK, a very tough and very light polymer used for example in parts for cars, electronic devices, aeroplanes and humans (chiefly spinal implants). It is an alternative to metal components, which performs less well and can be more tricky and wasteful to manufacture.
The company's pivot started in 2013, when it announced it would kick-start the development of new PEEK components by taking the task on itself or in partnership with part manufacturers, a strategy it calls "Polymer & Parts". Before that it had largely stuck to manufacturing the polymer itself.
Sluggish growth since 2013, though, calls into question whether the pivot is actually occurring. Particularly as the company says only 5% of turnover is from new formulations of PEEK and parts developed since 2014. Few of the "mega programmes", projects expected to earn peak annual turnover of £50 million or more, have earned £1 million in a single year.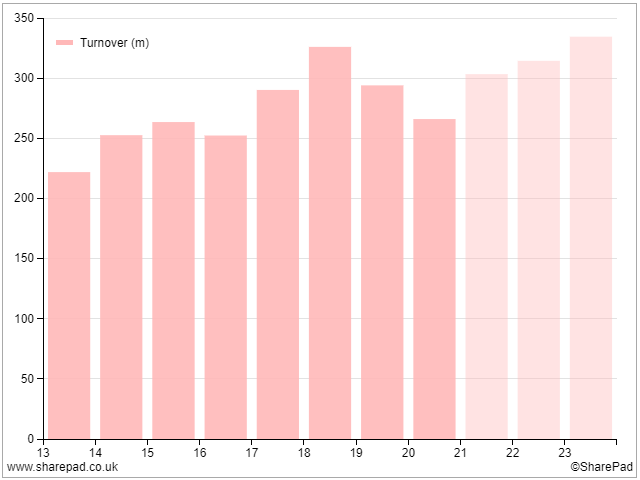 Perhaps the slow pace of change is determined by the difficulty of proving a new material in a new market. Some of its new markets, for example dental bridges, are highly fragmented – there are many small customers – so it is hard work building volumes. Others, like knee implants, require lengthy trials and approvals before they can be implanted in us.
The project to make PEEK oil pipes ran into a period of minimal investment in oil exploration. Another to make loaded brackets for aeroplanes may have been held back by the pandemic, which grounded airlines, although the company says there has not been a "material slowdown" in its pipeline of six mega programmes.
Victrex is either a pivot that requires patience, or not much of a pivot at all.
The company has successfully brought a part to market though. Spinal implants developed before the Polymer & Parts strategy are the mainstay of Victrex's £50 million turnover medical division, and because the company is the dominant global supplier of PEEK, surely the biggest innovator, and remains highly profitable, my money's still on the pivot.
Unlike most jam tomorrow companies, Victrex, like all four companies profiled here, is also producing jam today. That gives it something very precious: time.
Richard Beddard
~
Contact Richard Beddard by email: richard@beddard.net or on Twitter: @RichardBeddard
This article is for educational purposes only. It is not a recommendation to buy or sell shares or other investments. Do your own research before buying or selling any investment or seek professional financial advice.