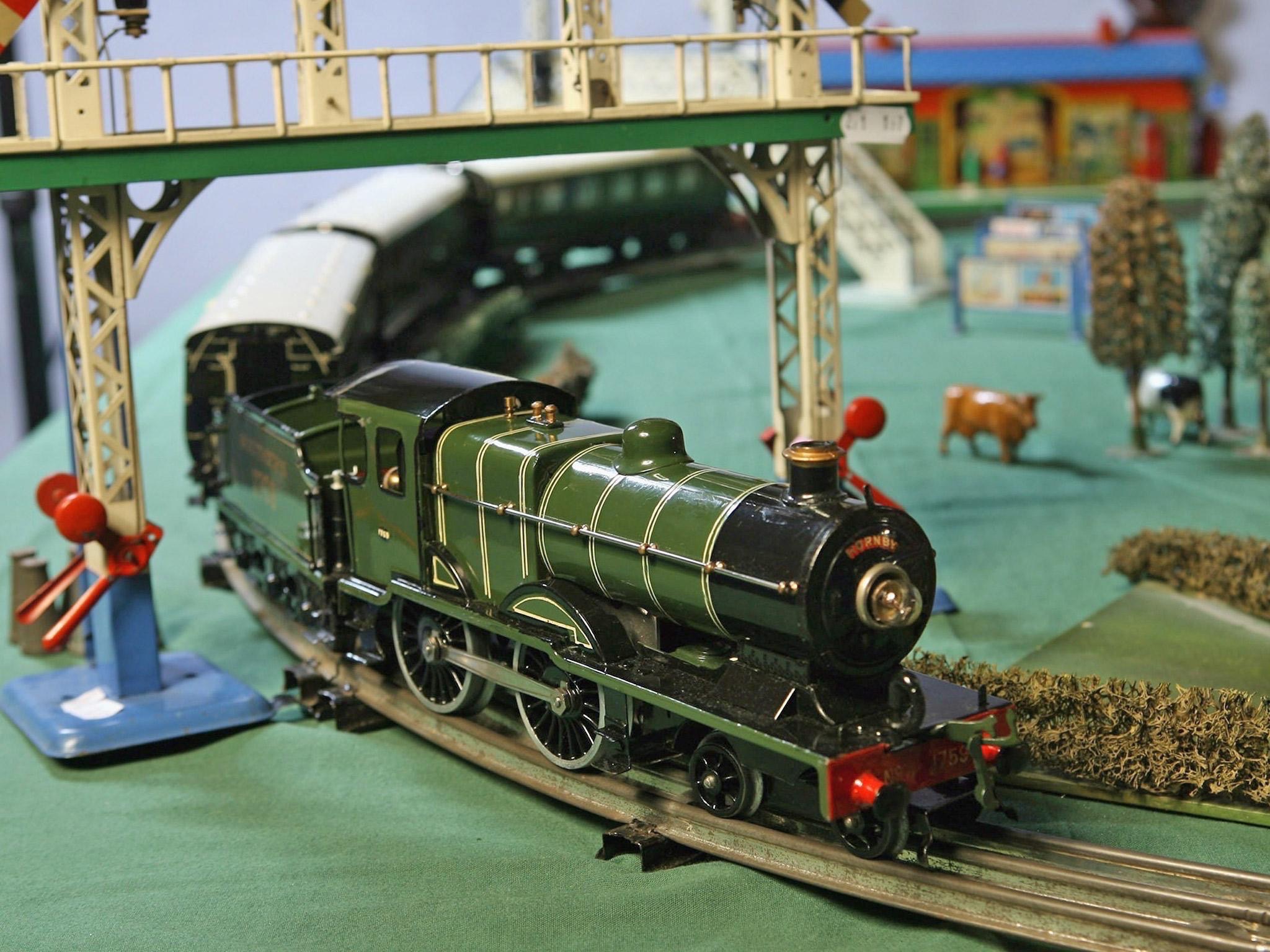 Events at Hornby prove how turnarounds can take years. But fresh capital, better management and a return to profit could mean the model-train specialist is over the worst and finally heading towards a proper recovery.
Turnarounds can be tempting.
You find a business that has hit big trouble with a stock price at rock bottom…
…but you believe your contrarian instincts will yield a huge return as the company enjoys a full recovery.
Mind you, distinguishing genuine turnarounds from shares heading for the graveyard is never easy. And even if the company does recover, the journey typically involves multiple false dawns and takes far longer than anyone ever expects.
One potential recovery worthy of consideration is Hornby. Although the manufacturer of the famous model trains has suffered numerous setbacks during recent years, the following bull(et) points may attract the turnaround investor:
The company owns a collection of celebrated old brands that could be hard to replicate;
Customers include enthusiastic hobbyists, with the recent success of wonder-stock Games Workshop showing what is possible with such committed purchasers;
Various James May documentaries for the BBC and 20,000 people piling into the NEC to view model railways suggest the desire for Hornby trains has not died out just yet;
A previous company recovery led to a 10-bagger share-price gain;
One institution seems very keen on the group's prospects by owning 75% of the stock;
The limited free float, £78 million market cap and no broker forecasts keep the company off many investors' radars, and;
The latest results showed a return to profitability and a net cash position, which may negate the chance of further major problems.
Let's take a closer look.
The history of Hornby
Hornby's convoluted history is befitting of its more recent struggles.
The story starts during 1920 when Frank Hornby developed his first metal clockwork train. Five years later Mr Hornby was manufacturing electric die-cast trains and, during the 1930s, launched the famous 00-gauge locomotives the brand is best known for today.
Numerous corporate actions then followed, including receivership and new owners during the 1960s and becoming part of a toy conglomerate during the 1970s. That conglomerate went under during the early 1980s, which allowed Hornby's then management to acquire the model-train business and its sister Scalextric slot-car subsidiary.

The company went public during 1986 and 'diworsification' into soft toys, action figures and computer games occurred during the 1990s. No bidders came forward when Hornby put itself up for sale in 2000 and fresh management was recruited a year later.
At this point the price chart becomes very interesting; the shares then commenced a six-year run to ten-bagger returns: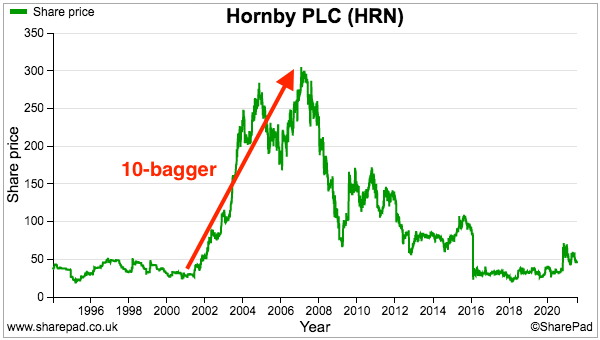 Between 2001 and 2004, profits zoomed from £1 million to £6 million after better quality products attracted critical acclaim from the likes of Railway Modeller. Results at the time included the following remarks:
"We have concentrated on developing the quality and detailing of the product, which has been well received by our customers." (2001)
"We are seeing a real resurgence of interest in both Hornby and Scalextric products across all ages, driven by the improved detailing and authenticity." (2003)
The next three phases of Hornby's history provide valuable lessons for today's turnaround.
Acquisitions, licensing and attempted turnarounds
The chart below shows how profits fared during Hornby's different phases: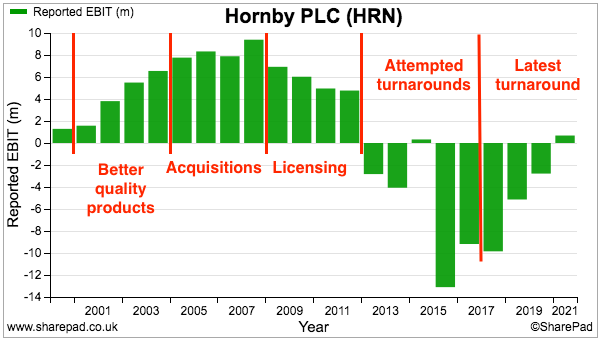 The acquisition phase occurred between 2005 and 2008 and hoped to replicate Hornby's comeback with similar brands. The group acquired:
Lima (model trains and slot cars) for £5 million during 2004;
Airfix Humbrol (model planes and paints) for £3 million during 2006, and;
Corgi (model cars) for £8 million.
The deals brought with them additional sales of £15 million, although profits never really showed the smooth trajectory seen before the purchases.
2009 to 2012: Licensing
Then came the licensing phase. Such deals were emphasised to counter-balance supplier disruptions and weaker UK sales:
"Looking forward, Hornby is in excellent shape. We have agreed a number of new exciting licenses including collaboration with Disney/Pixar to produce products associated with the new Toy Story 3 Movie." (2010)
"We are pleased that sales of our London 2012 merchandise are gathering momentum. We expect this unique license opportunity to contribute positively to profits in the short term..." (2012)
2013 to 2017: Attempted turnarounds
The licensing agreements did not fare well. The London 2012 models in particular created a £1.3 million loss and proved to be a "distraction from the core business for both our consumers and management".
The then chief executive decided to leave and a new boss was appointed. He started revamping the supply chain and other operations:
"Since arriving at the business eight weeks ago, I am more convinced than ever that the group can build on a more solid supply chain and support the demand from our customers for our products"
But the 'transformation' plan created further disruption and the finance director then took the top job during 2016. Perhaps the most telling remark from this new boss concerned the absence of customer conversations:
"We have resumed attendance at consumer shows to raise the profile of our brands whilst getting closer to consumers to receive their feedback on our progress. We have engaged more closely with our network of Independent customers, which is essential to the success of the business, including roadshows launching our product range for 2017."
Looking back we can now learn what has worked and what has not worked to judge whether Hornby's present recovery has some chance of succeeding.
We can see:
Improving the detailing and authenticity of the models did work;
Acquiring growth did not work;
Becoming too dependent on third-party licences did not work, and;
Prioritising operational changes over talking to customers did not work.

Latest turnaround
Yet another chief exec was appointed during 2017. But hopes are now high that — finally! — Hornby has the right man for the job.
What makes current boss Lyndon Davies different to his predecessors?
He actually knows something about the hobby. Mr Davies started at what is now Corgi aged 16 as a management trainee: "One week I would be out selling, the next driving a forklift truck, then setting a mould, refurbishing a mould, designing a mould, preparing accounts, counting out wages, launching new products – if the company did it – I did it."
He has an entrepreneurial background. In 1993 he started his own hobby business that is now owned by Hornby.
He appears to prioritise the customer: "The first thing we have done is remove the discounting… The strategy has been welcomed by our retail partners and customers, but this is just the beginning. We are only at the start of the long process of rebuilding trust."
He has introduced a number of useful KPIs (notably stock management and capex productivity) that he reviews every year in his CEO report.
He wants to motivate his staff. A new bonus scheme will share 15% of profit with employees.
He is a straight talker: "Business is about great people, great products and great relationships – the rest is mist" "We obsess about our customers and we want to do more of the things that delight them."
To date Mr Davies has importantly:
Not embarked on any notable acquisitions;
Not emphasised new licensing agreements with third parties, and;
Not placed operational changes ahead of product development.
Financials and Phoenix
One advantage of turnarounds is that you don't need to spend too much time analysing the old financials. They will never look pretty, and often won't be a useful guide to the future.
SharePad importantly shows cash in the bank (green bars) recently increasing to exceed total borrowings (red bars):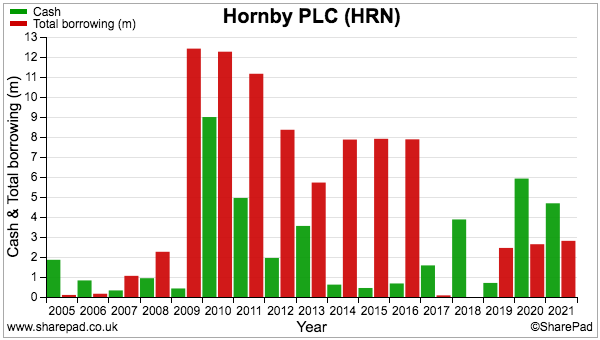 Borrowings are in fact entirely property leases that are now classified as financial obligations under IFRS 16…

…and so conventional debt is zero.
The rising cash balance has not been produced through free cash flow (green bars), but from issuing extra shares (red bars):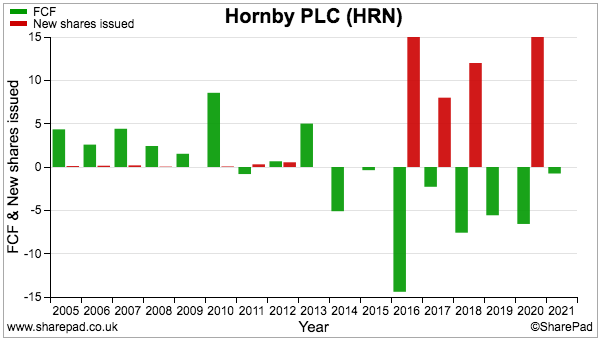 An enormous £50 million has been raised during the last five years to right the wrongs of the past and repair the balance sheet. The new shares were issued at 95p, 27p, 30p and 36p (versus the recent 47p) and the share count has more than quadrupled: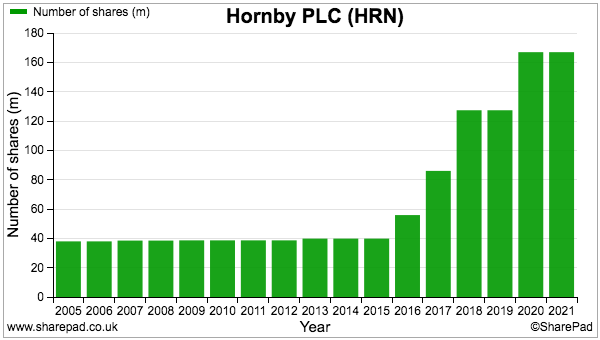 The main buyer of the extra shares was Phoenix Asset Management, which has owned a 10% minimum of Hornby since at least 2010 and presently controls 75%:

Phoenix is not afraid of taking large holdings in underperforming businesses and instigating change. Earlier this year the fund manager used its 30% stake to oust the board of funeral group Dignity.
Phoenix's flagship fund boasts a 9% annualised return (after fees) since 1998, which has beaten the FTSE 100 but is not quite in the Fundsmith performance league.
Phoenix's flagship fund is not available to the general public, but the same manager also runs the Aurora investment trust that owns the same flagship-fund shares.
This trust has returned approximately 60% (including dividends) since Phoenix took control during early 2016: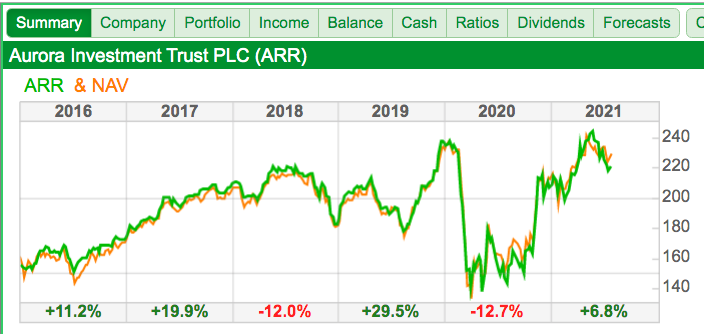 Phoenix does seem to have a respectable investment record, which perhaps bodes well for other Hornby shareholders. But the £58 million Phoenix has tied up in Hornby may only represent a fraction of its total funds, while the original investment could have hit zero had Phoenix not injected all that extra money.
Should you buy Hornby shares?
Hornby emphasises how turnarounds can be protracted. The company has been trying to revive for the last ten years, during which time shareholders have witnessed three board shake-ups and four equity placings.
But the omens now feel more positive than before. Hornby's 2021 results were published during June and showed favourable progress buoyed by lockdown-driven demand. Sales advanced 28% to £49 million to strike a £1 million operating profit — the first profit since 2015.
Mr Davies notably claimed the business was "firing on all cylinders":
"We are all excited by the prospects for Hornby; we are heading in the right direction and the engine at the heart of the business is now firing on all cylinders. Our world-renowned iconic brands have a fantastic pipeline of new products for the future. The excitement is Hornby!"

The return to profitability and those upbeat comments suggest the hardest part of the turnaround may have finally been accomplished.
The present focus might therefore turn to how far profits can improve further. Mr Davies claims the 'fixed' costs in the business (of £21 million) can support revenue of £55 million, which if attained, would lead to an operating profit of £4 million were the gross margin to remain at 45%.
I would say the £78 million market cap is already pricing in a potential operating-profit recovery to £4 million, and is perhaps currently looking towards a return to the £9 million peak of 13 years ago.
One 'buy' signal I am monitoring is staff productivity. Revenue per employee underwent a permanent step-change (black line, right axis) when Hornby recovered during the early 2000s: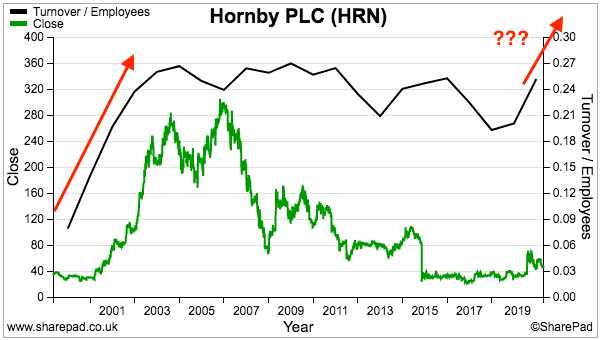 A similar productivity improvement also occurred at hobby multi-bagger Games Workshop: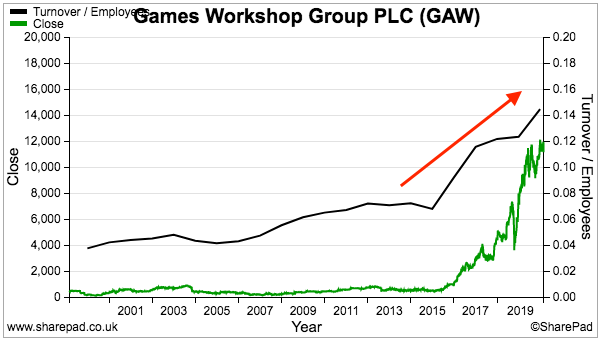 Generating much higher sales from an unchanged workforce would confirm Hornby has been revived to a robust new level…
…and should mean the present £78 million market cap offers far greater recovery upside.
Until next time, I wish you safe and healthy investing with SharePad.
Maynard Paton
Maynard writes about his portfolio at maynardpaton.com and hosts an investment discussion forum at quidisq.com. He does not own shares in Hornby.
This article is for educational purposes only. It is not a recommendation to buy or sell shares or other investments. Do your own research before buying or selling any investment or seek professional financial advice.