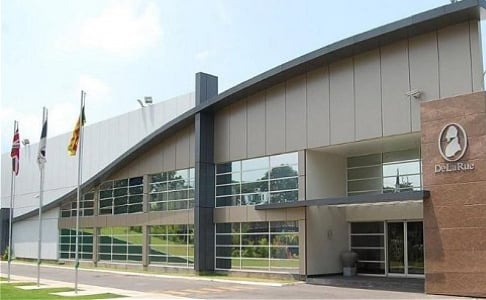 Whilst there are several investing strategies, it seems fair to say that most seasoned investors, with at least one eye on retirement and/or a future income stream, steer clear of 'blue sky' story stocks. Instead, they aim for a risk-balanced portfolio. Risk is mitigated by a spread across sectors, whilst homing in on growth, security of earnings and cash generation for dividends. So, following the same vein, why would such investors risk their cash in any cash-focused company if they believe cash is being phased out in favour of digital, and cryptocurrencies?
If you believe cryptocurrencies are the future, then the bank notes and passports printer De La Rue (DLAR) is not for you. I do not believe cryptocurrencies will replace physical cash, gold or even electronic money. Joshua, my oldest son, thinks his father is a dinosaur, and perhaps I need to wake up and pay attention. My problem with cryptocurrencies in a nutshell is that they remove control from banks and governments. Unless the cryptocurrency is a bank and government-controlled product, then neither will allow the cryptocurrency market to flourish and replace fiat.
The elephant crypto-fans ignore
De La Rue seems primed for a strong recovery. Moreover, it appears to have the answer to a Covid-19 passport. De La Rue also fits into the sort of category I like when I am looking to invest: a beaten-down recovery play that has the hallmarks of being successful, pre-commercial that has not yet attracted the herd (lemming investors), and Zulu-type growth companies (small company champion). De La Rue is the former, which has the potential to offer great rewards if you scale in at the right time. This could be now, because the early signs are there.
As you can see from the share price graph, the company had a torrid time over the 12-month period beginning 29th May 2019. De La Rue seem to attract a lot of recovery hunters, no doubt helped by the news it has made a strong start of its current financial year ending March 31, 2021, as the Covid-19 outbreak had a limited impact on operations. In its Authentication division, it signed a five-year agreement to supply polycarbonate data pages for the new Australian passport, thought to be worth £100 million over the life of the contract.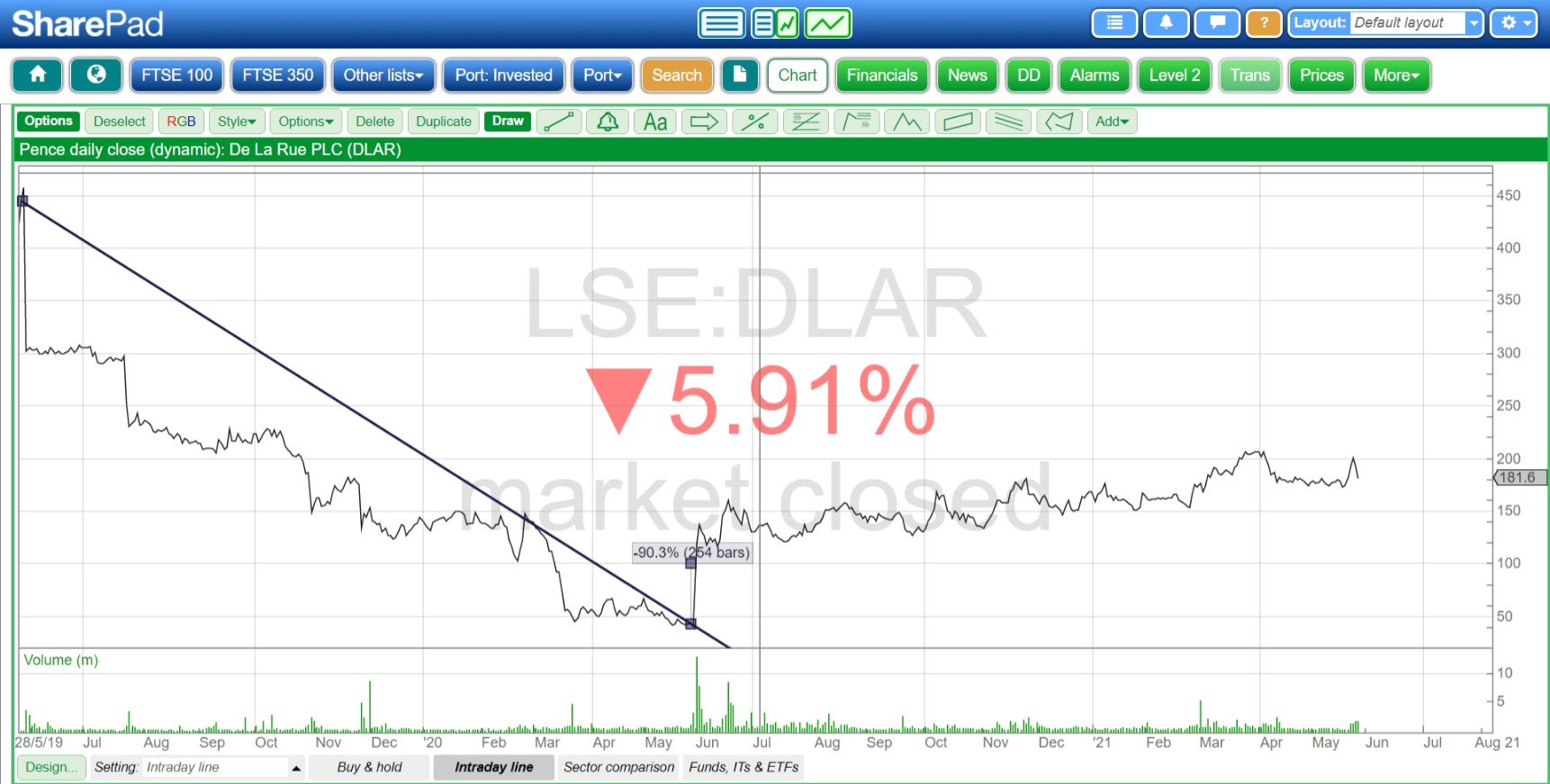 Chief Executive, Clive Vacher, was appointed in October 2019. He has focused on cutting costs and expanding further into polymer notes. But not everything has gone to plan.
Setbacks
De La Rue suffered a significant financial hit after losing its contract to print the new British passport to a French-Dutch competitor. It will also have to pay the UK government a whopping £12 million rebate payment related to the contract. But the company has set out a plan to save £23 million in the current year, more than offsetting the rebate. The contract for the new polymer £50 note featuring Alan Turing is a sign it is still very much one of the government's preferred contractors. 
The loss of the blue passport contract has tempered recovery. However, there are whispers around the city that suggest bets are being placed on foreign trade buyers showing an interest.
As part of the reorganisation, the company moved equipment from Gateshead to other sites. De La Rue said it had "the same capacity while operating with four currency print factories, down from five." The company also said that its Currency division was expected to use 100% of its "available polymer and banknote printing capacity" for the second half. The company appointed Ruth Euling, managing director of their Currency division, as executive director from April 1. Euling has worked at De La Rue for over 30 years and has led the Currency division since October 2019. "She continues to demonstrate great leadership skills that are making a profound contribution to the turnaround of De La Rue," says Chair Kevin Loosemore.
Balance sheet
On 13th April, De La Rue updated the market with news it expects an adjusted operating profit between £36 million and £37 million for the year ended March 27.
This reflects a considerable improvement on the prior year adjusted operating profit of £23.7 million although lower than the equivalent pre-pandemic figure for 2019 of £60.1 million. It also said it expected net debt at year-end to be £53 million, lower than market expectations by £21 million due to lower capital expenditure.
It has repaid all funds received from the government's furlough Scheme totalling £400,000.
De La Rue revealed it was forced to make an exceptional asset impairment of £13 million, as a result of the closure of its Gateshead banknote printing operations in December 2020. This served as a notice of the direction of travel as the company came to terms with restructuring the business.
Promising contracts
The company also announced it had renewed a pact with Microsoft Corp, and will continue to provide them with authentication services until 2026. It also said it had been awarded digital tax stamp scheme contracts with two Tier 1 countries.
The deal has been extended by five years. De La Rue provides authentication services to Microsoft's retail, OEM and Xbox channels. "Under the contract, De La Rue's secure global supply chain will deliver solutions to Microsoft's partners around the world while reducing carbon footprint and delivering innovative brand protection through unique physical and digital technologies," the company said.
"De La Rue has also been awarded contracts for digital tax stamp schemes with two Tier 1 countries, demonstrating its continued growth in the government revenue solutions market."
The disposal of De La Rue's Identity Solutions business has contributed to sales being down by nearly 60% at £17m. However, the company could recover these losses if talks with governments and companies worldwide, if its certification technology is used to ease restrictions by certifying people with Covid-19 has immunity.
The full-year results for the year ended 27 March 2021 showed an almost 50% improvement in the net debt position. Underlying operating profits leapt to £38.1million for the year to 27 March, up from £23.7million the year before as well as significant cost reduction, thus improving profitability through restructuring improvements. However, the damage was done to full-year revenues, which slipped 10.2 per cent to £388.1million due to the loss of the British passport contract.
FY Highlights:
· Adjusted operating profit increased by 60.8% to £38.1m (FY 2019/20: £23.7m)
· IFRS operating profit of £14.5m reflecting significant exceptional item charges
· Turnaround Plan savings completed, delivering a cumulative £36m of annualised cost out due to the programme from the end of FY 2020/21
· Substantial growth in revenue and profitability in ongoing Authentication and Currency divisions, achieving an adjusted operating profit of £27.5m (FY 2019/20: £1.4m)
· Authentication saw good growth in H2 2020/21 and secured orders with an expected total multi-year lifetime contract value of £195m from the start of FY 2020/21 to date
· Currency 100% banknote capacity utilisation in H2 2020/21 with strong margin progression during the year
· Bank of England majority polymer contract won starting July 2021; SAFEGUARD® now selected for all Sterling denominations
· Net debt substantially reduced to £52.3m (FY 2019/20: £102.8m)
· £100m equity capital raise completed July 2020
Final thoughts
I believe there could be consolidation in the money printing sector, movement to the preservation of assets and authentication of those assets (are the cigarettes genuine, are the toy labels genuine, are the assets you are buying genuine or hooky) and of course electric, online validation such as Covid passports. The rumour mill suggests the company is in talks with several governments about deploying such passports, although this is not key to the firm's revival. Big players G&D Germany, Crane USA and several Swiss conglomerates are also in this world and De La Rue, the daddy of the sector is the most coveted of prizes. It may only be a matter of time before the mathematics on multiples are done and value is realised. In my opinion De La Rue is a dusty diamond and potentially hugely undervalued. Or an E-Type Jaguar, probably not the best car on the road, but still attractive to many buyers.
Would you consider investing in De La Rue? Or are you already an investor? We'd love to hear from you! Share your experiences in the comments section below.
This article is for educational purposes only. It is not a recommendation to buy or sell shares or other investments. Do your own research before buying or selling any investment or seek professional financial advice.