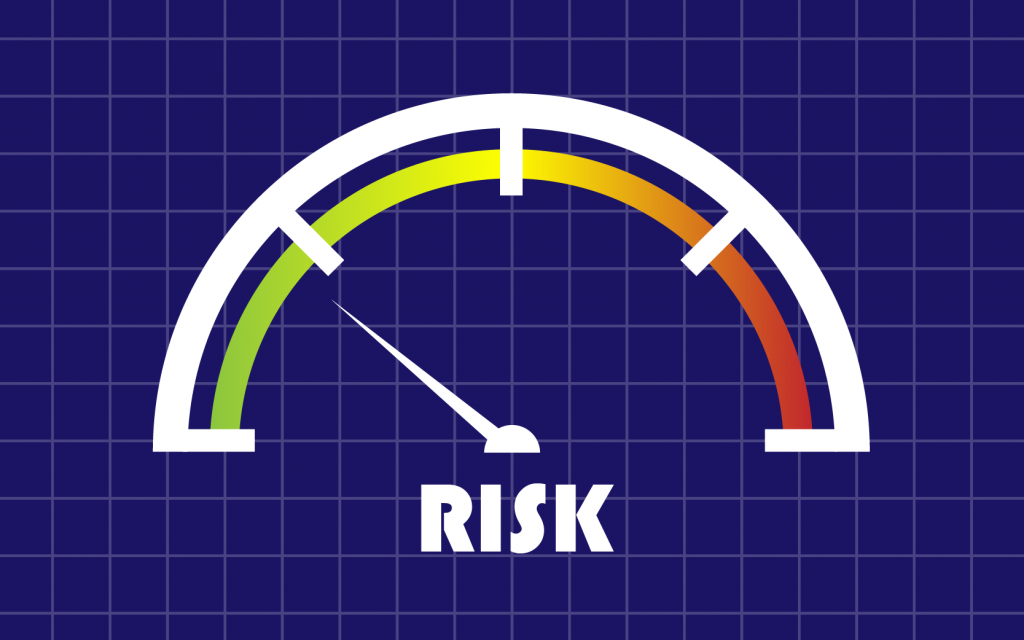 The market has been risk-off in the last few weeks. Why? It's anyone's guess. The Talking Heads will say inflation, price of lumber rising, price of lumber falling, geopolitical tensions… If only they could tell us before the event instead of finding reasons for why things happened after the event.

The best way to get an edge on the market is to keep an eye on price action. The charts of market leaders and price action on stocks will give you an idea.
Plenty of stocks are selling off on good news. Breakouts are struggling to hold. Stocks are trending sideways.
When the market is risk-off, I step back and wait for the right conditions. Trading requires a clear trend in the market. I don't care whether the market goes up or down so long as the market does go up or down. Sideways markets are choppy and those who crave action will end up churning their account in trading commissions or through failed patterns.
Still, there is always money to be made if you pick the right setup. But in choppy markets there is no tailwind of the market to bail out bad execution and bad trades.
Pick selectively and carefully. One way to do this is to look at stocks that have little following or hype.
Smartspace (SMRT)
Smartspace is a company I've held from the breakout at just under 100p. The position is up nicely so far but has done almost nothing in 2021.
The stock is up several hundred percent from its lows of around 30p. It's hardly surprising that those sitting on large gains want to take some from the table.
But what is encouraging is that the stock has been trading sideways and consolidating. Clearly, there is demand for stock even though it's risen sharply. This is allowing profit takers out and new shareholders in, which increase the average price paid per share in circulation.
I'd like to add to my position if the stock can break out of the 152p level.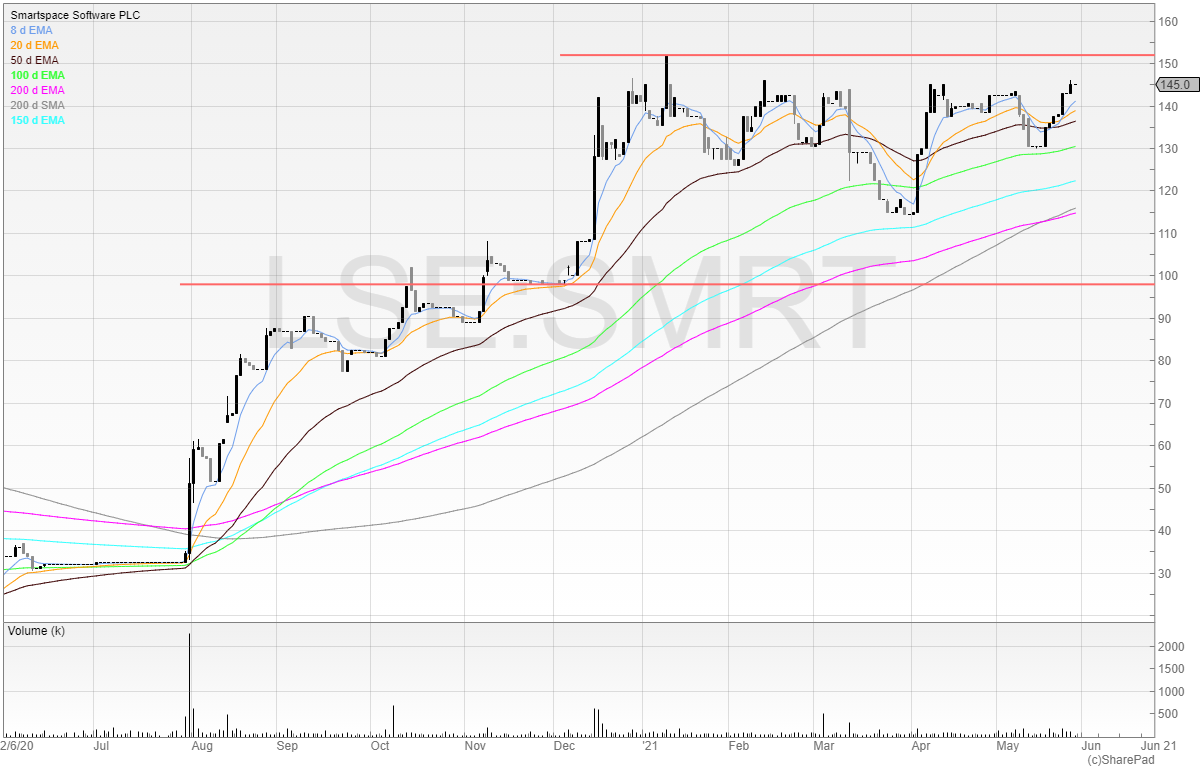 We can see all the moving averages are still on the rise, so the trend is still upwards.
The company recently announced its results and all the metrics here are going the right way too.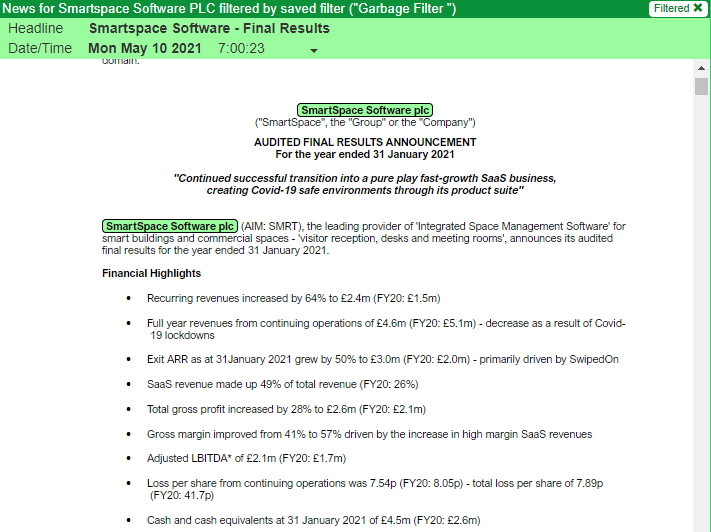 Smartspace Software is seeing high revenue growth and the gross margin significantly increasing due to the company now switching into a SaaS business which commands higher margins.
It's a stage 2 stock for me, and at <£50 million market cap I think there is still room for a large move.
The board also reiterated their ambition of growing the business to at least a £100 million market cap company.
However, the board are not large holders of stock themselves. Talk is cheap.
Chamberlin (CMH)
One stock where the board do hold plenty of shares themselves is Chamberlin – although this appears to be mainly the non-executive director Trevor Brown.
This is a turnaround play and looking at the chart we can see the value destruction that has happened throughout the last few years.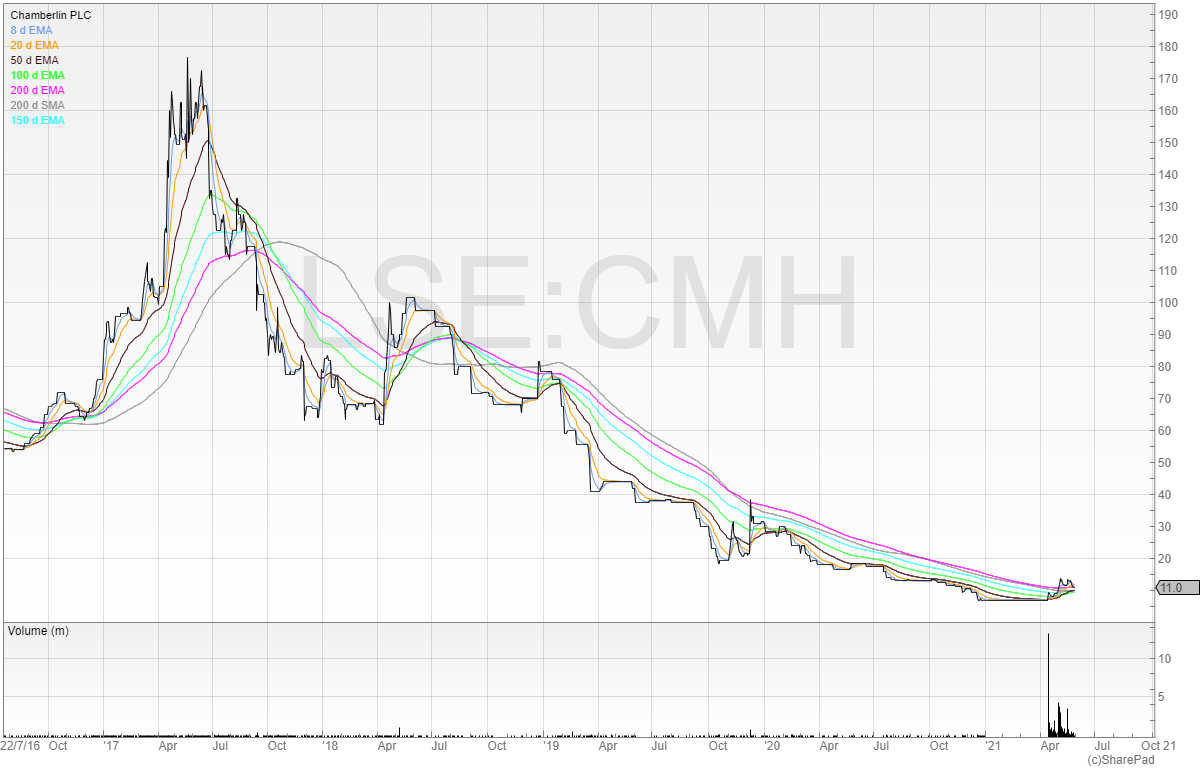 To get an idea of the current price action we need to look closer.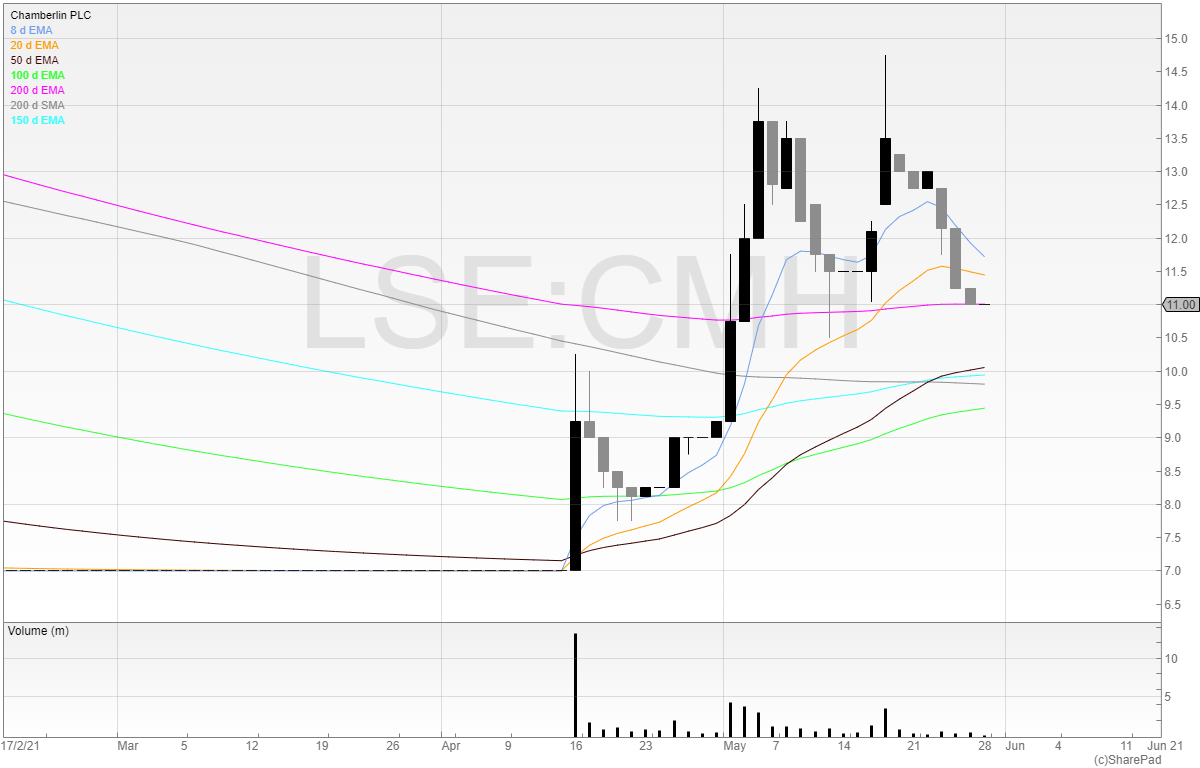 The stock was suspended for a period of time and relisted with a refinancing from several institutions and a handful of private investors.
I took part in this placing as Trevor Brown has taken a large amount of stock in the business.
Anyone that followed Trevor Brown in various stocks in 2020 did well – Remote Monitoring Systems, Braveheart, and IQ-AI all saw significant price appreciation.
The recent trading update suggests that change is already afoot.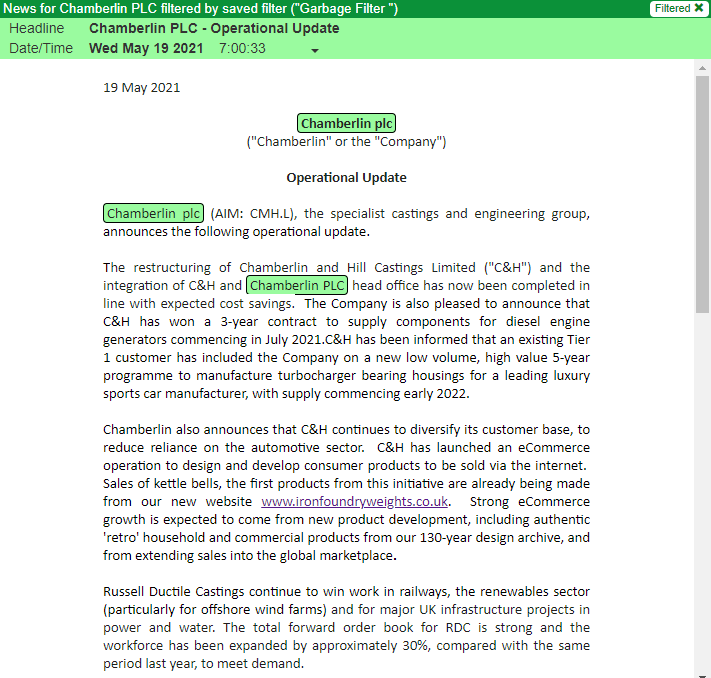 A Tier 1 customer has been signed for a high value programme to manufacture turbocharger bearing housings for a leading luxury sports car manufacturer, as well as a new product line.

We can see in the chart that 14p has been a resistance point, with the stock poking its head above 14p but failing to hold twice now.
I'd like to add to my position if the stock can break out of this level.
Books
One of the benefits of lockdown is that it has got me into reading again.
Currently, I'm reading The Outsiders. One common theme of all the eight CEOs detailed in the book is that they were astute capital allocators.
These chief executives would buck trends and not be afraid of buying back stock when they believed their own stock was severely undervalued, and would use paper to acquire businesses when the price was high and asset prices were depressed.
Unorthodox methods detailed in the book allowed these CEOs to generate huge returns for shareholders.
I wrote a detailed summary of Jesse Livermore's How To Trade In Stocks too – it contains trading wisdom that is as true today as it was when it was first published in 1940.
The next few books I intend to read are:
Sam Walton – Made In America
Brad Stone – The Everything Store
Daniel Kahnemann – Noise
I'll be doing summaries with the key points in my newsletter.
You can sign up at my website below.
I hold long positions in Smartspace Software and Chamberlin.

Michael Taylor
Buy the Breakout trading newsletter available at: www.shiftingshares.com/newsletter
Twitter: @shiftingshares
This article is for educational purposes only. It is not a recommendation to buy or sell shares or other investments. Do your own research before buying or selling any investment or seek professional financial advice.