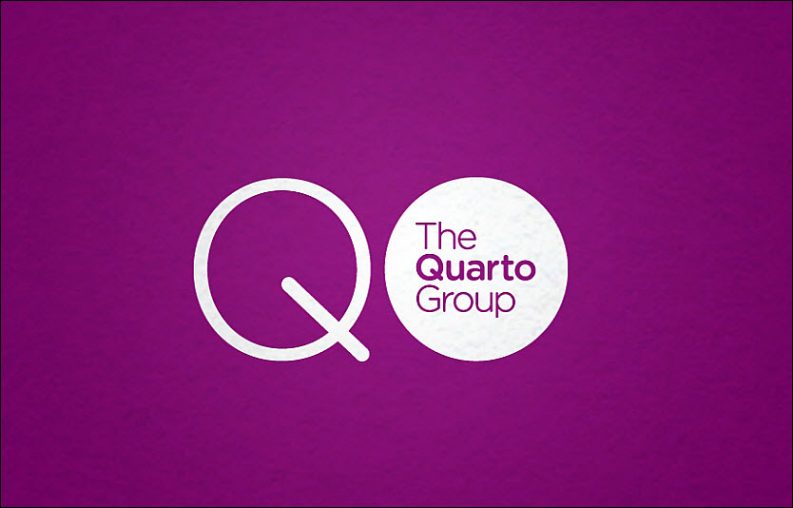 Cheap shares raise the pulse rate, especially if like Quarto we are looking at a well-established company in a readily understandable industry with a somewhat charming transatlantic history.
The company was founded in 1976 by an American and two Britons. As far as I can tell the Britons are no longer involved in the business, but Laurence Orbach remains a non-executive director.
The trio wanted to publish lavish illustrated books for hobbyists and enthusiasts, but small print-runs were prohibitively expensive. The more titles they could sell, the longer the print run and the lower the cost so they set out to co-publish with publishers in different countries.
They also developed close ties to printers in the Far East, and the combination of a bigger market and cheap printing enabled them to produce books economically.
Quarto published its first book in 1976. It was The World Guide to Beer. Sales of This Book is Anti-Racist, published in 2019, were over $1m in 2020. Source:
The History of Quarto
and Quarto annual report 2020.
Quarto's price earnings ratio of less than nine marks it out as a potential bargain, but as you might imagine, there is a quid pro quo. Its close relationship with Far Eastern printers has intensified…
Anatomy of a bargain
The publisher's annual report for 2020 tells us it has completed a turnaround, and it has at least stabilised its finances.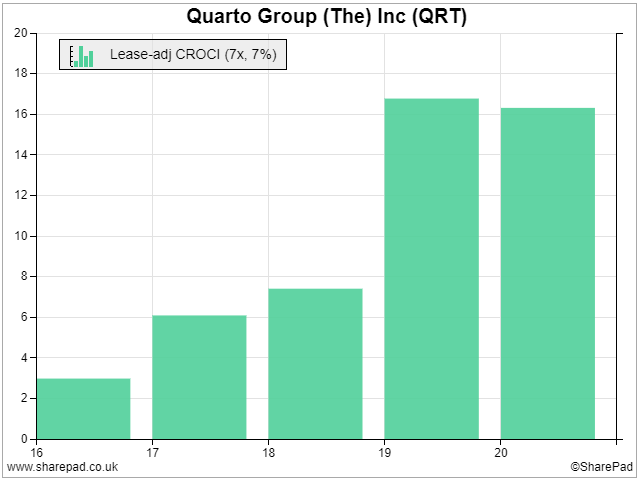 SharePad reports a marked improvement in lease-adjusted CROCI (Cash return on capital invested), and a significant reduction in debt, albeit aided by a placing of new shares in February 2020 that strengthened the control of the company's president CK Lau, who joined the board in 2018.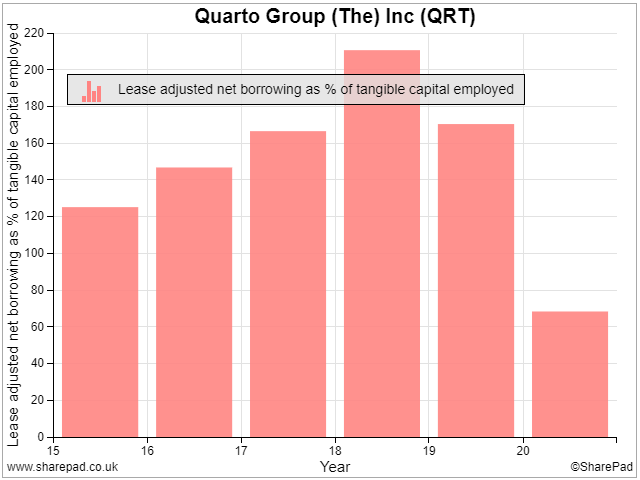 Lau controls 40.8% of the shares, mostly through 1010 Printing, itself a subsidiary of Lion Rock, a Hong Kong listed book printer, and a supplier of Quarto.
Lion Rock's annual report tells us that a stake in Quarto is part of its plan to become more vertically integrated, by combining publisher and printer. Quarto, Lion Rock says, will become its "new engine for growth".

Source: Lion Rock annual report
The plan is to grow Quarto organically and with bolt-on acquisitions, although neither annual report says much more.
The hope is, I extrapolate, a flourishing Quarto will funnel Lion Rock lots of new business in addition to dividends.
Having stabilised the company during a brief stint as chief executive, Lau has recruited a publishing insider to execute the growth strategy. Polly Powell, recruited initially as an adviser, is the owner of Pavillion Books. She became chief executive in September last year.
Although co-editions are a reliable source of income, judging by the tenor of the annual report, new titles published under Quarto's own imprints and acquisitions are the focus of its growth strategy.
On the face of it the strategy is similar to the one that got it into debt.
There is some evidence of focus. Quarto plans to increase market share in six evergreen categories: cookery, home and garden, art and craft, heritage, children's and wellbeing.
But the company is also diversifying by broadening the remit of its adult imprint, Aurum, to include narrative (i.e. not illustrated) non-fiction. This it says will allow it to increase its exposure to the ebook market.
Sadly Quarto does not disclose how much revenue and profit it makes from co-editions and titles it publishes itself in the annual report, which makes it difficult to judge the direction of travel. The company tells me co-editions earned 34% of revenue in 2020 and trade publishing 66%.
Neither does it disclose digital and print revenues, which is significant given the growth of ebooks over the last twenty years.
This paucity of information may just be a reflection on where it is in its turnaround, exiting stage one with a new chief executive who has yet to fully flesh out how it will grow.
Or it may be a reflection of what it is. Most of the shares are controlled by directors who know everything there is to know. Perhaps they do not feel a need to share it publicly with minority shareholders.
Be careful who you get into bed with
As well as Lion Rock's 41%, 20% of Quarto shares are owned by the investment vehicle of Andrea Giunti Lombardo, a non-executive director of Quarto, and a director of Giunti Editore, the second largest publishing house in Italy. Laurence Orbach, owns 10%.
This introduces a number of uncertainties that, for this safety-first investor at least, probably mean Quarto will remain a curiosity and not become an investment.
The first is the profitability of Quarto may become subordinate to the strategy of the mothership (although as stated the strategy is to grow Quarto).
The second is that, since there are relatively few shares in public hands, the shares might be difficult to get hold of cheaply.
To find out I requested a quote from the two investment platforms I use. One quoted a spread, the difference between the sell price and the buy price, of 85p-88p. It is not too onerous for buy and hold investors although it might be difficult to buy a large holding.
My other broker does not trade the share at all!
Its policy stems from the fact that Quarto is listed in London but incorporated in Delaware.
The US tax authorities levy a 30% withholding tax on dividends paid to non-US domiciled investors. Since we also pay tax on dividends here, we are paying tax twice, or paying tax when we should not be because our investment is in an ISA or a SIPP.
With a broker's help we can avoid some or all of the US charge by filling in form W8-BEN. Some brokers facilitate this, but one of my brokers has apparently gone for the easier solution, which is not to let me buy the shares.
Quarto's incorporation in Delaware introduces a third wrinkle in the firmament. The rules relating to how the firm is governed are different to those for UK incorporated firms.
We do not have to look very far to see how this could impact minority shareholders.
Press clippings from 2018, like this one, tell how Liu and Orbach voted themselves onto the board rather than the usual practice, which would exclude them from voting, and how their shareholdings can grow without triggering the protections for minority shareholders built into the City Code on Takeovers and Mergers.
The nightmare scenario for minority shareholders is that dominant shareholders build up sufficient holdings to vote the company private, trapping the rest of us with holdings we cannot sell.
This may not be terminal, eventually the company may relist or introduce an ad-hoc trading system for shareholders, but I have been trapped in the past, and it is very uncomfortable.
Fear of it often leads to shareholders rushing for the exit before the company delists, and as forced sellers we do not get a good price.
None of this means Quarto will be a bad investment. There are a number of companies with dominant shareholders listed in London that have long and profitable histories throughout which they have treated minority investors fairly.
But Quarto's overseas domicile makes it easier to mistreat minorities.
Checking out where a company is incorporated
SharePad can come to our aid if we are leery of companies incorporated overseas, either because of the additional tax hassles, fewer protections, or just because it might be tricky getting to the AGM.
The company's "Country" is listed under "Company Info":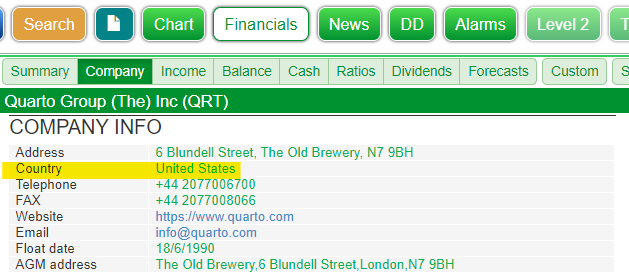 And we can add a "Country" column to our lists and sort by country to see them grouped together: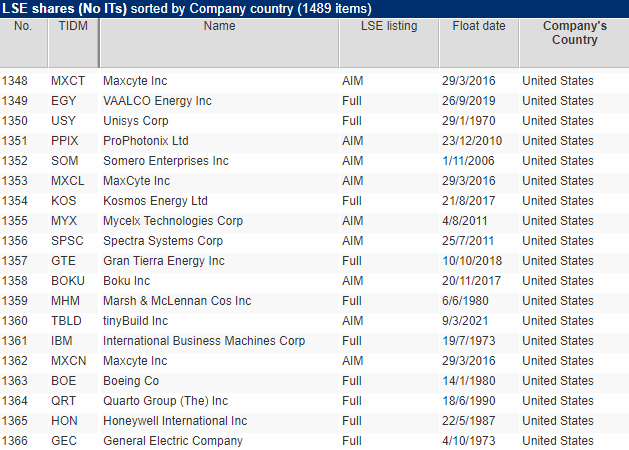 However, just because a company is incorporated overseas does not necessarily mean it comes with all the issues.
Quarto holds its AGM in London even though it is incorporated in the USA.
And Singapore domiciled XP Power, a favourite share of mine, holds its AGM in Singapore but there is no withholding tax (I think this is because it is also incorporated as a PLC in the UK).
Richard Beddard
~
Contact Richard Beddard by email: richard@beddard.net or on Twitter: @RichardBeddard
This article is for educational purposes only. It is not a recommendation to buy or sell shares or other investments. Do your own research before buying or selling any investment or seek professional financial advice.