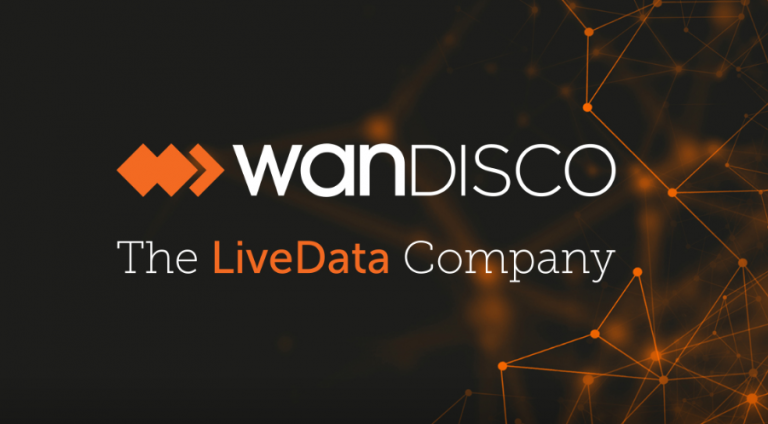 WANdisco has raised $217 million since 2012 yet has never made a profit. But could deals with Microsoft and Amazon finally trigger a sales boost? The board's optimism is not backed by its share dealing.

The market is home to many companies with ground-breaking products that boast credible growth stories told by persuasive management…
…but which also need a bit more money from shareholders to see them through to profitability.
Sometimes they get the money they need and things work out.
And sometimes they get the money they need and, well, keep coming back for more.
WANdisco is one of those companies that keeps coming back for more.
Investors have handed $217 million to this software specialist since 2012…
…and yet customers, sales and profits remain extremely elusive.
But could WANdisco finally come good during 2021 after signing milestone deals with Microsoft and Amazon?
The directors are naturally optimistic, although they appear reluctant to help fund the company themselves.
Let's take a closer look.
What does WANdisco mean?
We'll start with the name, which has nothing to do with dancing and everything to do with high-brow IT — Wide Area Network DIStributed COmputing.
WANdisco's flagship software may not at first seem that special — it simply migrates data from in-house servers to cloud-service providers such as Microsoft and Amazon.
But some complex mathematics allows the software to:
Handle vast amounts of data;
Ensure 100% data consistency, and;
Perform the transfer without any 'downtime'.
The lack of downtime really sets WANdisco's service apart from alternative migration software.
Data migrations have traditionally involved some business disruption as the 'source' data can't be touched during the process. But as the amount of data that organisations store has grown, so too has the length of the transfer process and the associated downtime.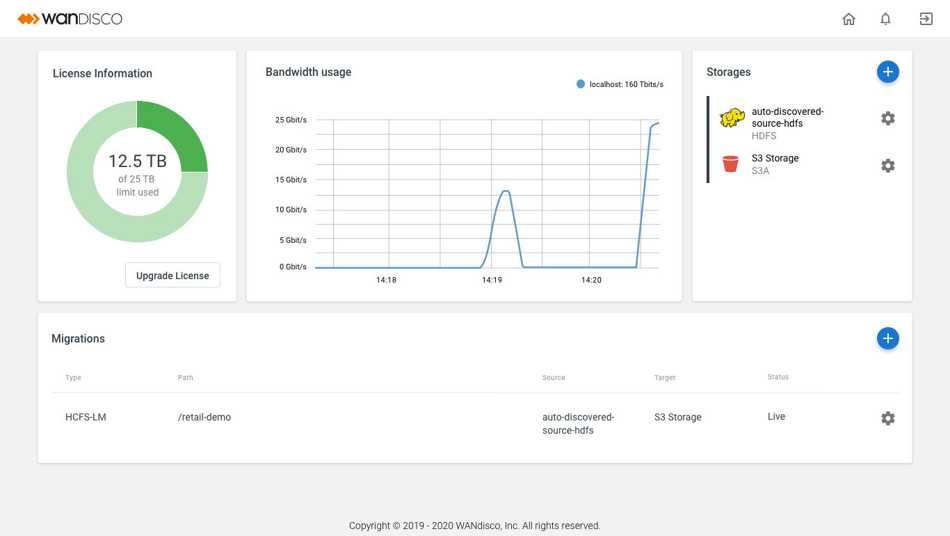 WANdisco cites GoDaddy as a textbook case study of modern-day cloud migration. GoDaddy employed WANdisco's software to transfer its data to Amazon because the data could undergo up to 100,000 changes a second — with protracted downtime creating obvious implications for GoDaddy.
Now you would imagine demand for WANdisco's cloud software would have ballooned during the last few years.
After all, WANdisco has been touting huge sector growth through PowerPoint slides such as this…: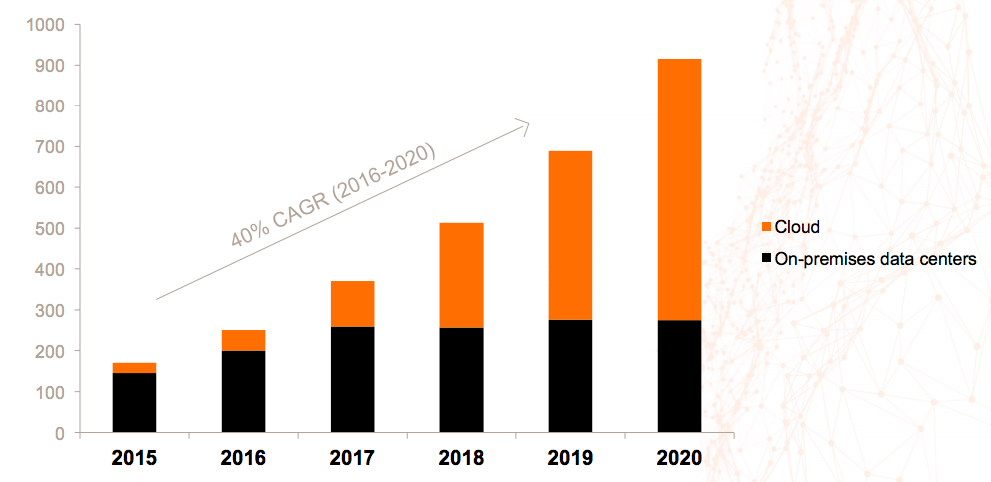 …and during 2018, 2019 and 2020, sales at Microsoft's Azure cloud-service division surged +91%, +72% and +56% while sales at Amazon's AWS cloud-service division soared +47%, +37% and +30%.
The reality is sadly not as spectacular.
$217 million raised and still not profitable
WANdisco's financial progress has been very frustrating.
Last year's revenue of $11 million was the lowest recorded for seven years…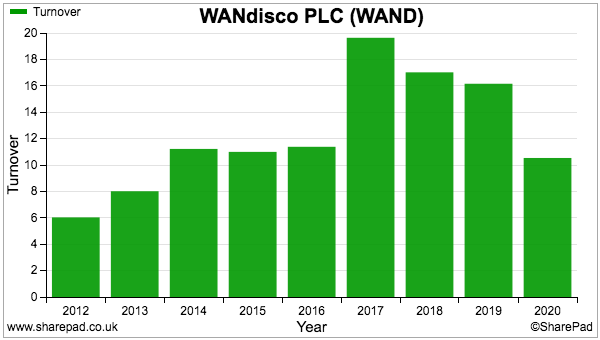 …and the business has never reported a profit since its 2012 flotation: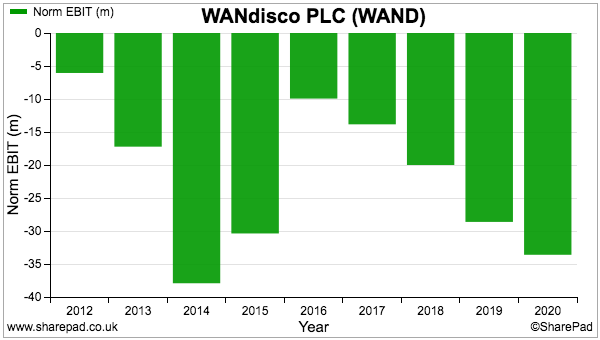 This next chart is painful. Not only has WANdisco always lost money, the group has undertaken regular and significant share placings (red bars):
Some $217 million has been raised as a public company, with staff wages (presently 180 employees costing $28 million a year) being by far the largest expense. (Note: the chart above does not show a further $42 million raised during March 2021.)
The shares were priced at 180p for the 2012 flotation, and presently trade at a level first witnessed during 2013 to support a £260 million market cap: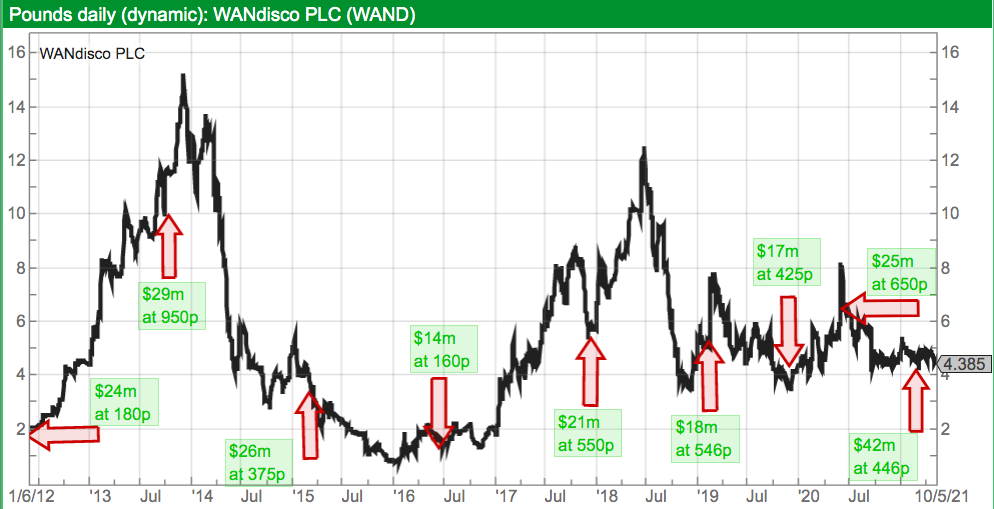 The placings were conducted at prices between 160p and 950p. The share count has of course expanded: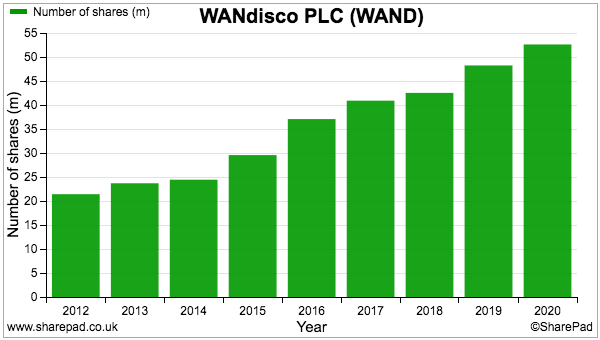 Following the March 2021 placing, the share count now stands at almost 60 million — close to three times the number at the time of flotation.
To put WANdisco's revenue and share issues into perspective, the company is among the 'select' 40 names that have raised more than £100 million during the last decade but recorded revenue of less than £15 million within the last year: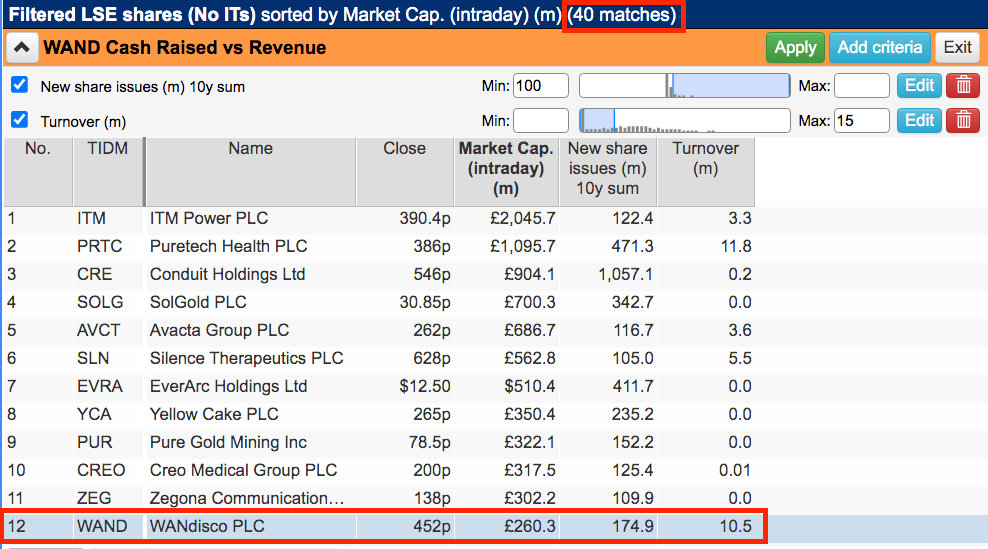 A $50 billion data-migration opportunity
A combination of:
Innovative, patented software;
A growth-industry tailwind;
Raising $217 million, and;
A lack of any profit…
…does prompt the obvious question of what exactly has gone wrong.
This interview with WANdisco's co-founder and chief executive David Richards sheds some light: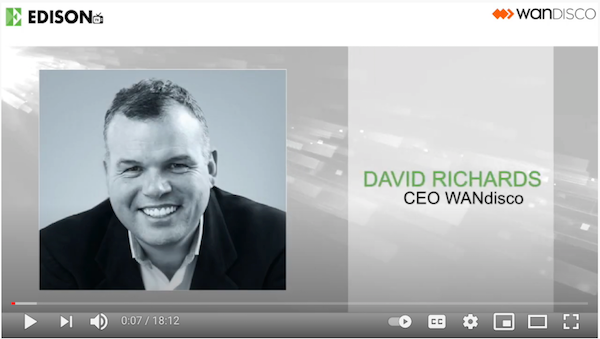 According to Mr Richards, the software had been too complicated for clients to implement. Projects required extensive preparation and extra consultants, and potential customers presumably found other ways of managing their data.
WANdisco's software is today embedded within Microsoft Azure and Amazon Web Services (AWS), and no longer involves protracted timescales and additional experts. Customers can instead simply click a few buttons and start the migration process within minutes.
The partnerships with Azure and AWS could mean 2021 is the year WANdisco finally comes good.
The following slide from WANdisco's latest presentation is extremely significant: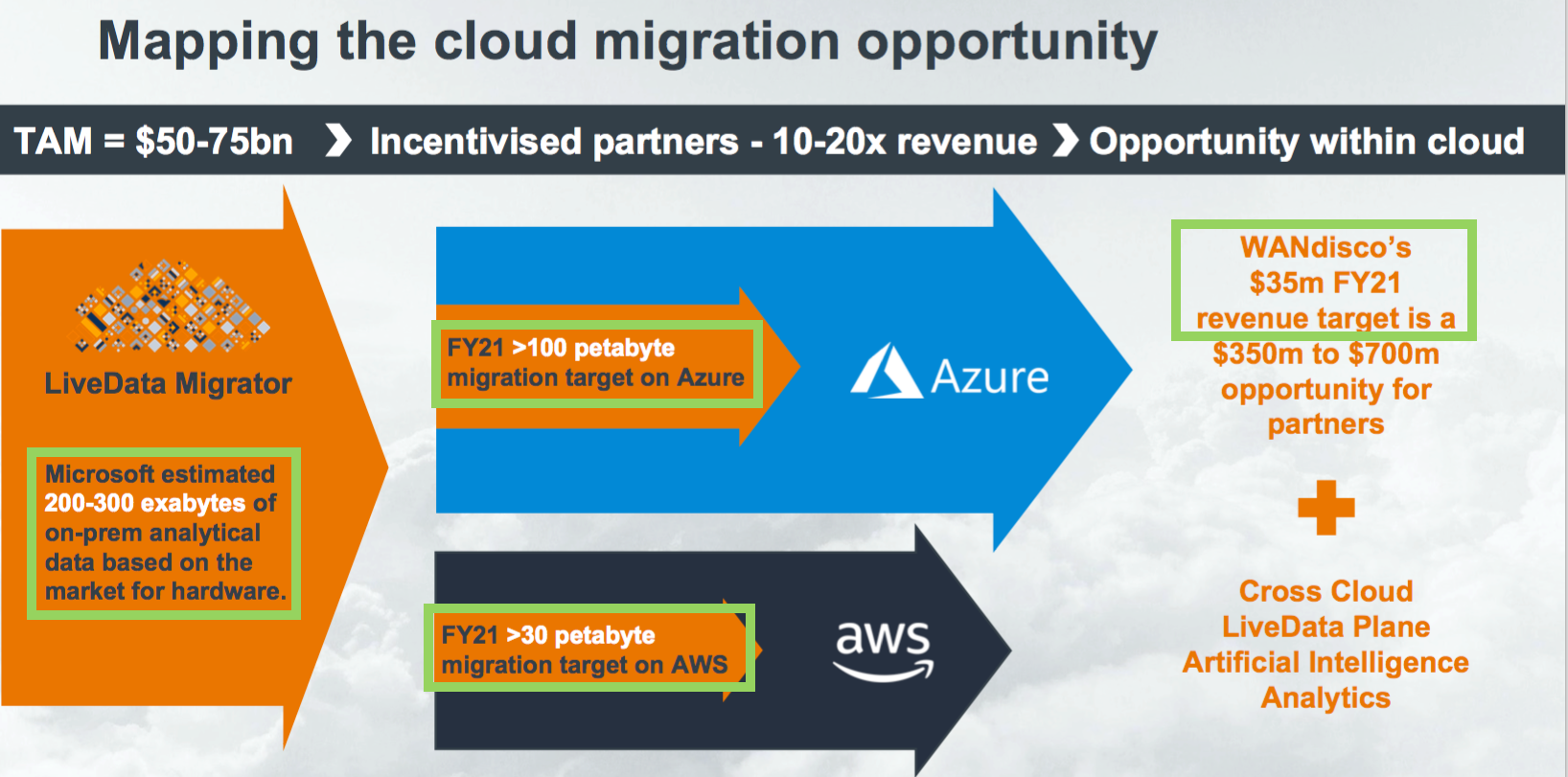 WANdisco is predicting annual revenue more than tripling to $35 million as customers of Azure and AWS start migrating data through its software.
The slide also shows a Microsoft estimate of 200-300 exabytes of data presently stored on in-house servers that could migrate over time to cloud-service providers.
An exabyte represents 1,000 petabytes and, with WANdisco indicating revenue of $35 million from transferring 130-plus petabytes, migrating 200 exabytes could be a $50 billion long-term opportunity.
The presentation slide above is certainly bullish and ought to provide optimism for the future.
Indeed, WANdisco has never before projected an annual revenue target — so co-founder Mr Richards must be confident of meeting this projection.
And surely no third-party software becomes a service on Azure and AWS unless it is:
Very good;
Likely to be used extensively by customers, and;
Very likely to make Azure and AWS some money.
During the aforementioned interview, Mr Richards referred to the "de facto standard in data-replication technology in Azure and AWS…" and whoever could achieve such status would become a "multi-billion pound company".

The remarks implied Mr Richards saw clear upside from WANdisco's £260 million market cap.
Customers, cash flow and forecasts
Whether WANdisco will ever become a "multi-billion pound company" remains to be seen.
A more pressing matter is whether the group will attract enough customers to reach that $35 million revenue ambition and prevent yet another cash call.
For some perspective, the aforementioned GoDaddy migration involved 500 terabytes of data — representing just 0.4% of the 130 petabytes WANdisco expects to handle during 2021.
Mind you, a $3 million contract last year involved "one of the world's largest telecommunications companies" with 13 petabytes of data. This telecoms company still has 30 petabytes to transfer — so the 130 petabyte target might be achieved…
….assuming WANdisco, Microsoft and AWS persuade enough large companies to migrate enough data. WANdisco hopes to attract approximately 50-60 paying customers this year.

On the funding front, WANdisco's latest results confirmed cash was $21 million at the end of December 2020 and $55 million at the end of April.
Adjusting for the $42 million raised during March, underlying cash burn during the first four months of the year could therefore be $8 million.
WANdisco also revealed cash costs for 2021 should be $44 million, which suggests approximately $14 million was expensed by the end of April.
The difference between expenses of $14 million and cash burn of $8 million means customers may have paid WANdisco $6 million during the first four months of the year.
Given the $35 million revenue projection, receiving $6 million by April is not incredibly encouraging — and a likely indication that customer payments will be weighted heavily towards the second half.
Assuming customers do pay $35 million to WANdisco during 2021, then cash at the year end may be approximately $60 million…
…which could be enough to ensure no immediate fund raisings will be required.
Broker research available on the WANdisco website is of course confident, and suggests revenue may reach $60 million for 2022 and create the company's maiden profit:

Be aware the same broker was this time last year reducing its 2020 revenue forecast from $28 million to $20 million…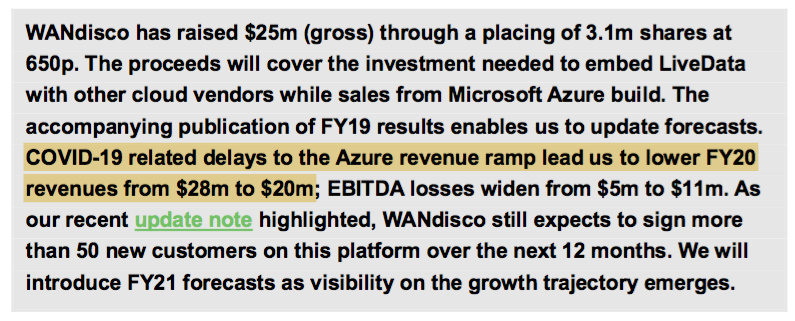 …only for WANdisco to eventually deliver revenue of $11 million.
Doubtful shareholders and director dealings
Seasoned WANdisco shareholders are understandably doubtful about the group's prospects. This excerpt from the ADVFN bulletin boards captures the mood:
"I'm amazed anyone still gives this company the benefit of the doubt with regards sales generation. I have been following them for many years now (since IPO) and they regularly, and materially, miss broker forecasts largely due to the ridiculous hubris of the CEO who has consistently failed to deliver."
The actions of company directors often speak louder than their words… and co-founder Mr Richards has not really shown too much faith with his own shareholding.
After the flotation Mr Richards owned 3.3 million shares representing 16% of the company. Today he owns 2.1 million shares representing 4% after selling chunks during 2013 (at 810p) and 2017 (at 550p):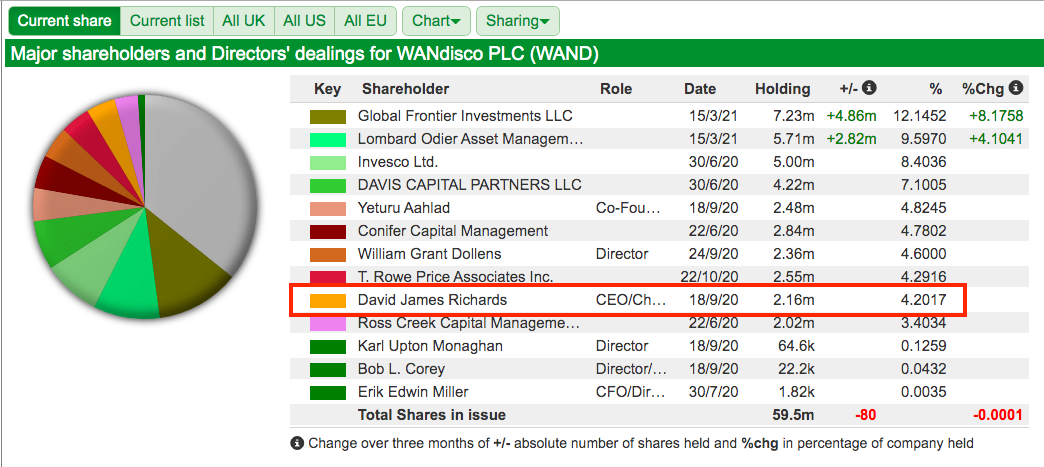 Mr Richards appears to have avoided participating in WANdisco's numerous fund raisings, and shareholders could rightly ask whether his share-dealing history lends any conviction towards the $35 million revenue projection.
Indeed, the following £1 million sales of option-like awards at 500p last year…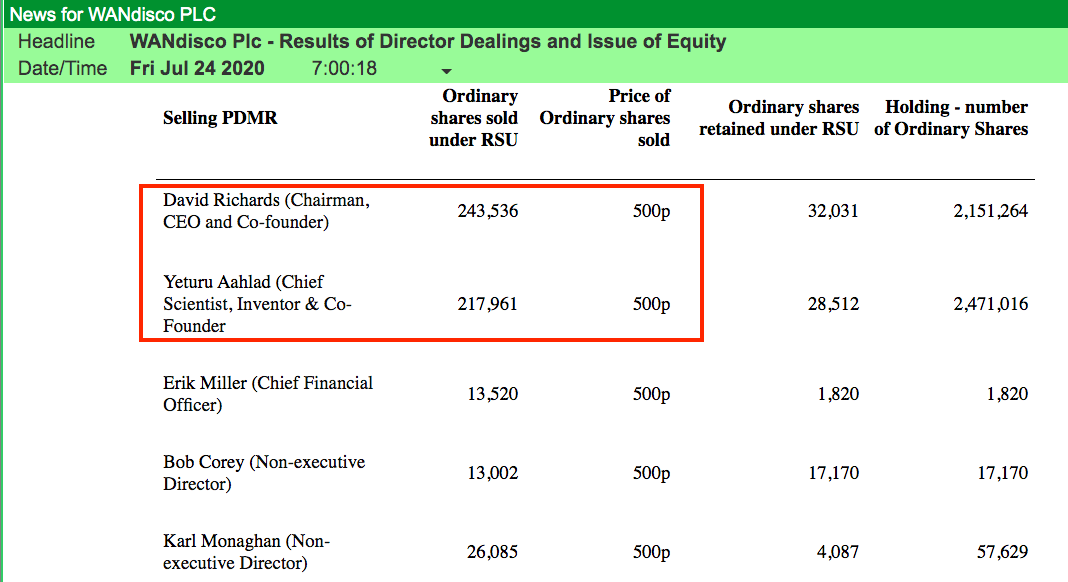 …did not look great given other investors had handed WANdisco $25 million at 650p a share just seven weeks earlier.
If WANdisco really was about to hit the big time with Azure and AWS, you would have thought Mr Richards and his fellow co-founder would be holding on to every share they could.
The 2020 annual report said that year's bonus was "based on the achievement of corporate financial performance measures, including revenue and overheads targets."
Questions about management pay
Sceptical WANdisco investors may have noticed the company's remuneration report. Co-founder Mr Richards has almost always received a chunky bonus to accompany what is now a $501,000 salary: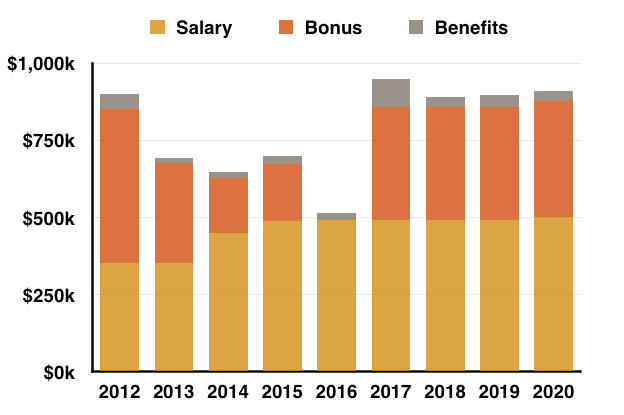 Shareholders could be forgiven for thinking the bonus measures were based on 'amount of money raised'.
Perhaps if the non-execs spent more time reviewing the performance of the executives rather than reviewing the company's option plans…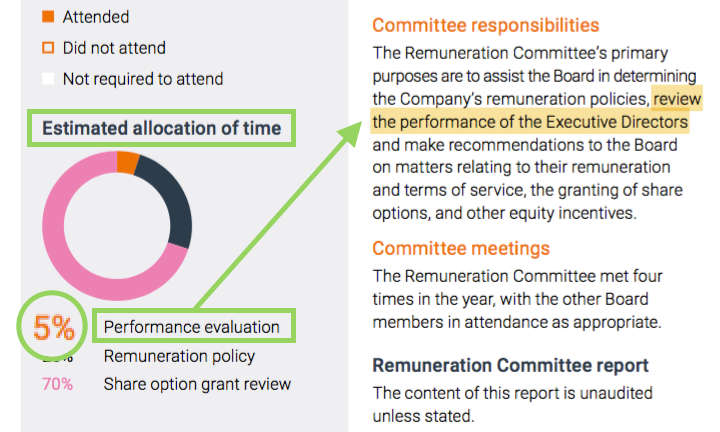 …a greater drive towards profitability may have already occurred.
What next for WANdisco?
WANdisco must be commended for developing complex software that has been rubber-stamped by Microsoft and Amazon.
But investors must decide what the Azure and AWS partnerships really mean.
Will these deals lead to a genuine $50 billion sales opportunity backed by two industry powerhouses?
Or are the deals a persuasive foundation for ongoing cash calls to lavishly enhance an IT service that few organisations really need.
The medium-term reality could well be a mix of these two scenarios, with the business eventually reaching modest profitability after further dilution.
Questions will certainly be asked if this year's $35 million revenue target is not met. Perhaps then Mr Richards will have to invest a large amount of his own money to convince other shareholders to do likewise.
Until next time, I wish you safe and healthy investing with SharePad.
Maynard Paton
Maynard writes about his portfolio at maynardpaton.com and hosts an investment discussion forum at quidisq.com. He does not own shares in WANdisco.
What are your thoughts on WANdisco? Would you consider investing in them? Let us know in the comments section below.
This article is for educational purposes only. It is not a recommendation to buy or sell shares or other investments. Do your own research before buying or selling any investment or seek professional financial advice.