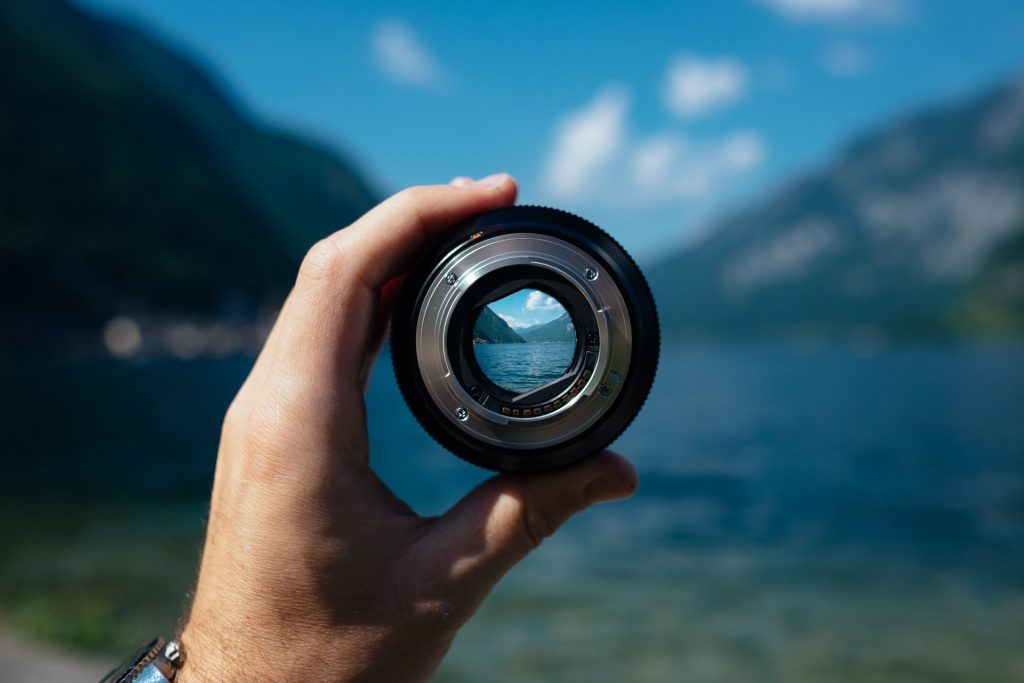 To recap My interest in PZ Cussons started in 2019. The company owned famous brands like Carex, Imperial Leather and St Tropez, but had lost its way.
My diagnosis was that the business was not generating enough cash to invest in growing its valuable brands (or, indeed, to raise the dividend).
The 2019 annual report contained a new strategy; to focus on 14 brands. The chief executive said that in the past PZ Cussons had "invested in too many categories and initiatives", a mea-culpa since he had been in office since 2003.
Soon after, I bought some shares, believing the company had seen the error of its ways.
Then the chief executive left, shorn of his payoff due to financial irregularities. The chief financial officer had already retired, and the company's chairman Caroline Silver ably stepped in to execute the new strategy while she also refreshed the board.
A new CEO, Jonathan Myers, started during the first pandemic lockdown in May 2020 and Sarah Pollard joined as CFO in January 2021.
In March they presented their strategy to investors, the company's second new strategy in so many years. It was notable for being a near 2-hour meeting and the first such briefing the company had done for at least ten years.
The fact that it was online is a sign of the times, but the fact that it is still available for us all to watch on YouTube is commendable.
In my last article, I dusted down my notes on strategy, and in this article I hope to apply them. A reminder: The kernel of a good strategy is:
Diagnosis
Guiding policy
Coherent actions
Myers' presentation started where it should, with a diagnosis: the challenges the strategy must overcome.
Diagnosis: PZ Cussons lost sight of consumers and how we shop
The headlines of the first few slides are the reverse of the self-justifying or self-congratulatory tone redolent of many corporate presentations. This is a privilege probably reserved for new CEOs. The first slide is entitled "We have declined in recent years (and underinvested in our brands)", and this is the second: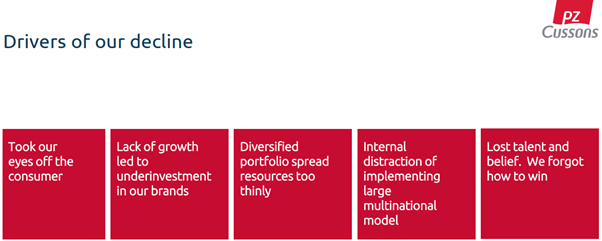 Source: PZ Cussons Capital Markets Day presentation, March 2021
Steadily eroding revenue led the company to reduce marketing investment to protect profitability. But marketing, Myers says, is "in many ways the lifeblood of building brands".
The company spent a third less on marketing in 2019 than it did in 2013, but the cuts were self-defeating. They led to a long-term decline in profitability.
Myers blames PZ Cussons' complexity. The attention of the businesses was distracted by internal multi-year projects to "mirror the global/local matrix often found in much larger multinationals".
Actually, PZ Cussons is not a multinational. Myers describes it as a "multi-local". 90% of revenue comes from just four markets: The UK, Nigeria, Australia and New Zealand, and Indonesia. Brands typically generate the bulk of their revenue in only one or two of those markets.
PZ Cussons' sprawl meant costs were too high and its diminishing funds for investment were spread too thinly. The company relied on price promotions to sell more products at the expense of profitability. Talented people left the business.
Myers' diagnosis is that the company has lost sight of its outward focus: the consumer and how we shop.
Consumers are changing. These days we are as likely, perhaps more so, to consume marketing and buy brands online.
Guiding policy: Building brands for life. Today and for future generations
There is a non-risqué double entendre in Cussons' guiding policy: "Building brands for life. Today and for future generations". Brands for life means PZ Cussons is building brands for the long-term, and brands that will improve consumers' lives. "Today" is shoe-horned in to recognise its "bias for action".
To my mind it is a vague policy, an aspiration, and almost any action could come out of it.
Actions
Focus on Must Win brands
The company is sharpening its focus on its "Must Win" hygiene, baby and beauty brands. Previously it devoted disproportionate attention to 14 Focus brands responsible for 75% of sales. Now it will pour resources into eight "Must Win Brands", responsible for 50% of sales but 66% of gross profit.
These are leading brands in its four priority multi-local markets, plus St Tropez, a leading fake tan product in the USA:
Carex (UK)
Cussons Baby (Nigeria and Indonesia)
Joy (Nigeria)
Morning Fresh (Australia)
Premier (Nigeria)
St Tropez (USA)
Sanctuary Spa (UK)
Original Source (UK)
In 2021, PZ Cussons plans to spend 75% of its marketing budget in Must Win brands, whereas in 2020 it invested 66% of the budget on the 14 Focus brands.
It is starving the tail to feed the head. Big names, like Imperial Leather and Rafferty's Garden, join a second division of portfolio brands, which will get less investment.
The company will run the portfolio brands for cash to reinvest in Must Win brands or absorb manufacturing and distribution costs. Over time it may decide to elevate some of them to Must Win brands and sell others off.
Growth wheel
The company will apply what it describes as a replicable Growth Wheel to the Must Win Brands. The wheel has four elements:
Consumability. This is innovation. It means formulating and packaging products people want, like Carex refill packs that use less packaging and hand sanitiser that protects for three hours.
Attractiveness. This means value. The company wants to establish benefit-driven product ladders with superior products at higher price points, like St Tropez's gradual tanning product.
Memorability. This is mostly about marketing, making sure the brands are distinctive and purposeful. PZ Cussons has increased marketing spending on Carex 100% to fund its "Protect the Nation" campaign and it will focus on digital marketing and social media over TV advertising.
Shoppability. This is about distribution: getting the products into shopping baskets, and particularly online baskets. With 40% of revenue from e-commerce, beauty products lead the way. As well as relationships with the big online retailers, PZ Cussons is establishing direct-to-consumer websites, like this one for Sanctuary Spa (in partnership with The Hut Group).
The idea is if you make compelling products, give the customer value, establish them in the minds of consumers, and sell them where people want to buy then you will earn more money to invest in compelling products and so the wheel grows.
The Growth Wheel is sensible and nods to our online future, but it also reminds me somewhat of Sir Stuart Rose's promise to revive Marks & Spencer by restoring basic retail housekeeping in the naughties. It did revive Marks & Spencer but the company still did not thrive. As well as getting the basics right, you have to do something distinctive.
I hesitate to say it, because so many companies are promising sustainability and it is hard sometimes to work out how committed they are, but perhaps it is sustainability.
Sustainable to the core
PZ Cussons has a storied history, and has long championed sustainability, but the new strategy seeks to elevate it, claiming customers demand sustainability and it is critical in attracting and retaining the best people.
Its solution is to become a certified B-Corporation by 2026. This is a certification scheme for businesses that balances purpose and profit. No UK-listed company is B-Corp certified although two subsidiaries of another consumer goods company, Unilever, are. Famously Ben and Jerry's is a B-Corp, and so too is Sundial Brands.
Becoming a B-Corp would demonstrate PZ Cussons' commitment and it may be a competitive advantage in a world in which we are more conscious of the impact of plastics, palm oil, and carbon dioxide than ever before.
Myers says Ocado and Waitrose already have virtual B-Corp shopping aisles, and the B-Corp logo is beginning to appear on packaging.
Can PZ Cussons do it?
The problem with the B-Corp strategy, and the digital first elements of the Growth Wheel, is the company does not know how it will achieve them. They are aspirations, not yet coherent or distinctive actions.
The company is acting to make them happen, but as the following slide shows, its capability in digital marketing and e-commerce capabilities were zero in 2020. Although its history gives it a head start in sustainability it frankly admits it does not know how it will become a B-Corp.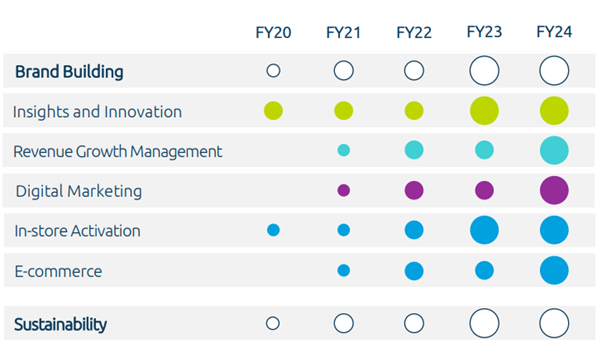 Source: PZ Cussons Capital Markets Day presentation, March 2021
The slide was presented by PZ Cussons' HR Director, which tells us the first steps are to recruit the people that will form the teams that will work this out.
This is not a condemnation of the strategy but a recognition of where the company is. It is perhaps best to think in phases. The first phase, simplifying PZ Cussons, is presented in the highest resolution because it is already underway.
The company has removed layers of regional management and central commercial teams, preferring to focus its commercial capability locally and create leadership at all levels. This is coherent with the company's sharper focus on Must Win brands in its four main markets.
It is now reassessing systems and processes, and the "long tail" of brands and products. Hopefully, it will result in more disposals, which would be further evidence of focus.
Then it is time for the Growth Wheel to invent new products, more productive digital marketing, and more fruitful relations with online retailers. As the wheel turns PZ Cussons will validate it and make adjustments.
In time the company may choose to expand geographically or acquire or invent more brands, but this is expensive, and it will not do it by reducing investment in Must Win brands and home markets.
I will finish on one more element of the strategy, a target in fact, that investors will need to consider. PZ Cussons believes it can achieve low-single digit revenue growth from its strategy, which seems unambitious.
Profit may grow faster because the organisation will be simpler and more efficient, but I do not know whether management is setting the revenue bar low to make it easy to surpass, or whether this is the realistic outcome of balancing profit and purpose.
Richard Beddard
~
Contact Richard Beddard by email: richard@beddard.net or on Twitter: @RichardBeddard
Please embed in web page
This article is for educational purposes only. It is not a recommendation to buy or sell shares or other investments. Do your own research before buying or selling any investment or seek professional financial advice.