April is typically a strong month – perhaps because of all the tax-selling clearing and reducing sell pressure.
New ISA money tends to enter the market too. Cash is a position, but many punters feel it burning a hole in their pockets and so tend to end up spending it.
Some stocks that I have an eye on here from my filter are Circassia Group, GetBusy, and Crimson Tide.
Circassia Group (CIR)
Circassia Pharmaceuticals is a company that was held by the now-disgraced fund manager Neil Woodford.
Here's a chart of some spectacular value destruction.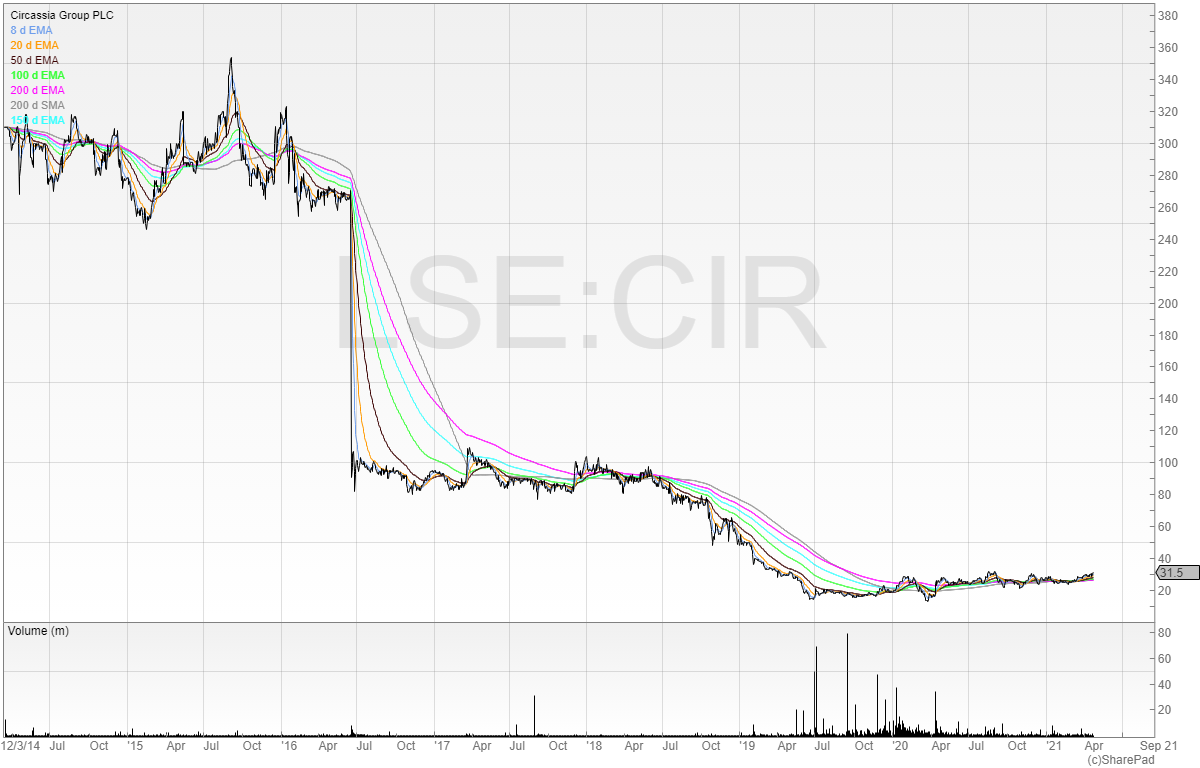 Next time you hear yourself think those horrible words "They'll go back up again" as a justification for holding onto a losing position, pull up this chart and look at the price decline.
However, since 2019 we can see that the stock has traded in a wide range.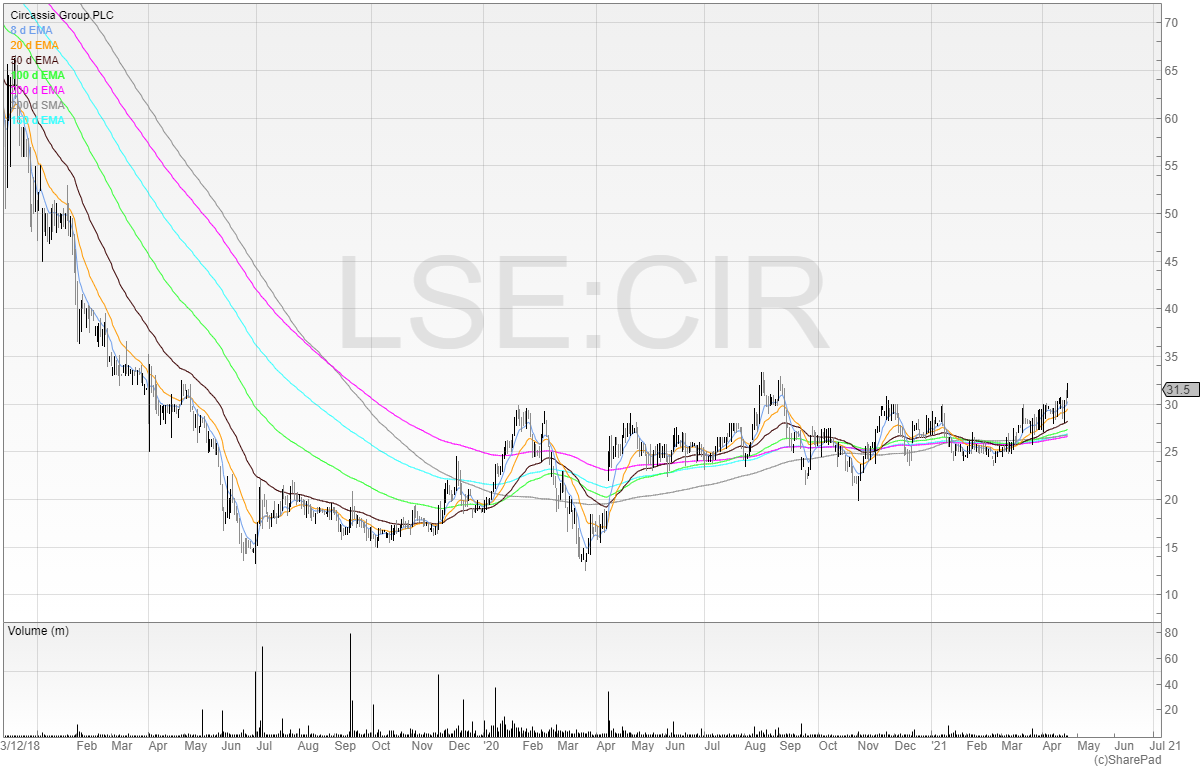 We can see the stock has traded as low as below 12.5p and over 31p today – a trading range in excess of 100%.
It's only when you zoom out and look at the bigger picture that the stock begins to look like a stage 1 base.
One of the reasons that I like this stock is that it is turning itself around fundamentally and the price still goes sideways.
The loss-making division has been sold off and the business now has net cash. This was further bolstered by a share placing at 25p for £5 million.
This went solely to three parties:
Lombard Odier Asset Management

Richard Griffiths

North Atlantic Smaller Companies Trust plc
This means that the placing is likely to be in stickier hands than loose retail who will chip out the placing stock for 10-20%.
It also offers the business more liquidity in terms of capital investment.
Circassia's only remaining business division left is growing and it makes sense to deploy capital into this. It sells NIOX – a diagnostic device for asthma.
Asthma doesn't just go away due to a pandemic, so I expect there to be a backlog of sales and further sales growth as there was pre-pandemic.
Takeaway
The chart has been consolidating over the last year and should the price break out of the 32p recent closing high then I believe we could see a higher move.
Remember, the price breaking through significant points is telling us something significant.
CIR is SETS traded meaning we can work our orders on the book and at varying price levels.
GetBusy (GETB)
GetBusy plc claims that it has a highly cash-generative market-leading product in the form of Virtual Cabinet.
This product funds the development of two loss-making products that both have speculative upside, so it's a different take to the usual speculative technology stocks that don't make any money.
Here's the chart since IPO.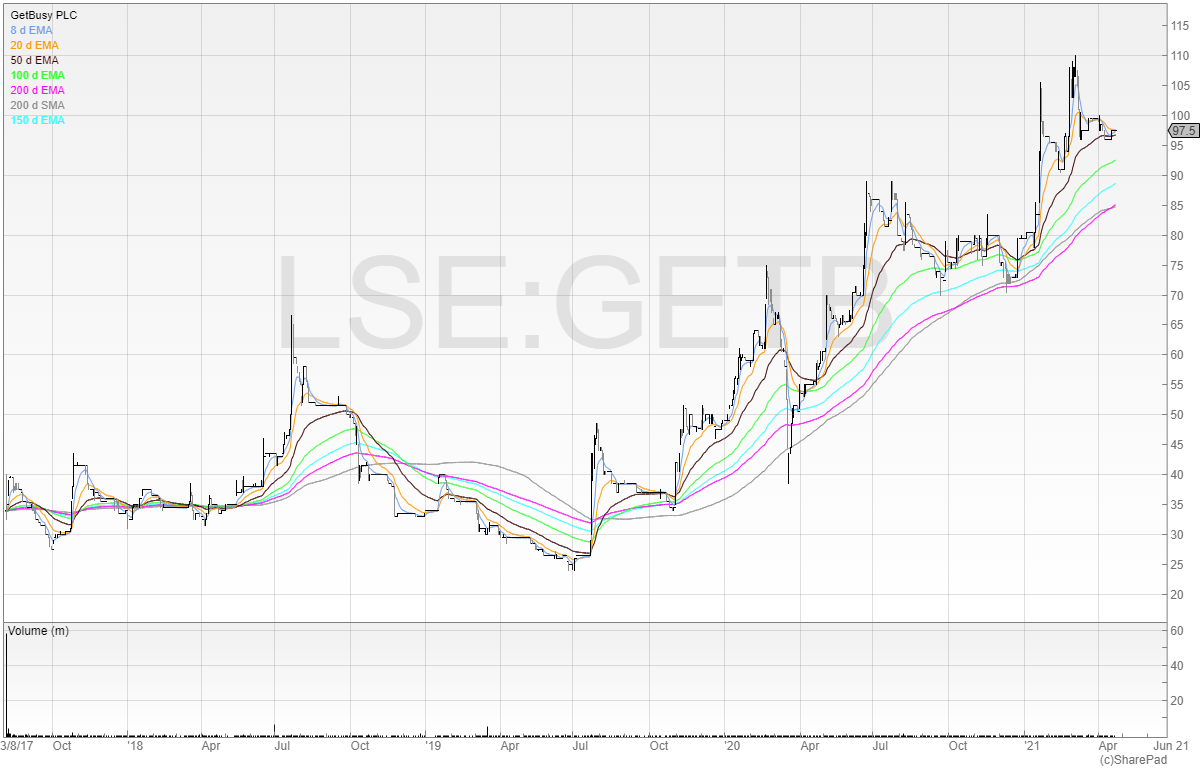 In contrast to most speculative technology stocks, the price is actually above its IPO price and by some margin too.
That's a positive.
The price is also uptrending, and not too far from the recent high either.
Takeaway
I'd need to do more digging into this stock, but for those looking to enter for a swing trade I feel a break of 110p through the recent high would not be a bad idea.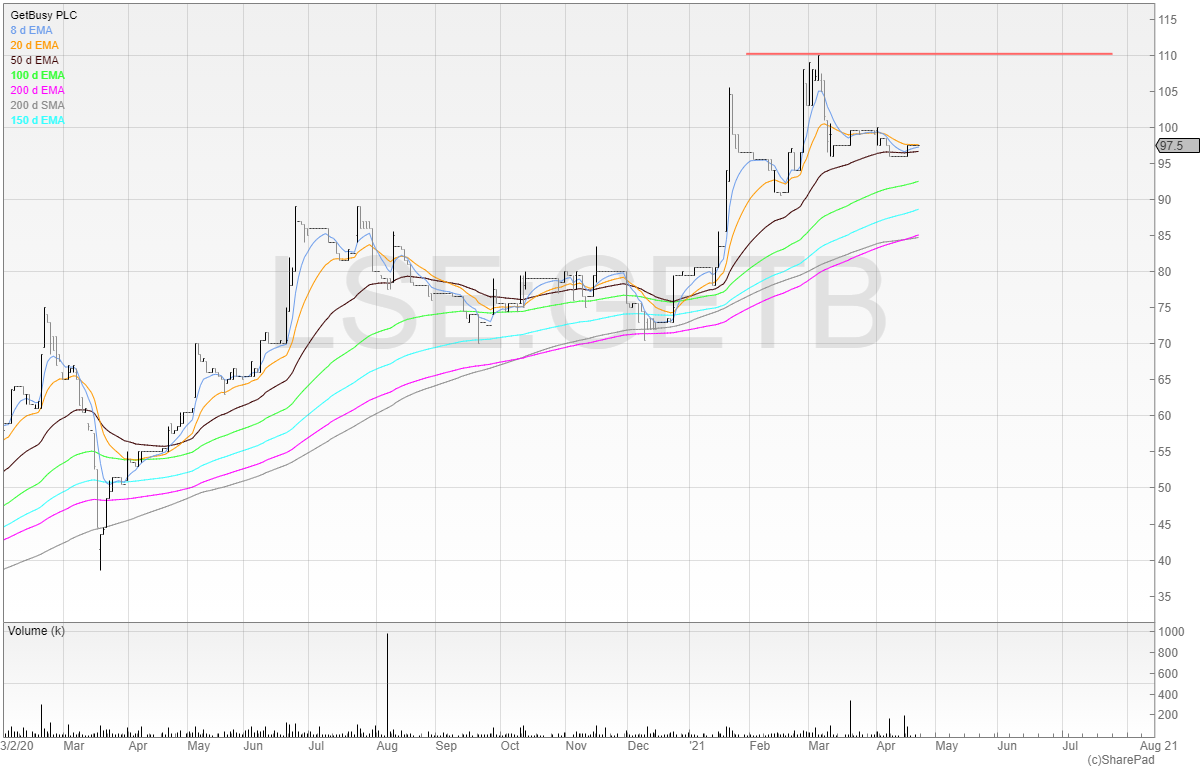 However, GETB is SETSqx traded and illiquid. It's unlikely you can buy or sell less than 10,000 shares without moving the price.
Crimson Tide (TIDE)
Crimson Tide is a relatively new holding for me. It's a small one, which, if management execute, I'll scale up and also see (hopefully) see a benefit in a rise of the share price.
Here's the share price chart over the last ten years.
There's a multi-year cup and handle being formed at 4p.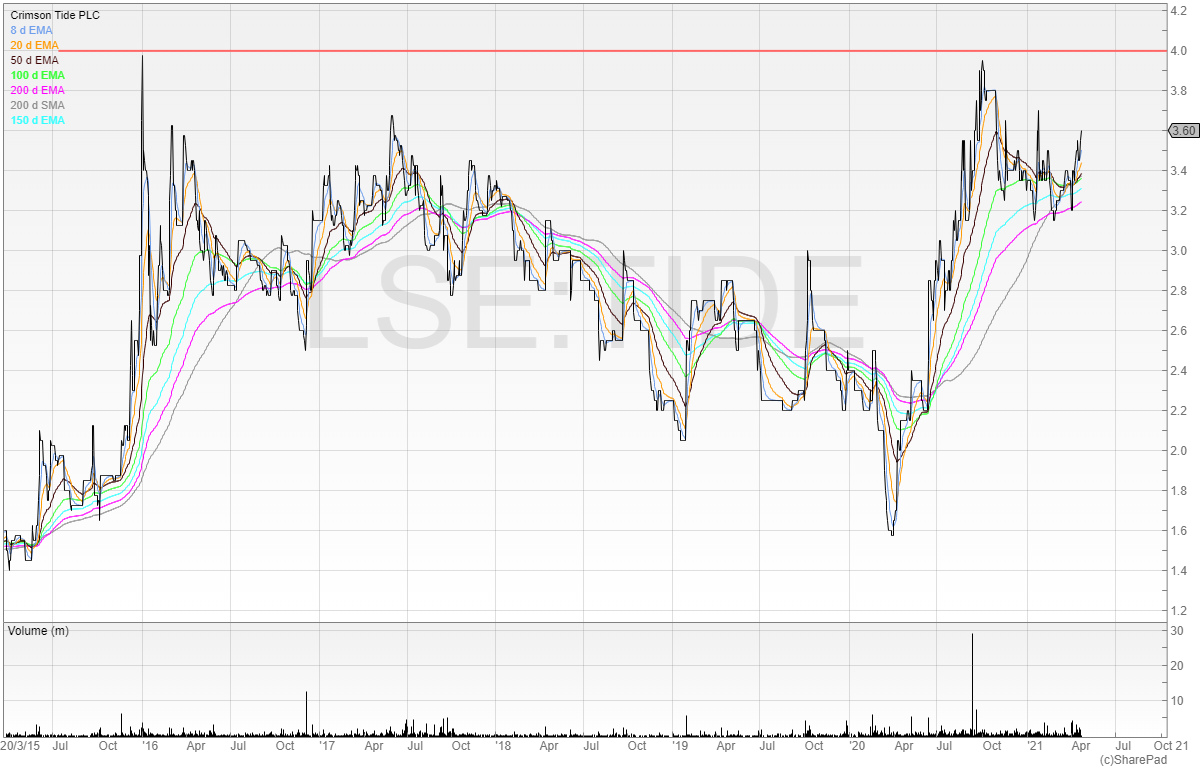 The company is profitable and growing. It says it is the provider of its full-service mobile platform mpro5.
This works on smartphones, tablets, and PDAs, and the goal is to help businesses utilise smart mobile working.
Crimson Tide has an impressive list of clients (see below) although that means very little if it cannot scale.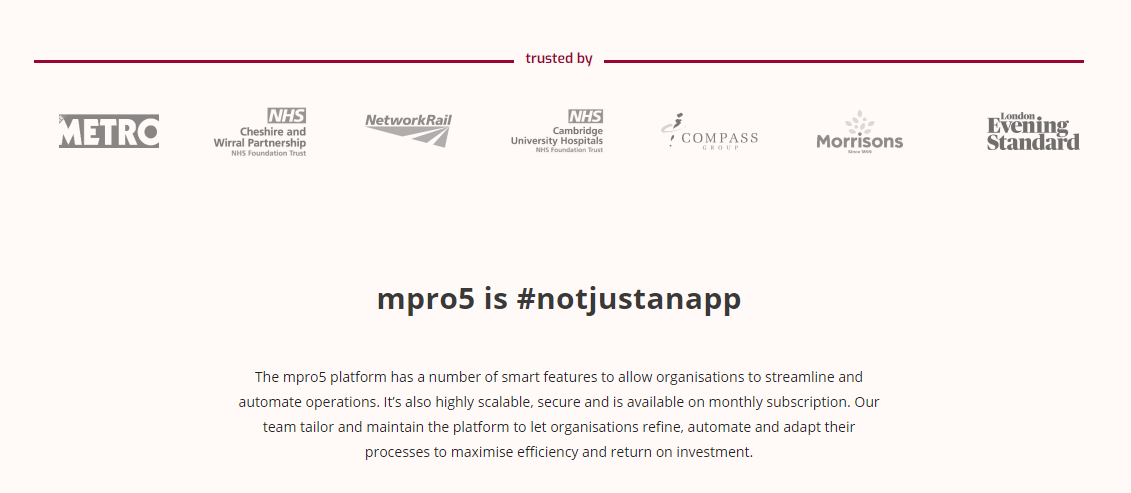 Looking at the income statement, the company does appear to benefit from operational gearing, but this will only happen if it can grow sales.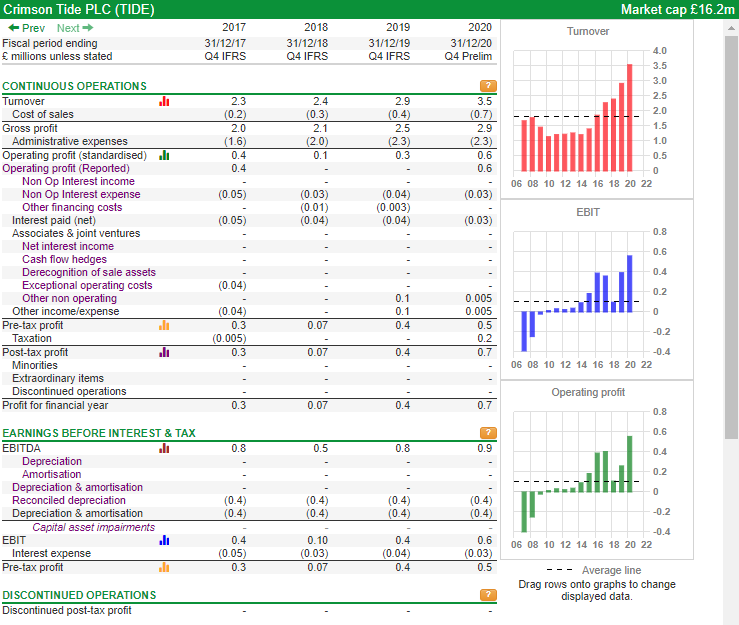 Takeaway
So far there have been two contract wins this year. It looks promising, but promises are cheap.
I've set an alert at 4p to increase my holding if the price does break out.
If you found this article useful – my monthly newsletter covers more trading ideas and market knowledge.
You can sign up at my website below.
I hold a long position in Crimson Tide.
Michael Taylor
Buy the Breakout trading newsletter available at: www.shiftingshares.com/newsletter
Twitter: @shiftingshares
This article is for educational purposes only. It is not a recommendation to buy or sell shares or other investments. Do your own research before buying or selling any investment or seek professional financial advice.