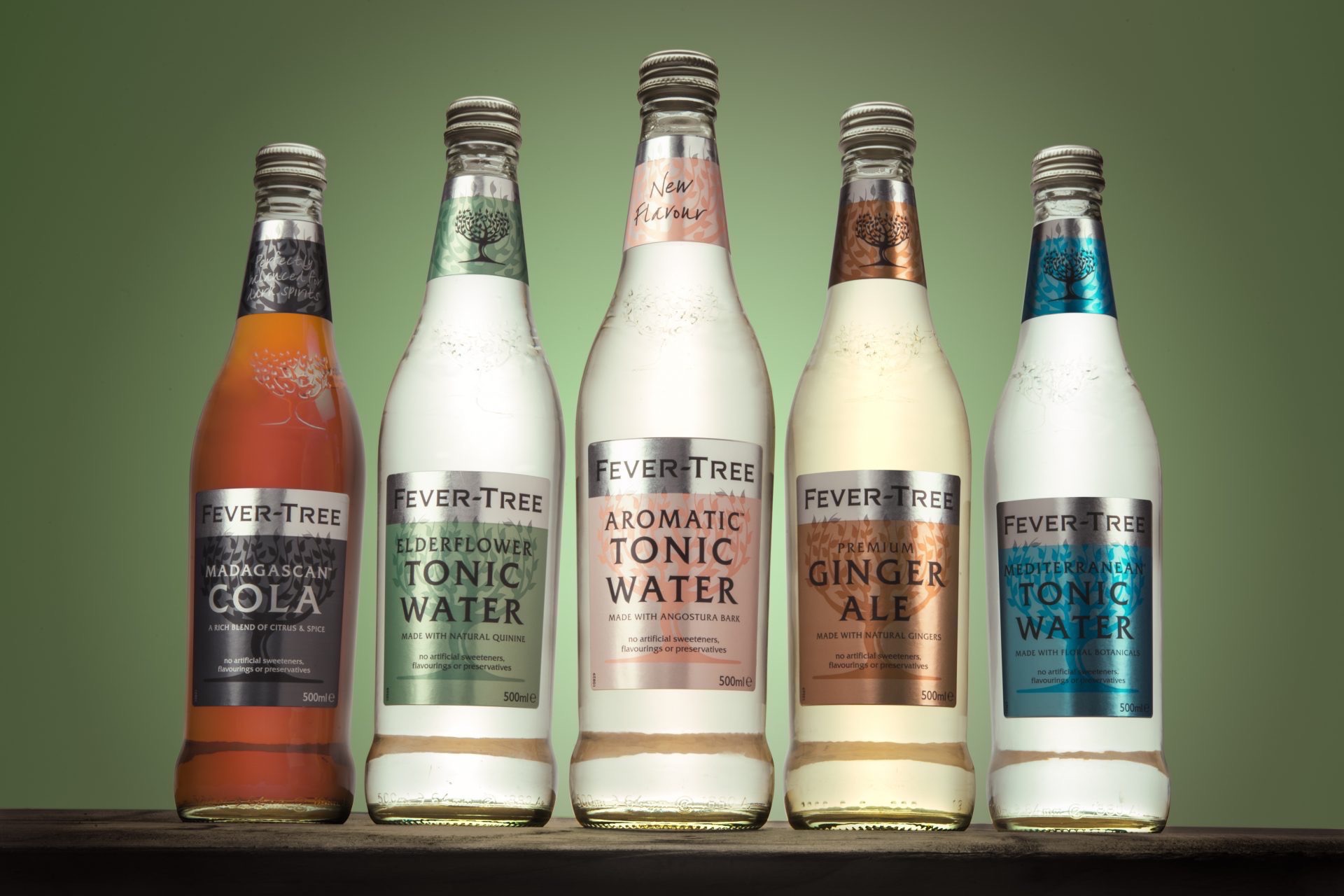 They say mums always know best.
Mine has bought Fever-Tree tonic waters for some years now and I recently asked whether she remained a customer. This was her response.
"While we don't buy many commercial drinks for home consumption these days I would still definitely buy Fever-Tree, generally the original tonic water. I went into an actual shop (M&S) last week for the first time and spotted the selection of Fever-Tree drinks. I was tempted at the time but as the weather was poor decided against it.

If we were having visitors it would definitely be purchased. When going out with certain knowledgeable friends for lunch etc, Fever-Tree is always the drink of choice. If the cafe/restaurant doesn't sell Fever-Tree it is 'downgraded' on our rating and generally abandoned. Availability of Fever-Tree is, to us, a sign of caring about quality."
I had no idea mum regarded the drinks so highly. If she is representative of every Fever-Tree customer, then maybe the company deserves our attention.
Filter results
My mum won't know, but I am sure you are familiar with Fever-Tree's amazing multi-bagger status. The shares floated during 2014 at 134p and within four years reached a £40 high: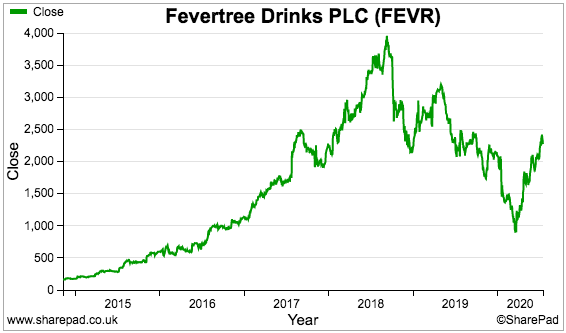 The price has since dropped to £23 — still a 16-fold profit from the float. Despite the shares being well off their high, the company does not seem in trouble just yet if my mother's brand loyalty is anything to go by.
Fever-Tree has always flashed up on SharePad whenever I have filtered for 'quality' shares. The screen below for example shortlists superior companies that have recorded notable growth without the aid of acquisitions: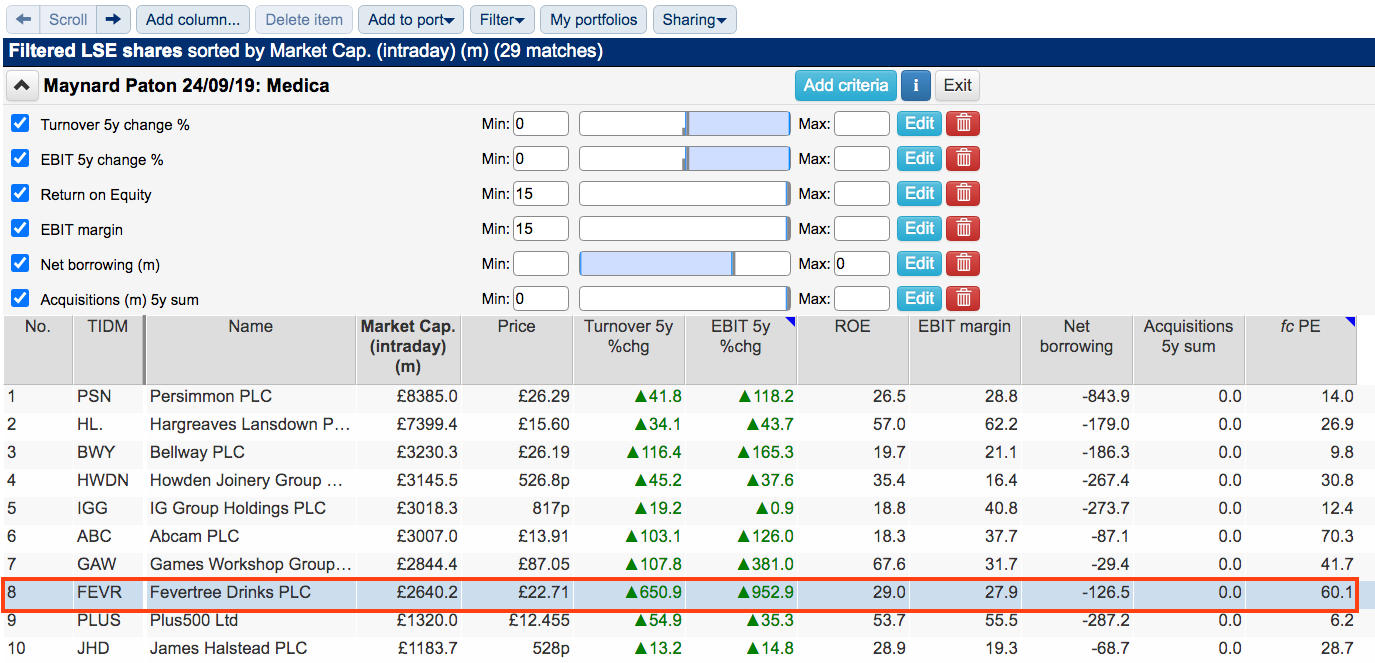 (You can run this screen for yourself by selecting the "Maynard Paton 24/09/19: Medica" filter within SharePad's magnificent Filter Library. My instructions show you how.)
As the screening results suggest, Fever-Tree's revenue and profit have indeed surged higher during the last few years: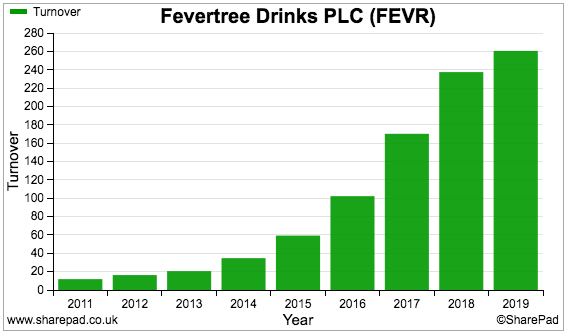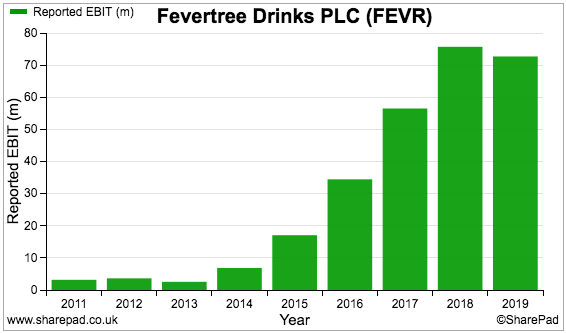 During the same time, both ROE and the operating margin have consistently topped 20%: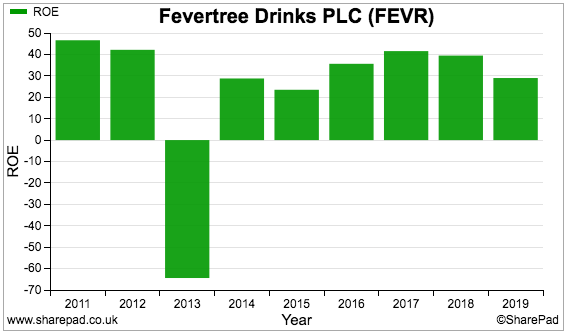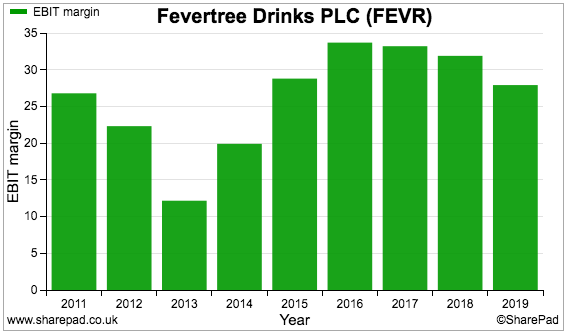 (Note: the alarming negative ROE result for 2013 followed a pre-flotation corporate re-jig involving debt that has since been repaid.)
The impressive growth history has also funded greater dividends: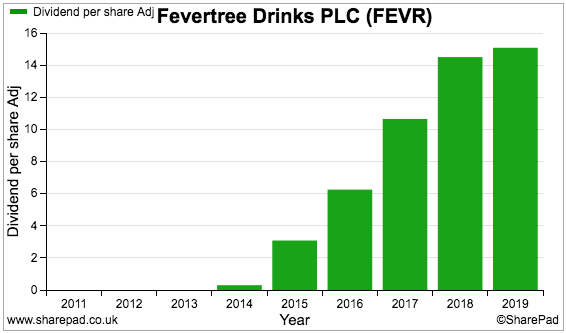 Let's take a closer look at the company.
The business of Fever-Tree
"So there we were thinking 'this is absolutely extraordinary: people are spending more money on a great spirit, yet they have no choice but to drown it in this increasingly artificial mixer.'"
So recounted Charles Rolls and Tim Warrillow during this interview about why they established Fever-Tree in 2004. The pair had become infuriated by Schweppes including a cheap sweetener within its tonic water.
Days spent in the British Library researching quinine, the key ingredient in tonic water, led Mr Rolls and Mr Warrillow to Rwanda and one of the last remaining plantations of fever trees.
Further jungle expeditions to source other vital ingredients soon followed, and the company's first premium mixer — Premium Indian Tonic Water — was selling in Waitrose and Selfridges by 2005.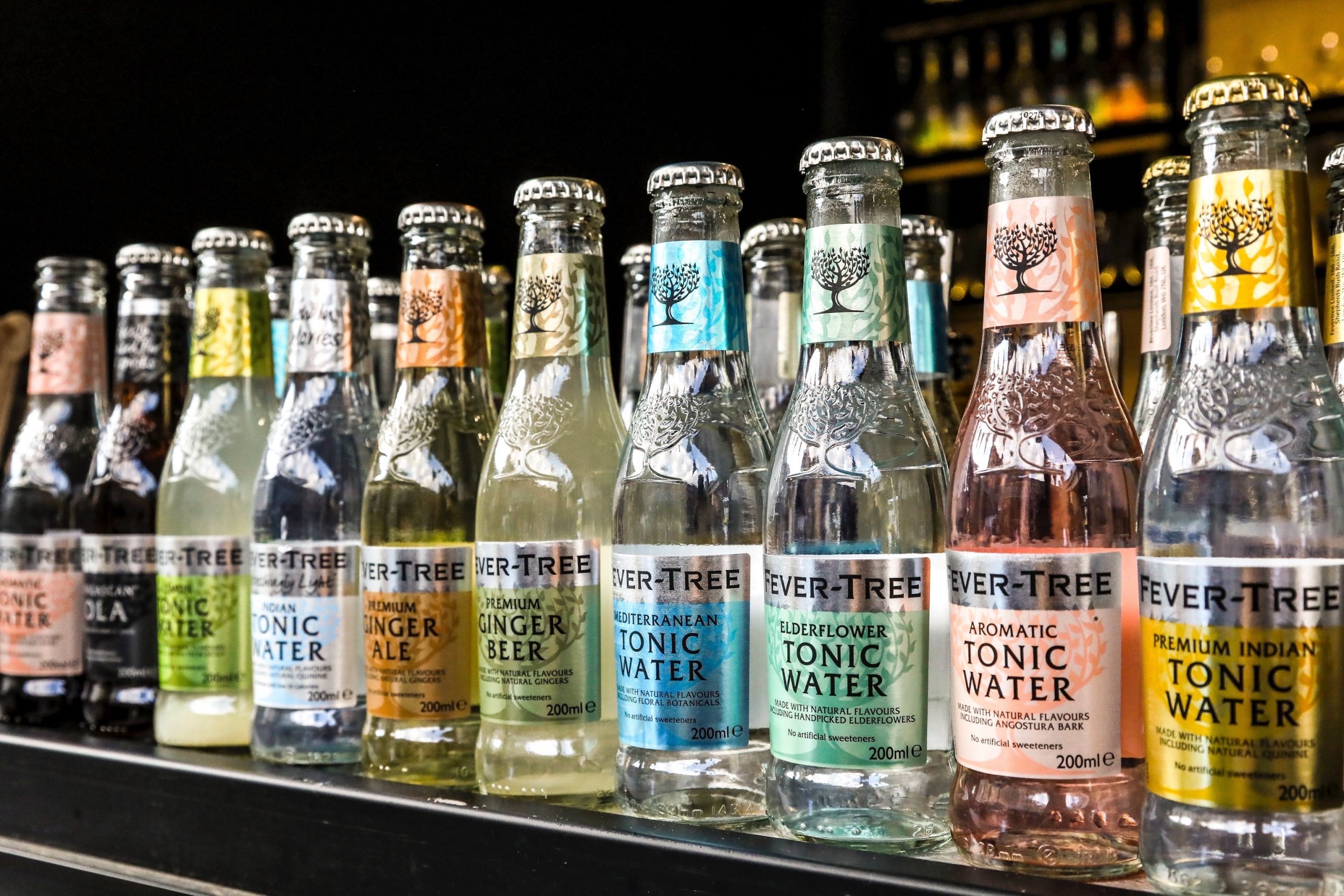 Fever-Tree has since created a wide range of premium tonic waters — including Elderflower, Cucumber and Clementine — as well as various ginger ales, ginger beers, colas, sodas and lemonades.
The business remains founded on sourcing the very best ingredients to create a superior product that in turn differs from the competition and conveys a quality brand image.
Fever-Tree enjoys a 40% market share by value of all UK mixer sales and reckons other premium mixer brands will be hard pushed to catch up:
"As the pioneer and first mover, Fever-Tree has the brand equity, expertise, global footprint and track record that no other premium brand, whether local or the premium variant of mainstream brands, is able to match."
A check on Tesco shows the supermarket selling its own-brand Indian tonic water for 50p a litre, with Schweppes selling for £1.50 and Fever-Tree selling for £3.82 (through two half-litre bottles):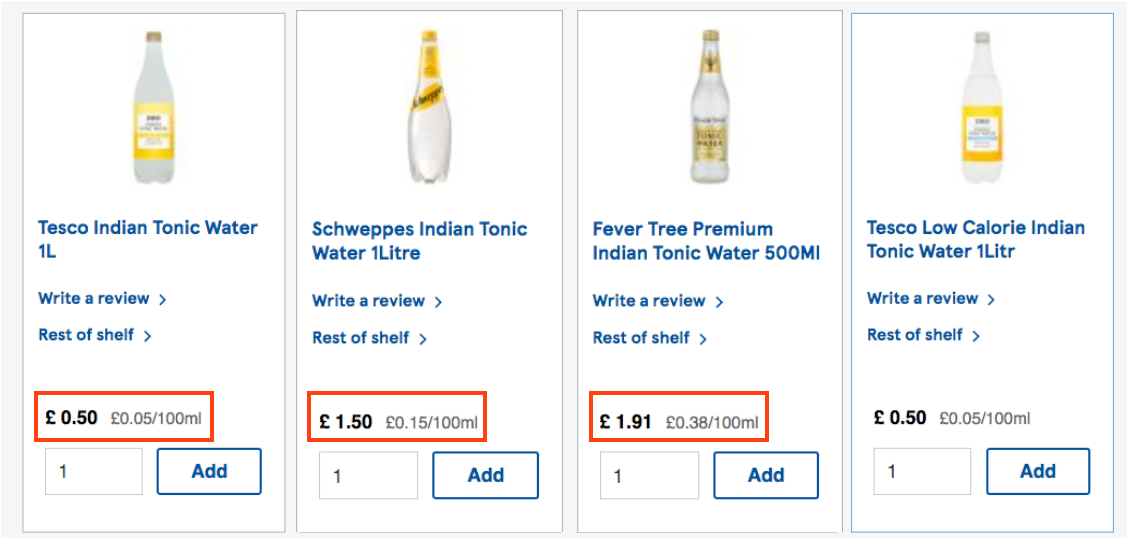 Drinkers home and abroad have not been dissuaded from the premium pricing. Although domestic sales stagnated during 2019 due to poor summer weather compared to the heatwave of 2018, overseas revenue jumped 24% Almost half of group turnover is now generated from outside the UK: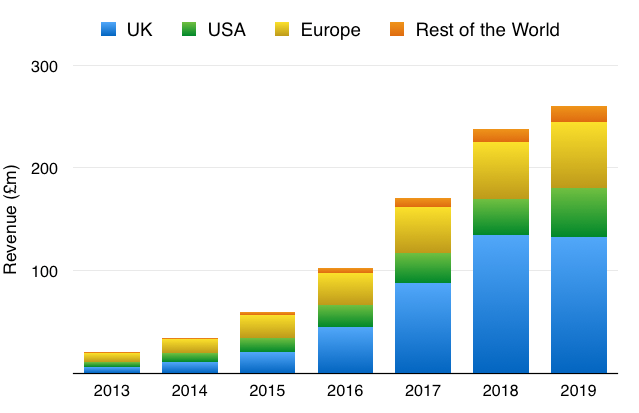 Both Mr Rolls and Mr Warrillow remain significant shareholders. Between them they control almost 12% of the company and enjoy a combined shareholding worth more than £300 million: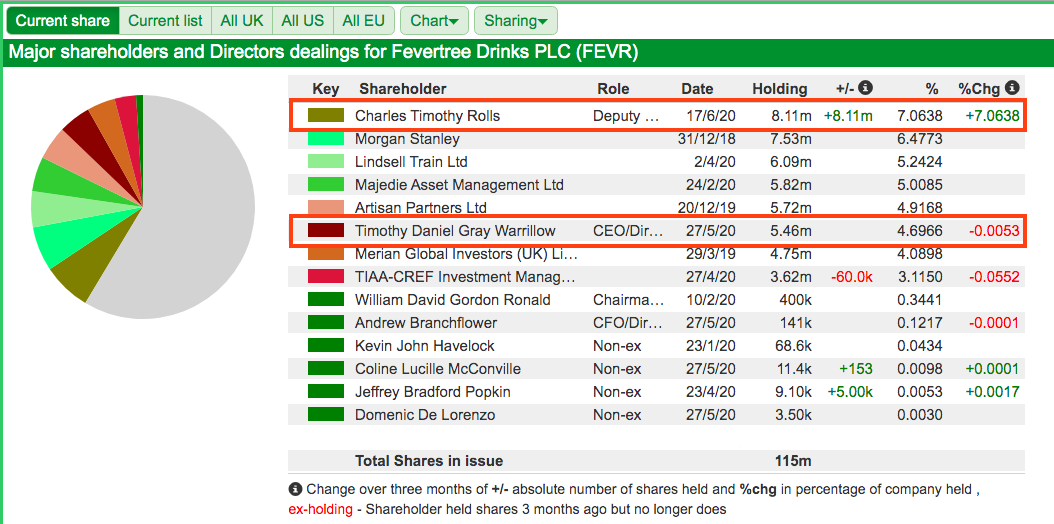 Both co-founders have sold shares since the flotation, at prices ranging between £6 and £35. Mr Rolls may well sell more after he retired from the board in June:
"While I am stepping down from the Board, I remain a great supporter and significant shareholder in Fever-Tree and am as passionate about the business as ever. Fever-Tree deals in a world of best before dates and I am happy to be stepping down before I reach mine."
Mr Warrillow remains Fever-Tree's chief executive and, at 45 years of age, could well stay in charge for some time to come.
Fever-Tree's SharePad Summary
The SharePad Summary for Fever-Tree is shown below: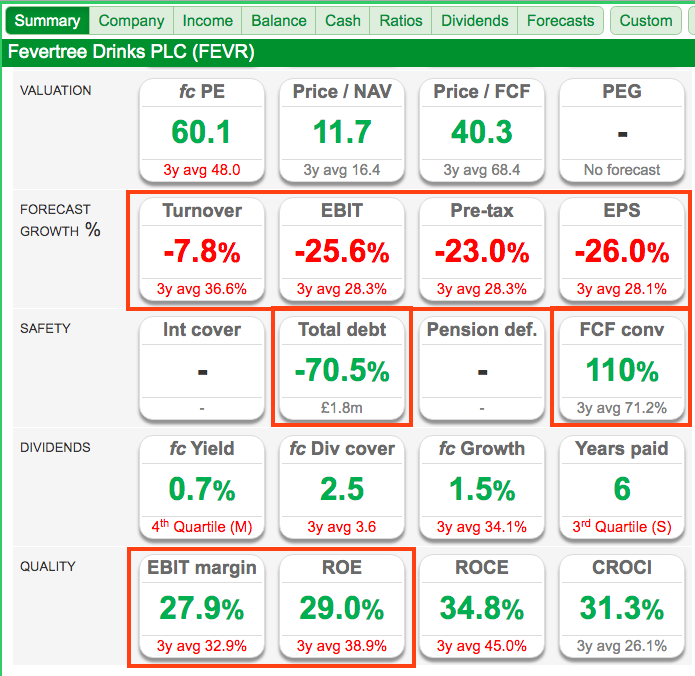 The forecasts on the second row suggest the company has not been immune to the financial effects of Covid-19.
However, free cash conversion of 110% and little in the way of debt — alongside those healthy margin and ROE ratios — indicate the business having the wherewithal to survive the pandemic and presumably prosper thereafter.
Cash conversion, working capital and net cash

Fever-Tree's cash conversion (black line, right axis) was unusually good last year. The company typically converts about 70% of reported earnings into free cash: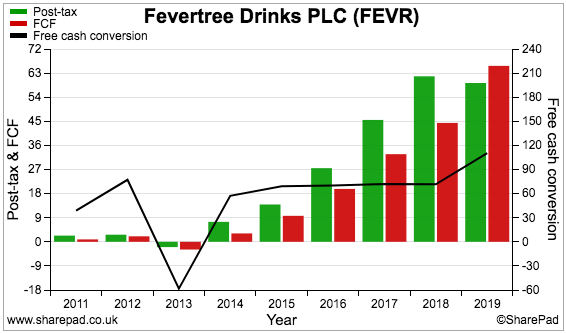 This next chart compares Fever-Tree's earnings (green bars) to additional investment in working capital (red bars) and 'excess' capital expenditure (blue bars) — that is, the cash spent on tangible assets minus the associated depreciation expensed against earnings: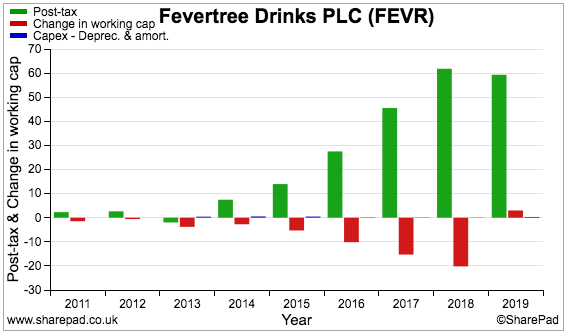 We can see the company's working-capital movements (red bars) are often significant.
SharePad's Cash tab shows the exact amounts: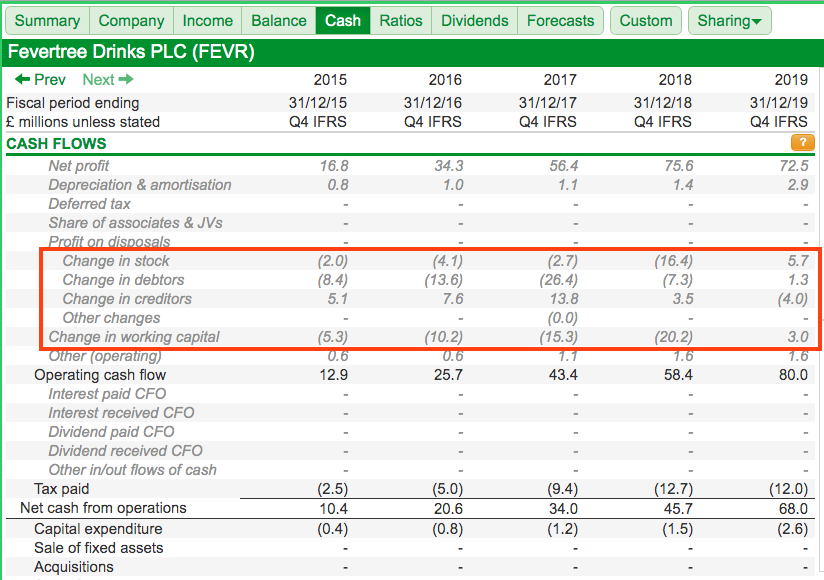 I suspect Fever-Tree's cash flow will always lag its reported earnings as the business invests in stock ahead of selling to powerful supermarkets — who in turn will settle their invoices some time after delivery.
The level of stock (red line), trade debtors (blue line) and trade creditors (pink line) as a proportion of revenue appears reasonably stable: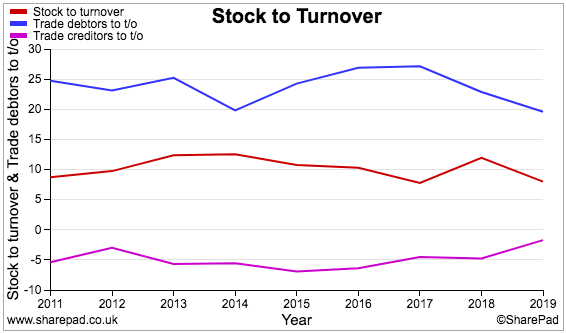 Fever-Tree said the cash flow improvement witnessed during 2019 mostly reflected the reversal of stock-piling ahead of Brexit.
The company's cash flow has allowed cash in the bank to pile up nicely: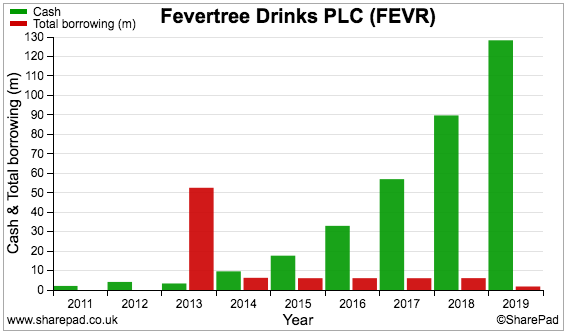 (Note: The debt raised for the 2013 pre-flotation corporate re-jig was cleared by the flotation proceeds)
Capital expenditure, margins and employee productivity
The SharePad Cash tab also reveals capital expenditure totalled just £7 million during the last five years. Aggregate net operating cash flow by contrast was a huge £179 million: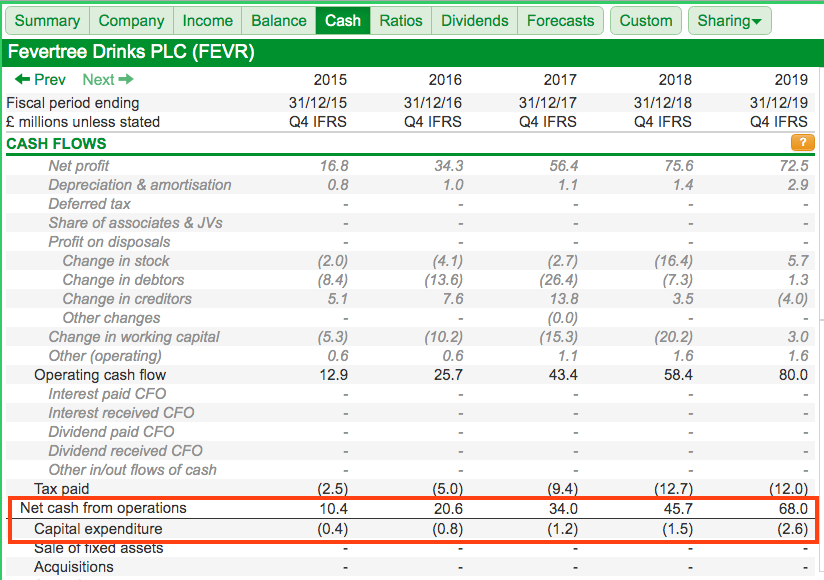 Fever-Tree outsources all of its production, bottling, storage and distribution, so has no need for costly factories, machines and warehouses. Somewhat incredibly, the largest tangible asset on the balance sheet is 'reusable packaging' with a book value of only £4 million: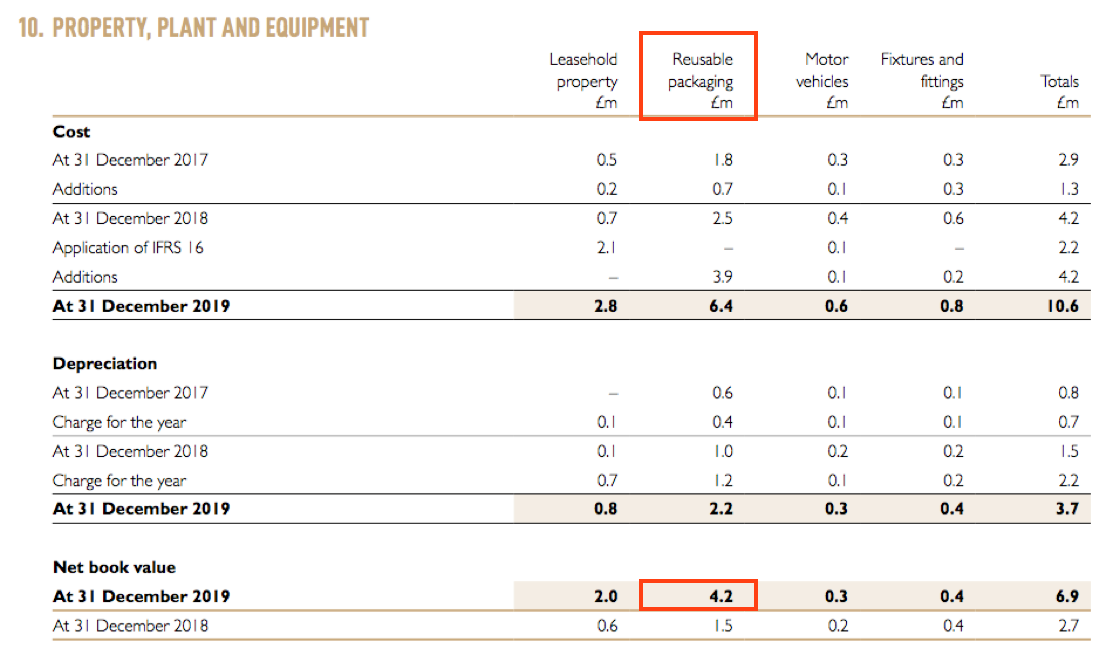 The aforementioned 20%-plus operating margin is supported by selling a premium-priced product. The annual report reveals Fever-Tree's two largest expenses are logistics/warehousing and marketing: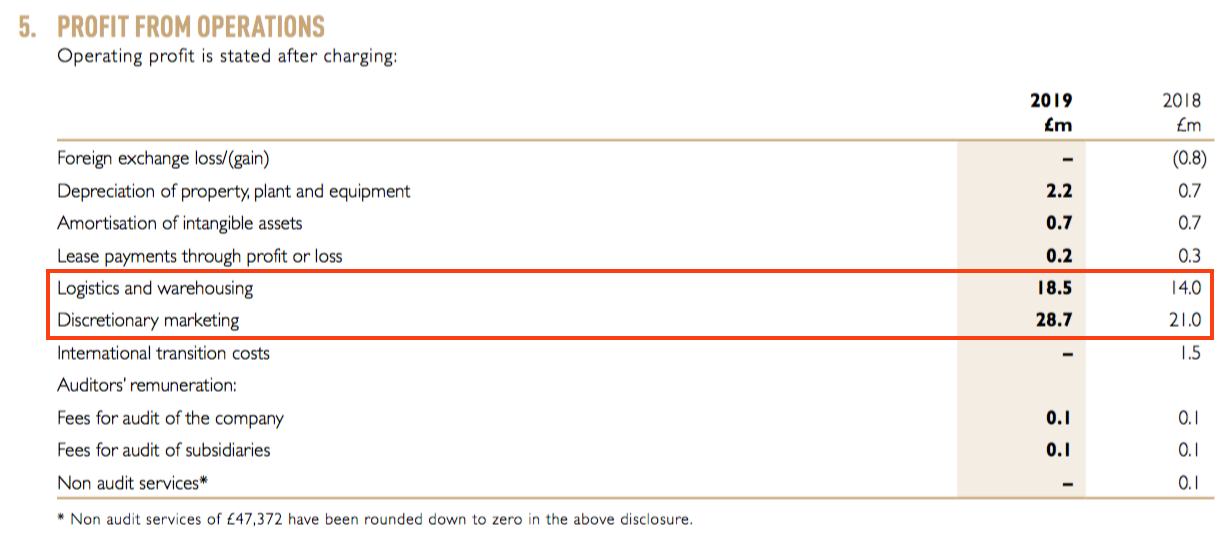 Renting a warehouse and purchasing airtime on ITV would of course cost the same whether Fever-Tree was selling tonic water for 50p a litre or £3.82 a litre.
Outsourcing all the production and so on once allowed sales per employee to surpass an astonishing £3 million. This productivity measure has since declined to £1.6 million after the company took on more staff to help with the USA expansion: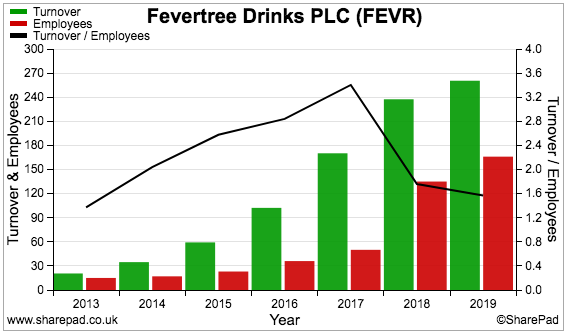 I should add that revenue per employee of £1.6 million is still extremely impressive and emphasises the company's superb efficiency and the product's high value.
All told, Fever-Tree's financials are among the most attractive I have reviewed for SharePad. They are certainly relatively straightforward for anyone new to accounting.
Forecasts and valuation
The red forecast numbers within the SharePad Summary indicate the potential Covid-19 impact on the business: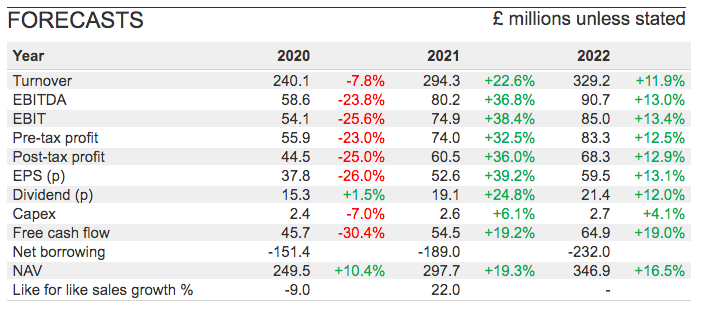 The City consensus implies earnings will rebound to 2019 levels for 2021 and then chug along at a nice double-digit rate for 2022.
A trading statement the other week claimed UK 'off-trade' sales (e.g through supermarkets) had rallied 34% during the lockdown, with US 'off-trade' sales surging 89%.
A results presentation showed the split between on-trade sales (e.g. through pubs) and off-trade: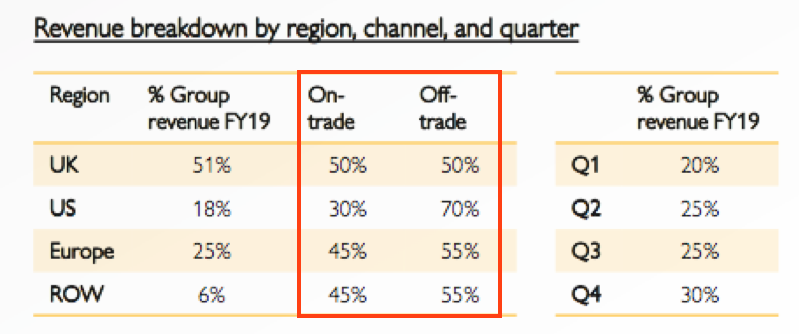 Assuming on-trade sales are zero, my very rough sums indicate UK/US 'lockdown' revenue could be 80% of the comparable 2019 UK/US revenue. That does not feel too catastrophic to me.
Still, fine-tuning a 2020 sales guess could be academic with the shares trading at a mighty 46x trailing earnings:
The lofty multiple clearly expects Fever-Tree to acquire further market share in the UK and replicate that success throughout the States, Europe and elsewhere.
I dare say the share price has also been egged on by the super ROE and margin numbers, which reflect a robust competitive 'moat' underpinned by loyal customers such as my mum.
Mrs Train and 64 taste-test results
Someone else conducting Fever-Tree family 'scuttlebutt' of late has been ace stock-picker Nick Train.
He purchased Fever-Tree shares during February and March this year, and his Lindsell Train fund currently owns 5% of the stock. Mr Train's research noted "Mrs Train wouldn't dream of mixing her Tanqueray with anything other than Fever-Tree":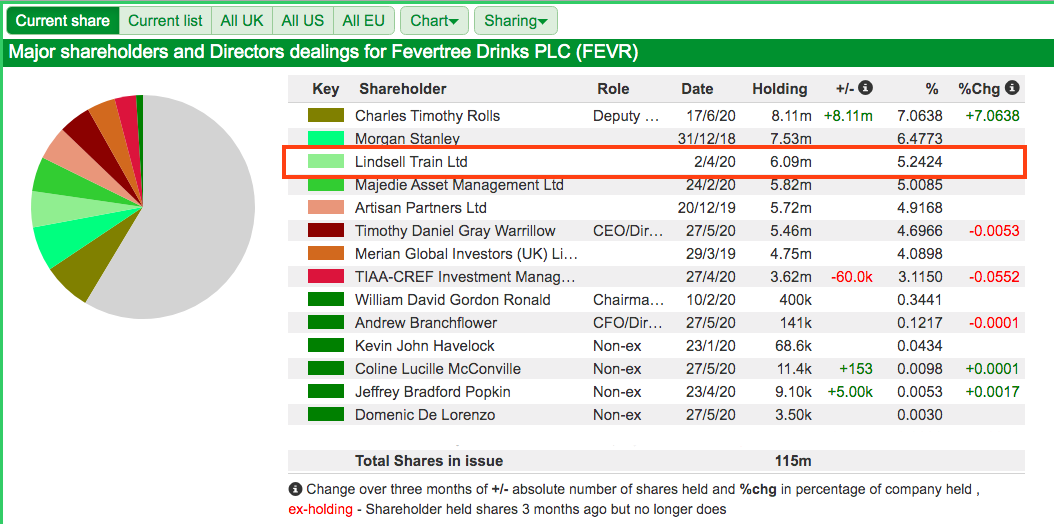 In the interests of balance, I must confirm not everyone prefers Fever-Tree's drinks — at least according to Steve the Barman:

Steve has hosted no less than 64 G&T events during the last few years, and recorded the verdicts from the blind taste tests that judged twelve Indian tonic waters. As tonic-water taste tests go, the results were as authoritative as I could find.
Worrying news perhaps for Fever-Tree shareholders — Steve claims Fever-Tree's Indian tonic water ranked tenth out of the twelve from the 64 events.
The standouts were Schweppes 1783, which came second, and Merchant's Heart, the "out and out winner" and a "phenomenal tonic water". Even the own-brand tonic waters from Tesco and Aldi captured more votes than Fever-Tree.
I must also tell you Steve reckons the "Gin Boom" subsided last year:
His G&T gigs have now been replaced by rum tasting events. I will have to let you decide what that means for Fever-Tree — although I doubt my mum or Mrs Train will be too concerned.
Until next time, I wish you safe and healthy investing with SharePad.
Maynard Paton
Disclosure: Maynard does not own shares in Fever-Tree.
This article is for educational purposes only. It is not a recommendation to buy or sell shares or other investments. Do your own research before buying or selling any investment or seek professional financial advice.