It has been a month since Richard revealed the latest shares to pass his 5 Strikes system. The good news, some have passed with flying colours.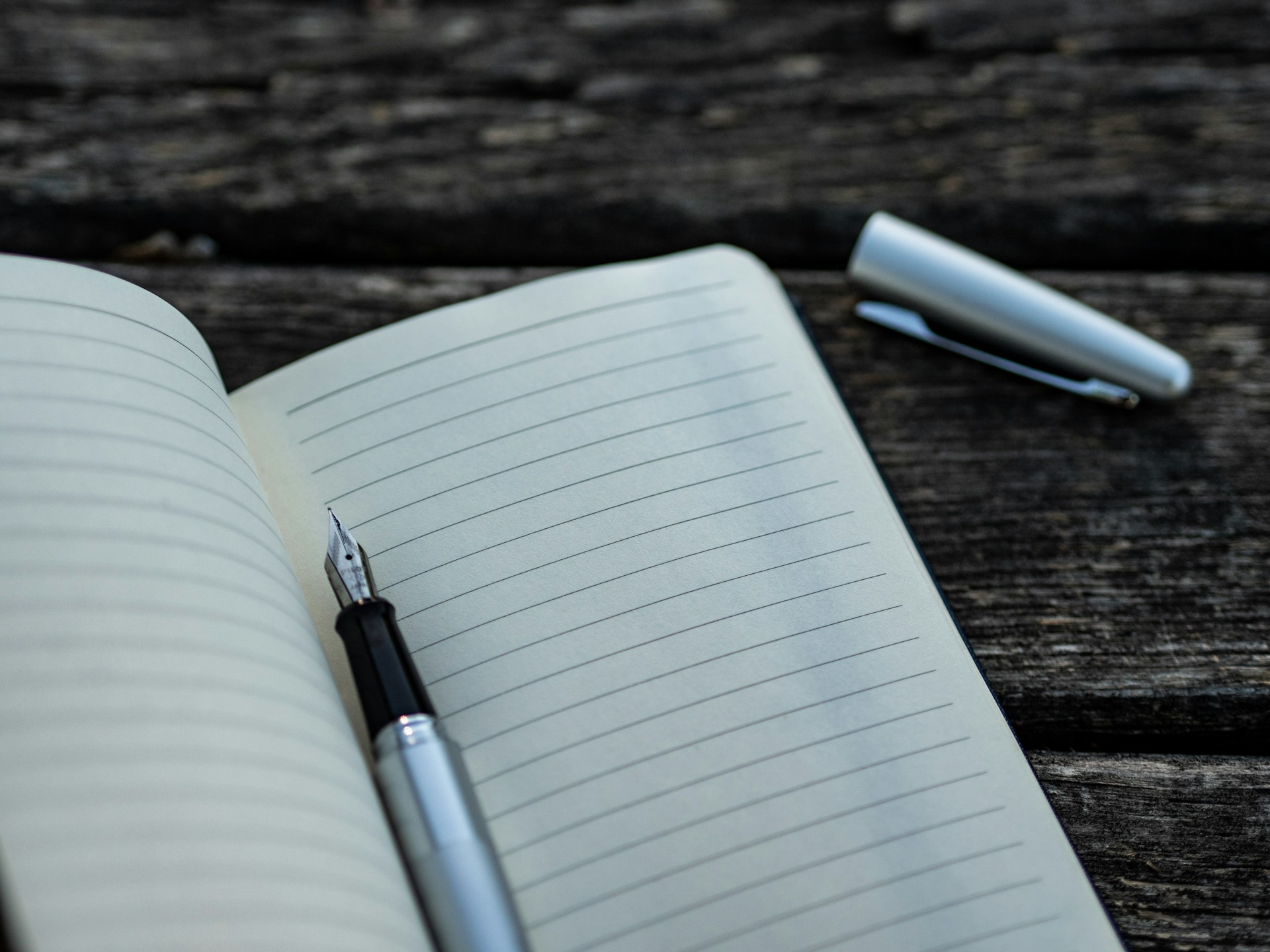 5 Strikes* is my main method of discovering new long-term investments, and since we share my discoveries here regularly, some readers will be familiar with it by now. If you are coming across 5 Strikes for the first time though, or you would like to refresh your memory, I have written a short description of the method at the end of this article.
From zero strikes to two
Since my last update a month or so ago, fifteen companies have published annual reports which have achieved two strikes or fewer. That means, after a cursory look at the data, there is very little not to like about them:
| Name | TIDM | Strikes | Score |
| --- | --- | --- | --- |
| Dunelm | DNLM |   | 0 |
| Volution | FAN |   | 0 |
| Thorpe (F W) | TFW |   | 0 |
| Gateley (Holdings) | GTLY |   | 0 |
| Wilmington | WIL | – Holdings | 1 |
| Tristel | TSTL | – Shares | 1 |
| James Halstead | JHD | – Growth | 1 |
| Renishaw | RSW | – CROCI | 1 |
| Brooks Macdonald | BRK | – Holdings | 1 |
| Fonix Mobile | FNX | – IPO – CROCI | 2 |
| MJ Gleeson | GLE | – CROCI – ROCE | 2 |
| Smiths Group | SMIN | – Holdings – Growth | 2 |
| Wetherspoon (JD) | JDW | – Debt – ROCE | 2 |
| Arcontech | ARC | – Holdings – Growth | 2 |
| Hays | HAS | – Holdings – Shares | 2 |
| PZ Cussons | PZC | – Holdings – Growth | 2 |
Dunelm probably needs no introduction. It is an impressively profitable retailer of homewares and I have used its numbers in my explanation of the 5 strikes system below. I can only believe some inner prejudice has prevented me from investigating the company more closely before. It joins my list of shares to research today.
Perhaps prejudice explains why I am so disinterested in Dunelm. How can duvets, picture frames, and mantelpiece ornaments spelling out "Love" be so profitable?
A similar feeling of incredulity probably explains my prior lack of interest in Volution, which goes by the apt ticker code of FAN and makes ventilation products.
Often dull companies make very good investments. I have done well out of lift components, fitted kitchens, and toilet paper so I need to be open to the potential of extractor fans.
Volution, though, was a more difficult company to score than Dunelm. Return on Capital Employed has been strong this decade but was below par previously, and the share has also spent almost all of its free cash flow on acquisitions. It is borderline in terms of these two criteria.
As a veteran shareholder in commercial lighting company FW Thorpe, I am already familiar with the company and due to update my research on it imminently now it has published its annual report.
The company seized on the transition to LED lighting by adding features that make lighting systems smarter. It has strong relationships with end customers, architects, and designers in the UK, and a growing international business.
Gateley is simultaneously enticing and terrifying. It was the first of a number of commercial law firms to discontinue its partnership structure and list on the stockmarket. Although these businesses have generally performed well, their share prices have not, which could mean they are undervalued.
To my inexpert eyes, though, one law firm looks much like another, and I need to believe a business is special in some way to hold on to it for the long-term. This tends to be easier for businesses that make things than for service businesses, but since there are at least five listed law firms perhaps a look at the sector would be a good place to start.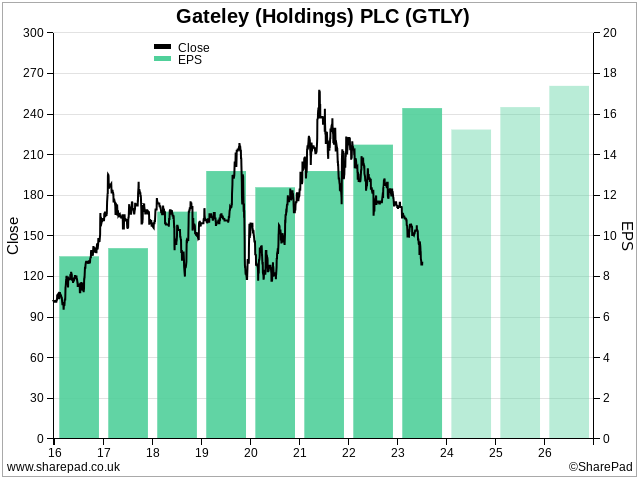 Like FW Thorpe, I re-evaluate the three manufactures with 1 strike routinely every year (and I own Tristel and Renishaw). Tristel makes hospital disinfectants, James Halstead makes vinyl flooring and Renishaw makes machine tools, 3D printers and other equipment for automating manufacturing (primarily).
One thing all three companies have in common with FW Thorpe is the founder or founder family involvement.
The other two companies with one strike to their name are Wilmington and Brooks Macdonald.
Wilmington supplies information about regulations and compliance training. Regulatory compliance is a dull but essential activity, and it looks as though Wilmington has well-established and respected brands.
Brooks Macdonald invests other peoples' money in bespoke portfolios of funds, some of which it runs itself. It says its centralised investment process delivers strong and explainable investment returns. Certainly, the fees have generated good returns for shareholders, and if it is true to its words, I like the company's ethos.
*Five Strikes
Five strikes is my main method of deciding which new shares to analyse. It uses a SharePad filter, A sharePad list view and a SharePad custom table to show me the numbers I need to make a preliminary evaluation.
I perform the same routine every working day when the stockmarket is open, although it could be once a week, or once a month. There would just be more shares to evaluate each time.
First I run a "Minimum quality" filter on SharePad's list of LSE shares (excluding investment trusts). This filters out all companies that have been listed for less than three years or produced negative cash flows over the last three years. For these companies, there is very little data to go on.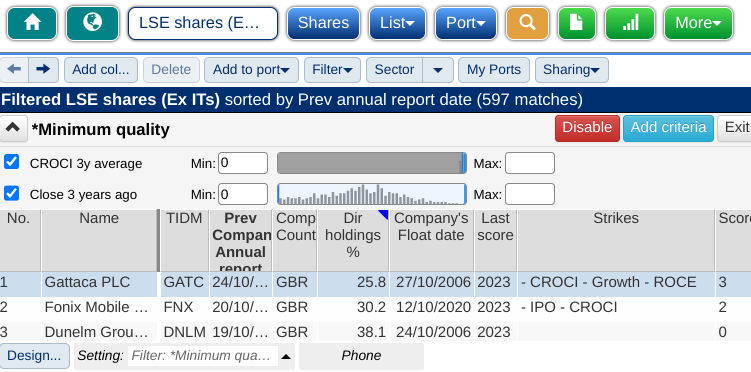 The list view is sorted by the date of each company's previous annual report, so I can easily see any that have been reported since I last checked the list. The next three columns show three data points that can potentially count against companies.
They are the company's domicile (any company headquartered abroad gets a strike), directors' holdings (if the directors do not have substantial shareholdings the share receives a strike), and the company's float date (if the company floated after 2015 it receives a strike).
The first thing I note is the calendar year in a "last score" Note column so that I do not accidentally put a share through the process more than once a year.
Then I write down a code for each strike in the "Strikes" Note column, so I know what I didn't like about the share. For example, Fonix Mobile floated in 2020, so it gets a strike "- IPO". The other strikes in the screenshot relate to a custom table, which I display below the list view: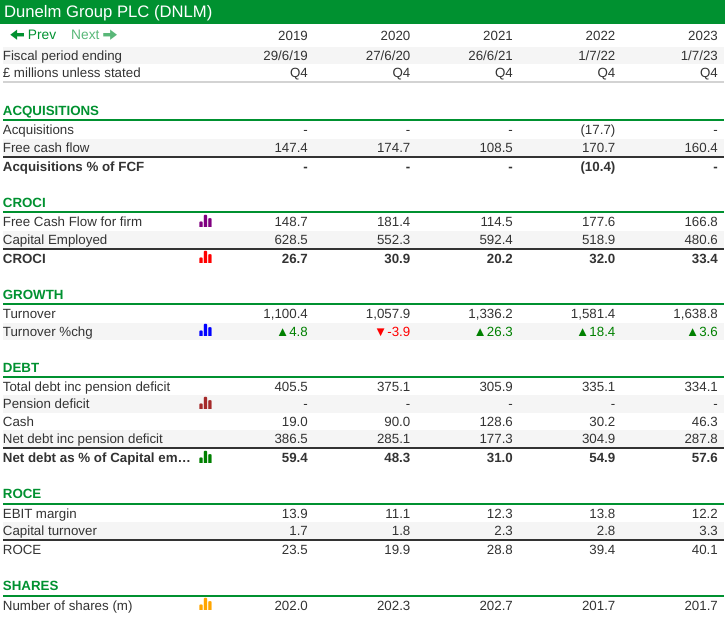 Although I can only fit five years of data in the width of this article, SharePad's data goes back for decades if the company has been listed long enough, which means almost at a glance we can form an impression of how profitable and reliable a business has been.
Reliable growing businesses are often easier to analyse, and they can also be underrated because they tend not to be exciting, which is why they are my natural hunting ground.
Dunelm is a good example, which is why it scores 0 strikes, a rare accolade.
The other two examples in the screenshot are not of the same calibre, but I would not rule them out as potential long-term investments.
Fonix Mobile earned negative Cash Return on Capital Invested (CROCI) in 2021, which, added to the strike for its recent flotation, gives it two strikes.
Gattaca scored three strikes for CROCI, Growth, and ROCE. The combination of negative cash flow in some years and low Return on Capital Employed is a bit of a turn-off, and it is unlikely, but not unthinkable, that I would investigate the company further.
Deciding whether a business has performed well or badly over the long-term requires judgement. I did not penalise Dunelm's negative growth in 2020, it was, after all, the first year of a pandemic, and anyway, I do not expect good companies to grow every single year.
If a company spends more than it earns on acquisitions in a single year, that may not be cause for concern. But if it spends many times more than it earns, or it spends more than it earns over a long-period of time, it may be taking big risks.
Investors make judgements like this all the time, but I am trying to bring a bit more rigour to the process.
Finally, I total the number of strikes in the "Score" Note column.
~
Contact Richard Beddard by email: richard@beddard.net or on Twitter: @RichardBeddard
Got some thoughts on this week's article from Richard? Share these in the SharePad chat. Login to SharePad – click on the chat icon in the top right – select or search for a specific share

This article is for educational purposes only. It is not a recommendation to buy or sell shares or other investments. Do your own research before buying or selling any investment or seek professional financial advice.