The world's biggest bootmaker Dr Martens may be the strongest single brand company available to UK investors, but before he becomes invested for the second time in his life, there are a couple of objections Richard must overcome.
Today, I am taking a first look at Dr. Martens, for three reasons:
It has just published its second annual report as a listed company, so we have lots of new information
SharePad tells us Dr. Martens is highly profitable and cash generative despite factory closures and escalating costs due to the pandemic, so it may be a good long-term investment
We all know the product. It is a very distinctive shoe brand, and probably a relatively easy business to understand
When I was in my teens and early twenties, I wore DM's, as I called them. While I was at school it was the shoes, because that was as rebellious as my parents would let me be. Then it was the boots.
Three and a half decades later, my daughter is in the same age bracket. She wears Docs, as she calls them, too.
| | |
| --- | --- |
| | |
| DMs, circa 1985 (photo: Richard Beddard) | Docs, 2022 (photo: Ellen Beddard) |
Docs is what Dr. Martens calls itself, it is the company's stockmarket ticker code, and also the acronym for the company's strategy, which is also, on paper, appealing.
It stands for:
Direct-to-consumer first
Investing in ecommerce, physical stores and starting a profitable repair, resale, and end-of-life business. Currently, the split is 51% direct, 49% wholesale
Organisational and operational excellence
Investing in the other assets needed to bring a good product to market: staff, technology, and managing suppliers.
Consumer connection
Developing and marketing durable, rebellious, and expressive Docs
Support brand extension with B2B
Surely mangled to fit the acronym, Dr Martens is rationalising distributors and wholesalers so it has fewer and closer relationships with bigger intermediaries
At a high level, the strategy is coherent and self-reliant. Dr. Martens has very distinctive products so it should seek to influence or control the way they are sold (the D and S parts of the strategy)
And as these elements of the strategy bring it closer to customers it should learn even more about making and marketing distinctive shoes (the C part of the strategy).
It is supported by the company's culture. Dr. Martens describes employees as custodians that take a long-term view, making decisions as if they owned the business so they leave it in a better position than when they joined.
But I get ahead of myself…
Objection!
Before researching a share, it is useful to write down any objections to owning it, based on our limited prior knowledge. If we cannot overcome these initial objections, there is not much point in researching further.
As I opened my file on Dr. Martens, this was what I was thinking:
The company has not been listed long, it floated in January 2021
Maybe the shoes go in and out of fashion, after all, I stopped wearing them
The concerns are linked.
Dr. Martens' short time in the public eye means its financial history is partially occluded because privately owned businesses publish much less financial information in their accounts and almost no commentary.
Companies also list on the stock market when they are doing well. That way the shares command a high price and the owners selling out make a lot of money.
Dr. Martens is performing well now, and that could be because the shoes are particularly fashionable or it could be that its managers are doing a great job.
Probably it is both, but if the popularity of Docs is not sustained, our limited view of the company's financials will not be a reliable guide to the future.
There is of course another risk exclusive to me. My fond memories of DM's could sway my view of the strength of the brand and the investment.
Docs in 2022
The prospectus, published at the time of the flotation, fills in some blanks in the company's history.
The first pair of Dr. Martens boots came off the production line in Wollaston over 62 years ago in 1960. Originally a £2 workboot, from the 1970s the brand flourished on the feet of all kinds of youths from mods and punks to ordinary kids.
It expanded into a global brand, but in some respects, it was over-centralised and underinvested.
Today, Dr. Martens says Docs transcend fashion.
In the year to March 2022, fifty-one per cent of revenue came from "Originals": the 1460 (the classic boot), the 1461, (the classic shoe), and the 2976 (a Chelsea boot in production since the 1970s). It describes them as "iconic wardrobe staples".
Thirty-six-per cent of revenue comes from the "Fusion" category, amped-up versions of the Originals: patterned shoes with platform soles. It includes the emerging, contra-seasonal, and rapidly growing category of sandals.
The main purpose of flashy designer reinterpretations of the Originals is to create buzz. People like the pink, but buy the black, the company's chief executive says.
That leaves 17% of revenue, which comes from more casual variants, kids shoes, and accessories.
Being unisex, Docs also transcend gender. They have a leather upper like a shoe, and a PVC sole like a trainer so they bridge the smart/casual divide, and they are worn by people of all ages.
Dr. Martens says Docs are a blank canvas through which consumers can express themselves, and I can attest that my DMs were the only shoes I have ever customised (very modestly – see my lace substitutions in the photo above).
Though the appeal of Docs is both enduring and broad, Dr. Martens focuses most of its marketing spend on people in their mid-teens to mid-twenties because that is when most people buy their first pair.
I do not know how many people go on to buy a second pair, a third pair and on into middle age, though, and that makes it difficult to decide whether strong growth in turnover and profit for the limited period we have data is likely to continue (analyst forecasts are in a lighter shade):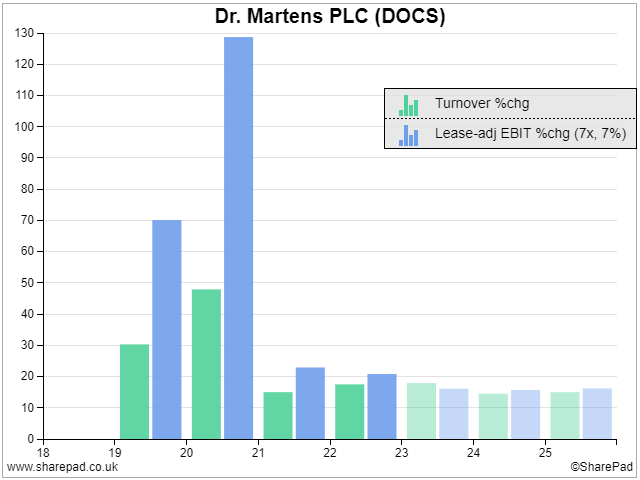 In the two years before the pandemic (to March 2020), turnover grew 30% and 50%. During the pandemic, it fell back to the mid-teens and analysts forecasts predict more of the same.
Dr. Martens believes its focused strategy will allow it to increase market penetration even in the UK, where 32 out of every 1,000 shoes sold is a pair of Dr Martens.
The next best market is the US, where the company is rolling out stores on a state-by-state basis and sells 17 out of every 1,000 pairs.
Penetration is not far off the US level in some of the major European countries, and although the company has a firm foothold in Japan, it sells very few shoes in China, where Dr. Martens has yet to apply its DOCS strategy.
But the home of Docs is England, and I wonder whether its cultural allure will be as potent and sticky abroad as it is here.
Additional kicker
To my mind, the aggregate of traders' decisions in the stock market is telling us a different story to the analyst's forecasts. The share price has tanked since the company floated in January 2021.
A price of 237p values the enterprise at less than 12 times EBIT (profit before interest and tax) according to SharePad.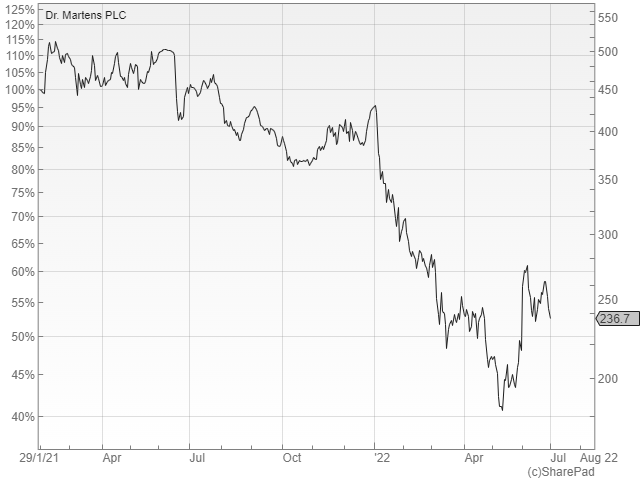 Docs are not cheap, a pair of 1460's will cost you £149.99, but the company is confident it can raise prices to match the growing cost of making and shipping them. Maybe it can. Such is the power of the brand, that its policy is never to discount the staples.
I am a sucker for a sensible strategy, and my instinct is the analysts making forecasts may be closer to the truth.
~
Contact Richard Beddard by email: richard@beddard.net or on Twitter: @RichardBeddard
This article is for educational purposes only. It is not a recommendation to buy or sell shares or other investments. Do your own research before buying or selling any investment or seek professional financial advice.