Prompted by the notion that executives sometimes vote with their feet, Richard takes a first look at Morgan Advanced Materials. It recently poached Victrex's chief financial officer.
A by-product of attending the Victrex Annual General Meeting earlier this year was the opportunity to ask its chief financial officer why he was leaving for the arguably less successful Morgan Advanced Materials in June.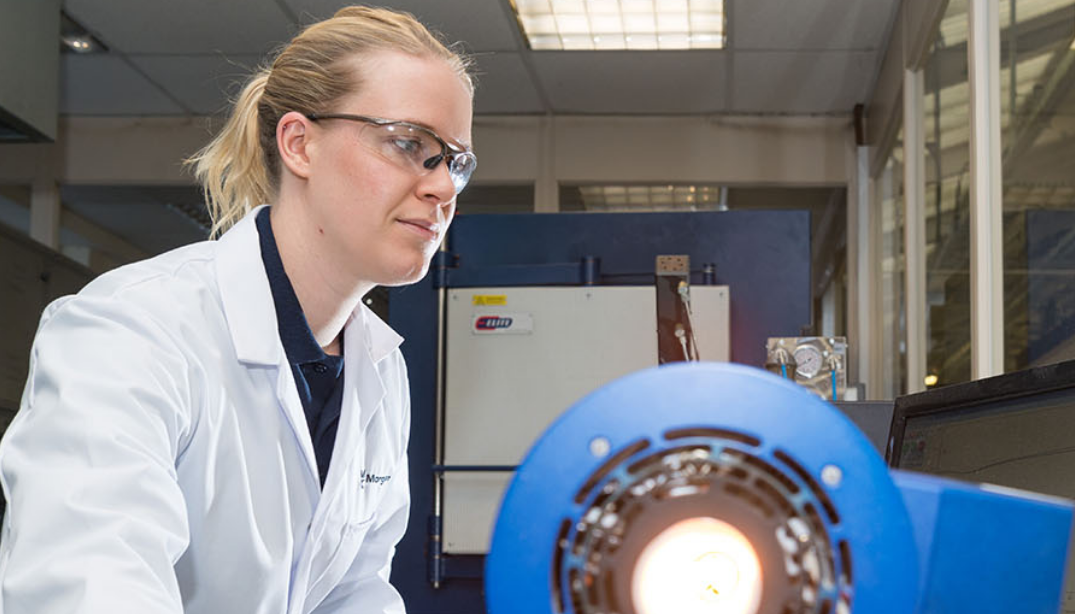 Material boy
Victrex is a smaller business. Its turnover was just over £300 million in the year to December 2021 compared to Morgan Advanced Materials' turnover of £950 million, but Victrex has grown much more in the two-and-a-half decades since the beginning of SharePad time and generally it is more profitable.
Morgan Advanced Materials typically achieves low double digit Return on Capital Employed so it is not a bad business by this measure.
Both companies make durable materials that perform well in hostile conditions, often in machines: planes, trains, automobiles, smartphones, and industrial equipment for example, but also implanted in human beings.
Morgan Advanced Materials makes advanced ceramics, and components out of ceramics and carbon.
Victrex makes PAEK and PEEK, which sit atop a pyramid of polymers (plastics). About a decade ago it also moved into the manufacture of components.
Mr Armitage was looking forward to the greater challenges for an accountant at his new employer. Morgan Advanced Materials has debt, and a large defined benefit pension scheme for example (both of which have shrunk somewhat in recent years), but I also wondered if he senses more opportunity there.
Despite its illustrious past, Victrex is finding it harder to commercialise new polymer parts than it expected to, and other materials may catch its eye.
At the AGM, I asked Victrex's chief executive about this sentence from the company's annual report:
"Whilst PAEK/PEEK remains the focus, we remain mindful of opportunities for collaboration or other investment opportunities within similar or related technologies…"
The company has stuck resolutely to its knitting over the decades, so I was interested to find out what technologies might be of interest. He told me ceramics might be.
It is amazing what our minds can do with a little information. I have already begun to spin a story that Mr Armitage's career change and Victrex's potential interest in ceramics means its glory days are behind it and Morgan Advanced Materials may be about to enjoy a renaissance.
The truth is probably more prosaic.
I am not proposing my fantasies are useful, just explaining why I decided to flick through Morgan Advanced Meterial's annual report and acquaint myself with the company in SharePad.
How Morgan makes money from ceramics
There are four main types of material used in industry: metals, ceramics, polymers and composites, which are combinations of materials.
Each of these groups have common characteristics. Metals tend to be strong and conductive but heavy and easily corroded, ceramics are resistant to corrosion and not conductive but they can be brittle, polymers are light and malleable but relatively soft.
There is wide variation within each group and so their applications overlap. Often this means component designers have a choice whether to use metal, plastic or ceramics.
The quest to prove one material is better than another for a particular application drives competition.
Morgan Advanced Materials manufactures thermal insulation that keeps people safe in cars and oil platforms. It makes panels that keep Covid 19 vaccines cold during transportation. Cochlear implants contain ceramic components made by the company. It also makes carbon brushes that transfer electrical current between stationary and moving parts in wind turbines. It still makes foundry crucibles, the vessels in which metals are melted for casting, a component that enabled the industrial age.
Source: YouTube. This video shows carbon and ceramic component applications for automobiles. Interactive demonstrations of aerospace, automotive, domestic and medical applications are available on the Morgan app for Android and Apple. Every manufacturer should make one of these apps!
Giving Morgan Advanced Materials the once-over
Over the last four years, Morgan Advanced Materials has increased sales and product development activity in four markets: clean energy, clean transportation, semiconductors, and healthcare, which it believes can deliver high single-digit growth at least, while enhancing the company's environmental credentials.
In the year to December 2021, the company earned 20% of turnover from these faster growing markets. It demonstrated they are faster growing by increasing organic adjusted operating profit derived from them by 22%. This compares favourably with the group's overall growth rate of 10.3%.
Though there is an element of recovery from the first year of the pandemic, the company says it achieved its highest profit margin for 20 years in 2021, having passed on cost inflation and achieved £20 million in savings due to the closure of some manufacturing sites.
It expects revenue to grow again in 2022, and profit margin to widen due to higher volumes and a full year without the costs saved in 2021.
After a period of site closures and some divestments, it has adopted three strategic priorities, building on its materials know how to:
Make a big positive difference
Innovate to grow
Delight the customer
The rationalisation has put Morgan Advanced Materials on a sounder footing. It probably started with the appointment of Pete Raby as chief executive in 2015, and Peter Turner as chief financial officer in 2016.
The company's acquisition history (below) confirms Morgan Advanced Materials' internal focus since their appointment.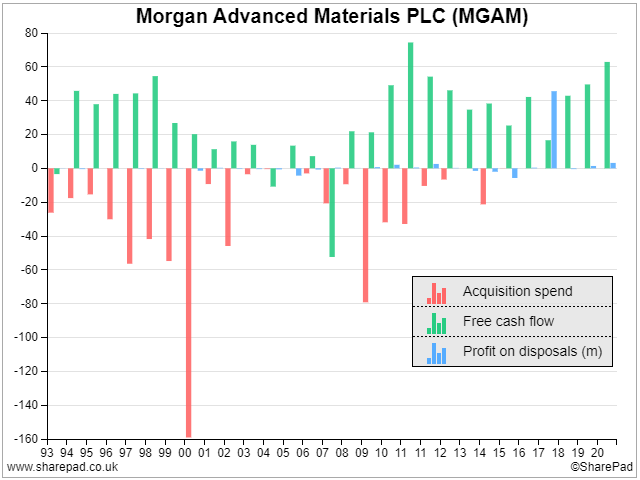 But Morgan Advanced Materials has not forsaken acquisitions. The new strategy moots them, if it can acquire differentiated materials to scale up and sell around the world.
To my mind the strategy is worthy, but generic. It does not tell us much about what the company is doing differently.
If they want to compete successfully, rivals will also be attentive to customers, employees and the environment, innovate new materials and focus on faster growing markets.
The investment case may rest on the know-how behind it all, which is difficult for an outsider to discern.
On the plus side, there's the company's long history. It has been making products from carbon and ceramics for well over 100 years.
It was founded as The Patent Plumbago Crucible Company by the Morgan brothers in 1856 and its first products were crucibles for The Royal Mint and other mints around the world. The company diversified into carbon brushes after it floated as Morgan Crucible in 1890.
On the down side, there's the company's history (that's not a typo)…
While I am not a fan of using the share price to draw conclusions about the quality of a business over the short-term, I do believe it tells a story over the long-term.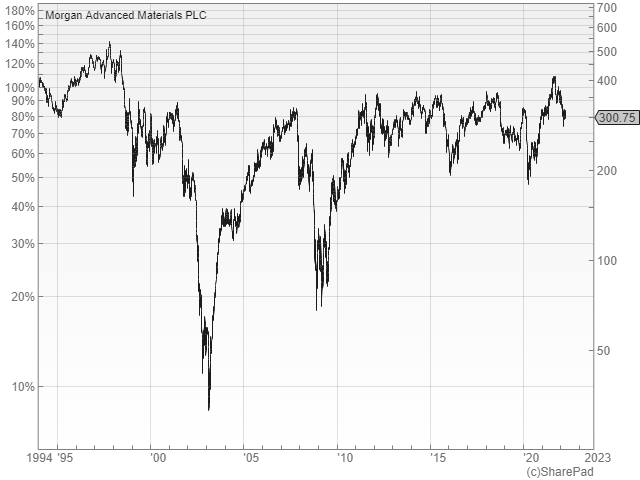 Once you see a price chart that has, barring the odd crisis, essentially gone nowhere for nearly 30 years, it is hard not to unsee. It reflects the fact that earnings per share has gone nowhere too, despite, or perhaps because of all the acquisition activity before 2015.
Another legacy of the company's history is a large defined benefit pension obligation, which is not matched by the assets in its pension schemes of which by far the biggest is in the UK.
To plug the deficit the company is increasing the amounts it pays into its UK pension scheme by 2.75% a year until 2025, with further payments due in 2016 and 2017. To put that figure in perspective the £16.9m of pension payments in 2021 was 12% of cash generated from operations.
This cash could otherwise be invested in the business or paid to shareholders, increasing the attractiveness of the investment.
Better than it looks?
Believing Morgan Advanced Materials will be a better business than it has been in the past implies previous generations of management failed to make the most of the company's know-how, or that scratch the strategy deeper than I have and we will find hard choices already differentiating the business, or that the market is changing and developments like the electrification of power trains are tilting the it in favour of ceramics and carbon.
I am intrigued.
The company puts strong emphasis on training and working on its "employer brand" by improving the recruitment and training of people who may find a way to make the company more special.
I am also intrigued by its low valuation.

Source: SharePad > Financials> Summary
Richard Beddard
Contact Richard Beddard by email: richard@beddard.net or on Twitter: @RichardBeddard
This article is for educational purposes only. It is not a recommendation to buy or sell shares or other investments. Do your own research before buying or selling any investment or seek professional financial advice.