Richard takes a first look at Garmin. The World's Simplest Stockpicking Strategy told him to.
I can tell you precisely the moment I first thought of buying shares in Garmin, because I tweeted about it.
It was Sunday 30 January and I was sitting on the sofa, checking my watch to see what kind of run it suggested I should do. Garmin watches base their recommendations on previous activity and the copious amount they know about our fitness. A Garmin, you see, is only a watch in the same sense that a Tesla is a horseless carriage.
My Garmin had been learning about me since I had first strapped it on my wrist on Christmas Day. After a month of continuous use, I could not imagine running without it.
My career as a Garmin fanboy has been short because this is only my second ever sports watch. The first was a Fitbit, owned briefly for 3 days last Autumn. The Fitbit was the anti-Garmin. The heart rate charts it claimed were mine were so outrageous, I thought I might have a condition. Its Global Positioning System (GPS) wandered off by itself during runs. Half way through a half marathon it was so addled by rain hitting the touchscreen it would no longer tell me how fast I was running.
I sent the Fitbit back, though I am sure it would have got lost had it been relying on its own GPS.
Some of the Fitbit's flaws may have been specific to my unit but some are basic design choices. All my running friends have Garmins and they told me there is a reason Garmins have buttons. Buttons work in the rain, and the pool.
The Fitbit was a toy, and you do not want a toy if you are monitoring your health, or are competing with your sons for the fastest predicted marathon time.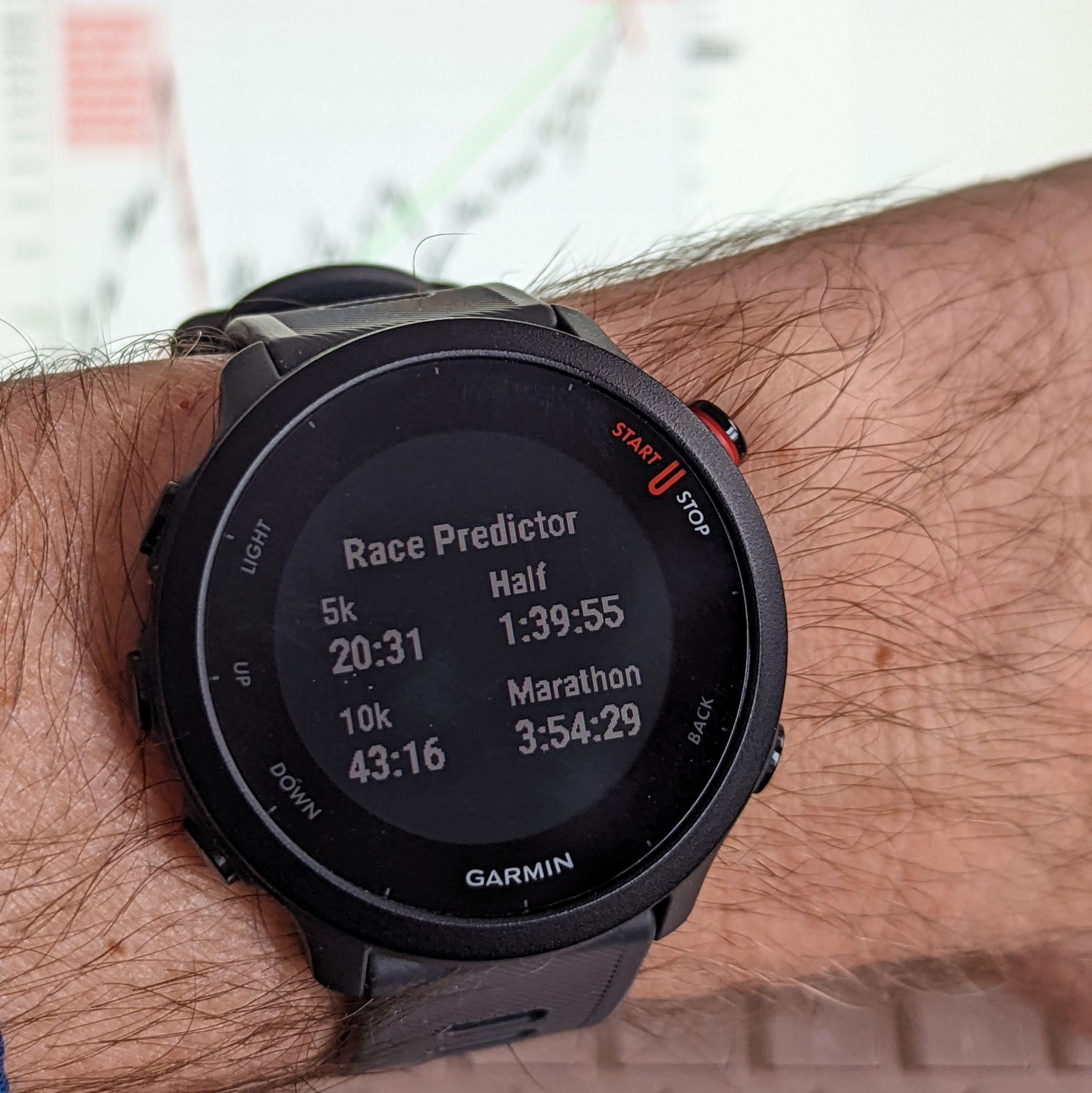 Garmins confer bragging rights. Source: The author's wrist. Based on his actual times, Richard assumes these predicted times are aspirational.
The World's Simplest Stock Picking Strategy
I am channelling my inner fanboy because I am slightly under the influence of a book I read (and reviewed) last year. The Book is The World's Simplest Stock Picking Strategy by Edward W Ryan.
Mr Ryan's strategy is to follow the companies that make the products and services we are most excited about and use most. He says these companies have a special hold over us, and that gives them pricing power, the ability to charge a big margin over costs.
His system advocates buying these companies and holding them, until we are no longer excited by their products, and no longer using them.
I am very doubtful my product tastes are sufficient to bring me investment success alone, but loving a product other people also love is probably a good starting point for investment.
Garmin is loved enough to earn over $4 billion in sales a year. It is a Swiss company, listed on the New York Stock Exchange. The fact that it is listed in New York means it is readily traded on the big UK investment platforms and of course, SharePad has a ton of data on it.*
Running the numbers in SharePad
That data can help us confirm whether Garmin is a good business. I hope so, because the shares are not outrageously expensive:
Source: SharePad
Most years, Garmin has earned impressive returns both in terms of profit, and cash flow. Return on Capital Employed is routinely around 20% and Cash Return on Capital Invested is a bit more variable, but almost always in double figures.
Profit (EBIT) margins have routinely fallen between 20% and 30%, which is very respectable and, in addition to Garmin's evident hold on me, a sign of pricing power.
Garmin has made modest sized acquisitions over the years, but not issued shares to fund them or spent anywhere near what it has earned in free cash flow. In other words it has grown under its own steam.
In terms of borrowings and lease obligations, the company typically operates with a year-end cash surplus, so it is conservatively financed.
The only blot I can see in the company's performance record is a five or six year period from 2008 to about 2014 when turnover and profit contracted. Before and since then Garmin has been a really good looking business.
A brief history of Garmin
That contraction is worth exploring briefly, because it had a profound effect on the share price: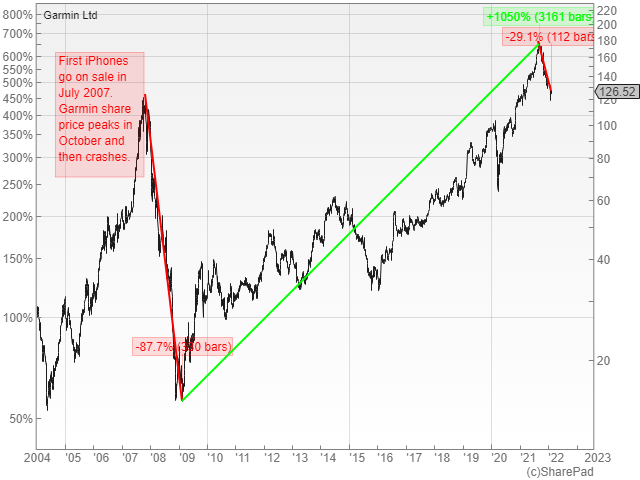 Garmin pioneered the sat nav. I had one in my car, and a hand held one I would chuck in the bottom of my rucksack when we went into the wild. I figured we would work out how to use it if we ever got truly lost.
The collapse in confidence in 2007 was precipitated by the launch of the first iPhone, which had Google Maps installed. The iPhone was followed by Android phones, inevitably bundled with Google Maps too, and very quickly smartphones were equipped with GPS.
The Garmin Satnav had become a free feature in another product about to become ubiquitous just as the Great Financial Crisis unfolded. These events resulted in a near 90% crash in Garmin's share price, far worse than the subsequent contraction of revenue and profit.
Garmin survived and prospered because it had also taken its GPS technology into niche areas where a smartphone would not suffice, products for going off the smartphone grid on land, in the sea, and in the air, and watches for measuring our sporting performance.
Opportunities and risks
Since Garmin has been robbed of business by the technology giants before, perhaps it could happen again.
The Apple Watch is a far bigger business than all of Garmin. Fitbit is bigger too, and now owned by Google. Their products are making features of some of Garmin's performance and health tracking capabilities, but Garmin has a different approach to the market. It makes devices that appeal not just to sporty people, but particular kinds of sporty people. My wife has one optimised for triathletes, while my cheaper model is optimised for individual sports.
Fitness watches are only part of what Garmin does, it develops a multitude of devices from the GPS related technologies it has developed since the technology was first declassified by the US Government. Fitness is not even the biggest of its five divisions, and each division has a different set of competitors.
Garmin's biggest and most profitable market is Outdoors, a division that includes adventure watches with features unlikely ever to make their way into an Apple, satellite communicators, all-terrain navigators and dog trackers.
Garmin makes cockpit instrumentation for planes and chartplotters for boats, and it still makes sat navs for cars, although this was its smallest division in 2020, and the only one to lose money.
Curiously, Garmin is still investing heavily in auto, but this business is low-margin and the company says it needs to win more contracts with manufacturers supplying car makers, or risk protracted losses from this division.
The idea of more losses in one part of Garmin is unnerving, but the ability of profitable companies to take pain in the expectation of profit in the future is also a sign of strength. One of the ways the ability to take pain manifests itself is in the cost of research and development.
Garmin's products are so good because it has invented its way out of trouble by investing an extraordinary amount in research and development: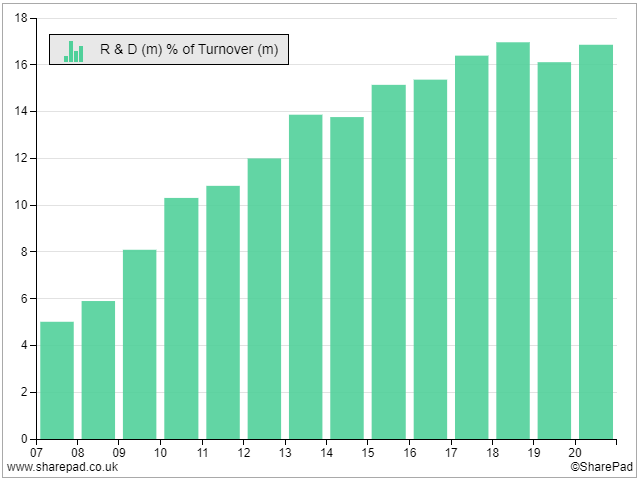 I think Garmin gets this strength from its board, which has probably instilled a self-reliant culture in the company.
Dr Min Kao, the executive chairman and a substantial shareholder is the company's co-founder. He is the "min" in Garmin. The son of the other co-founder, Gary Burrell – the "gar" in Garmin, holds an even more substantial holding and a seat on the board. The chief executive Clifton Pemble is a Garmin lifer who started as a software engineer in 1989.
In a Forbes interview, Mr Pemble said: "We're not trying to out-Apple Apple. We're trying to be Garmin."
It sounds like a cliché, but Garmin is different, and I think that is also a good starting point for investment.
The company is due to publish its annual report for the year to December 2020 imminently, but the consensus of nine forecasters is benign: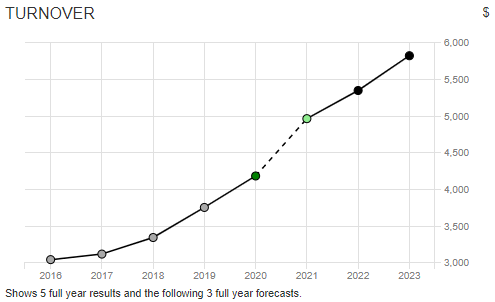 Source: SharePad
Richard Beddard
* Owning shares in foreign companies can be complicated by withholding tax, a tax levied by governments on dividends paid to overseas investors. There is an established system for UK brokers to reclaim some or all of this tax on US stocks, but since Garmin is subject to Swiss law the situation is more complicated.
Garmin exploits a technicality that allows it to pay the dividend in full to overseas shareholders from reserves, but at best that can only last as long as the reserves do, after which UK investors might lose 35% of their dividend income (the Swiss withholding tax rate) in addition to UK tax levied if the shares are not held in an ISA or SIPP.
At the current rate of depletion, it looks as though we could enjoy many years of full dividends, but the company offers no guarantee. Should we be charged withholding tax in the future, we can reclaim some of the tax from the Swiss tax authority. Some brokers may help with this, but neither of mine, both large investment platforms, offer a reclaim service.
Contact Richard Beddard by email: richard@beddard.net or on Twitter: @RichardBeddard
This article is for educational purposes only. It is not a recommendation to buy or sell shares or other investments. Do your own research before buying or selling any investment or seek professional financial advice.