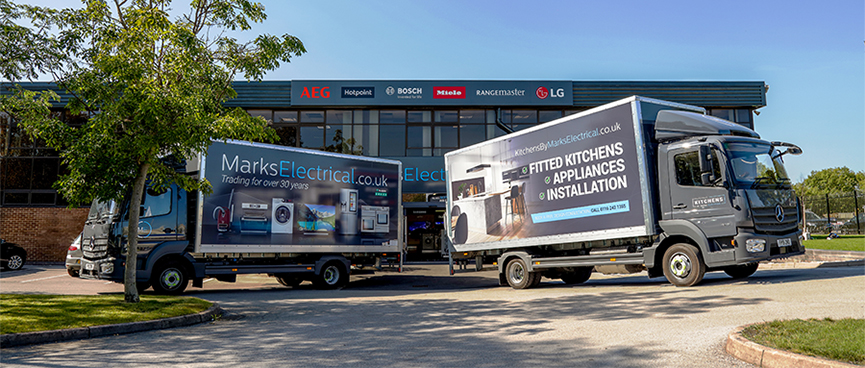 Richard was so impressed by his first look at newly listed Marks Electrical, he was tempted to buy something from the online retailer of cookers and other domestic appliances. As for the investment, he was tempted too…
I do not know whether it is a glitch or a feature, but a quirk of SharePad has opened my eyes to a whole new world: IPOs.
Most days, I sort a table of all the shares listed in London to find out which have published annual reports recently. This means I consider, usually very briefly, every share once a year.
I use the information in SharePad to decide whether a company is of any interest and if it is, one thing leads to another, and ultimately I find myself immersed in the annual report.
The column to sort on is "Company's Annual Report Date", but if a company has just listed and not yet published its annual report, the Annual Report Date appears to be set to the date of the publication of the admission document or prospectus accompanying the listing.
These documents are rather fascinating. They often say much more about a company's history, its strategy, and its competitors than annual reports do.
There is just one problem. Initial Public Offerings, as they are also known, generally make poor investments.
Here's a chart that illustrates that fact: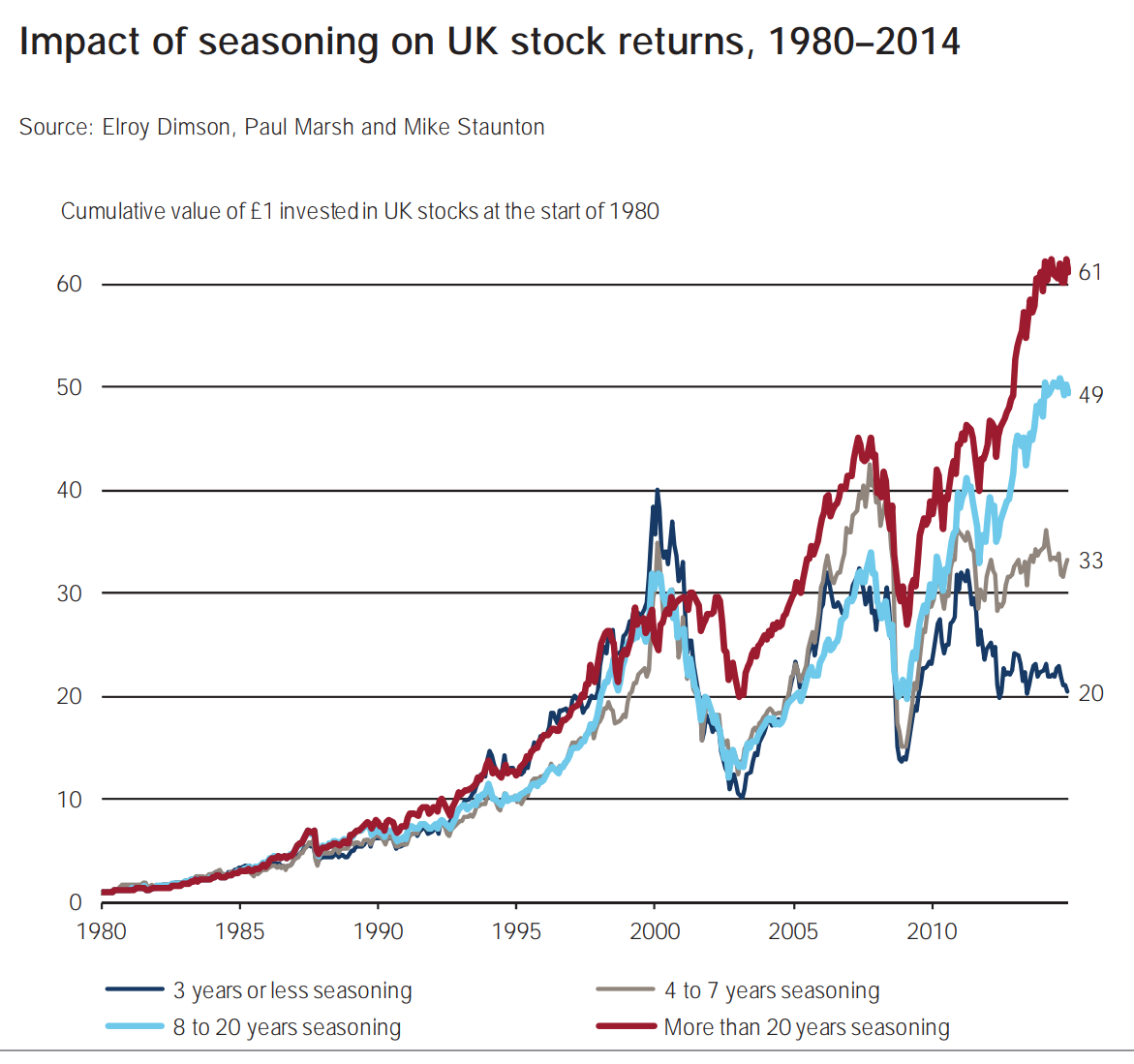 The chart shows the returns from shares grouped according to how long it had been since they had floated (which the authors, eminent finance professors, dubbed seasoning).
The study found that companies listed for more than twenty years performed more than three times better than companies that had floated less than three years previously.
Lots of businesses that float are, of course, relatively new businesses. Sometimes they have never made a profit, let alone develop competitive advantages. Sometimes these will develop into the established companies of the future, but often they will not.
But established businesses float on the stock market too, and those, I think, can be quite interesting.
Marks Electrical was founded in 1987 by Mark Smithson, the current chief executive, when he was 21. He still owns just over 70% of the shares.
Happening upon Marks Electrical
The first thing I did when Marks Electrical popped up in SharePad, once I had noted it was at least profitable, was check the company's description because I had never heard of it.
Marks Electrical sells cookers, fridges, and washing machines. The description confirmed that it understood the attractions of vertical integration, an attribute I value too (see my last article, and the one before it):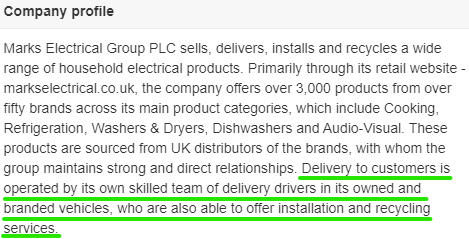 Before the pandemic the company only had one showroom at its Headquarters in Leicester, and it may not even reopen that, such has been the surge in online trading.
For online retailers the quality of a customer's experience largely depends on the online storefront and delivery, especially for large electrical items, so it is reassuring to read that Marks Electrical takes responsibility for delivering, installing and recycling.
Because the company floated earlier this month, we do not have much historical information available to us in SharePad, just the three years included in the company's admission document.
The pandemic drove customers online and the impact on sales was dramatic. Compared to the year to March 2020, the company's turnover increased 78%.
The increase in profitability was even more dramatic.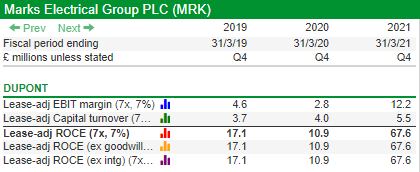 Source: SharePad custom table
Marks Electrical's profit margin increased from 2.8% in 2020 to 12.2% contributing to a huge increase in Return on Capital Employed from 10.9% to 67.6%.
In comparison, much bigger AO World increased turnover by 59% but achieved a profit margin of 1.5% and Return on Capital Employed of 12.5% (its highest in seven years).
One can only wonder at the strains on a business that experiences such a surge in demand, but Marks Electrical has been predominantly online since the early 2000s and, judging by the prospectus, its operations are as simple as can be.
Everything is stored in one warehouse in Leicester from which it can deliver to most of the UK by the next day. Nearly all of it is delivered by Marks Electrical drivers in customised vehicles serviced by its own mechanic, fueled by its own filling station that keeps a month's supply of fuel.
It did not experience fuel or driver shortages this summer.
Profiting during the pandemic
The pandemic created conditions that, online and vertically integrated, Marks Electrical was uniquely positioned to profit from.
Store closures drove people online where shortages allowed retailers to raise prices and there was a dramatic fall in marketing costs. The amount Marks Electrical had to pay for internet advertising clicks plummeted as clicks surged.
Although profitability at the current level and growth at the current rate will not be sustained, a lot of people got used to buying things online during the pandemic and not all of them are going to go back to stores as often as they did before.
Marks Electrical's expectation is that it will carry on increasing market share at the expense of less focused rivals, many of them still struggling with retail estates.

Marks Electrical market share (MDA stands for Major Domestic Appliance) . Source: Marks Electrical Admission Document
The company provides good reasons why market share should increase, starting with the fact that it is not just me that is ignorant of Marks Electrical. Hardly anybody has heard of it (a YouGov survey commissioned by the company found 6% of us know of it).
This insight has prompted the company to advertise itself, rather than the products it sells as it has in the past.
Mostly though, it is Marks Electrical's simple vertically integrated operating model that appeals.
By specialising in bulky items that are difficult to deliver (aka "unfriendly freight") like cookers, fridges, washers, dryers and dishwashers, it has given itself an opportunity to impress customers.
It has also added TVs to its range and thinks it could sell a lot more of them. Like the other categories, it focuses on premium products, highly priced TV's, many of them over 55 inches and pretty unfriendly to deliver.
The company says it has also increased the capacity of the warehouse to support a turnover of £180 million, compared to £56 million in 2021.
Kicking the tyres
Being impressed brings me to the second thing I did when I happened on the Marks Electrical, after reading the description and before reading the prospectus.
I visited the website, which Marks Electrical says it built itself back in 2003:

Source: https://markselectrical.co.uk/
The five star reviews advertised on the home page lead to Google's review page, where there were 12,486 reviews, almost all of them good: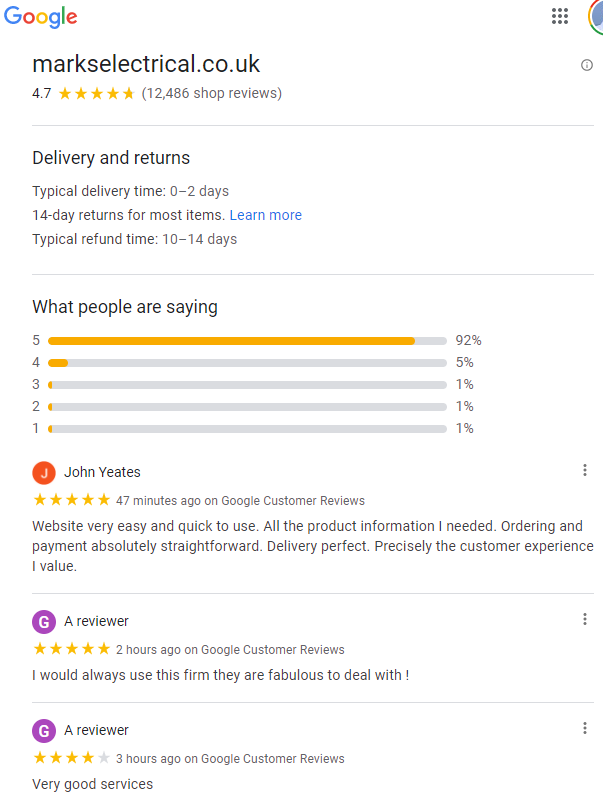 Source: Google
I would consider buying from Marks Electrical, which begs the question: If I like the service so much, should I buy shares in the company?
Buying the company
In my last article, I admired DFS' vertically integrated delivery service but worried that when times are tough we can put off buying expensive furniture indefinitely.
I doubt the cyclicality of electricals is as severe. They wear out more readily and when they do our need for a replacement is more urgent.
Nevertheless electrical items are expensive and Marks Electrical's results could vary dramatically in the future. People might prioritise low prices and basic products over good service and premium products when times are tough, and judging the impact of that is made more difficult by the fact that the company's financial history as a private company is less accessible.
The company is also reliant on growing market share because the market for domestic appliances is unlikely to grow much, at least in the UK, which is the only market Marks Electrical sells in.
But online sales should keep growing at the expense of store sales, which creates problems as well as opportunities for some of Marks Electricals' competitors like Curry's and John Lewis.
Meanwhile, AO World, Marks Electrical's bigger online-only competitor has customer service ratings from Google and Trustpilot that are only a smidgen lower. It has been chasing growth at the expense of profitability, though, and I find it hard to muster enough confidence to invest in companies that cannot or do not grow profit simultaneously with turnover.
On the face of it, Marks Electrical is resolutely focused on the most profitable aspects of selling electricals.
For example, bulky items require specialist skills and equipment to deliver and install. Premium products (the company's biggest supplier is Bosch) are usually easier to install, better packaged and more reliable, and so delivery and installation costs are a smaller proportion of the overall sale.
Customers of premium products, on the other hand, are more willing to pay for good service, so owning the delivery fleet and training and managing drivers is affordable.
Keeping everything under one roof probably does simplify things. There are compromises. It does not serve Cornwall, the Highlands or Mid Wales, because it cannot reach them in a day from Leicester, but these are not heavily populated regions, so it is a small price to pay.
Shifting products from lorry to lorry over multi-staged journeys is expensive, takes longer, and the product is more prone to damage.
The strategy is coherent, which earns Marks Electrical a place on my watch list.
Richard Beddard
~
Contact Richard Beddard by email: richard@beddard.net or on Twitter: @RichardBeddard
This article is for educational purposes only. It is not a recommendation to buy or sell shares or other investments. Do your own research before buying or selling any investment or seek professional financial advice.