I'm back at school and in my last year, studying for my A levels. It has been great having time during the summer break to read some new books.
What I've been reading
Tom Dorsey's – Point & Figure Charting
I started with a book from Tom Dorsey, kindly recommended to me by Michael Taylor in a comment he left. It was certainly well worth reading even if it was only for the last chapter named Portfolio Construction and Management. Mr Dorsey states,"seventy-five to eighty percent of the risk in any particular stock, ETF or fund is the market and the sector".
Dorsey's Stock Evaluation Chart (rated in order of importance):
| | Positive | Negative | Comment |
| --- | --- | --- | --- |
| Market | | | |
| Sector | | | |
| Sector RS | | | |
| Trend | | | |
| Relative Strength | | | |
| Peer Relative Strength | | | |
| P&F Pattern | | | |
| Price Objective | | | |
| Stop Loss | | | |
His book is heavily into the concepts and importance of market breadth along with relative strength and how they give you a fighting chance of achieving your objectives. He also says (which makes a lot of sense to me as I study for my A levels) "life is a cinch by the inch, hard by the yard". I thought this was a great metaphor. I will need to read this book again as it contains so much information!
Jeremy Du Plessis – 21st Century Point & Figure
This is a follow-on book from the Definitive Guide to Point & Figure which shows techniques and strategies for point and figure charts. It contains an array of interesting ideas for boosting P&F charts. I am slowly working through some of the methods to see if I can make use of them in the future. This is quite a slow process as there are many ways of working the charts. Finding out what works for me will take some time. So far, I have managed to incorporate into my system a P&F chart where the box size is constructed using a standard deviation formula. I use this as a longer-term chart, and it seems a very helpful insight for determining stock direction for my longer-term portfolio.
Again, this book was well worth the read, but it will take many read-throughs and practice to understand it all. It was a great add-on to my current P&F books.
Sentiment Chart
I decided to set up a VIX chart for sentiment along with an oscillator. I find it easier to flip the chart which makes more sense of the oscillator. I use a line chart to cut down the noise, either on the daily chart as below, or a weekly chart if I want a bigger picture.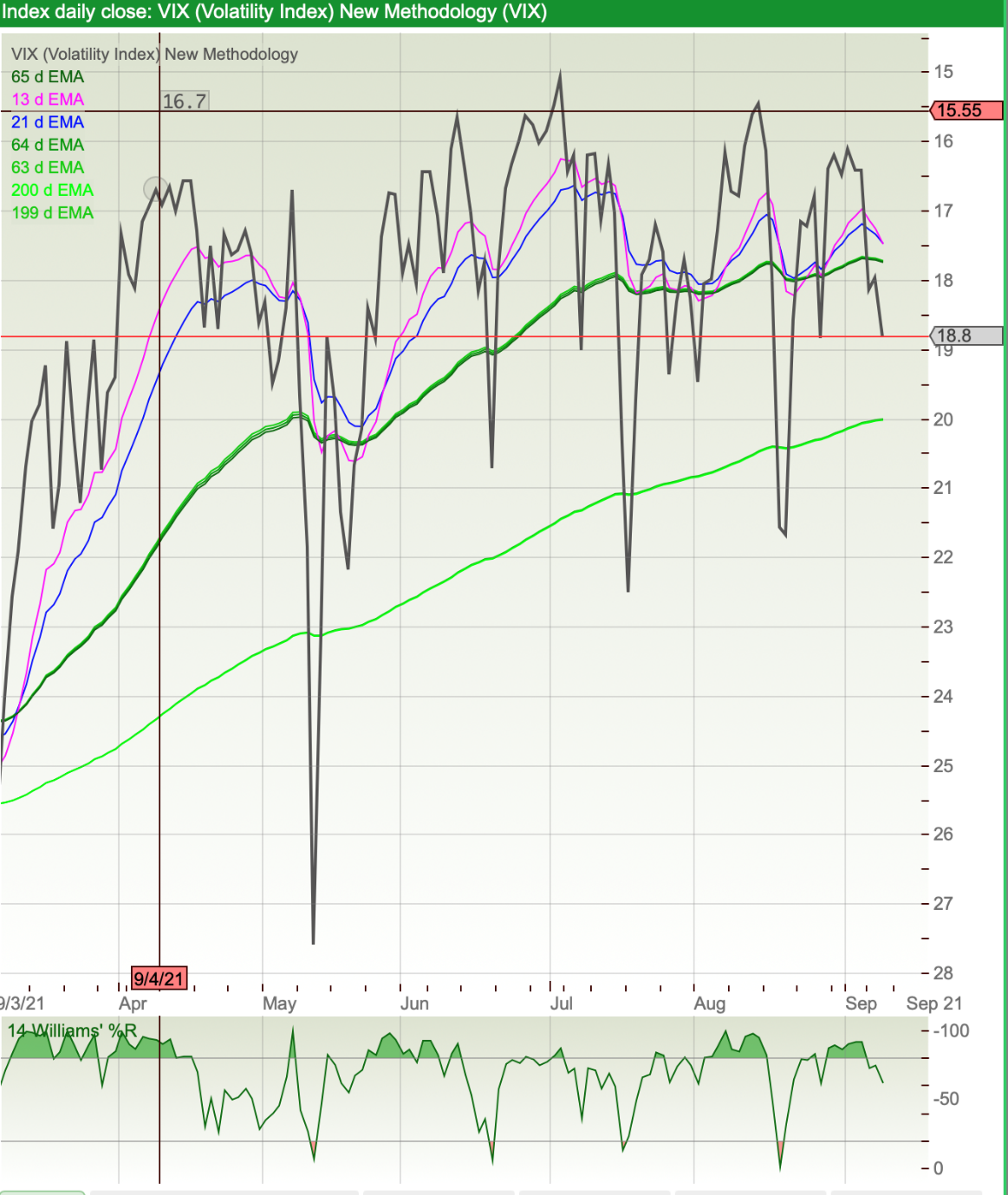 It seemed that if I had purchased any of the shares I was interested in at around any of the points where the oscillator broke through the Williams -20, I would have had a good chance of making a profit or buying a good quality share that may have pulled back with the market drop. So, this is a chart I have added to my technical analysis.
Sector Charts using P&F
I like looking for potential oversold points on a sector. I use the FTSE 350 sector indices list and filter for an RSI cross below 30. I have found the RSI to be a useful oscillator to use with P&F charts. I look at the P&F chart for the sector (example in chart below). I then click the SharePad Sector button to show companies listed within the sector.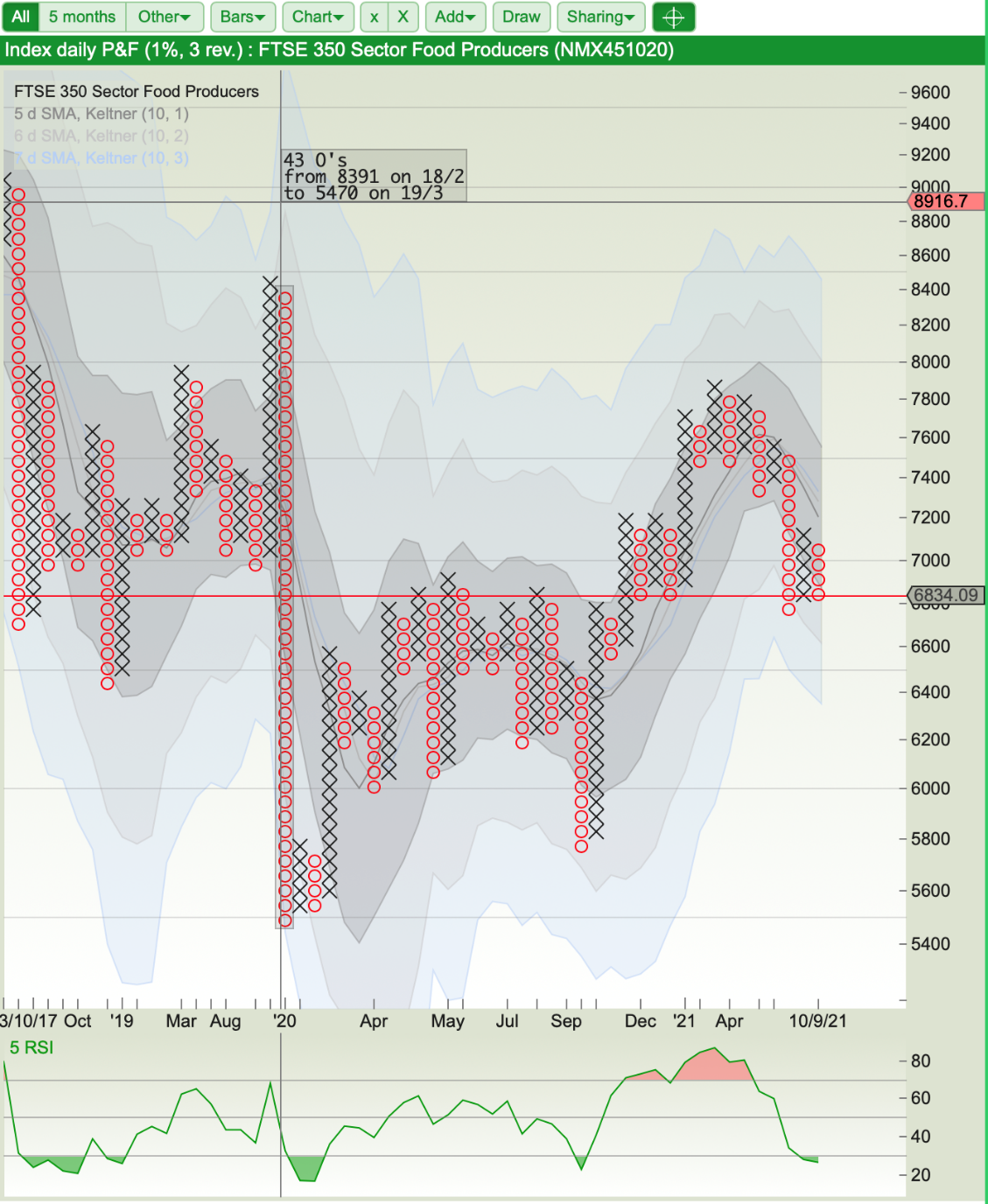 I can now search through the sector list using my chosen P&F chart. As an example, ABF is shown.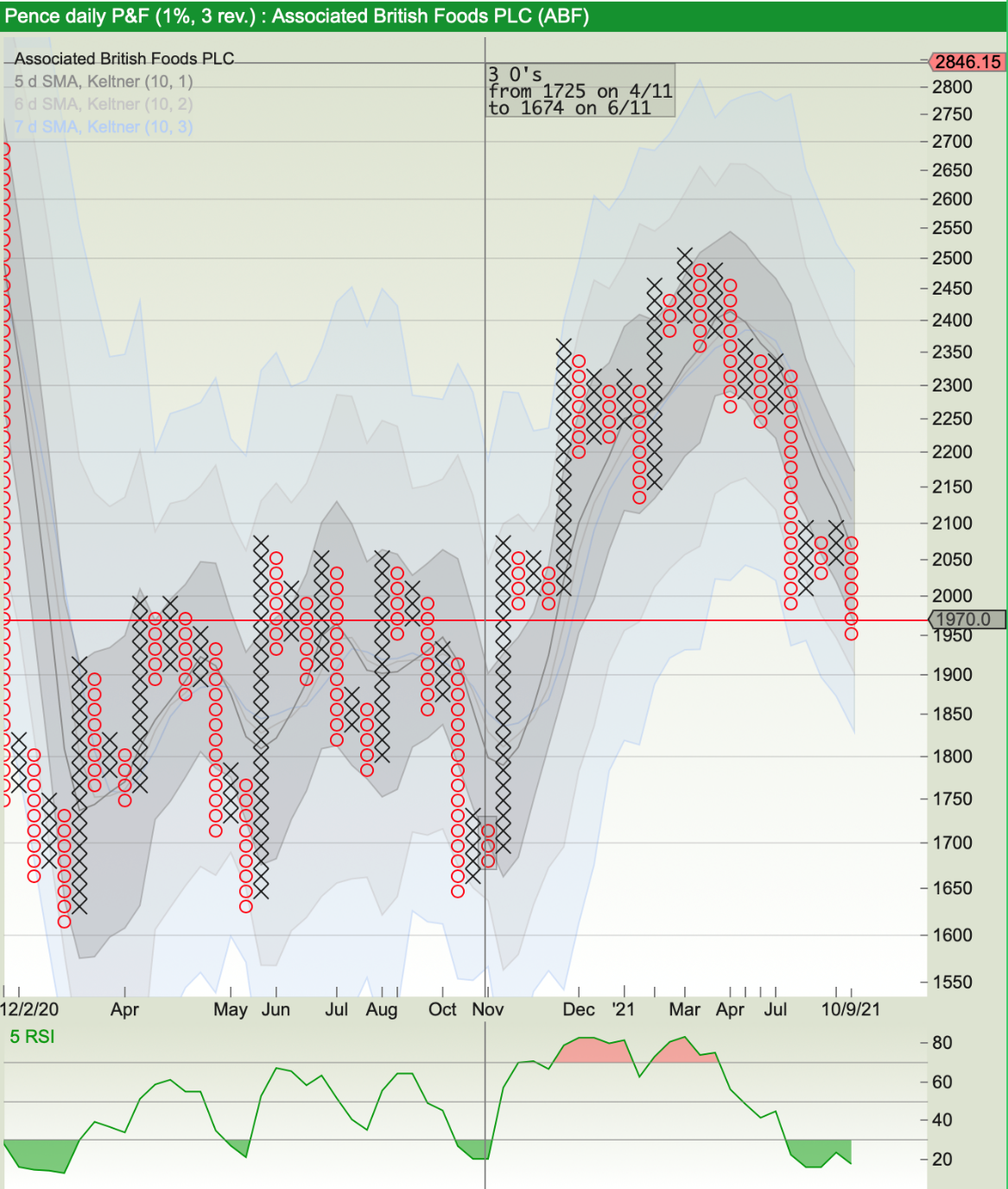 ABF needs further investigation to determine whether it fits into my strategy and is worth buying at some point.
How my shares have performed
Taylor Wimpey (TW)
I had been keeping an eye on Taylor Wimpey to buy as a swing trade since it developed a selling pattern during April '21. It finally dropped to 146p, which was in fact its 1% x 3 box price target. I had placed my purchasing limit order set at 147p. I held the share until it developed a selling pattern and sold at 172p. The close chart won't show all daily movement of course, but I like not seeing too much noise. The sector chart also showed the sector was oversold when I purchased so it helped with my decision making.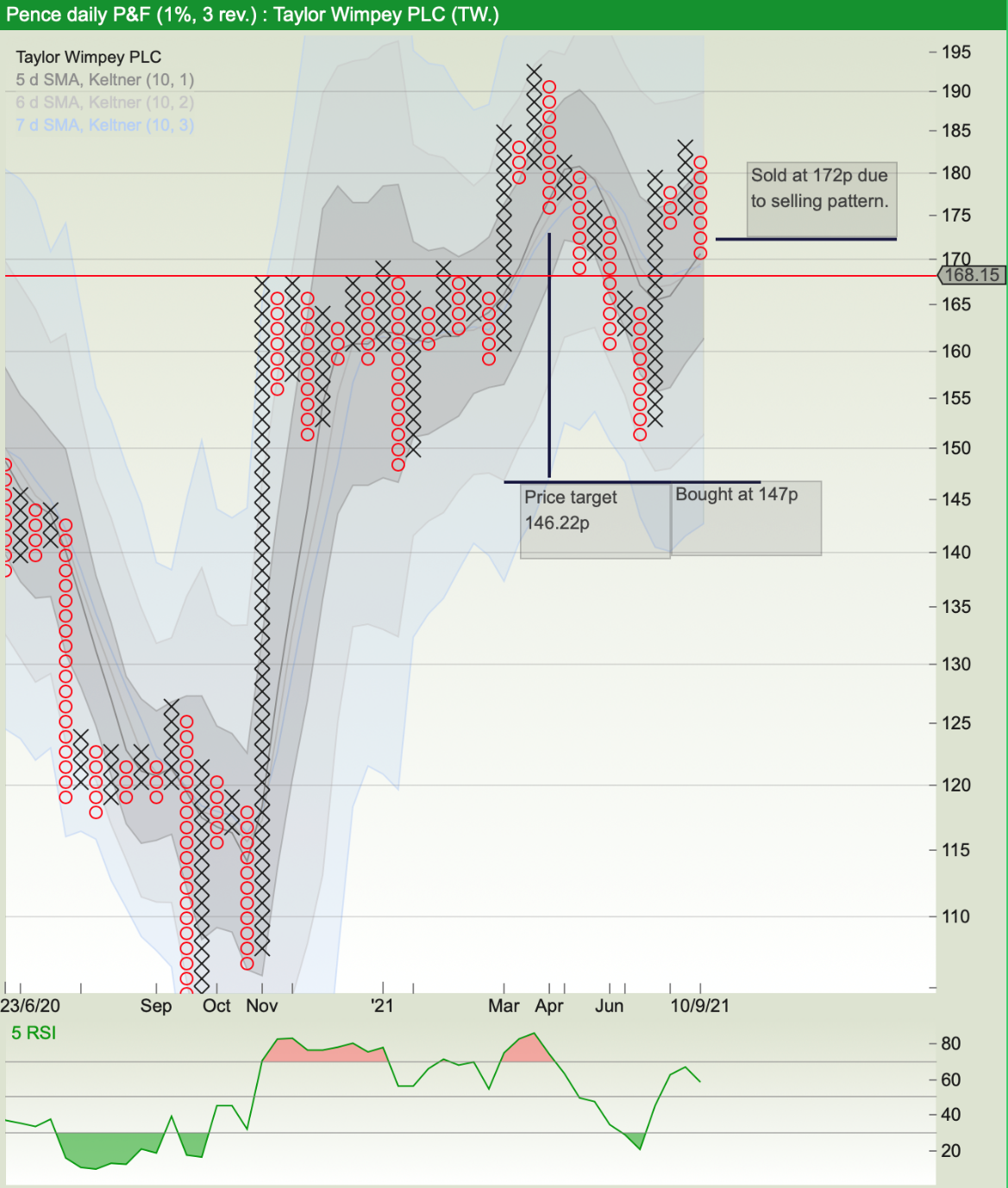 BAE Systems
Below is a close x 2 chart based upon the box size created using standard deviation.
I recently bought and sold BAE. This chart shows the strength of the current trend above the bull line with a great price target at 679p. On a decent pullback I will buy it again. If I had created this chart before selling BAE, I would have held it a little longer than I did.
Telecom Plus
What a disaster! It didn't travel in the direction I expected (well not for long). I bought at 1149p and sold once a selling pattern had developed at 1135p. It's dropped ever since.
Drax Group
I bought Drax in August after it revisited its support at 395p. It had a downward price target of 387p so I set my buy order at 390.5p. The buy was based upon the support being revisited and the price target. The share was also very bullish. I was looking to add an energy company to my portfolio and Drax was paying a 4% dividend. I also liked the look of the forecasts which are nearly all in the green (except the Free cash flow for 2021).
DRAX FORECASTS
£ millions unless stated
| | | | | | | |
| --- | --- | --- | --- | --- | --- | --- |
| Year | 2021 | | 2022 | | 2023 | |
| Turnover | 4,470.5 | 5.56% | 4,872.9 | 9.00% | 4,948.7 | 1.56% |
| EBITDA | 375.6 | 2.59% | 509.6 | 35.7% | 581.6 | 14.1% |
| EBIT | 183.3 | 63.7% | 313.5 | 71.0% | 382.2 | 21.9% |
| Pre-tax profit | 115.6 | 116.2% | 250.4 | 116.6% | 324.3 | 29.5% |
| Post-tax profit | 102.1 | 5.87% | 205.8 | 101.7% | 261.4 | 27.0% |
| EPS (p) | 26.0 | 9.41% | 50.1 | 92.5% | 65.2 | 30.0% |
| Dividend (p) | 18.7 | 9.60% | 20.6 | 9.81% | 22.6 | 9.60% |
| Capex | 269.0 | 54.2% | 149.6 | -44.39% | 153.0 | 2.27% |
| Free cash flow | 132.0 | -10.02% | 321.0 | 143.2% | 403.0 | 25.5% |
| Net borrowing | 1,053.4 | 30.7% | 866.7 | -17.72% | 633.6 | -26.90% |
| NAV | 1,362.5 | 1.72% | 1,486.0 | 9.06% | 1,652.5 | 11.2% |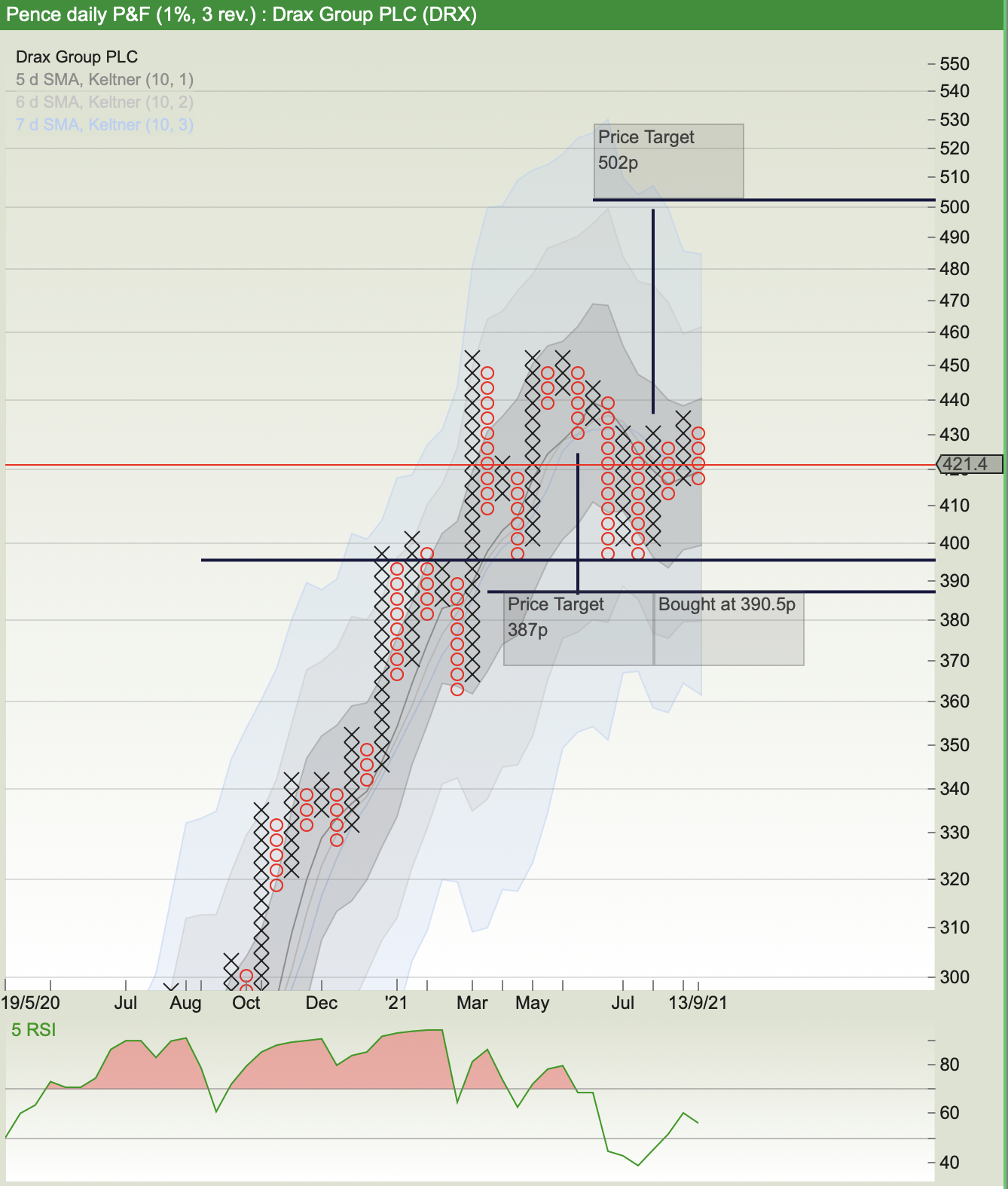 _____________
Well, it's back to studying for my final year of A levels. I have recently designed a share trading simulation game and I am now starting to write the code for it. I will be using this for my course work in Computer Science.
The Student Investor Challenge should start in October if the London Institute of Banking and Finance decide to run it this year, so hopefully I will update you and show you all the shares I am buying and selling and explain the rules.
Thank you to everyone who left comments for my last blog. If anyone has any helpful advice, please let me know!
Something I have found very helpful is that as I write these blogs, I realise how much I do and don't know. I have an awful lot to learn, but I love the whole subject, especially Point and Figure.
William St John Bacon
Read William's previous article here and leave your top investing and trading tips for him in the comments section below.
This article is for educational purposes only. It is not a recommendation to buy or sell shares or other investments. Do your own research before buying or selling any investment or seek professional financial advice.