Another captivating headline – this time from Forbes. So what are the facts, and why is it increasingly a stock pickers market, where if a rising tide doesn't raise all boats, but instead the tide goes out, then we don't want to be left standing without clothes on.
The stock market has been on a tear for the last year and the S&P 500 is now trading near historic highs. Some bullish stock market analysts argue that forward earnings estimates justify current prices and some even argue that stocks are undervalued. This got me thinking, does anyone really know if the stock market is overvalued, fairly valued, or undervalued? Using publically available data, I created an experiment to see if it's possible to determine if the stock market is overvalued, fairly valued, or undervalued.
The case for market overvaluation:
Yardeni Research puts the ratio of S&P 500 total market capitalisation to S&P 500 forward sales (an adapted version of the "Warren Buffett indicator") at a record 2.54 times at the end of December, versus 1.88 at the beginning of 2000.
A full 53% of S&P stocks had forward price/earnings ratios of over 20 times in the first week of January, according to Moneyweek.
The percentage of stocks in the US trading above the 200-day moving average is at a ten-year high.
Within almost all sectors, more than 90% of stocks are trading above their 200-day moving averages.
The ratio of total US market cap of Wiltshire 5000 to sum of gross domestic product and total Federal Reserve bank assets stood at 135.1%, suggesting a significantly overvalued stock market.
The global version of the "Buffett indicator" takes the combined market capitalizations of publicly traded stocks worldwide and divides it by global GDP. A reading north of 100% suggests the global stock market is overvalued relative to the world economy.
The gauge climbed past 121% in January, Bloomberg data shows, marking its highest reading since October 2007.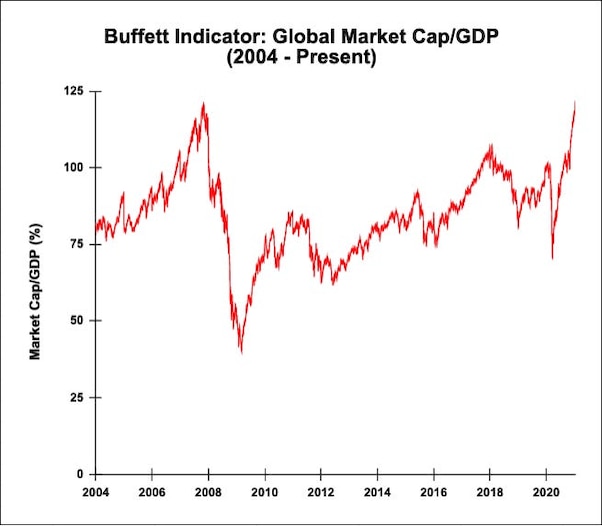 Source: Bloomberg
"Man's natural inclination is to cling to his beliefs, particularly if they are reinforced by recent experience–a flaw in our makeup that bears on what happens during secular bull markets and extended periods of stagnation." Buffett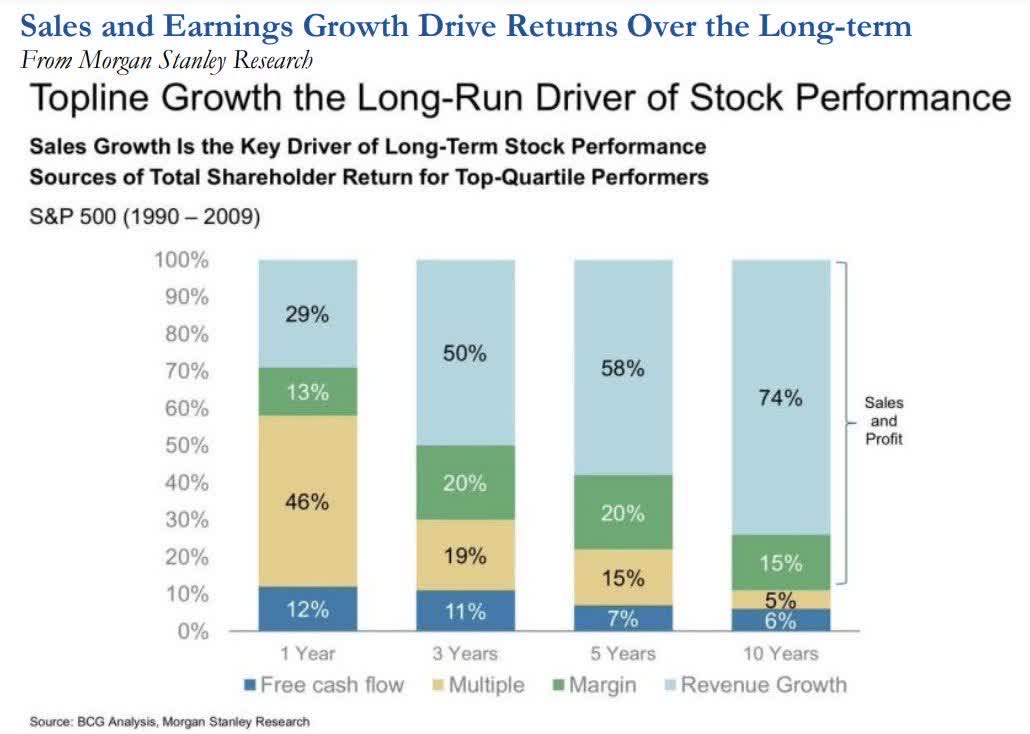 Of course there is the data that S&P 500 earnings in 2021 are expected to rise nearly 23% year-over-year, according to Factset.
The stocks I like based on my ShareScope (Alpesh Patel Special Edition Analysis) of valuation, growth, dividends, momentum, cash-flow, volatility, performance, outperformance of market. You can call it – Technofundamental (sounds more exciting than it is), or multi-variate factor investing (sounds more dull than it is).
Some of the names I like:
eQ Oyj
Volex
Aerojet
BTS
Digia Oyj
Haemonetics
Hapag
Ienergizer
Moncler
Oxford Instruments
Alpesh Patel OBE
Founder of Alpesh Patel Special Edition of Sharescope
This article is for educational purposes only. It is not a recommendation to buy or sell shares or other investments. Do your own research before buying or selling any investment or seek professional financial advice.