Companies which make and sell branded drinks have long been popular with investors. One of the main reasons for this is that as businesses they are very easy to understand. They sell products which millions of people consume daily and are very familiar with.
Let's take a quick tour around the UK quoted beverages sector to see how the companies and their shares have been shaping up.
Are the shares in or out of favour?
The last year has been reasonably kind to the sector. Fast growing, premium mixer drinks company Fevertree has been by far the star performer. Stock Spirits Group and Vimto maker Nichols have also performed very well. Britvic and AG Barr who not so long ago were talking about merging with each other have seen their shares struggle.

Over the last decade, Diageo, Britvic and AG Barr have proven to be very solid investments. Nichols has been an outstanding one.
With the exception of AG Barr and Britvic, sentiment towards many shares in this sector is currently good as their share prices remain close to their one year highs.

Business performance

Britvic and AG Barr are still making very acceptable returns on capital (ROCE) even though their share price performances have been decidedly lacklustre during the last year. ROCE in both cases is very close to the ten year average figure signalling that it may have been relatively stable over time. On closer, inspection this is the case.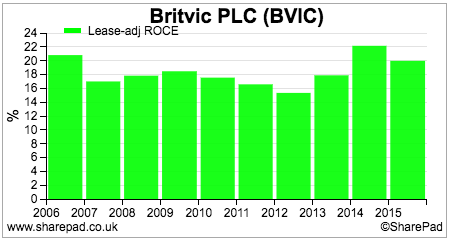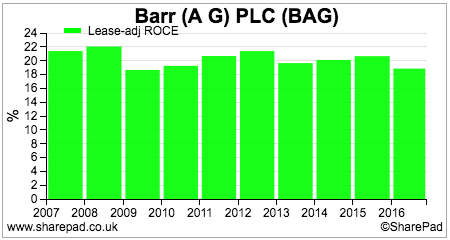 The standout performers in terms of ROCE are Nichols and Fevertree. If you look at the data in the table above you can get an insight into why this is the case. Both companies have very low capex ratios – they only invest a small proportion of their trading cash flow into new assets. This is because both companies outsource the production of their drinks to third parties which makes them less capital-intensive than if they had in-house production.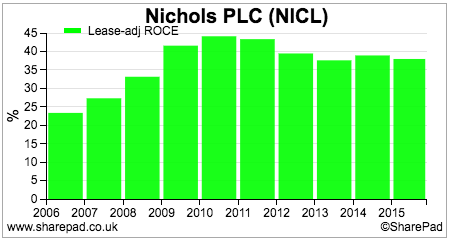 Diageo's ROCE is below is its ten year average and can be considered decent but not outstanding. The company has spent a lot of money buying other spirits companies in recent years and has significantly increased its capital employed over the last decade. It now has to get its ROCE to increase and prove to investors that it has spent its money well.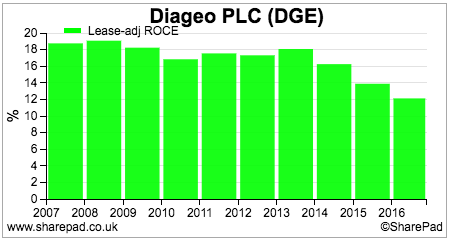 Valuation and financial position
Britvic is the standout cheap share in this sector trading for just less than 12 times forecast earnings. It does also have the highest levels of debt to enterprise value. That said, a look at the fixed charge cover ratios in the sector suggests that the financial position of all the companies is very strong. Their profits are more than adequate to cover the interest on any debts and the rent on any rented assets.

Elsewhere, it is hard to find bargains. Fevertree is trading on a very high PE ratio and it will need to grow its profits at a very healthy rate to justify it. The company has also been talked about as a potential takeover target for a bigger drinks company.
Diageo and Nichols are arguably expensive shares. Investors seem to be willing to pay a high price for the dependable profits and cash flows that these companies have been able to churn out in the past with the hope that they will continue to do so in the future.
This article is for educational purposes only. It is not a recommendation to buy or sell shares or other investments. Do your own research before buying or selling any investment or seek professional financial advice.