Deep pockets, low pricing and fancy IT can't always guarantee 'disruptive' success. Maynard Paton studies the mixed progress of estate-agent challenger Purplebricks
Investors love disruptors. Find a pioneering upstart that is stealing market share from industry dinosaurs, and your portfolio may enjoy a huge stock-market winner. Amazon of course is the textbook example.
But not every disruptive idea actually works. In some cases the old way may still be the best way.
Take estate agency. Despite vast amounts of investment and marketing, online estate agents presently handle only 8% of UK property transactions.
Let's see what can be learned from Purplebricks shares, a company which has led a high-profile challenge against traditional estate agents — but has yet to prove truly disruptive.
The history of Purplebricks
"Rightmove and Zoopla came in and the buyer was in control. Millions were spent on helping buyers but very little ever spent on helping sellers. They're the people who pay the bills. You'd have very expensive High Street premises but nobody would come in. Over time you think, how can we deliver a much better service in a way people want?"
So recalled Michael Bruce to the Evening Standard about why he and his brother Kenny launched Purplebricks during 2014.
The Bruces felt they could disrupt estate agents by selling homes for a fixed — but non-refundable — £798 fee. Property owners could then save thousands because conventional agents were in contrast charging a juicy 1% to 3% of the sale proceeds.
The disruption plan has enjoyed some success. Last year Purplebricks sold properties worth £11 billion after undertaking approximately 60,000 instructions to capture a 5% market share. Management calculated that customers saved an aggregate £96 million by not using traditional agents.
Mind you, Purplebricks' losses underline how expensive becoming a disruptor can be: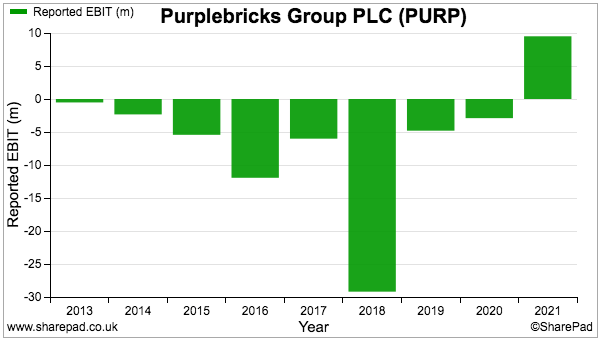 Marketing in particular has not been cheap. Purplebricks has spent more than £100 million to become (according to the company) the most recognised brand among UK estate agents.
Over-optimistic overseas expansion has not helped costs either. Misjudged ventures into Australia and the United States began just two years after the UK business was created.
Note that a profit was achieved for 2021 as the group returned to being a pure UK operator. Note, too, that UK revenue more than quadrupled during the time of the foreign mishaps: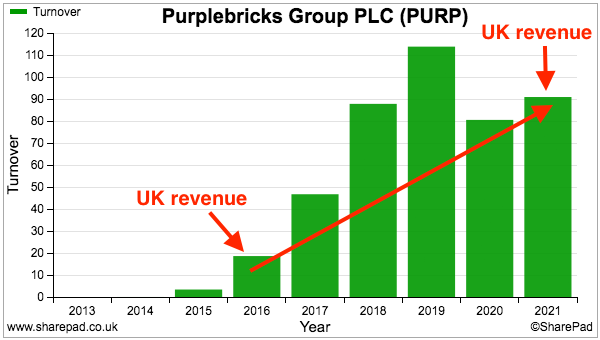 The earlier losses and that £100-plus million marketing bill were funded by investors parting with £196 million, comprising:
£21 million raised before the 2015 flotation;
£25 million raised at the AIM flotation at 100p a share;
£50 million raised during 2017 at 220p a share to help fund the overseas expansion, and;
£100 million raised during 2018 at 360p a share to "accelerate" the overseas expansion and "support entry into new markets".
The Purplebricks share price became a five-bagger within two years on early hopes of Purplebricks revolutionising estate agency across the globe…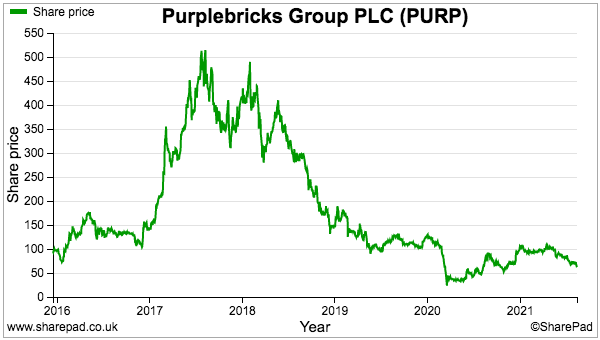 …but has since dropped to 63p as reality dawned. Telling another story is the recent £192 million market cap being close to the £196 million shareholders handed over.
Confusing KPIs suggest faltering disruption
Purplebricks' favoured statistics show positive UK progress. True, the volume of instructions and therefore revenue was impacted by the pandemic during 2020…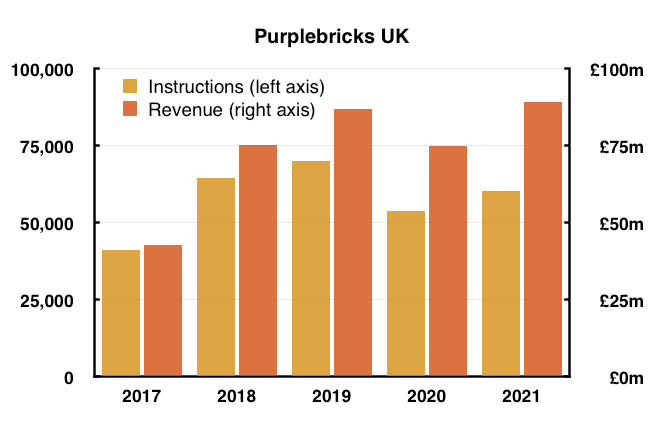 …but revenue per instruction has consistently improved while costs last year did benefit from lower marketing expenses: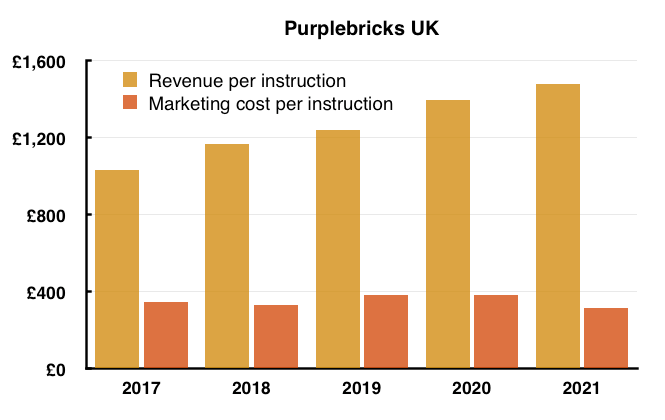 The improved revenue per instruction follows Purplebricks lifting its fixed selling fee to £849 and then to £999. Greater income from 'ancillary' sources, such as conveyancing and mortgages, has also helped.
However, the recent introduction of a money-back guarantee effectively admitted the original non-refundable pricing was no longer working:

Last year this guarantee would have reduced instructions by 4% and fees by 5%: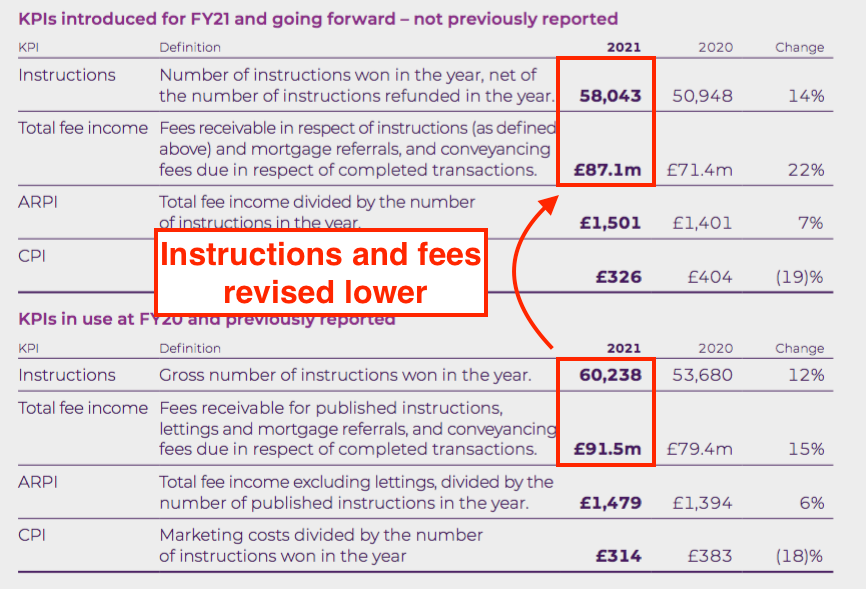 Another sign of faltering disruption has been disappearing KPIs.
In particular, the percentage of instructions that convert into completions was last seen at 83% during 2017. And Purplebricks oddly no longer cites the proportion of 'ancillary' revenue, which was declared as 47% for 2020 but seemed to be only 29% for 2021:

Perhaps the most confusing statistic is the number of self-employed 'local property experts', or LPEs, that Purplebricks engages to sell properties.
Purplebricks happily cited 79, 205 and 448 for 2015, 2016 and 2017 respectively, and then implied the number was approximately 640 for 2018.
No LPE number was given for 2019, and then 900 was claimed for 2020…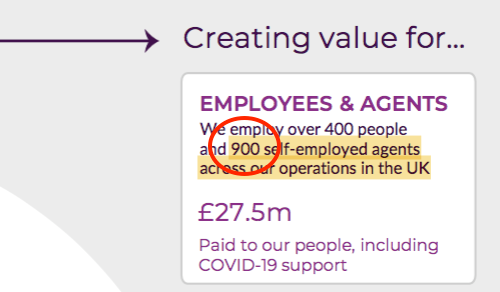 …which suddenly became 600 for 2021: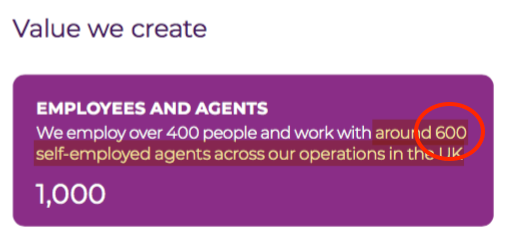 Purplebricks did not explain the 300 reduction. But assuming there are indeed 600 LPEs, the 60,000 or so instructions last year imply each LPE undertakes approximately 100 instructions a year or two a week.
Understanding the number of LPEs and their 'productivity' is crucial to the disruption investment case. After all, Purplebricks may find expansion much easier if its agents could one day handle, say, four instructions a week rather than have time only for two.
The absence of definitive LPE information — plus the haphazard reporting of other statistics — do raise doubts as to whether Purplebricks can really trouble traditional estate agents in a meaningful way.
For all the company's talk of digital investment and building for scale…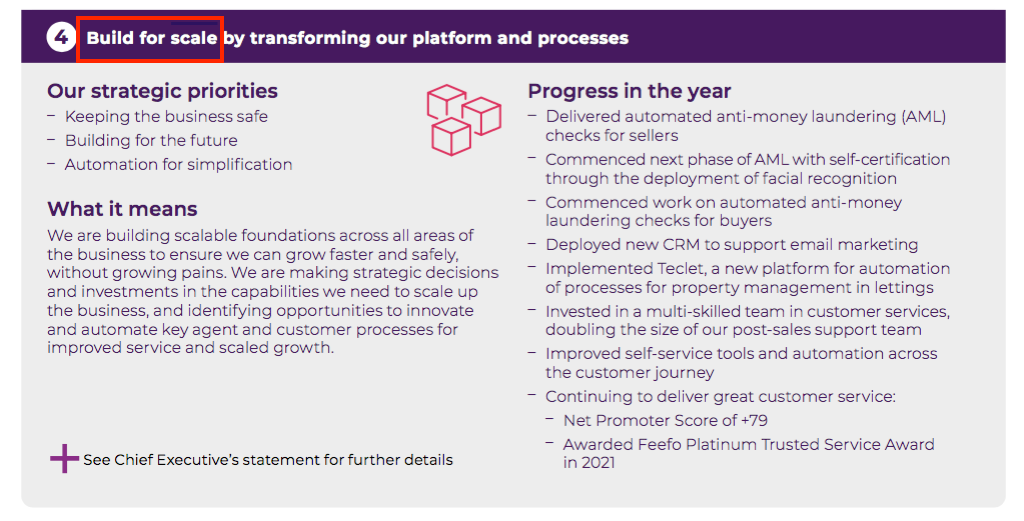 … the nuts and bolts of this industry remain the agent sitting in a front room trying to persuade the home owner to sign up…
…and there are only so many front-room appointments (and subsequent viewings and chain enquiries) an estate agent can handle every week before requiring more help.
May be that is why Purplebricks announced a change to its business plan earlier this month.
Purplebricks v2.0: full-time employees
The new plan is to turn the LPEs into full-time employees… which prompts further questions about whether Purplebricks has the people to ever disrupt traditional estate agents.
In particular:
"The Board now believes that moving to a fully employed model will ensure that the Company can scale up quickly to meet consumer demand and, to that end, the Company has already created a talent pool of over 100 of the best agents in the industry who are ready to join it as opportunities arise."
Referring to a "talent pool of over 100" when 600 LPEs are on the books suggests up to 500 of the existing LPEs are not that talented.
This next paragraph suggested those 500 LPEs were not delivering the necessary service:
"Having ownership over the recruitment, training and management of a unified high-performing team will support the delivery of a consistently high level of service to Purplebricks' customers across the country…"
And further evidence of a widescale cull of LPEs comes from this paragraph:
"As a result of the move to a fully employed model, the Company is expected to incur exceptional non-recurring costs of c. £3-4m in FY22, with ongoing administration costs expected to be c. £1m higher in FY22 and beyond to support the increased size of the team."
Purplebricks paid as much as £33 million to its LPEs last year. An extra £1 million per annum to cover the additional national insurance, pension contributions and holiday/sick pay does not therefore seem realistic…
…unless of course a significant number of LPEs will not be taken on.
Will management's new plan succeed?
The omens are not positive when you evaluate the board.
The aforementioned Bruce brothers departed during the overseas retrenchment and in charge today is Vic Darvey:

An unfortunate theme running through the board's CVs is the lack of direct estate-agency experience.
Mr Darvey boasts a "proven record of technology delivery" at Moneysupermarket while the finance director offers an "extensive background in mergers and acquisitions, corporate finance [and] strategic planning".
The non-execs are led by Paul Pindar, the former boss of outsourcer Capita, and include an IT entrepreneur, a former Just Eat executive, a management consultant and an accountant.
The board's shareholdings are not persuasive either:
The two executives are quite happy to receive (nil-cost) options but appear reluctant to spend their own money on the ordinary shares. Both executives shared total pay and bonuses of almost £1.2 million last year.
Should you buy Purplebricks shares?
Although Purplebricks has an ambition to "deliver annual revenue growth in excess of 20% in the medium term", City brokers do not share the same level of optimism: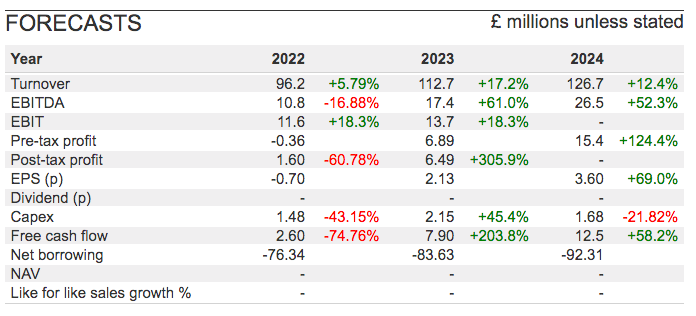 The forecasts instead imply a 12% compound average growth rate for turnover until 2024.
Earnings will be hit this year due to the exceptional costs of the employment re-jig.
But the estimates do suggest Purplebricks could achieve an operating profit of between £13 million and £15 million during 2023 and 2024. Those projections indicate an operating margin of approximately 10%, which does not seem unreasonable given a 10% margin was reported for 2021.
Purplebricks still has cash, too The £74 million bank balance is in fact equivalent to 39% of the £192 million market cap:
Strip out the cash and arguably the underlying business is valued at £118 million — which may not be completely outrageous if operating profit does indeed reach £15 million by 2024.
However, prospective investors really need to be confident about Purplebricks one day dislodging old-school agents. The haphazard KPIs, unconvincing boardroom, switch to money-back guarantees and questionable LPE talent do not persuade me.
What I have learnt from Purplebricks' mixed progress is that:
Low pricing is not always truly disruptive. Traditional 'no-sale-no-fee' arrangements offered by high-street agents still represent 92% of property transactions because vendors pay nothing if their homes do not sell.
Huge advertising campaigns are not always truly disruptive. Conventional agents have held most of their ground despite their marketing budgets being a tiny fraction of the £100 million spent by Purplebricks.
Fancy websites are not always truly disruptive. Purplebricks' revenue is inherently derived from difficult-to-scale agent activity rather than sophisticated IT systems.
Right now I can only conclude the perfect estate-agency disruptive plan — alongside any potential Amazon-type returns — remain as elusive as ever.
Until next time, I wish you safe and healthy investing with SharePad.
Maynard Paton
Maynard writes about his portfolio at maynardpaton.com and hosts an investment discussion forum at quidisq.com. He does not own shares in Purplebricks.
Have you been attracted by the promises of an industry disruptor like Purplebricks? We'd love to hear from you in the comments section below.
This article is for educational purposes only. It is not a recommendation to buy or sell shares or other investments. Do your own research before buying or selling any investment or seek professional financial advice.